Section edited by Alessandra Cesano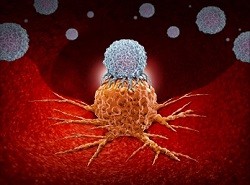 The Immunobiology and Immunotherapy section aims to enrich the communication between basic biological and immunological sciences and the clinical investigation arena.
As immunology has evolved to be a central discipline connected to a wide range of therapeutic areas, the number and diversity of platform technologies has also increased, spanning small molecules, biologics, microbial vectors and cells. Such levels of activity require appropriate means to share new knowledge and to catalyze the development of the field. This section aims to provide such a platform and welcomes submissions across all disciplines, including inflammation, autoimmunity, transplantation, metabolic disorders.
The section was founded with the Society for Immunotherapy of Cancer (SITC) under the title "Tumor immunology and biological cancer therapy" and Pedro Romero was the founding Section Editor.