Exendin-4 and sitagliptin protect kidney from ischemia-reperfusion injury through suppressing oxidative stress and inflammatory reaction
Journal of Translational Medicine
2013
11:270
Received: 25 June 2013
Accepted: 27 September 2013
Published: 25 October 2013
Abstract
Background
This study tested the hypothesis that exendin-4 and sitagliptin can effectively protect kidney from acute ischemia-reperfusion (IR) injury.
Methods
Adult SD-rats (n = 48) equally divided into group 1 (sham control), group 2 (IR injury), group 3 [IR + sitagliptin 600 mg/kg at post-IR 1, 24, 48 hr)], and group 4 [IR + exendin-4 10 μm/kg at 1 hr after procedure] were sacrificed after 24 and 72 hrs (n = 6 at each time from each group) following clamping of bilateral renal pedicles for 60 minutes (groups 2–4).
Results
Serum creatinine level and urine protein to creatinine ratio were highest in group 2 and lowest in group 1 (all p < 0.001) without notable differences between groups 3 and 4. Kidney injury score, expressions of inflammatory biomarkers at mRNA (MMP-9, TNF-α, IL-1β, PAI-1), protein (TNF-α, NF-κB and VCAM-1), and cellular (CD68+) levels in injured kidneys at 24 and 72 hr showed an identical pattern compared to that of creatinine level in all groups (all p < 0.0001). Expressions of oxidized protein, reactive oxygen species (NOX-1, NOX-2), apoptosis (Bax, caspase-3 and PARP), and DNA damage marker (γH2AX+) of IR kidney at 24 and 72 hrs exhibited a pattern similar to that of inflammatory mediators among all groups (all p < 0.01). Renal expression of glucagon-like peptide-1 receptor, and anti-oxidant biomarkers at cellular (GPx, GR) and protein (NQO-1, HO-1, GPx) levels at 24 and 72 hr were lowest in group 1, significantly lower in group 2 than in groups 3 and 4 (all p < 0.01).
Conclusion
Exendin-4 and sitagliptin provided significant protection for the kidneys against acute IR injury.
Keywords
Exendin-4SitagliptinAcute ischemia-reperfusion injuryInflammationOxidative stress
Background
Acute kidney injury (AKI) is a commonly encountered complication in hospitalized patients and significantly contributes to morbidity and mortality [1–5]. Recent studies have further demonstrated that AKI was evident in around 20% of patients who died in hospitals and up to 50% of patients in the intensive care unit (ICU) [6, 7]. The etiology of AKI is multifactorial [1–12]. Among the various etiologies of hospital-acquired AKI, ischemia-reperfusion (IR) injury is the leading cause of AKI [13–15] that is associated with a high mortality rate [16, 17]. The causes of acute kidney IR injury are divergent, including contrast media-induced nephropathy [9, 18], shock followed by resuscitation in the emergency and intensive care settings [11, 19], kidney transplantation [20, 21], sepsis [22], and cardiovascular surgery [23].
Previous studies [11, 15, 23–27] have reported that the underlying mechanisms of acute kidney IR injury are mainly through the generation of oxidative stress and reactive oxygen species (ROS), rigorous inflammatory reaction, and enhancement of cellular apoptosis after prolonged or even transient IR injury [13, 22, 28]. Experimental studies have further revealed that inhibition of inflammatory reaction and suppression of the generations of pro-inflammatory cytokines and oxidative stress using immuno- or pharmaco-modulation significantly protect the kidney from acute IR injury [23–27].
Glucagon-like peptide-1 (GLP-1)-based pharmaceuticals are emerging as potent regimens against type 2 diabetes mellitus (T2DM). Exendin-4 and liraglutide, two GLP-1 analogues, have been reported to have multiple cellular protective effects, including the protection of endothelial cells against senescence mainly through anti-oxidative [29–31] and anti-inflammatory [31–33] processes. Additionally, studies have revealed that GLP-1 mediates in the therapeutic actions of dipeptidyl peptidase (DPP)-IV inhibitors [34]. Interestingly, sitagliptin, currently used for treating type 2 diabetic patients, has been found to be able to enhance circulating GLP-1 levels through inhibition of DPP-IV activity [35, 36] which, in turn, provides cardiovascular protective effect probably through the anti-inflammatory and anti-atherosclerotic actions of GLP-1 [37]. Thus, it is rational to hypothesize that the inflammatory reaction and oxidative stress from acute renal IR injury may be alleviated by either Exendin-4 (i.e., GLP-1 analogue) or sitagliptin treatment through the induction of GLP-1 receptor (GLP-1R) expression.
Materials and methods
Ethics
All animal experimental procedures were approved by the Institute of Animal Care and Use Committee at Kaohsiung Chang Gung Memorial Hospital (Affidavit of Approval of Animal Use Protocol No. 2008121108) and performed in accordance with the Guide for the Care and Use of Laboratory Animals (NIH publication No. 85–23, National Academy Press, Washington, DC, USA, revised 1996).
Animal grouping and induction of acute kidney ischemia-reperfusion injury
Pathogen-free, adult male Sprague–Dawley (SD) rats (n = 48) weighing 320–350 g (Charles River Technology, BioLASCO Taiwan Co. Ltd., Taiwan) were randomized and equally divided into group 1 (sham controls, n = 12), group 2 (acute kidney IR injury only, n = 12), group 3 (sitagliptin 600 mg/kg orally at post-IR 1, 24, and 48 hr), and group 4 (IR + sitagliptin 600 mg/kg orally + exendin-4 10 μm/kg subcutaneous injection at post-IR 1 hr). The rats were sacrificed at post-IR 24 hr (3 hrs after sitagliptin treatment) and 72 hr (n = 6 each time for each group) for determining the therapeutic effects of sitagliptin and exendin-4 at acute (i.e., 24 hr) and subacute (i.e., 72 hr) phases of IR injury.
All animals were anesthetized by inhalational 2.0% isoflurane, placed supine on a warming pad at 37°C for midline laparotomies. Sham-operated rats (group 1) received laparotomy only, while acute IR injury of both kidneys were induced in all animals in groups 2 to 4 by clamping the renal pedicles for one hour using non-traumatic vascular clips. The rats were sacrificed at 24 and 72 hrs (n = 6 at each time from each group) after IR procedure. The kidneys were harvested for individual study.
Rationale of drug dosage for the study
To elucidate relatively suitable drug dosages for the present study, acute kidney IR injury in four additional rats was treated by either a low (n = 2) or a high (n = 2) dose of sitagliptin (i.e., 200 or 600 mg/kg/day for three days, respectively). Similarly, four other rats were treated with either a low (n = 2) or a high (n = 2) dose of exendin-4 six (i.e., 5 or 10 μg/kg once, respectively) after renal IR induction. Immunohistochemical (IHC) staining and the protein expressions of GLP-1R in kidney parenchyma were notably higher in the rats treated with a high dose of sitagliptin or exendin-4 compared with those receiving low doses of the two drugs. Thus, 600 mg/kg/day of sitagliptin for three successive days and 10 μg/kg (single dose only) of exendin-4 were utilized in the current study.
To elucidate the possible GLP-1-mediated therapeutic effect of sitagliptin against acute kidney IR injury, the circulating level of GLP-1 was measured in each animal. In addition, eight additional SD rats were equally divided into: 1) sham control, 2) IR only, 3) IR + sitagliptin 600 mg/kg (orally, 1 hr after acute kidney IR), 4) IR + sitagliptin 600 mg/kg + exendin-9-39 (an inhibitor of exendin-4) 10 μm/kg at 1 hr after the procedure. The animals were sacrificed at 24 hr after acute kidney IR. The kidney was collected in each animals for specific study (please see the results of Figure
1
).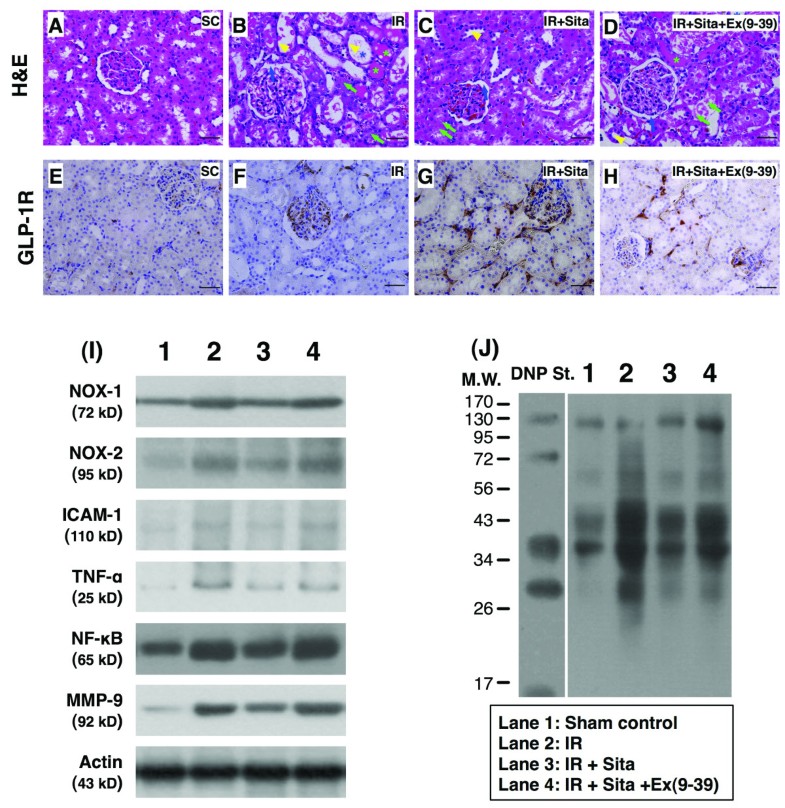 Assessment of circulating GLP-1 level and renal function before and after IR procedure
Serum GLP-1, creatinine, blood urea nitrogen (BUN), urine protein, and urine creatinine levels were determined in all animals before and after (at 24 and 72 hours) the IR procedure prior to their sacrifice. Quantification of GLP-1 level, BUN, serum and urine creatinine, and urine protein levels was performed using standard methods according to manufacturers' instructions.
Collection of 24-hour urine before and after (on days 1 and 3) IR procedure
For the collection of 24-hr urine for individual study, each animal was put into the animal's metabolic cage [DXL-D, space: 190 × 290 × 550; shu-sz.com, Mainland China] for 24 hrs with food and water supply. Urine in 24 hr was collected in all animals prior to the IR procedure and at 24 hr and 72 hr after reperfusion prior to their sacrifice to determine the daily urine volume and the ratio of urine protein to urine creatinine.
Histopathology scoring and immunofluorescent (IF) staining at 24 and 72 hr after the IR procedure
Histopathology scoring was determined in a blinded fashion as we previously reported [24]. Briefly, the kidney specimens from all animals were fixed in 10% buffered formalin, embedded in paraffin, sectioned at 5 μm and stained (hematoxylin and eosin; H&E) for light microscopy. The scoring system reflecting the grading of tubular necrosis, loss of brush border, cast formation, and tubular dilatation in 10 randomly chosen, non-overlapping fields (200x) was as follows: 0 (none), 1 (≤10%), 2 (11–25%), 3 (26–45%), 4 (46–75%), and 5 (≥76%) [24].
The IF methodology used in this study have recently been described in details [24]. The IF staining methodology was used for the examination of CD68+ cells (an indicator of macrophage) using respective primary antibodies.
Western blot analysis of kidney specimens
Equal amounts (10–30 μg) of protein extracts from ischemic kidneys of the animals (n = 10 for each group) were loaded and separated by SDS-PAGE using 7% or 12% acrylamide gradients. The membranes were incubated with monoclonal antibodies against GLP-1R (1:1000, abcam), matrix metalloproteinase (MMP)-9 (1:1000, Millipore), intercellular adhesion molecule (ICAM)-1 (1: 2000, Abcam), NAD(P)H quinone oxidoreductase (NQO) 1 (1: 1000, Abcam), heme oxygenase (HO)-1 (1: 250, Abcam), Glutathione peroxidase (GPx) (1:2000, abcam), and polyclonal antibodies against tumor necrosis factor (TNF)-α (1: 1000, Cell Signaling), nuclear factor (NF)-κB (1:600, Abcam), ADPH oxidase (NOX)-1 (1:1500, Sigma), NOX-2 (1:500, Sigma), Bax (1: 1000, Abcam), caspase 3 (1: 1000, Cell Signaling), poly(ADP-ribose) polymerase (PARP) (1: 1000, Cell Signaling), Bcl-2 (1:250, Abcam), catalase (1:1000, abcam), superoxide dismutase 1 (SOD-1) (1:2000, abcam), γH2AX (1:1000, Cell signaling), and endothelial nitric oxide synthase (eNOS) (1:1000, Abcam) were used. Signals were detected with horseradish peroxidase (HRP)-conjugated goat anti-mouse, goat anti-rat, or goat anti-rabbit IgG.
The Oxyblot Oxidized Protein Detection Kit was purchased from Chemicon (S7150). The procedure of 2,4-dinitrophenylhydrazine (DNPH) derivatization was carried out on 6 μg of protein for 15 minutes according to the manufacturer's instructions. One-dimensional electrophoresis was carried out on 12% SDS/polyacrylamide gel after DNPH derivatization. Proteins were transferred to nitrocellulose membranes which were then incubated in the primary antibody solution (anti-DNP 1: 150) for two hours, followed by incubation with the second antibody solution (1:300) for one hour at room temperature. The washing procedure was repeated eight times within 40 minutes.
Immunoreactive bands were visualized by enhanced chemiluminescence (ECL; Amersham Biosciences), which was then exposed to Biomax L film (Kodak). For quantification, ECL signals were digitized using Labwork software (UVP). For oxyblot protein analysis, a standard control was loaded on each gel.
Real-time quantitative PCR analysis
The mRNA expressions of TNF-α, interleukin (IL)-1β, MMP-9, plasminogen activator inhibitor (PAI), IL-10, and endothelial nitric oxide synthase (eNOS) in each of the four groups of animals were analyzed with RT-qPCR and compared.
Statistical analysis
Quantitative data are expressed as means ± SD. Statistical analyses were performed using SAS statistical software for Windows version 8.2 (SAS institute, Cary, NC) to conduct ANOVA followed by Bonferroni multiple-comparison post hoc test. A probability value <0.05 was considered statistically significant.
Discussion
The present study, which investigated the therapeutic effect of sitagliptin and exendin-4 against acute renal IR injury, yielded several conspicuous implications.
First, exendin-4 was comparable to sitagliptin in attenuating the architectural integrity of renal parenchyma and arresting the deterioration of renal function after IR injury. Second, either drug remarkably suppressed IR-induced acute kidney injury via inhibiting IR-triggered macrophage recruitment, DNA damage, inflammation, oxidative-stress and ROS generation, as well as through attenuating cellular apoptotic signaling pathway and enhancing GLP-1R expression and anti-oxidant factors in renal parenchyma. Third, to the best of our knowledge, this is the first study to demonstrate the benefits of sitagliptin and exendin-4 in protecting the kidneys from acute IR injury other than their therapeutic actions against hyperglycemia. Of importance is the fact that the results were promising.
Authors' information
Yen-Ta Chen and Tzu-Hsien Tsai equal contribute to first authors.
Yung-Lung Chen and Hon-Kan Yip equal contribute to corresponding authors.
Declarations
Acknowledgments
This study was supported by a program grant from Chang Gung Memorial Hospital, Chang Gung University (CMRPG8B0231). The funders had no role in study design, data collection and analysis, decision to publish, or preparation of the manuscript.
Authors' Affiliations
(1)
Division of Urology, Kaohsiung Chang Gung Memorial Hospital and Chang Gung University College of Medicine, Kaohsiung, Taiwan
(2)
Division of Cardiology, Department of Internal Medicine, Kaohsiung Chang Gung Memorial Hospital and Chang Gung University College of Medicine, Kaohsiung city, Taiwan
(3)
Division of Nephrology, Department of Internal Medicine, Kaohsiung Chang Gung Memorial Hospital and Chang Gung University College of Medicine, Kaohsiung, Taiwan
(4)
Department of Emergency Medicine, E-DA Hospital, I-Shou University, Kaohsiung, Taiwan
(5)
Basic Science, Nursing Department, Meiho University, Pingtung, Taiwan
(6)
Division of Colorectal Surgery, Department of Surgery, Kaohsiung Chang Gung Memorial Hospital and Chang Gung University College of Medicine, Kaohsiung, Taiwan
(7)
Center for Translational Research in Biomedical Sciences, Kaohsiung Chang Gung Memorial Hospital and Chang Gung University College of Medicine, Kaohsiung, Taiwan
(8)
Department of Biological Sciences, National Sun Yat-Sen University, Kaohsiung, Taiwan
Copyright
© Chen et al.; licensee BioMed Central Ltd. 2013
This article is published under license to BioMed Central Ltd. This is an open access article distributed under the terms of the Creative Commons Attribution License (http://creativecommons.org/licenses/by/2.0), which permits unrestricted use, distribution, and reproduction in any medium, provided the original work is properly cited.