Tacrolimus in the prevention of adverse pregnancy outcomes and diabetes-associated embryopathies in obese and diabetic mice
Journal of Translational Medicine
2017
15:32
Received: 3 November 2016
Accepted: 3 February 2017
Published: 13 February 2017
Abstract
Background
T2DM is a high-risk pregnancy with adverse fetal and maternal outcomes including repeated miscarriages and fetal malformations. Despite the established association between placental insufficiency and poor maternal Th1-adaptability to the development of pregnancy complications in T2DM, there have been no established data to assess benefits of pre-pregnancy immunosuppression relative to gestational outcomes in T2DM. We hypothesized that pre-pregnancy macrolide immune suppression can re-establish normal placental development and uterine vascular adaptation in a mouse model of obesity-associated T2DM.
Methods
Fetal live birth rate, postnatal variability, mid-gestational uterine and umbilical flow dynamics and certain morphological features of spiral artery modification were examined in the New Zealand Obese (NONcNZO10/Ltj) female mice (n = 56) weaned to ages of 32 weeks on a 60% calories/g high-fat diet (also referred to as HFD-dNONcNZO), and which received either tacrolimus (0.1 mg/kg s.c. q2d) , its vehicle (castor oil and ethanol) or metformin (in drinking water 200 mg/dL p.o. ad libitum). HFD-BALBc-Rag2/IL2-gc female mice (n = 24) were used as HFD-immunodeficient controls.
Results
Treatment of the HFD-dNONcNZO female mice with tacrolimus improved live birth rates and postnatal viability scores (p < 0.01), normalized OGTT (p < 0.001), inhibited fetal malformation rates, restored morphology of spiral arterial modification; and improved uterine arterial and umbilical blood flow (p < 0.01). Placental production of TNFαand IL16 in the tacrolimus-treated HFD-dNONcNZO dams were restored to non-diabetic levels and the treatment resulted in the inhibition of aberrant monocyte/macrophage activation during pregnancy in the HFD-dNONcNZO dams.
Conclusions
Our present data suggest a casual association between chronic maternal overnutrition and aberrancy in the maternal Th1-immune maladaptation to pregnancy and defective spiral artery modification, placental insufficiency and adverse fetal outcomes in the T2DM subjects. Further safety studies into the use of tacrolimus in the pre-pregnancy glycemic control may be beneficial.
Keywords
DiabetesImmunosuppressionTacrolimusMetforminEmbryopathiesAdverse pregnancy outcomes (APO)
Background
Although pregnancy complicated by diabetes may result in a normal delivery with few adverse maternal effects or the child's long-term health, obesity and poor glycemic control during pregnancy can have deleterious maternal and embryo-fetal effects as well as delivery complications [1]. Lifestyle choices, in particular caloric intake, contribute significantly to obesity and increase expression of pro-inflammatory markers that precede the onset of insulin resistance and hyperglycemia associated with T2DM [2]. This apparent immune dysregulation in T2DM suggests that it may be a relevant therapeutic target [2], especially under physiological conditions such as gestation where adverse pregnancy outcomes (APOs) may occur in face of improper glycemic control.
Maintaining adequate glycemic control is the focus of current therapeutic interventions in pregnancies complicated by gestational diabetes mellitus (GDM). However, lowering the risk of APOs has always been a challenge with the use of current therapeutic modalities such as insulin and/or metformin [3, 4]. Although insulin treatment of GDM reduces serious perinatal morbidity and partially improves the woman's health-related quality of life [5], nonetheless, offspring of obese and diabetic women with adequate symptomatic control of their hyperglycemia have a five to tenfold increased risk of congenital anomalies and a fivefold greater risk of perinatal mortality than non-obese women based upon the population studied [3, 4, 6].
When challenged with a high-fat diet, the New Zealand Obese (NONcNZO10/LtJ) mice become hyperglycemic, hyperinsulinemic and insulin resistant, making them an important tool for investigating the links between metabolic dysregulation and reproductive and developmental defects in the obese and diabetic subjects [7, 8] and reviewed in [9].
While the use of immunosuppressants is primarily indicated to prevent allograft rejection, mounting evidence suggests they may be used safely during pregnancy after solid organ transplant [10, 11]. A recent recommendation suggests that in utero exposure to the immunosuppressant tacrolimus does not increase the risk of major congenital malformations, although there was an increased risk of low birth weight and pre-term birth [12]. Based upon this safety profile and the clinical importance of tacrolimus, it was decided to use this agent to test the hypothesis that immunosuppression can improve pregnancy outcomes in the chronically overfed obese and diabetic murine model of the human obesity-associated T2DM.
Results
Tacrolimus and fetal parameters in treated HFD-dNONcNZO mice
External gross and skeletal malformations
Since high-fat diet (45% kCal fat) alters fetal growth and inhibits murine fetal bone development [
27
], we examined external and skeletal growth characteristics of fetuses delivered to HFD-dNONcNZO mice and those receiving metformin or tacrolimus. Due to the extremely low viability of offspring from HFD-dNONcNZO mice (
n
= 3), the external morphology was assessed in all fetuses (
n
= 10). The cumulative external malformation rate in the HFD-dNONcNZO offspring was 90% (Additional file
1
: Table S2). Offspring from tacrolimus (0.05 or 0.1 mg/kg) and metformin treated mice had malformation rates of 5, 5.3 and 12%, respectively. Craniofacial defects were most prevalent and included in descending order of prevalence: anophthalmia, exencephaly, and protruding tongue. The midline defect, omphalocele was also noted in the HFD-dNONcNZO fetuses (Fig.
5
).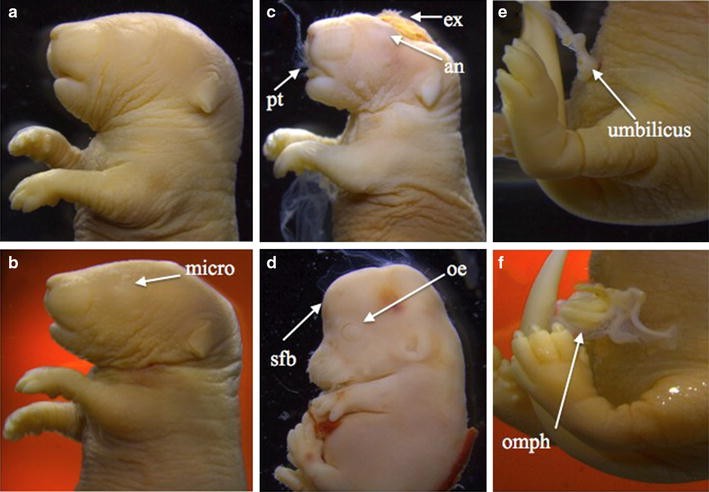 In assessing skeletal malformations only three fetuses were viable in all the HFD-dNONcNZO mice examined. One litter suffered a processing error and thus was not assessed. When exposed to tacrolimus or metformin, HFD-dNONcNZO mice displayed skeletal malformations, variations and ossification delays, but no pattern emerged (Table
2
). The common malformation was misaligned sterna with an increased incidence in the number of fetuses with supernumerary ribs (a variation not a malformation; 14 instead of 13 ribs) and delayed ossification primarily in the distal limbs (Fig.
6
).
Table 2
Summary of the major skeletal malformations, variations and delayed ossifications in fetuses examined
HFD-dNONcNZO

Tacrolimus (0.05 mg/kg)

Tacrolimus (0.1 mg/kg)

Metformin (200 mg/dL)

Fetuses (litters)

3 (3)

22 (3)

18 (3)

17 (3)

14 ribs

33% (1)

27% (3)

44% (3)

18% (2)

Incomplete ossification

Sternebra

a

0%

0%

6% (1)

Metacarpals

a

0%

0%

6% (1)

Forelimb phalanges

33% (1)

0%

6% (1)

12% (2)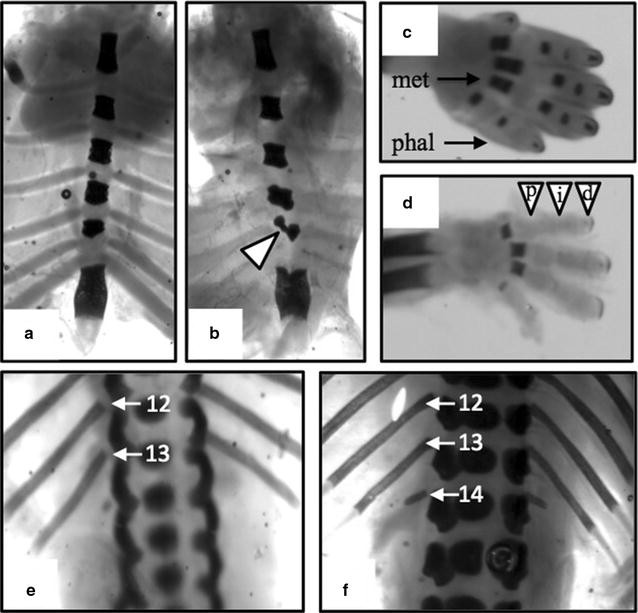 Internal malformations
Internal examinations were only conducted on fetuses that were viable at the time of Cesarean section. Thus, only three HFD-dNONcNZO fetuses were examined, but each presented with multiple anomalies while the incidences of malformations in low-, high dose tacrolimus and metformin treated were 13.6, 11 and 5.9%, respectively (Additional file 1: Table S3). Anomalies included hydroureter, hydronephrosis, hydrocephalus, outflow tract anomalies and interventricular septal defect. Variations such as absent gallbladder, and deficient lobe number in right lung were also noted in the HFD-dNONcNZO offspring, but not the other groups (Additional file 1: Table S3).
Discussion
The present study demonstrates that tacrolimus, an immunosuppressant currently used in organ transplant procedures, significantly improved glycemic control with concomitant improvement of reproductive outcomes, and increased postnatal survival without increasing risks of major congenital malformations in a murine model of human obesity-associated T2DM. In insulin resistant diabetic HFD-dNONcNZO mice, metformin normalized blood glucose levels to the same extent as tacrolimus but did not offer the same degree of protection against reproductive health and developmental adversities. This suggests that the immune system, independent of glycemic control, is a critical component of the management of adverse pregnancy outcomes associated with chronic maternal overnutrition.
Carrying a pregnancy after solid organ transplantation is considered a high risk for maternal, fetal and neonatal complications but has been successful. Multiple studies have demonstrated that clinically tacrolimus poses no increased risk of congenital malformations but may increase the incidence of low birth weight and pre-term delivery [10, 11, 28, 29]. These clinical experiences were in conflict, to some extent, with the preclinical safety studies conducted in female rats dosed prior to mating or during organogenesis [30, 31]. At a dose one-third of the maternally toxic dose based upon exposure, tacrolimus had adverse effects on female reproductive parameters causing embryolethality and significant reductions of pup weights [30]. These observations resulted in a US FDA pregnancy class C which states that "Animal reproduction studies have shown an adverse effect on the fetus and there are no adequate and well-controlled studies in humans, but potential benefits may warrant use of the drug in pregnant women despite potential risks". However, in over 200 exposed pregnancies and 236 babies born to organ transplant recipients where tacrolimus was administered as a multi-drug based therapy, no significant teratogenicity could be concluded from multiple clinical registries [32–35]. Nonetheless, unlike the present study, preclinical safety reports in rats were in contradiction to each other. Saegusa and associates [30] reported on reduced reproductive performance, increased embryolethality and decreased pup weights among pregnant rats orally receiving 1.0 and 3.2 mg/kg FK506 (tacrolimus) after organogenesis and during lactation [30]. On the other hand, Farley and co-workers [31] recounted normal maternal health but dose-dependant elevation in the percentages of post-implantation resorption that led to the conclusion of a relative safety to the use of tacrolimus in pregnancy [31]. Similarly, Ramos et al. [36] reported on normal maternal and fetal health in otherwise normoglycemic female Wistar rats orally receiving tacrolimus at 10–40 times the currently described dosage. Notwithstanding species and route of administration related-differences in interpreting tacrolimus pharmacokinetics among mice, rats and women, our data are generally supportive of previous reports from clinical registry leveraging records from 20 to 200 women receiving 0.1–0.4 mg/kg/day tacrolimus mono-therapy or in a combination of immunosuppression whereby higher fetal exposure ratios were found to be exponentially related to higher maternal trough blood concentrations of the compound but reported on normal birth weights and post-natal development in these pregnancies [28, 35, 37–39]. This is an important consideration because tacrolimus, like most drugs, crosses the placenta with concentrations found in the cord blood being ~71, 23 and 19% of maternal concentrations for whole blood, plasma and unbound form, respectively [28, 39]. Even with transfer across the placenta, tacrolimus neither causes gross congenital malformations in humans [10, 32, 40, 41] nor does it in normoglycemic Wistar rats exposed for 15 days to about 10–40× the current dose per oral during peri-implantation phase [36]. Nevertheless, tacrolimus has been reported to cause transient and reversible materno-fetal comorbidities such as hyperkalemia and in some cases reduced renal mass (oligonephronia) thereby increasing the risk for further development of renal failure and hypertension in adult life [40, 42]. Additionally, it should be pointed out that although the present study used tacrolimus to normalize glycemic control in the obese and T2DM mice, a paradoxical new-onset diabetes after transplantation (NODAT), a severe complication following organ transplantation, has been reported to occur in between 2 and 53% of transplanted patients receiving higher dosing of tacrolimus and/or having pretransplantation hyperglycemia (reviewed in [43–45]. Nonetheless, NODAT has not been reported in recent studies on allogeneic uterine transplantation in rats receiving low dosing of tacrolimus [46], neither was it associated with worsening of clinical outcomes during a mean follow-up of 3 years in kidney transplant recipients [47]; nevertheless it is warranted that further pre-clinical safety studies on the potential use of tacrolimus as anti-diabetic agent should be conducted.
Among endometrial changes and mechanisms linked to the adverse pregnancy outcomes in diabetic mice and women are impaired spiral artery remodeling and trophoblast invasion defects during gestation [48, 49]. In an attempt to elucidate how tacrolimus restored vascular adaptation to pregnancy in the obese and diabetic mice, we examined uterine arterial physiology, spiral artery remodeling and late gestational (GD 18.5) placental cytokines during pregnancy in the HFD-dNONcNZO dams. Incomplete spiral artery remodeling with lumen stenosis has been recognized among ominous pathophysiological signs of poor placentation in GDM [50, 51], This heralding histopathological sign was evident in the placentas of HFD-dNONcNZO dams expressing higher levels of pro-inflammatory cytokines that include TNFα, IL16 and IL23 (Additional file 1: Table S4). This is consistent with the reported human and non-human primate data that the placenta develops exaggerated pro-inflammatory response to obesity, which contributes to or results from placental vascular insufficiency [52, 53]. Therefore, important implications came from findings of restricted uterine artery pulsatility and poor umbilical flow dynamics during gestation in the HFD-dNONcNZO dams. Vascular indices (RI and/or PI) are used to investigate impedance of the vascular bed distal to the vessel being examined, and a large quantity of continuous forward flow is generally observed throughout the diastole in low-resistance arterial waveforms [54]. Contrary to this, higher vascular indices are characteristics of vascular flow supplying high-resistance and leaky vascular beds [54]. Through mechanisms linked to chronic systemic hyperglycemia, local inflammation and the release of pro-inflammatory and pro-angiogenic molecules such as vascular endothelial growth factor (VEGF), advanced glycation end-products (AGE) and alterations to de novo synthesis of nitric oxide (NO), maternal hyperglycemia is known to induce vascular defects characterized by increased angiogenesis, increased vascular resistance, hyper-coagulability and preponderance of highly permeable vessels [55–59]. On the other hand, it has been shown that umbilical artery flow velocity negatively correlates with umbilical artery resistance and is reflective of alterations to the uterine artery PI and placental vascular resistance [60]. Therefore, the overall lower uterine artery PI throughout gestation and higher RI in the untreated HFD-dNONcNZO dams dictates their poor breeding performance and the higher rates of inflammation-mediated fetal demise observed in this mouse model. Also, considering that the placenta is an organ requiring constant perfusion and has low vascular indices with uterine artery PI values decreasing with gestational age [61], the present findings that therapeutic interventions with either tacrolimus or metformin normalized uterine artery PI in the treated HFD-dNONcNZO dams have clinical inferences suggestive of a pivotal role for adequate maternal glycemic control and immuno-modulation relative to pregnancy outcomes in conditions of chronic maternal overnutrition.
Taken together, the present study support the observation that adverse fetal health among neonates born to diabetic mothers cannot be explained solely on the basis of maternal hyperglycemic control [62]. Our data are also in parallel with the notions made by Leach et al. and Ericsson et al. that hyperglycemia should only be seen as a player within a spectrum of diabetic complications whereby maternal inflammation might have the upper hand [62, 63]. Nonetheless, the present data are in conflict with the primate studies reported by Frias and associates [52] where in the relatively wider placenta exchange area and high functional reserve are to be blamed for the lower rates of fetal growth restriction reported in the primate studies. However, the high rate of fetal demise at necropsy reported in the present study and by Frias and associates points to the uteroplacental flow restriction and inflammation to be the plausible culprits. Indeed, similar to the non-human primate model of obesity-induced placental growth restriction [52], our findings suggest that inflammation in the pregnant adult HFD-dNONcNZO female mice is likely localized in tissues involving at least the placenta. This supports previous studies in that the end-organ response to HFD is local yet associated with dysregulation of metabolic, vascular and inflammatory pathways requiring an immunosuppression [64].
A limitation of the present study is the chance of investigating renal functions among the tacrolimus-treated HFD-dNONcNZO dams. It has been reported in ordinary kibble-fed male Wistar rats that tacrolimus at a dose of 0.6 mg/kg/day for 9 consecutive weeks is nephrotoxic [65]. Important to tacrolimus pharmacokinetics and mechanism of action is its bioavailability and the ratio of bound:free form in the blood. The latter two maternal variables are greatly influenced by a multitude of factors among which the renal functions have long been recognized [66]. Therefore, future studies are warranted to establish whether or not our treated mice suffered tacrolimus-related nephrotoxicity. A possibility to overcome this limitation is the titration of dosage to maintain whole blood tacrolimus trough concentrations in the usual therapeutic range in plasma or urine of treated dams. This is particularly important since tacrolimus pharmacokinetic changes during pregnancy with maternal factors such as anemia and hypoalbuminemia significantly contribute to at risk pregnancy.
Conclusions
Our data suggest a casual association between chronic maternal overnutrition and the development of materno-fetal comorbidities manifested in the immune-mediated glucose intolerance, defective spiral artery modification, placental insufficiency and adverse fetal outcomes in a mouse model of human obesity-associated T2DM. We have specifically found that the use of tacrolimus at the dose of 0.1 mg/kg q2d is adequate in restoring glucose homeostasis prior to and during gestation in the obese and diabetic subjects. The weight of evidence from pregnancies following solid organ transplant points to a marginal embryo-fetal safety of in utero tacrolimus exposure. On the other hand, metformin normalized glucose intolerance in HFD-dNONcNZO mice but offered less protection against diabetes-induced embryopathies than tacrolimus. This suggests that the etiology, incidence and severity of diabetes-associated congenital anomalies may have an immunological component requiring appropriate immuno-therapeutic intervention.
Abbreviations
T2DM:

type 2 diabetes mellitus
APO:

adverse pregnancy outcomes
HFD:

high-fat diet
GDM:

gestational diabetes mellitus
OGTT:

oral glucose tolerance test
PWD:

pulse wave Doppler
AUC:

area under the curve
IFNγ:

interferon gamma
TNFα:

tumour necrosis factor-alpha
IL:

interleukin
Declarations
Authors' contributions
AJHA, TRSO, MW and FWKK designed the research study, wrote, critically reviewed and approved the final version of the manuscript. AJHA performed all experiments. AJHA and TRSO collected and analyzed the data; SP and TRSO performed postnatal fetal analysis; MH analyzed ultrasound data. All authors read and approved the final manuscript.
Acknowledgements
Authors would like to thank members of the Queen's University Animal Care Committee and the staff of the Queen's University Animal Care Services for their valuable insights, services and assistance throughout the project. We extend our thanks to Jeffery Mewborn, Mathew Jordon and Jalna Means from the Queen's Cancer Research Institute for their assistance in performing microultrasonography.
Competing interests
AJHA and FWKK are listed as inventors in the United State patent No. 9427433. MW is an employee of PARTEQ Innovations. MH, SP and TRSO declare no financial conflict. The authors have no further financial involvement with any organization with a financial interest or financial conflict with the subject matter presented in the manuscript.
Availability of data and materials
All data produced for the purpose of this investigation are available for consultation and for the public, upon request to the corresponding author (F.W.K.K.) at 'kanfwk@queensu.ca'.
Ethics approval and consent to participate
Studies conducted under the current investigation involved no human participants. All animal procedures conducted in this investigation were approved by the Queen's University Animal Care Committee (Protocol # Kan-OR-013).
Funding
This work was supported, in part, by an operating grant to FWKK from the Canadian Institutes of Health Research (MOP93606).
Open AccessThis article is distributed under the terms of the Creative Commons Attribution 4.0 International License (http://creativecommons.org/licenses/by/4.0/), which permits unrestricted use, distribution, and reproduction in any medium, provided you give appropriate credit to the original author(s) and the source, provide a link to the Creative Commons license, and indicate if changes were made. The Creative Commons Public Domain Dedication waiver (http://creativecommons.org/publicdomain/zero/1.0/) applies to the data made available in this article, unless otherwise stated.
Authors' Affiliations
(1)
Department of Biomedical and Molecular Sciences, Faculty of Health Sciences, Queen's University, Kingston, Canada
(2)
PARTEQ Innovations, Queen's University, Kingston, Canada