Novel anti-glioblastoma agents and therapeutic combinations identified from a collection of FDA approved drugs
Journal of Translational Medicine
2014
12:13
Received: 25 December 2013
Accepted: 10 January 2014
Published: 17 January 2014
The Erratum to this article has been published in Journal of Translational Medicine 2014 12:126
Abstract
Background
Glioblastoma (GBM) is a therapeutic challenge, associated with high mortality. More effective GBM therapeutic options are urgently needed. Hence, we screened a large multi-class drug panel comprising the NIH clinical collection (NCC) that includes 446 FDA-approved drugs, with the goal of identifying new GBM therapeutics for rapid entry into clinical trials for GBM.
Methods
Screens using human GBM cell lines revealed 22 drugs with potent anti-GBM activity, including serotonergic blockers, cholesterol-lowering agents (statins), antineoplastics, anti-infective, anti-inflammatories, and hormonal modulators. We tested the 8 most potent drugs using patient-derived GBM cancer stem cell-like lines. Notably, the statins were active in vitro; they inhibited GBM cell proliferation and induced cellular autophagy. Moreover, the statins enhanced, by 40-70 fold, the pro-apoptotic activity of irinotecan, a topoisomerase 1 inhibitor currently used to treat a variety of cancers including GBM. Our data suggest that the mechanism of action of statins was prevention of multi-drug resistance protein MDR-1 glycosylation. This drug combination was synergistic in inhibiting tumor growth in vivo. Compared to animals treated with high dose irinotecan, the drug combination showed significantly less toxicity.
Results
Our data identifies a novel combination from among FDA-approved drugs. In addition, this combination is safer and well tolerated compared to single agent irinotecan.
Conclusions
Our study newly identifies several FDA-approved compounds that may potentially be useful in GBM treatment. Our findings provide the basis for the rational combination of statins and topoisomerase inhibitors in GBM.
Keywords
GlioblastomaDrug screeningPatient-derived glioblastoma cell linesRational combination
Introduction
Novel therapeutic options are sorely needed to target glioblastoma (GBM), a notoriously treatment-resistant brain cancer. GBM is a leading cause of cancer-related death in the pediatric and adult populations, with most patients succumbing within 1-2 years[1, 2]. The standard therapies are inadequate, and their toxicities lead to severe life-long morbidity in the small number of patients that survive[2]. Despite this grim prognosis, GBM is an orphan disease that is in general not a priority for new drug development[3–5]. Moreover, the biology of GBM is complex and much remains to be learned about the putative key signaling pathways before they can be therapeutically exploited[6]. In view of the unmet and urgent clinical need, we were motivated to pursue recent data indicating that GBM may respond to some FDA-approved agents not previously identified as GBM therapeutics[7, 8]. The in vitro screening of a broad range of drugs already approved for other indications is attractive as in vivo toxicity and pharmacology are well defined, and such compounds can enter GBM clinical trials rapidly either as single agents or as combinations.
Accordingly, our goals were to identify and characterize single and combination agents having anti-GBM activity that we can potentially introduce into clinical trials quickly. To this end, using GBM cell lines and patient-derived GBM cell cultures, we screened a 446-compound NIH Clinical Collection (NCC) library comprising FDA-approved drugs. To further improve the anti-GBM potency of these drugs, we tested various drug combinations and compared them to single drug treatment.
Our screening strategy included multiple human GBM cell lines of different origins in order to provide cross-validation of findings. These cell lines included 4 established serum-grown, immortalized human GBM lines, 4 patient-derived stem cell like GBM primary cells grown as neurospheres, and 2 primary patient-derived GBM lines grown as adherent cultures[9–14].
We did not confine our screening to only adherent GBM stem cell lines despite reports claiming that such lines remain undifferentiated longer and constitute a simpler, less variable assay[11, 14]. It is not yet firmly established that the major therapeutic target in GBM is just the cancer stem cell tumor compartment and there are indications that other cell types within GBM may assume stem cell characteristics through genetic or epigenetic events[14–16]. In contrast to a single type or lineage of cells, neurospheres contain a mix of GBM stem cells and differentiated cells, which is more reflective of the composition of human GBM tumors[17]. Further, when dissociated neurospheres are implanted orthotopically, they are highly tumorigenic and authentically recapitulate the invasive natural history, composition, and histology of GBMs growing in humans[16]. Hence we report the identification of NCC active compounds through our screening approach on patient-derived stem cell-like GBM primary cells.
Our initial screening identified 22 compounds active against GBM (>50% cell death)[18] at pharmacological doses. These 22 compounds encompassed 11 drug classes. In particular, we found that the statin, pitavastatin, effectively induced cellular autophagy and suppressed tumor cell MDR-1 protein, to impressively enhance the potency of irinotecan, a topoisomerase 1 inhibitor used in cancer treatment[19–21]. This work newly identifies FDA approved drugs and drug combinations, notably pitavastatin and irinotecan, that may be useful for GBM treatment, and draws attention to the potential value of in vitro screening of approved compounds not currently used to treat GBM.
Results
In vitro screening of drugs
Effect of pitavastatin on GBM cells
Considering the effectiveness of statins in our study, specifically pitavastatin in inducing cell death and owing to relatively fewer adverse effects, we decided to explore pitavastatin in detail.
Pitavastatin induces autophagy in GBM cells
Pitavastatin induced cell morphologic changes, as early as 24 hours, with adherent cells assuming a rounded configuration and detaching from the substrate (Figure
3
A). Death of tumor neurospheres was also triggered and these cells arrested in the G
0
/G
1
phase after treatment (Figure
3
B). G
0
/G
1
phase cells were dominant and the proportion of cells in S phase dramatically decreased.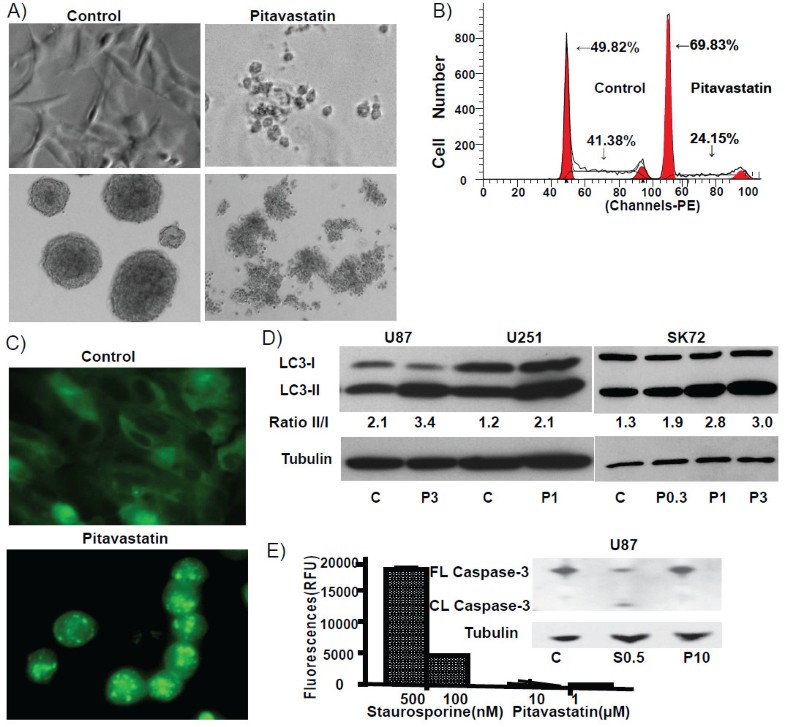 We found that pitavastatin-treated GBM cells exhibited characteristics consistent with autophagy rather than apoptosis[20, 21]. After pitavastatin treatment, GBM cells showed extensive vacuolization, a key feature of cellular macroautophagy[33, 34]. Further, pitavastatin-treated cells stably expressing the GFP-LC3 fusion protein developed a punctate cytoplasmic pattern, suggesting that GFP-LC3 covalently linked to phosphatidylethanolamine (PE) and was inserted into double membrane autophagosomes (Figure 3C).
Morphological observations were confirmed by Western-blot analysis of LC3, which revealed a LC3-I to LC3-II transition, a hallmark of autophagy (Figure 3D)[34, 35]. The adherent versus sphere culture conditions did not influence the LC3 transition, which was observed in both U87, U251 adherent stable lines and in the stem cell-like SK72 cell spheres upon pitavastatin treatment. Furthermore, increasing concentrations of pitavastatin enhanced LC3-I to II transition (Figure 3D, right panel). In addition, Annexin staining failed to detect apoptosis after pitavastatin (data not shown) treatment. Caspase-3/7 activity was not detectable via fluorescence or by Western-blot analysis (Figure 3E). We could not entirely exclude the possibility that pitavastatin induced cell apoptosis by caspase independent pathways; however the cell cycle analysis shown in Figure 3B argued against this hypothesis, as it did not reveal a sub-G1 population, characteristic of apoptotic cells. The mechanism(s) of cell death induced by pitavastatin still needs more detailed investigation. Further, whether other statins can also trigger autophagy in human GBM cells remains to be determined, and this may depend, in part, on whether adherent cells or neurosphere cultures are assayed.
To elucidate the possible mechanisms by which pitavastatin decreases cell survival, we also used a virtual tumor cell technology. This is an in silico analysis using a comprehensive and dynamic representation of signaling and metabolic pathways underlying tumor physiology (based on CellWorks Inc. technology, Additional file2). Using this platform, we tested the effect of pitavastatin on two GBM cell lines (A172 and U251) using genomic profiles. In silico modeling data predicted a significantly increase in autophagy makers in both GBM cells following pitavastatin treatment (Additional file3).
Drug combinations
We then tested 12 drugs along with pitavastatin to investigate possible additive or synergistic effects. In these combinations tested using U87 cells, only irinotecan and pitavastatin displayed a synergistic effect, with effective lowering of IC
50
for both compounds (Figure
4
A). This synergistic effect was further confirmed in U118 and SK72 cells, using a concentration range of pitavastatin, which showed a dramatic 40-70 fold lowering of the IC
50
compared to irinotecan alone (Figure
4
B). Drug combination index (CI), calculated at ED
50
, ED
75
and ED
90
, ranged from 0.28 -0.76 for U118 cells 0.55-0.87 for U87 cells and 0.41-1.29 for SK72 cells demonstrating a moderate-to-strong synergism between irinotecan and pitavastatin at various drug concentrations in all three GBM cell lines. Importantly, the addition of pitavastatin reversed the resistance of the primary SK72 neurosphere cells to irinotecan, causing a decrease in its IC
50
from 30 μM to 1.5 μM.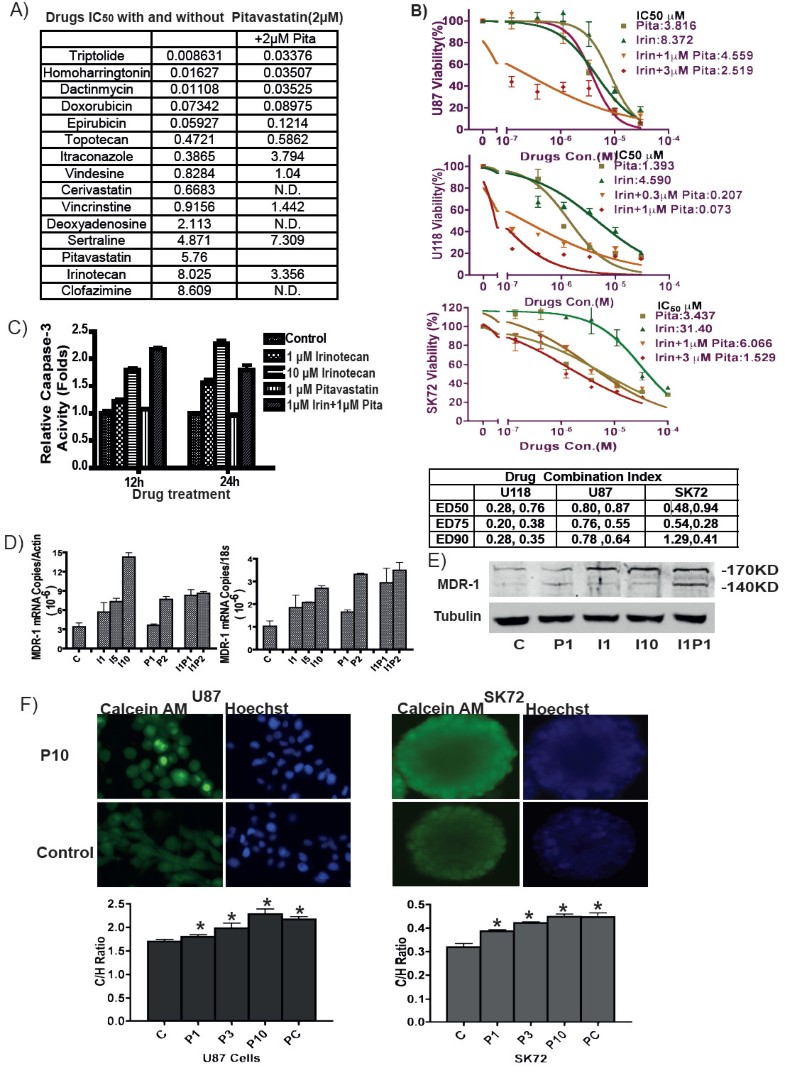 Enhancement of irinotecan via suppression of MDR-1 by pitavastatin
Irinotecan induces apoptosis, which is primarily responsible for its anti-tumor activity[36]. Although pitavastatin as a single agent did not induce apoptosis, in combination with irinotecan, it enhanced U87 caspase-3 activity as compared to irinotecan alone, both at 12 and 24 hours (Figure 4C). The major mechanism of drug resistance in GBM is the over-expression of the multi-drug resistance protein (MDR-1; p-glycoprotein 1 or ABCB1), seen in the BBB and neuroepithelial tumors such as GBM[37]. Multiple studies have established that MDR-1 is responsible for decreased drug accumulation in multidrug-resistant GBM cells[38, 39]. Interestingly, pitavastatin is a substrate of MDR-1[40]. We observed that MDR-1 gene transcription levels correlated directly with irinotecan concentration (Figure 4D). However, after combined pitavastatin and irinotecan treatment, the 140 KD MDR-1 band increased in intensity, suggesting MDR- glycosylation is suppressed, which attenuates the production of functional MDR-1 (Figure 4E)[41].
Pitavastatin inhibited MDR-1 function
As shown in Figure 4D and E, pitavastatin induced MDR-1 mRNA and decreased glycosylation of MDR-1 protein. To elucidate the effect of pitavastatin on MDR-1 function, we evaluated the drug exclusion capability directly, using the Calcein-AM assay. As showed in Figure 4F, after statin treatment, both U87 and SK72 GBM cells showed increased intracellular amounts of the MDR-1 substrate (Calcein AM), indicating that pitavastatin may inhibit drug-exclusion mediated by MDR-1. The MDR-1 inhibition was directly proportional to pitavastatin concentration. This result suggests that the increased caspase activity, observed in cells treated with irinotecan in combination with pitavastatin, may be due to its MDR-1 inhibitory effects, which in turn caused accumulation of irinotecan (Figure 4C).
Down-regulation of MDR-1 (ABCB1 gene) expression correlates with overall survival and longer disease-free status
In TCGA dataset, of the 243 GBM samples profiled, 43 showed down-regulation of MDR-1/ABCB1 (Figure
5
A), 15 were amplified for MDR-1/ABCB1 and 34 had MDR-1/ABCB1 up-regulation. This result suggested that the MDR-1 transcription levels are variable and may be regulated by the tumor microenvironment. In all 173 cases with normal MDR-1 expression level (blue-line), the median survival was 14.1 months (n = 149) whereas in patients with MDR-1 down-regulation (red-line), it was increased to 23.2 months (P = 0.027; Figure
5
B). Further, progression-free survival increased from 6.67 months in patients with normal MDR-1 to 11.54 months in case of MDR-1 down-regulation. For patients with MDR-1 up-regulation or gene amplification, there was no difference in overall or progression-free survival when compared to controls (data not shown). These data strongly suggest that MDR-1 inhibition following treatment with statins may have a beneficial effect in GBM patients.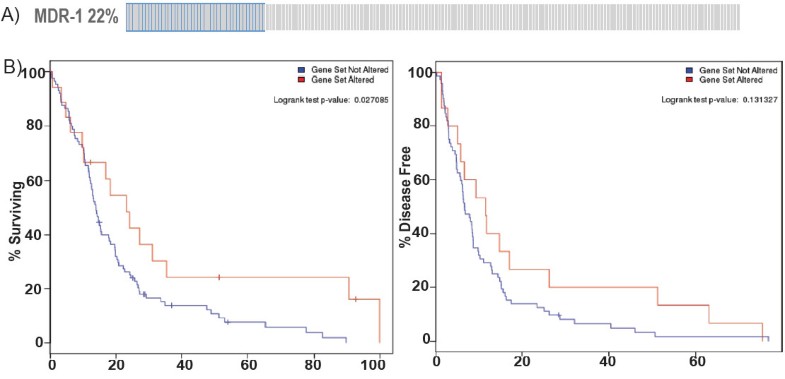 Combination of Pitavastatin and Irinotecan enhances anti-tumor efficacy in vivo
To evaluate the
in vivo
anti-cancer effect of pitavastatin and irinotecan, we treated xenograft mouse models implanted with U87 cells with either single agent or combination. As shown in Figure
6
A, low dose pitavastatin or irinotecan did not affect tumor growth. In contrast, 0.5 mg/kg pitavastatin in combination with 0.5 mg/kg irinotecan significantly attenuated tumor growth (P < 0.01) compared to both the control group and the low-dose single drug treatment groups (one week /5 drug treatment). Tumor measurements after sacrificing the mice at day 32 confirmed that combination treatment significantly reduced tumor size and weight (P < 0.001; Figure
6
A, right panel). Interestingly, irinotecan administered as a single agent but at a dose 10-times higher than that used in the combination treatment group was also very potent in inhibiting
in vivo
U87 tumor growth. However, such high doses were associated with significant drug toxicity, as indicated by severe weight loss in drug-treated mice (Figure
6
B). In contrast, the body weights of mice receiving a combination of pitavastatin and low-dose irinotecan increased 3-4 gram steadily similar to that seen in control and the low dose drug treatment groups during the whole study duration. Moreover, tumor cell proliferation decreased dramatically as showed by the Ki67 staining in Figure
6
C.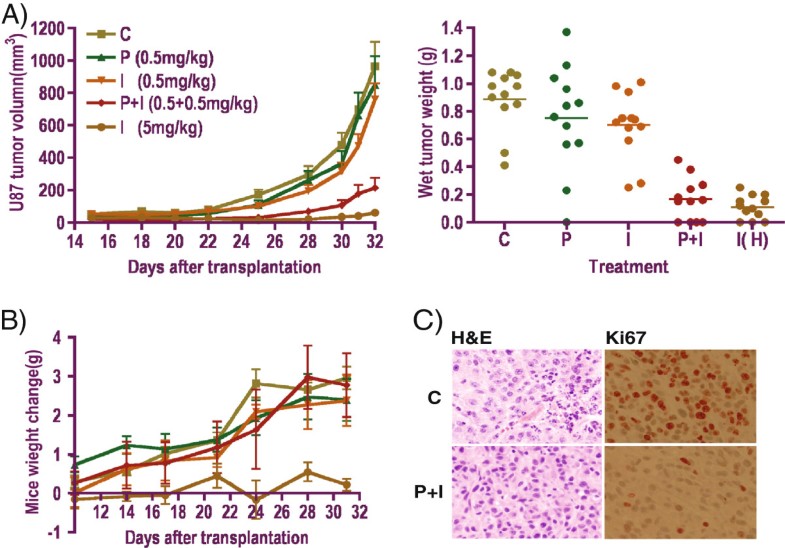 Discussion
In the present study, we sought to screen a library of FDA-approved compounds to rapidly identify new, non-GBM drugs that could be readily introduced into GBM clinical trials. Using a platform that employed a wide range of human GBM lines, including clinically relevant patient-derived primary GBM lines, our screening uncovered 22 compounds from different classes with anti-neoplastic activity in GBM. Among others, the cardiovascular drugs statins showed high efficacy in reducing tumor growth both in vitro and in vivo, drawing our attention to these relatively non-toxic cholesterol lowering drugs. The present study demonstrates the potency of pitavastatin relative to other statins. Importantly, our results demonstrated that co-administration of pitavastatin with low-dose chemotherapy, greatly increased the potency of the latter, lowering the IC50 values for irinotecan by 40- to 70-fold, with few adverse effects. Experimentally, we found that statins independently induced autophagy in GBM and that statins may potentiate chemotherapeutic agents by inhibiting MDR-1 function. This was consistent with in silico screening results using our virtual tumor cell technology, which suggested that pitavastatin affects cell viability by inducing autophagy.
Cholesterol has a key role in cell membranes, cell metabolism, cell signaling and has been implicated in tumor development and progression. Therefore, as cholesterol-lowering agents, questions about the anti-tumor effects of statins have been already posed[42, 43]. Statins decrease cholesterol levels by inhibiting the enzyme HMG-CoA reductase in the liver. In addition, mevalonate, and isoprenoid intermediates such as geranylgeranylpyrophosphate (GGPP) and farnesylpyrophosphate (FPP) in the cholesterol synthesis pathway are also depleted after statin treatment[44]. Another intermediate, dolichol, an essential substrate for protein N-glycosylation, is also blocked by statins[45, 46]. Considering that GBMs are highly proliferative taking up large quantities of cholesterol, potentially they may be vulnerable to statin treatment[47, 48]. However, the mechanism of sensitivity of GBM to statins has not been elucidated. Recent studies have shown that statins may have an anti-GBM effect in xenograft mouse models, by targeting the low-density lipoprotein receptor (LDLR), inducing apoptosis via ERK/AKT pathway[20, 47]. Other data hypothesize that statins may inhibit tumor growth by inducing autophagy via the NF-κB pathway in human colon cancer cell line[49]. Our data obtained in both stable cell lines and primary patient samples clearly demonstrated that pitavastatin induced macro-autophagy in GBM cells[20, 21]. Further experiments are now ongoing to investigate the signaling pathway(s) involved in this effect.
Importantly, we have shown that pitavastatin potentiated the anti-tumor effects of low-dose irinotecan, a topoisomerase inhibitor. Pitavastatin is know to be a substrate of the multi-drug resistance protein, MDR-1, which is overexpressed in GBM upon drug treatment and is partly responsible for the resistance of GBM to chemotherapy. Our data indicate that, in combination with irinotecan, pitavastatin suppressed glycosylation of MDR-1, thereby inhibiting its function and allowing irinotecan to accumulate intracellularly[37, 39, 40]. Accumulation of irinotecan is likely responsible for the increased apoptosis in the presence of pitavastatin. The MDR-1 expression in cancer cells can be a significant obstacle to the success of chemotherapy. Many MDR-1 inhibitors have been extensively tested in clinical trials but the results have been inconclusive. According to TCGA data, down-regulated ABCB1 (MDR-1) predicted better survival of GBM patients. Combining a statin with a chemotherapeutic agent represents a powerful, potential strategy for circumventing resistance and significantly enhancing efficacy. Here we have confirmed that pitavastatin may improve the therapeutic response to TOPO-1 inhibitors, by inhibiting MDR-1 function, and may be beneficial for GBM patients. It remains to be determined whether other statins exert a similar or a different anti-neoplastic mechanism as compared to pitavastatin, and whether different subtypes of GBM have different sensitivity to pitavastatin or display other mechanisms for statin actions. GBM is a complex and heterogeneous disease that likely accounts for the different results obtained across various studies.
Irinotecan is broadly used in solid cancer therapy, especially in combination with other drugs[50, 51]. In clinical use, the toxicity of irinotecan is generally manageable and reversible[52, 53]. However, in some patients it may lead to severe side effects, such as diarrhea and neutropenia that can be life threatening. In our animal model, co-administration of pitavastatin allowed for a reduced dosage of irinotecan and avoided drug toxicity at higher dosage. These data indicate a new strategy to develop better irinotecan-based drug combination.
Based on the promising results of our present study, we are now undertaking additional preclinical studies of GBM to optimize dosing and characterize efficacy, thus providing a solid basis for a clinical trial with pitavastatin and irinotecan for the treatment of glioblastoma patients.
Declarations
Acknowledgements
The authors wish to thank Gabi Gomez for technical assistance in the laboratory.
Financial support
Grants from NIH (NIH 3P30CA023100-25S8), National Brain Tumor Society David Cook Chair of Research and from Barbara and Joseph Ajello trust fund, Tuttleman Family Foundation and Boston Fire Department/Kenney Foundation to S. Kesari.
Authors' Affiliations
(1)
Translational Neuro-Oncology Laboratories, Moores Cancer Center, UC San Diego, La Jolla, USA
(2)
Department of Neurosciences, UC San Diego, La Jolla, USA
(3)
Moores Cancer Center, UC San Diego, La Jolla, USA
(4)
CellWorks Inc., Irvine, USA
Copyright
© Jiang et al.; licensee BioMed Central Ltd. 2014
This article is published under license to BioMed Central Ltd. This is an Open Access article distributed under the terms of the Creative Commons Attribution License (http://creativecommons.org/licenses/by/2.0), which permits unrestricted use, distribution, and reproduction in any medium, provided the original work is properly cited. The Creative Commons Public Domain Dedication waiver (http://creativecommons.org/publicdomain/zero/1.0/) applies to the data made available in this article, unless otherwise stated.