HLA-dependent tumour development: a role for tumour associate macrophages?
Journal of Translational Medicine
2013
11:247
Received: 5 July 2013
Accepted: 1 October 2013
Published: 6 October 2013
Abstract
HLA abnormalities on tumour cells for immune escape have been widely described. In addition, cellular components of the tumour microenvironment, in particular myeloid derived suppressor cells (MDSC) and alternatively activated M2 tumour-associated macrophages (TAMs), are involved in tumour promotion, progression, angiogenesis and suppression of anti-tumour immunity. However, the role of HLA in these activities is poorly understood. This review details MHC class I characteristics and describes MHC class I receptors functions. This analysis established the basis for a reflection about the crosstalk among the tumour cells, the TAMs and the cells mediating an immune response.
The tumour cells and TAMs exploit MHC class I molecules to modulate the surrounding immune cells. HLA A, B, C and G molecules down-regulate the macrophage myeloid activation through the interaction with the inhibitory LILRB receptors. HLA A, B, C are able to engage inhibitory KIR receptors negatively regulating the Natural Killer and cytotoxic T lymphocytes function while HLA-G induces the secretion of pro-angiogenic cytokines and chemokine thanks to an activator KIR receptor expressed by a minority of peripheral NK cells. The open conformer of classical MHC-I is able to interact with LILRA receptors described as being associated to the Th2-type cytokine response, triggering a condition for the M2 like TAM polarization. In addition, HLA-E antigens on the surface of the TAMs bind the inhibitory receptor CD94/NKG2A expressed by a subset of NK cells and activated cytotoxic T lymphocytes protecting from the cytolysis.
Furthermore MHC class II expression by antigen presenting cells is finely regulated by factors provided with immunological capacities. Tumour-associated macrophages show an epigenetically controlled down-regulation of the MHC class II expression induced by the decoy receptor DcR3, a member of the TNFR, which further enhances the M2-like polarization. BAT3, a positive regulator of MHC class II expression in normal macrophages, seems to be secreted by TAMs, consequently lacking its intracellular function, it looks like acting as an immunosuppressive factor.
In conclusion HLA could cover a considerable role in tumour-development orchestrated by tumour-associated macrophages.
Keywords
Macrophage Mannose ReceptorNonameric PeptideFree Heavy ChainInhibitory Receptor ILT2Heavy Chain Form
Introduction
Macrophages are tissue phagocytic cells that display the main activity of clearance independently of immune cells. However, they can be activated in response to either innate or adaptive immune signals and they are able to shape their phenotype to fit the microenvironment. In an attempt to simplify their complexity, activated macrophages can be categorized into two distinct subtypes: classically activated (M1) and alternatively activated (M2) [1, 2]. M1 macrophages are activated in the presence of bacterial moieties (LPS) or Th1 cytokines (IFN-gamma). In mice, M1-associated markers include interleukin-12 (IL-12), inducible nitric oxide synthase 2 (iNOS2) and a high level of MHC class II molecules. Human macrophages do not show induction of iNOS2 under the same conditions, despite having a similar phenotype. They have an efficient antigen presentation capacity and, through interaction with Th1 cells and NK cells, they are able to kill pathogens and tumour cells. M1 macrophages antagonize tumourigenesis due to direct tumour-killing mechanisms and amplification of Th1 responses, providing a positive feedback loop in the anti-tumour response [1]. In contrast, M2 macrophages are activated in the presence of Th2 cells cytokines and basophil-secreted cytokines (IL4, IL13, IL33) or induced by immune complexes and TLR agonists as well as by IL-10 and glucocorticoids [3–5]. The expression of resistin-like alpha (FIZZ1), arginase-1, macrophage mannose receptor 1 and chitinase 3-like 3 identify mice M2 macrophages, while human M2 macrophages do not show induction of resistin-like-alpha, arginase 1 and chitinase 3-like 3 but they up regulate indoleamine 2,3-dioxygenase (IDO). Moreover, M2 macrophages produce several growth factors (IL-10, EGF, FGF, VEGF and TGF-beta) and they are also involved in parasite clearance and allergy. M2 macrophages may enhance tumour progression by releasing growth factors and products of the arginase-1/IDO pathway and by promoting tumour angiogenesis [6].
Solid tumours are infiltrated by a heterogeneous immune cell population, including different subsets of lymphoid and myeloid cells [7]. The infiltration of tumour-associated macrophages (TAMs) can represent an index of poor prognosis in different types of cancer [8].
Mantovani and collaborators, as a result of a literature review, suggest a switch of TAMs from M1-like to M2-like phenotype as an adaptation to microenvironment changes during tumour progression. In early carcinogenesis T cells drive M1-activated macrophages to eliminate tumour cells except in advanced stages of tumour progression where microenviromental signals result in M2 polarized TAMs that orchestrate smouldering, non-resolving tumour promoting inflammation [9, 10].
This fine property of TAMs to modulate their features in relation to different microenviromental conditions is clearly shown by Movahedi K. and co-authors [11]. Using a mammary adenocarcinoma model, they provide a dynamic picture in which a subset of precursor monocytes infiltrating the tumour gives rise to distinct TAM subsets. These subsets are different at the molecular and functional levels and were present in different intra-tumour microenvironments. TAMs with a high expression of MHC class II and M1 markers are confined in normoxic tumour areas, whereas M2-like TAMs with a low expression of MHC class II and significantly higher proangiogenic activity are found in hypoxic tumour areas. Moreover, these M2-like TAM subsets possess a poor antigen presenting capacity and could suppress T-cell activation by using different suppressive mechanisms such as: the secretion of protease like Arg-1 [12], the releasing of immunosuppressive cytokines like TGFbeta [8] and IL-10 [13] and of chemokine-like CCL18 [14] the membrane expression of B7-H1 [15] and BTN3A [16]. Importantly, the relative percentages of these distinct myeloid subpopulations dramatically changed as tumours progressed: the TAM subset expressing low MHC class II became gradually the more represented population of the myeloid tumour infiltrate [14].
The alterations of MHC class I molecules and cellular components involved in the antigen processing and presentation machinery have been widely described as one of the main mechanism adopt by various type of tumour cells to escape from the immune system. The frequency of the HLA class I abnormalities is highly variable in many solid and hematopoietic tumours.
These deviations include the complete absence or down-regulation of HLA class I expression or of HLA class I allo-specificities in frequent association to an impairment of a single or various members of the antigen processing and presenting machinery. In most cases, it seems that the HLA class I abnormalities result from a deregulation rather than a structural defect suggesting an intervention at the epigenetic, transcriptional and or posttranscriptional level [17]. This observation increase even more the importance of studying the crosstalk between the tumour cells and the microenvironment.
This review tries to provide a snapshot of the complex and dynamic scene of cancer HLA is the focus, but the subject matter has been broadened to include the tumour cells, the microenvironment and their interaction.
Conclusion
In conclusion, as summarized in Figures
1
and
2
, both classical and non-classical MHC class I molecules expressed by tumour cells and TAMs might serve as important moderators of immune response attendees and the balance between the expression of MHC I molecules as free HC or as conformed proteins would determine the strength of such an immune response.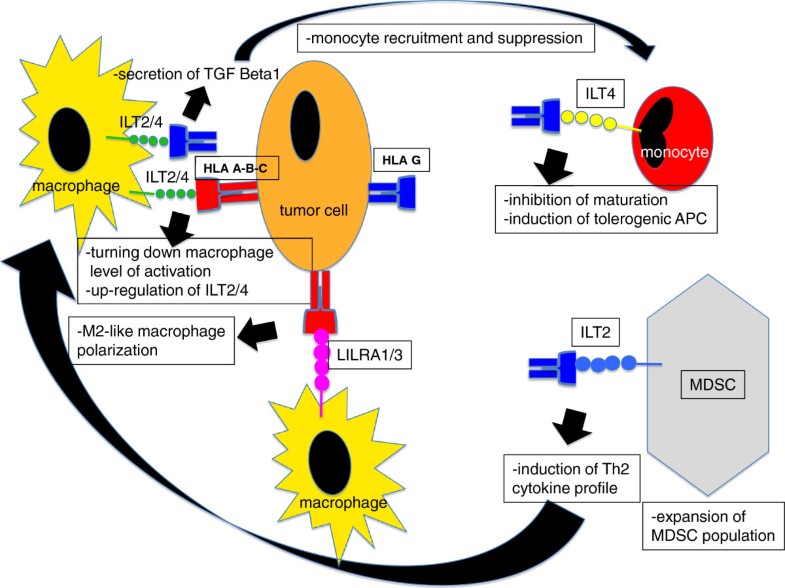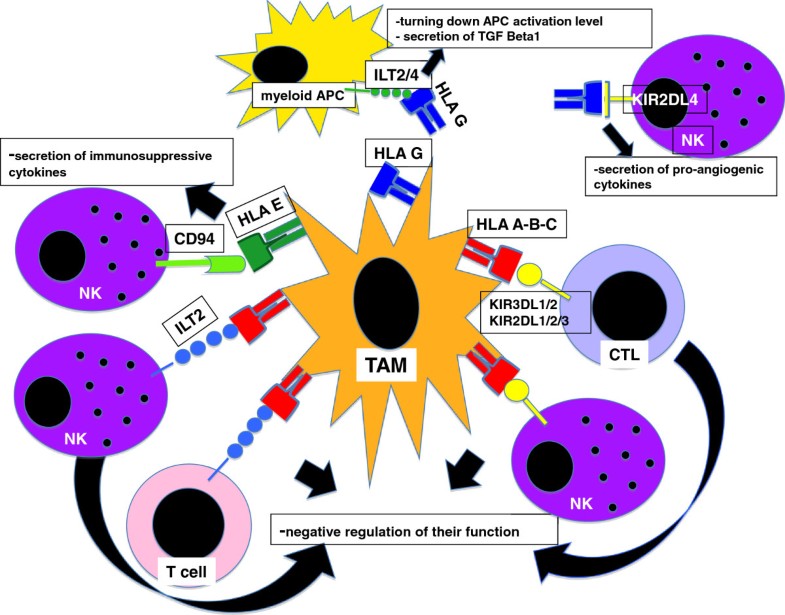 Indeed this review casts light on inhibitory and activatory LILRs as novel potential trigger factors of the tolerogenic profile and of M2-like alternative polarization on TAMs in response to the interaction with the classical and non classical MHC class I.
Other interesting potential targets of treatment represented in Figure
3
, are DcR3 and BAT3.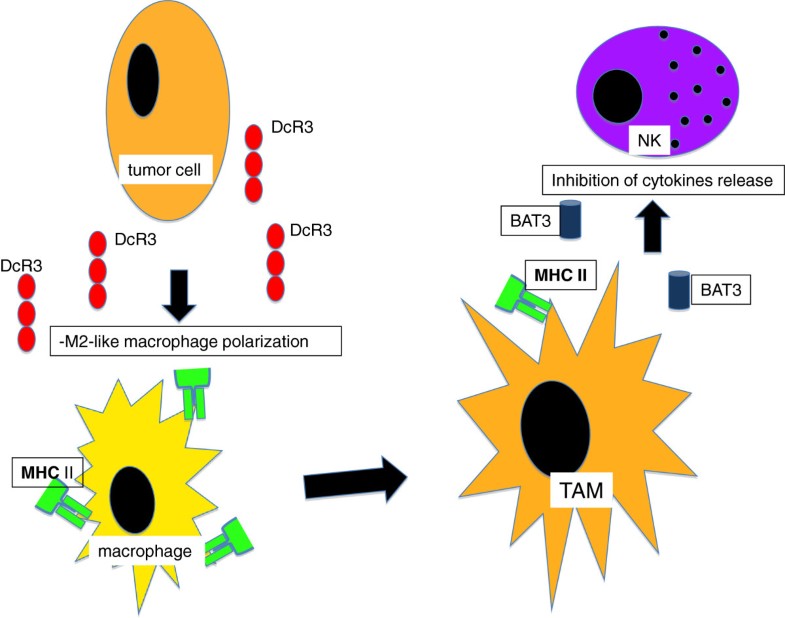 The tumour cells can release DcR3 in the microenvironment, which not only decreases the MHC class II expression on macrophages, but also alternatively promotes their M2 polarization.
BAT3 is a critical factor for maintaining MHC class II expression on macrophage cell surfaces when acting on intracellular sites. However, when cancer and accessory cells, like TAMs, secrete BAT3 in the tumour microenvironment, this looks like acting as an immune suppressor factor.
Abbreviations
APC:

Antigen Presenting Cell
BAT3:

HLA-B associated transcript-3
CD:

Cluster of Differentiation
CMV:

Cytomegalovirus
CTL:

Cytotoxic T lymphocytes
CTLA:

Cytotoxic T lymphocyte antigen
CIITA:

Class II transactivator
DC:

Dendritic cell
DcR3:

Decoy Receptor 3
DNA:

deoxyribonucleic acid
EGF:

Epithelial Growth Factor
ER:

Endoplasmatic Reticulum
FGF:

Fibroblastic [Fibroblast?] Growth Factor
HIV:

Human Immunodeficiency Virus
HLA:

Human Leucocyte Antigen
ICOS:

Inducible T-cell Costimulator
IL:

Interleukin
ILT:

Immunoglobulin-Like Transcript 2
INF:

Interferon
iNOS:

inducible NO Synthase
KIR:

Killer cell Immunoglobulin-like Receptor
LILR:

Leukocyte Immunoglobulin-like Receptor
LPS:

Lipopolysaccarhide
M:

Macrophage
MHC:

Major Histocompatibility Complex
NSLC:

Non-Small Lung Cancer
mRNA:

messenger RiboNucleoAcid
MSC:

Mesenchymal Stem cell
MDSC:

Myeloid-derived Suppressor Cell
NHL:

Non-Hodgkin Lymphoma
NK:

Natural Killer
Stat:

Signal transducer and activator of transcription protein
TAP:

Transporter associated with antigen processing
TAM:

Tumour-Associated Macrophage
TCR:

T-Cell Receptor
TGF:

Tumour Growth Factor
TNFR:

Tumour Necrosis Factor Receptor
VEGF:

Vascular Endothelial Growth Factor.
Authors' Affiliations
(1)
Department of Oncology-Pathology, Karolinska Institutet, Karolinska University Hospital, Stockholm, Sweden
(2)
Institute of Medical Immunology, Martin Luther University Halle-Wittenberg, Halle/Saale, Germany
(3)
Roche Pharma, Basel, Switzerland
Copyright
© Marchesi et al.; licensee BioMed Central Ltd. 2013
This article is published under license to BioMed Central Ltd. This is an open access article distributed under the terms of the Creative Commons Attribution License (http://creativecommons.org/licenses/by/2.0), which permits unrestricted use, distribution, and reproduction in any medium, provided the original work is properly cited.