Patient-derived xenograft models in musculoskeletal malignancies
Journal of Translational Medicine
2018
16:107
Received: 6 March 2018
Accepted: 17 April 2018
Published: 23 April 2018
Abstract
Successful oncological drug development for bone and soft tissue sarcoma is grossly stagnating. A major obstacle in this process is the lack of appropriate animal models recapitulating the complexity and heterogeneity of musculoskeletal malignancies, resulting in poor efficiency in translating the findings of basic research to clinical applications. In recent years, patient-derived xenograft (PDX) models generated by directly engrafting patient-derived tumor fragments into immunocompromised mice have recaptured the attention of many researchers due to their properties of retaining the principle histopathology, biological behaviors, and molecular and genetic characteristics of the original tumor, showing promising future in both basic and clinical studies of bone and soft tissue sarcoma. Despite several limitations including low take rate and long take time in PDX generation, deficient immune system and heterologous tumor microenvironment of the host, PDXs offer a more advantageous platform for preclinical drug screening, biomarker identification and clinical therapeutic decision guiding. Here, we provide a timely review of the establishment and applications of PDX models for musculoskeletal malignancies and discuss current challenges and future directions of this approach.
Keywords
Soft tissue sarcoma
Bone neoplasm
Patient-derived xenografts
PDX
Animal model
Precision medicine
Background
Musculoskeletal malignancies comprise a group of very rare and heterogeneous malignant tumors with more than 70 subtypes; they arise from cells of mesenchymal origin and often exhibit a highly aggressive biological behavior [1]. Prognostic improvements have been achieved by surgery combined with radiotherapy or neoadjuvant chemotherapy since the 1970s; however, the mortality rate of patients with recurrence and metastasis remains high and shows no signs of improvement [2], highlighting the need for developing new therapeutic approaches.
Although numerous studies have been conducted to identify the underlying tumorigenesis and development mechanisms of sarcoma, leading to the development of new agents, few of them have met the expectations in clinical trials [3], which is also frequently occurred in the drug development of other tumors. The lack of efficacy and safety (both toxicological and clinical) accounts for ~ 60% failures in oncological drug clinical trials [4]. Traditionally, the NCI-60 cancer cell line panel and xenografts derived from it are the most frequently used collection of human malignancy models in vitro and in vivo and have provided valuable information to help us gain better understanding of cancer development [5]. However, it is believed that these long-established tumor cell lines have adapted to the culture environment, which is quite different from the growing conditions of original tumor, through Darwinian selection after serial passages and thus exhibit irreversible alterations in biological properties, including genetic aberrations, loss of specific cell populations, change in growth and invasive patterns, which are all key factors in cancer development and treatment resistance [6, 7]. Given the suboptimal predictive power of cancer cell lines or cell line-derived xenografts (CDXs) in preclinical trials, patient-derived tumor xenografts (PDTXs, PDXs) generated by directly implanting tumor fragments from patients into immunodeficient mice has gained a renewed interest in recent years for their high fidelity of recapitulating tumor biology and heterogeneity in individual patient tumors [8, 9].
The earliest reports of heterotransplantation of musculoskeletal malignancies into nude mice were published around the 1980s [10–12]. Since then, various types of PDXs for musculoskeletal malignancies have been established and used in multiple applications, including drug development, biomarker identification, and guidance clinical decision [13–17]. Some studies have validated that genetic and histopathological characteristics were well preserved between PDXs of soft tissue and bone sarcomas and their parental tumors, based on immunochemistry, flow cytometry, karyotyping, tissue microarray study, RNA and whole-genome sequencing [13, 18–22]. However, the relatively small collections of sarcoma PDX models in contrast to the significant heterogeneity of each sarcoma type restrict the extensive application of PDXs for basic and clinical sarcoma research. In this article, we summarize the methodology for generating bone and soft tissue sarcoma PDX models, provide information of currently available PDX models of musculoskeletal malignancies, list their applications and discuss the challenges and future directions of this approach.
Generating PDX models of musculoskeletal malignancies
The methodology for generating PDX models of various cancer types, including colorectal, breast, ovarian and cervical cancers has been comprehensively reviewed [23–25]. Most of the PDX models are established by immediately transplanting surgically resected patient tumor fragments into immunodeficient mice. Recent studies also demonstrated that PDX models could be created by using "liquid biopsy" samples, such as circulating tumor cells (CTCs), pleural effusions, and ascites [26]. However, due to the prevalent presence of stem-like, i.e., aggressively growing cells, PDXs generated from liquid biopsies may not reflect the cell types and growth rates of the original tumor. Similar caveats exist for circulating tumor cells and pleural effusions.
Generating sarcoma PDX models is the same in essence while differing in minor points. Individual research groups have developed their own specific operating procedures. Briefly, PDX models could be generated by the following steps (Fig.
1
).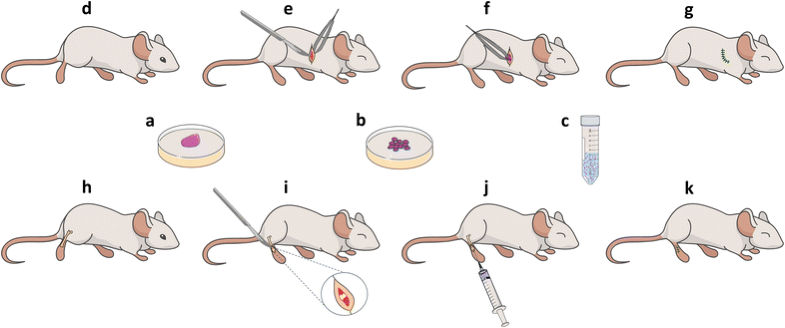 Validation of PDX models for preclinical research
Various type of PDX models for musculoskeletal malignancies [11, 13, 14, 22, 32–38] have been established, with a preference towards osteosarcoma (OS) and rhabdomyosarcoma (RMS), partly due to their relatively higher morbidity. Reviews of several other tumors concluded that PDX models have strong predictive power in preclinical research based on the findings that genetic and histopathological characteristic are well preserved in PDXs [23, 24, 39]. However, it is not known whether the outcome is the same within PDX models of bone and soft tissue sarcoma.
Inconsistent results were found in tissue architecture and cellular morphology in histologic analysis of PDX models and their parental tumors. A large-scale hematoxylin and eosin (H&E) and immunohistochemistry analysis of 39 bone and soft tissue sarcomas revealed a 100% concordance of histopathological characteristics between orthotopic PDX (O-PDX) models and their corresponding tumors [22]. Minor differences were found in several subcutaneous PDX collections (S-PDX). Houghton et al. [11] reported that slightly discrepant tumor necrosis, differentiation and collagen content could be found in 4/6 their HxRh series of rhabdomyosarcoma PDX models. Only a small proportion of osteosarcoma PDXs changed their morphology, such as increased cellularity, dedifferentiation and differentiation, after serial passages [14, 40, 41]. However, some conflicting findings for xenografts apparently deviating from the primary tumor were also revealed. Donhuijsen et al. [42] established twenty-two PDX models of previously untreated soft tissue sarcomas and subjected them to histologic examination and flow cytometry. Significant deviations were observed between the primary PDX model and its original tumor in cell differentiation in 36.3% (8/22) tumors, and some cases even appeared to represent another sarcoma type. In addition, increased frequency of mitosis and reduced connective tissue content were found in serial passages. Similar findings were observed in an osteosarcoma PDX model; Delgado et al. [43] generated three osteosarcoma PDX models using five tumor samples from one patient, but these PDX tumors exhibited two entirely different morphologic subtypes, with one being a firm tumor, while the other a cystic tumor. These differences may be due to genetic instability of xenografts [44]. Moreover, limited tumor samples for engraftment may lead to a loss of some specific cell subpopulations, resulting in an atypical part of the original tumor. The host environment may also be an influencing factor. Given the significant heterogeneity between these studies and the relatively small numbers of each specific sarcoma type, it is difficult to conclude whether PDXs of bone and soft tissue sarcoma can preserve the histopathological characteristics of the original tumor. Thus, a careful histologic analysis of PDXs and their parental tumors is needed before conducting a PDX-based preclinical analysis.
As for the preservation of gene expression profiles, a tight correlation has been observed between early passage bone and soft tissue sarcoma PDX models and their parental patient tumors, with very high Pearson's correlation coefficients (r) ranging from 0.84 to 0.97 in some studies [22, 45]. An artificial neural network (ANN) based on cDNA microarray analysis of a panel of PDX models from the Pediatric Preclinical Testing Program (PPTP) found a relatively low Spearman's rank-order correlation (r = 0.67, P < 0.001) [19]; however, the correlation was still strong. Further research using Affymetrix technology within an increased number of probed genes identified a false discovery rate of < 1.67% in three PDX/parental tumor (osteosarcoma, Ewing sarcoma and rhabdomyosarcoma) comparisons. Gene ontology analysis revealed the biological function of differentially expressed transcripts that were enriched in immune response, cell cycle, RNA metabolism and vesicle-mediated transport, which is consistent with the findings of Monsma et al. [45], suggesting non-randomly altered gene expression profiles in PDX models that may be induced by the loss of normal cells upon transplantation and the logical selective pressure of the immune deficient environment. Moreover, very high Pearson's correlation coefficients (r = 0.98–0.99) were observed in two osteosarcoma PDX models over 4 generations consistent with the findings of Neale et al. [20]. These reports indicate that PDX models of bone and soft tissue sarcoma can well retain, although not perfectly, the principle gene expression profiles of their original tumors.
Genome-wide analyses have revealed that both clonal composition and copy number variations are reliably preserved in a large collection of PDX models and their parental tumors [20–22, 45]. In a single study of 18 early-passage (initial engraftment or passage 1) and late-passage (passage 4–6) O-PDX pairs, 15/18 pairs exhibited highly similar clonal features [22]. However, although the major chromosomal copy number variations were found to be overlapped, a small proportion of copy number alterations emerged on serial passaging [20, 21]. Additionally, the possible candidate genes were identified to be involved in immune responses, cell cycle and chemoresistance [22], suggesting the presence of significant genomic alterations related to the lack of selection in the new host. Similar findings were also found in PDX models of pancreatic and colorectal cancer [46, 47]. Taking these phenomena into consideration, PDX models of bone and soft tissue sarcoma could be used to test many kinds of therapy strategies that do not depend on an efficient host immune system, and the use of early passage PDX models for preclinical research seems a prudent choice to avoid clonal selection or evolution.
Since alterations in tumor epigenomics and the following gene expression changes greatly influence the initiation and progression of various human malignancies, Guilhamon et al. performed methylome analysis of two osteosarcoma PDX models and discovered an average of 2.0% (n = 9351) of CpG sites displaying major methylation shifts between the primary PDX models and their parental tumors. Moreover, subsequent xenografts were not accompanied by additional changes, as only 0.07% (n = 333) of CpG sites underwent methylation shifts [48]. Although a small number of PDX models were used, this work indicated that osteosarcoma PDX models may be a suitable discovery tool for tumor epigenomics and drug development.
Clinical correlation of PDX models
A direct comparison of PDX models with that of their corresponding patient tumors regarding response to a specific treatment is essential for evaluating the predictive power in both preclinical research and clinical decision making. Although no large-scale studies have been conducted to clarify this issue, similarities between PDX responses and patient outcomes have been reported in several small cohorts. Boven et al. [49] observed that 4 out of 7 PDX models exhibited identical resistance with that of their parental STS patients to the same chemotherapeutic agents. In another study, 9 out of 10 sarcoma PDX models demonstrated a concordant response with their corresponding patients. In addition, two liposarcoma PDX models from one patient established early during the disease course displayed the same positive clinical response seen in the patient to drugs used during tumor progression, indicating that PDX models also retain therapeutic accuracy over time [50].
Multiple applications of PDX models
Established PDX models of musculoskeletal malignancies have been used in a wide range of research, including drug screening and development, biomarker discovery, clinical treatment guiding and cell-line production (Fig.
2
).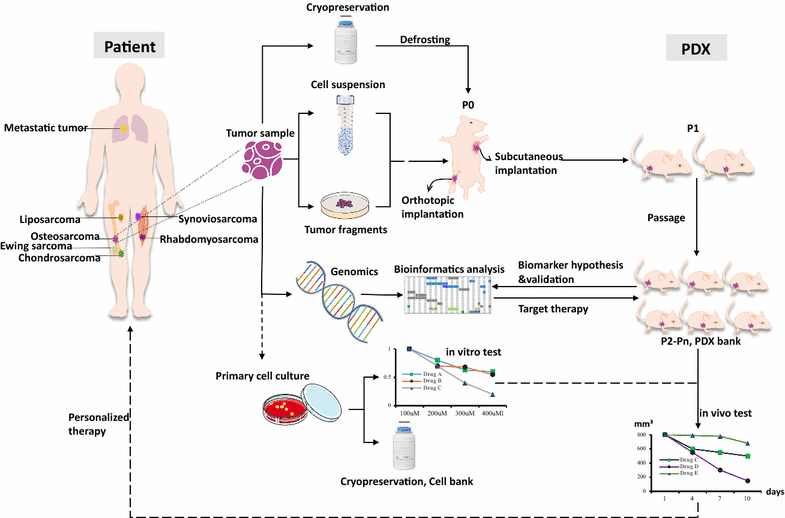 Obstacles of PDX development and application
Given the ability of PDX models to recapitulate the primary tumor, it is believed that PDX models will act as an important platform to elucidate new treatments and biomarkers in preclinical research. However, some technical limitations and intrinsic defects of PDX models are still awaiting resolution (Table
4
).
Table 4
Limitations and future perspectives of PDX models
Limitations

Future perspectives

Experiment design

No uniform standards in different research groups regarding patient information collection, required mouse strains and model numbers, endpoint selection, positive results definition, and data interpretation

Construct multicenter collaborative network; explore and establish a proper standard

Technical issues

1. Low success rate and high cost of engraftment

2. Long time frame: from engraftment to preclinical test and clinical application

3. Limited assessment tools for monitoring PDX tumor growth and response to therapies

1. Expand tumor sampling method (CTCs); define the best engraftment site (subcutaneous, orthotopic, renal cell capsule) or develop new approach; use PDOs to generate PDXs

2. Explore proper intra- and post- engraftment manipulations

3. Develop noninvasive and cost-effective tools for assessing tumor status

Intrinsic defects

1. Severe immunocompromised host: unsuitable for testing immunotherapy

2. Rapidly stroma substitution: change in the tumor microenvironment; unsuitable for screening agents against stroma elements

3. Dissimilar pharmacokinetics: over- or underestimation of antitumor drug efficacy

4. Tumor selection and evolution: genotype and phenotype alteration across passages

1. Develop immunocompetent models for establishing PDXs: reconstruct human immune system in immunocompromised models; induce immune tolerance to individual tumors in immunocompetent models; use knock-in or novel gene editing technologies generate genetically humanized mice

2. Mimic human tumor environment: inject immortalized human stromal cells

3. Identify the differences between PDX models and humans regrading drug pharmacology

4. Multiple-spot sampling and sample cryopreservation
First, it is very difficult to assess the superiority or inferiority of different methods in establishing PDXs based on current published papers. Among the varying parameters in the generation of PDX models, the factors contributing to a higher engraftment success rates are still unknown. A possible solution is that individual PDX research groups standardize their study reporting, including (i) details of patient information (metastasis, treatment, clinical stage, and histological grade); (ii) sample preservation or transport medium and delay between the isolation of tumors from patients and implantation into mice; and (iii) required tumor volumes and auxiliary components to generate a PDX. Recently, Meehan et al. [76] summarized minimal information standard for a PDX models (PDX-MI), which is a valuable reference for promoting the reproducibility in PDX models and their related studies.
Another drawback of currently used PDX models is the long timeframe between engraftment and generation of sufficient xenografts to conduct drug screening. For primary PDX models, it normally takes more than 4 weeks for a tumor to reach 100 mm3 for preclinical study, which is too slow for real-time clinical decision making for high-risk patients. Thus, donors barely benefit directly from their corresponding PDX models. In addition, data interpretation of preclinical studies often differs from that of clinical studies. For example, a drug that slows down the tumor growth compared to the negative control group will lead to a positively significant result; however, if the tumor still progresses in xenografts, this drug does not meet clinical needs.
Mouse strains with different degrees of compromised immune systems have been designed to diminish or avoid immune rejection, thus enhancing PDX engraftment. However, the lack of an intact immune system differs greatly from the living environment of the original tumor, and it impedes the assessment of immunotherapeutic strategies (vaccine, immunomodulators, immunoactivators), such as PD1/PD-L1, CTLA-4 antibody and CAR-T therapies. Meanwhile, the host cannot provide a similar tumor microenvironment as the original tumor since human stroma is gradually substituted by murine components (fibroblasts, blood vessels, immune cells) with the growth and passage of PDXs. Since tumor cells per se cannot recapitulate growth and formation of primary or metastatic lesions and because the initiation and progression of malignant tumors are supported by their microenvironment [77, 78], the loss of stroma of human origin could lead to alterations in the genetic and biological properties of the tumor, thus undermining the practical value of PDXs for preclinical drug testing, as well as hindering the development of novel antitumor agents targeting stromal components.
Tumors are a collection of various cell subpopulations and matrix; however, the tumors samples implanted in mice represent only a "snapshot" of small part of the original tumor. Moreover, these tumors will undergo a natural selection process post-transplantation to adapt to the whole new living environment, and the winner populations are supposed to be the more aggressive cells, which is consistent with the observation that most of the reported PDX models have been generated from histologically high-grade sarcomas. Furthermore, this process would keep on going across passages. Although several large-scale global genetic analysis demonstrated that PDX models exhibit similar genetic properties as their original tumors, some significant aberrations may be lost, and new aberrations may emerge during passaging. However, whether these genetic alterations affect the viability for of PDXs preclinical research should be further clarified in future studies.
Future perspectives
Based on published reports, the PDXs collections of musculoskeletal malignancies are relatively small, partly due to the rarity of this group of tumors; however, it is more likely because of the limited attention paid in this field. Expanding the PDX library and improving the engraftment success rate of PDXs are of great importance to extend their use for both clinical trials and individualized precision medicine research. Because of the rarity of sarcoma patients and incomparable methodology aspects (sample size needed, preservation media and condition, intra- and post-implantation manipulation, implantation site) among different research groups, constructing an organized multicenter collaboration network, such as the EurOPDX workshop (http://www.europdx.eu) and Patient preclinical testing consortium (PPTC, http://www.ncipptc.org), is an effective way to extend the resource of tumor samples and standardize study design and data reporting. For the long latency in generating PDX models, making clinical decision based on data from previous high-throughput drug screening in large collections of PDX models may be a promising alternative for patients who do not have corresponding PDX models or have highly aggressive malignancies. In addition, combining bioinformatics analysis results to select drug candidates may be an efficient way to narrow down the scope of screening and increase the success rate.
Traditional xenografts of musculoskeletal malignancies were mostly generated by using surgical resection samples; however, generating PDXs from biopsied tumor samples should also be encouraged since it would enable tumor xenografts to be grown from patients who do not receive pretreatment or lose their chance to undergo surgical resection to identify reliable and effective drug therapies at an earlier stage in the clinical course of the disease. Another valuable resource for generating PDX models is circulating tumor cells (CTCs). Several studies have demonstrated that CTCs are strongly correlated with patient sensitivity to therapy and prognosis [79, 80], indicating that CTCs are promising biomarkers for monitoring tumor burden and predicting drug response in high-risk patients. Although technically challenging, CTC-derived PDX models that could also recapitulate the biological properties and drug sensitivity of the primary tumors have been generated from several solid tumors in recent years, including melanoma [81], breast cancer [82], prostate cancer [27], small-cell lung cancer [83] and gastric cancer [84]. Compared to the currently used sample collection methods, CTC sampling is minimally invasive but enables the isolation of tumor specimens that are inaccessible to surgical operation or needle biopsies. More importantly, CTCs allow us to generate PDX models from tumors at any time in the clinical course to adapt our clinical decision and analyze the underlying mechanisms of tumor evolution or dissemination.
Gradual substitution of stroma over time seems unavoidable in PDX models, and it seems that there are no solutions for this issue. A meaningful reference is the work done by Kuperwasser et al. [85], who generated humanized mammary fat pads by injecting irradiated immortalized fibroblasts into NSG mouse mammary fat pads. In light of this research, we can speculate that co-engraftment of immortalized mesenchymal stem cells or cancer-associated fibroblasts with tumor tissues may reconstitute human tumor stroma in PDX models; however, future studies are warranted.
Immunocompromised mouse is currently the standard host for creating PDXs. As mentioned above, the lack of an intact immune system may alter the genetic profiles of PDX models and restrict them from being employed for immunotherapy development. Can we establish PDX model in immunocompetent mice or reconstituted human immune systems in immunocompromised mice? Several studies have demonstrated this feasibility. Kalscheuer et al. [
86
] demonstrated potential approaches by injecting human hematopoietic stem cells (HPSCs) aspirated from the bone marrow into the blood of hosts to reconstruct individual donor immune systems; this "personalized immune" mouse models may provide a way to study the human tumor immune system in vivo. More recently, two research groups reported their successful experience in generating humanized NSG (Hu-NSG) mice either by engrafting human fetal liver CD34
+
-purified HPSCs or human peripheral blood mononuclear cells (hPBMCs) into NSG mice and then used them for establishing huNSG-PDX or huNSG-CDX osteosarcoma models (Fig.
3
), demonstrating the promising utility as an in vivo model to test drugs targeting the PD-1/PD-L1 axis [
87
,
88
]. More importantly, these two studies disclosed the possibility that human tumors could grow in humanized mice regardless of the mismatched human leukocyte antigen (HLA) status. However, whether this kind of discrepancy between tumor and immunocytes would affect the results of preclinical immunotherapy testing has not been clarified. Dietmar et al. [
89
] demonstrated that human signal regulatory protein alpha (
SIRPA
) and interleukin 15 (
IL15
) knock-in mouse on a
Rag2
−/−
Il2rg
−/−
background could support efficient development of functional maturation of both circulating and tissue-resident human CD8
+
T lymphocyte subsets and NK cells, thus enabling the investigation of CD8
+
T and NK cell-based treatments in vivo. The novel gene editing technology CRISPR-Cas9 could also be applied for the development of humanized mice models by substitute part of the mouse gene with a particular gene of human origin to express functional components of the human immune system [
90
], such as PD-1/PD-L1, thus enabling the testing of some immune-targeting agents. Instead of constructing murine models with intact human immune systems, some studies have reported their success in generating xenograft models by transplanting human tumor cell lines into immunosuppressed or immunotolerant mice to construct xenografts with intact murine immune systems [
91
,
92
]. Using this approach to establish immunocompetent PDX models may be a promising strategy to optimize current immunodeficient models.

PDX models represent a group of promising next generation pre-clinical models, meanwhile, three-dimensional (3D) in vitro tumor models, such as tumor spheroids and tumor organoids, are also emerging as feasible platforms for cancer research. 3D tumor models originate from tumor tissues or single-cell suspensions of tumor cell-lines, patient-derived tumor cells and tumor steam cells are also capable of overcoming the limitations of traditional 2D monolayer cell cultures by accurately reflecting sophisticated cell to extracellular matrix interactions and tumor heterogeneity, however, issues like defining the optimal in vitro culture condition of different tumors, lack of vascularization and immune components in 3D culture systems still need to be addressed in future [93]. When compared to PDXs, the major advantage of 3D tumor models is that they are more inexpensive, faster, and easier to be established [93, 94], while PDXs owns several irreplaceable merits, for example, it allows monitoring tumor neovascularization, distant metastasis, and investigating the side effects of drugs. Interestingly, several research groups have demonstrated that patient-derived organoids (PDOs) and PDXs could be interconverted with high efficiency [95, 96]. In light of this result, we can speculate that PDO may serve as an intermediate states to reduce the time and improve the take rate in generating PDX, while PDX model can act as in vivo model to make up the deficiency of PDO. Making full use of the specific advantages of each model would throw a combination punch to the plight of anti-tumor research.
Conclusions
It is becoming increasingly clear that PDX models that more closely recapitulate the biological properties of patient tumors are promising substitutes of traditional cell-line xenograft models for developing effective sarcoma therapeutic strategies. For now, PDX models can provide valuable information and chance of cure for future sarcoma patients; however, they seem unlikely to guide real-time clinical decision and improve the prognosis of the original patient. To establish personalized treatment for people with musculoskeletal malignancies through PDX models, consistent efforts for finding proper approaches for enhancing engraftment success rate, reducing the time of PDX model generation, and narrowing down the differences in the tumor microenvironment and heterogeneity between human and PDX models should be further addressed in future studies. Meanwhile, because of the rarity and significant heterogeneity of musculoskeletal malignancies, individual PDX research groups should report their experiment data and methodological information with a standardized criterion to facilitate data integration and resource sharing, which is of paramount importance to identify an optimal method of generating PDX models and reducing unnecessary duplication, thus accelerating the progress of sarcoma research.
Abbreviations
PDX:

patient-derived xenograft
CTC:

circulating tumor cell
GNs:

granulocytes
DCs:

dentric cells
NK:

natural killer
NS:

NOD-Scid
Scid:

severe combined immunodeficiency
NOD:

nonobese diabetic
NSG(NOG):

NOD.Cg-PrkdcscidIL2rgtm1Sug/Jic or NOD/Shi-scid IL-2Rγnull
STS:

soft tissue sarcoma
OS:

osteosarcoma
CDS:

chondrosarcoma
EWS:

Ewing sarcoma
RMS:

rhabdomyosarcoma
LPS:

liposarcoma
LMS:

leiomyosarcoma
SS:

synovial sarcoma
SCS:

spindle cell sarcoma
HGS:

high grade sarcoma
UPS:

undifferentiated pleomorphic sarcoma
FBS:

fibrosarcoma
AGS:

angiosarcoma
MPNST:

malignant periphery nerve sheath tumor
NOS:

unclassified sarcoma
EPS:

epithelioid sarcoma
SFT:

solitary fibrous tumor
P:

primary tumor
M:

metastatic tumor
SC:

subcutaneous
OT:

orthotopic
SR:

surgical resection
Bp:

biopsy
Cm:

chemotherapy
N:

not received
NA:

not available
Declarations
Authors' contributions
WL wrote the manuscript, TC, CRQ and SJ revised and corrected the manuscript. All authors read and approved the final manuscript.
Acknowledgements
Not applicable.
Competing interests
The authors declare that they have no competing interests.
Availability of data and materials
All data generated or analyzed during this study are included in this published article.
Consent for publication
Not applicable.
Ethics approval and consent to participate
Not applicable.
Funding
This work was supported, in part, by the National Natural Science Foundation of China (NSFC; No. 81372180), Key Research and Development Program of Hunan Province Science & Technology Department (No. 2017DK2013), Scholar Support Funding of Hunan Association for Science and Technology (No. 2017TJ-Q19).
Publisher's Note
Springer Nature remains neutral with regard to jurisdictional claims in published maps and institutional affiliations.
Open AccessThis article is distributed under the terms of the Creative Commons Attribution 4.0 International License (http://creativecommons.org/licenses/by/4.0/), which permits unrestricted use, distribution, and reproduction in any medium, provided you give appropriate credit to the original author(s) and the source, provide a link to the Creative Commons license, and indicate if changes were made. The Creative Commons Public Domain Dedication waiver (http://creativecommons.org/publicdomain/zero/1.0/) applies to the data made available in this article, unless otherwise stated.
Authors' Affiliations
(1)
Department of Orthopedics, The Second Xiangya Hospital, Central South University, Changsha, People's Republic of China