Role of estrogen in hepatocellular carcinoma: is inflammation the key?
Journal of Translational Medicine
2014
12:93
Received: 18 December 2013
Accepted: 28 March 2014
Published: 8 April 2014
Abstract
Hepatocellular carcinoma (HCC) is one of the most common malignancies worldwide and accounts for the third-leading cause of cancer-related deaths. Over the past decades, advances have been made in the field of surgery, but effective treatment of HCC is lacking. Due to a marked male predominance in morbidity and mortality in HCC patients, it has long been considered that sex hormones play a role in HCC development. Recently estrogen has been proven to exert protective effects against HCC through IL-6 restrictions, STAT3 inactivation and tumour-associated macrophage inhibition. While IL-6-dependent STAT3 activation is considered a key event in inflammation-induced liver cancer, the anti-inflammation effect of estrogen is well documented. The roles of the estrogen receptor and aromatase and interactions between microRNAs and estrogen in HCC have been investigated. In this review, we present a novel model to elucidate the mechanism of estrogen-mediated inhibition of HCC development through an anti-inflammation effect and provide new insights into the roles of estrogen in liver disease.
Keywords
EstrogenEstrogen receptorHepatocellular carcinomaInflammation
Introduction
The treatment of liver cancer is a difficult task, especially among end-stage patients, whose lesions are usually thought to be unresectable. The development of HCC is considered the end result of most liver diseases, including viral hepatitis, cirrhosis and alcoholic liver disease. As a result of high-grade malignancy and lack of effectiveness of medical treatment, HCC is the third-leading cause of cancer deaths worldwide [1]. Furthermore, the incidence of HCC shows a regional divergence due to aetiology. In high-risk areas such as Southeast Asia and China, hepatitis B virus (HBV) infection, together with aflatoxin exposure, is the predominant risk factor. However, hepatitis C virus (HCV) infection has emerged as a more significant risk factor in Japan, North America and Europe. In these developed countries, the incidence of HCC is increasing [2, 3].
Until now, only sorafenib is used as first-line therapy for patients with advanced HCC [4, 5]. Sorafenib therapy for HCC has been proven to be safe and effective. Despite a statistically significant and clinically relevant improvement in median overall survival (OS) with sorafenib, some important questions of its application in advanced HCC remain unanswered [6]. For the better use of sorafenib in the clinical setting, the dosage, outcome prediction based on side effects and application of modified Response Evaluation Criteria in Solid Tumours (mRECIST) require more evaluation. Interested in obvious gender disparity in HCC occurrence [7, 8], researchers have attempted to investigate the molecular mechanism underlying such disparity and developed effective therapy using sex hormones. Recently, work by Ma et al. showed an exciting potential of the combination of sorafenib and hormone-related therapy in HCC, which will be a better way to control advanced HCC [9].
Unlike breast and prostate cancer, which are modulated by estrogen and androgen, respectively, HCC may be modulated by both sex hormones during its initiation, progression and metastasis [8, 10, 11]. Elevated levels of androgen are considered to promote tumourigenesis, while studies in the past decades showed that the roles of estrogen in HCC are diverse, even opposite [8, 12–14]. Fortunately, recent progress has shed some light on the precise mechanism of estrogen action in HCC. Although many aspects are still unknown, the anti-HCC activity of estrogen has been wildly accepted, and its protective effect might be related to its anti-inflammation effect. We thus assume that this anti-inflammation effect may provide a key to understanding the role of estrogen in HCC. More importantly, the anti-inflammation nature of estrogen may yield a new, promising approach to treat HCC. In this review, we focus on recent studies regarding the potential roles of estrogen in HCC.
Conclusion
The effect of estrogen in HCC has turned from an oncogenic to protective role based on recent discoveries. Androgen promotes the development of liver and prostate cancer [113, 114], whereas estrogen plays an oppositing role in the development of breast cancer and HCC [51, 115, 116]. How does such an antagonism exist? Pioneer work on this issue revealed that synthetic estrogen might promote liver carcinogenesis after DEN treatment in animal models [15–19]. Indeed, the precedence of estrogen or DEN treatment seems to have opposite effects on HCC development. Administration of estrogen prior to carcinogenic events such as DEN treatment, is believed to protect the liver from HCC [28], and this phenomenon is supported by a human model because estrogen usually functions in females before HCC initiation. Another possible mechanism for the oncogenic effect of estrogen is illustrated in the DEN-treatment model, where the NF-κB pathway is inhibited in hepatocytes (not in KCs). Blockage of NF-κB signalling in DEN-treated hepatocytes promotes carcinogenesis, because hepatocytes suffer severe cell death through necrosis and apoptosis [67]. In contrast, the inhibition of NF-κB signalling has a suppressive effect in hepatocytes of Mdr2−/− mice, which is an inflammation-associated liver cancer model [68], consistent with the result in Huh7 cells [117]. Moreover, estrogen is found to attenuate HCC progression by regulating cell proliferation, invasion and apoptosis by inhibiting ER-α-induced NF-κB signalling [118]. NF-κB is highly associated with cancer-related inflammation, and estrogen inhibits NF-κB signalling; therefore, a novel model that fully captures the complex behavior of human HCC generation is required to understand the molecular mechanism by which the origin of HCC is modulated [119].
With emerging evidence supporting HCC as an inflammation-related cancer [
59
], we speculate that estrogen may, at least partially, play its protective role through its anti-inflammation effects. As described in detail in Figure
2
, estrogen is involved in the regulation of the inflammation network in HCC by restraining of proinflammatory cytokines and inhibiting downstream signalling pathways. However, it is also reported that estrogen promotes hepatocytes proliferation [
120
]. Here, we believe that estrogen exerts promoting and inhibiting effects on HCC development, but, in tumour milieus, it is generally accepted as a mediator of anti-inflammation. The oncogenic effect of estrogen could also play a part in tumourigenesis, as cancer cells will use all of the help they can get. That is, both faces of estrogen are retained in HCC, but it protects females from HCC because inflammation is the key event for HCC development. The cellular milieus help estrogen protect from liver cancer. However, evidence for the anti-inflammatory effect of estrogen in HCC is limited; and uncovering how estrogen protects from HCC development would provide novel therapeutic approaches in drug design and cancer therapy (Table
3
).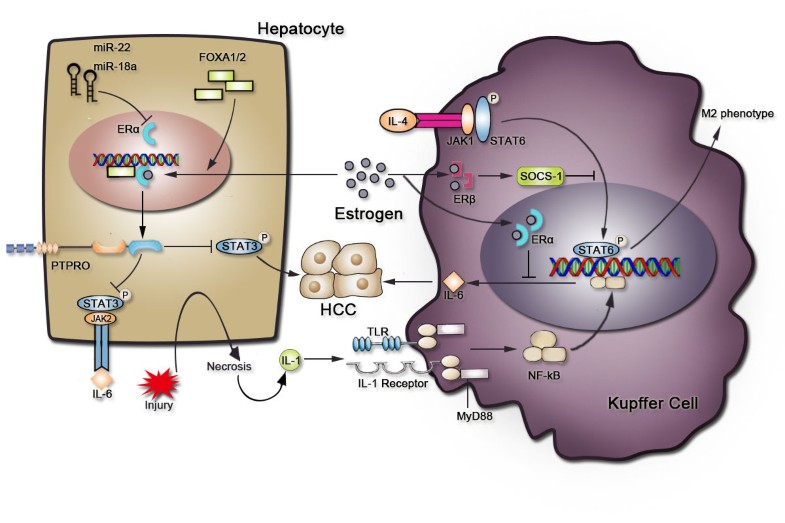 Table 3
Inhibition of inflammation factors by estrogen in HCC
It is important to bear in mind; however, that estrogen may cause some adverse effects in patients, especially in males, who form the majority of HCC cases. Therefore, the method for using hormone-related therapy to treat HCC requires rigorous testing and validation. In the future, finding the exact point at which estrogen switches its role from oncogenic to suppressive in HCC will enable us to establish a model to mimic chronic inflammation during HCC development.
Abbreviations
HCC:

Hepatocellular carcinoma
ER:

Estrogen receptor
OCPs:

Oral contraceptives
ERE:

Estrogen response element
wtER-α:

Wild type ER-α
vER-α:

Variant ER-α
E2:

Estradiol
HBx:

Hepatitis B virus X protein
HBS-Ag:

Hepatitis B surface antigen
LINE-1:

Long interspersed nuclear element-1
KCs:

Kupffer cells
DEN:

Diethylnitrosamine
Foxa:

Forkhead box A
TAMs:

Tumour-associated macrophages
STAT:

Signal transducer and activator of transcription
SOCS:

Suppressor of cytokine signalling
PTPRO:

protein tyrosine phosphatase receptor type O.
Declarations
Acknowledgements
This work was supported by National Natural Science Foundation of China (81201942). We thank Yongjie Yin for his help in figure preparation and Anyong Xie for reading the manuscript and making corrections.
Authors' Affiliations
(1)
Chawnshang Chang Live Cancer Center, Department of General Surgery, Sir Run-Run Shaw Hospital, Zhejiang University, Hangzhou, China
Copyright
© Shi et al.; licensee BioMed Central Ltd. 2014
This article is published under license to BioMed Central Ltd. This is an Open Access article distributed under the terms of the Creative Commons Attribution License (http://creativecommons.org/licenses/by/2.0), which permits unrestricted use, distribution, and reproduction in any medium, provided the original work is properly credited. The Creative Commons Public Domain Dedication waiver (http://creativecommons.org/publicdomain/zero/1.0/) applies to the data made available in this article, unless otherwise stated.