The pathophysiological role of mitochondrial oxidative stress in lung diseases
Journal of Translational Medicine
2017
15:207
Received: 16 August 2017
Accepted: 30 September 2017
Published: 13 October 2017
Abstract
Mitochondria are critically involved in reactive oxygen species (ROS)-dependent lung diseases, such as lung fibrosis, asbestos, chronic airway diseases and lung cancer. Mitochondrial DNA (mtDNA) encodes mitochondrial proteins and is more sensitive to oxidants than nuclear DNA. Damage to mtDNA causes mitochondrial dysfunction, including electron transport chain impairment and mitochondrial membrane potential loss. Furthermore, damaged mtDNA also acts as a damage-associated molecular pattern (DAMP) that drives inflammatory and immune responses. In this review, crosstalk among alveolar epithelial cells, alveolar macrophages and mitochondria is examined. ROS-related transcription factors and downstream cell signaling pathways are also discussed. We conclude that targeting oxidative stress with antioxidant agents, such as thiol molecules, polyphenols and superoxide dismutase (SOD), and promoting mitochondrial biogenesis should be considered as novel strategies for treating lung diseases that currently have no effective treatment options.
Keywords
Mitochondrial DNAReactive oxygen speciesAntioxidant agents
Background
The lungs exist in a high-oxygen environment. Their large surface area and high blood supply make the lungs susceptible to injuries mediated by oxidative stress [1–3]. Reactive oxygen species (ROS) are generated both endogenously and exogenously. During exogenous ROS exposure, environmental gases, such as aldehydes/carbonyls, NO2, SO2, CO, and airborne particulate matters, as well as cigarette smoke, can cause oxidative stress and trigger inflammatory responses in the lungs [4, 5]. In addition, impaired antioxidant defense systems in lung epithelial cells, macrophages and other inflammatory cells can lead to high levels of endogenous ROS in tissues.
Mitochondria are centrally involved in ROS-dependent pathways. Mitochondrial dysfunction plays a crucial role in bioenergetics metabolism and non-energetics pathogenesis in many lung diseases [6, 7]. The mitochondrial genome acts as a sentinel factor governing the cytotoxic response of lung cells to oxidant stress [8, 9]. In this review, we highlight how ROS-induced mitochondrial dysfunction and damaged mitochondrial DNA (mtDNA) fragments are involved in the pathobiology of various degenerative lung diseases, pulmonary fibrosis, and lung tumorigenesis. These findings imply that antioxidants can detoxify free radicals and modulate oxygen redox reactions to enhance glutathione (GSH) biosynthesis, improve chromatin remodeling and decrease lung inflammation. Various dietary and pharmacological approaches for increasing lung antioxidant levels and their beneficial effects on a variety of lung diseases will be discussed.
Exogenous and endogenous ROS
Reactive oxygen species, such as superoxide anions (O 2 ·− ) and hydroxyl radicals (·OH), are unstable molecules that can initiate oxidation via unpaired electrons. The O 2 ·− radical can either react with NO to form a highly reactive peroxynitrite molecule (ONOO−) or be rapidly converted to hydrogen peroxidase (H2O2) by superoxide dismutase (SOD). H2O2 can be converted into the damaging ·OH in the presence of Fe2+; this process is called the Fenton reaction.·OH can also be generated from O 2 ·− via the Haber–Weiss reaction. In the presence of chloride (Cl−) and bromide (Br−) ions, H2O2 is catalyzed by heme peroxidases or myeloperoxidase to form hypochlorous acid (HOCl) and hypobromous acid (HOBr), which are very damaging oxidants [10]. High levels of ROS have been implicated in the oxidation of proteins, lipids and DNA; this oxidation can result in tissue injury and inflammatory responses [11].
As previously mentioned, the key sources of ROS are exogenous exposure and endogenous release from inflammatory cells, macrophages and epithelial and endothelial cells. In addition, the mitochondria in these cells are central to ROS production. Previous data revealed that alveolar macrophages (AMs) exposed to asbestos fibers can produce H2O2. ROS production can be reduced by knocking down the iron-sulfur protein of complex III in the mitochondrial electron transport chain (ETC), a major site of ROS production. This study implies that the mitochondrial ETC plays a critical role in ROS production [12, 13]. In the basal status, cytosol in pulmonary artery smooth muscle cells (PASMCs) has a low oxidation state, but the mitochondrial matrix has a high oxidation state [14]. When subjected to acute hypoxia, the oxidation status in the cytosol increases, whereas the oxidation status in the mitochondrial matrix decreases. These actions imply that ROS exit the cytosol to initiate redox signaling. ROS are also generated when the antioxidant defense system is downregulated. This system includes catalase, GSH and SOD. Intratracheal catalase administration to asbestos-treated mice prevented pulmonary fibrosis by inhibiting H2O2 production [15]. In another study, GSH was reduced in the epithelial lining fluid and fibrotic foci in idiopathic pulmonary fibrosis (IPF) lungs [16]. In addition, SOD knockout mice had more fibrosis after exposure to environmental toxins [17]. Therefore, imbalance of the antioxidant and oxidant system plays a role in the pathogenesis of ROS-induced lung diseases.
Mitochondrial metabolism and functions
Mitochondria are double membrane-bound organelles that exist in all eukaryotic organisms. The essential cellular function of mitochondria is to generate energy in the form of adenosine triphosphate (ATP). This function makes mitochondria the "powerhouse" of the cell. Mitochondria are commonly between 0.75 and 3 μm in diameter but vary considerably in size and structure. They can be viewed by using only an electron microscope. The number of mitochondria in a cell varies widely from one to several thousand, and this number depends on the tissue type and organism [18, 19].
Mitochondria are composed of several compartments, including the outer membrane, the intermembrane space, the inner membrane, the cristae and the matrix. Each part has different functions. The production of ATP relies on many proteins, including nicotinamide adenine dinucleotide (NADH) dehydrogenase, cytochrome c reductase, and cytochrome c oxidase, located in the inner membrane. These proteins oxidize pyruvate, glucose, and NADH in the cytosol and perform the energy transfer. This type of cellular respiration relies on oxygen and is known as aerobic respiration. In addition to supplying ATP, mitochondria are also involved in other tasks, such as signaling, cellular differentiation, cell cycle regulation and cell growth. Although the process is very efficient, some high-energy electrons leak from the respiratory chain and can form ROS [20]. This process was thought to result in significant oxidative stress in mitochondria with high mtDNA mutation rates, and this oxidative stress could promote the pathology of degenerative diseases and tumorigenesis [21].
ROS-induced mtDNA damage
The human mitochondrial genome is a circular DNA molecule of approximately 16 kilobases. It encodes 37 genes: 13 genes for subunits of respiratory complexes I, III, IV and V; 22 genes for mitochondrial tRNA; and 2 genes for rRNA. One mitochondrion can contain two to ten copies of its DNA. mtDNA is present in multiple copies (~ 100) per cell and encodes approximately 3% of all mitochondrial proteins [22]. These proteins are essential for regulating mtDNA-associated proteins, including 8-oxoguanine glycosylase (OGG1), mitochondrial aconitase (ACO2), mitochondrial transcription factor A (Tfam), and others [23]. mtDNA is approximately 50-fold more sensitive to oxidative damage than nuclear DNA due to its proximity to the ETC, lack of a histone protective shield covering the mtDNA and limited DNA repair mechanisms [24–26].
mtDNA variants within cells can affect both energy and non-energy pathways (complement, inflammatory, and apoptotic); these effects have shifted the paradigm regarding the role of mitochondria to one beyond merely energy production [
27
–
29
]. For example, mtDNA damage causes the loss of mitochondrial membrane potential (ΔΨm) and then influences ETC efficiency; these changes contribute to increased permeability in the outer mitochondrial membrane [
30
,
31
]. In addition, pro-apoptogenic agents are commonly released after mtDNA damage and drive disease formation, aging, and tumorigenesis. For example, Bax and Bak can induce outer mitochondrial membrane permeabilization and then cause the release of apoptogenic molecules from the mitochondria to promote caspase activation [
32
–
34
]. Oxidation-induced mtDNA damage can both trigger the death of the affected cell and transmit signals to "alarm" neighboring and itinerant cells (Fig.
1
).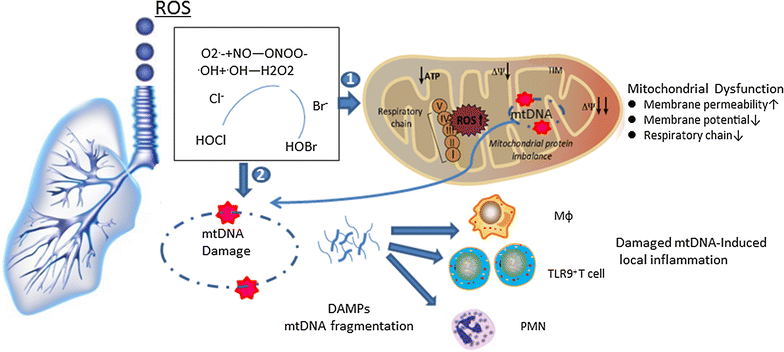 Damaged mtDNA acts as a damage-associated molecular pattern (DAMP)
Instead of following nuclear genetic principles, mtDNA is maternally inherited. In addition, mutations in the key genes involved in mitochondrial energy-generating oxidative phosphorylation account for the complex clinical-pathological features of many common degenerative and metabolic diseases. After injury, mtDNA fragments accumulate in autolysosomes where DNase II is capable of degrading these fragments into biological insignificance. However, some studies suggest that mtDNA fragments play a pathophysiological role in lung disease. For instance, oxidatively damaged mtDNA fragments can upregulate mitophagy after they are exported from the organelle. mtDNA also acts as a DAMP to initiate immunologic responses [35]. In severely injured or critically ill human patients, mtDNA accumulates in the circulation. It functions as a DAMP and causes both TLR9-dependent activation of the innate immune system and NALP3-dependent activation of caspase 1. The activation of both TLR9 and NALP3 can initiate downstream pro-inflammatory signaling [36, 37].
Mitochondrial transcription factor A (TFAM) is an essential mitochondria transcriptor located in the nucleus. The TFAM-mtDNA complex augments mtDNA immunogenicity, which acts as a DAMP to activate plasmacytoid dendritic cell (pDC)-like macrophages and recruit them from the lymph nodes [32, 38]. These pDC-like macrophages express CCR2 and are recruited to the lungs by CC chemokine ligand-2 (CCL2). They also facilitate the clearance of damaged cells in acute lung injury (ALI). Taken together, these findings indicate that damaged mtDNA is involved in the pathogenesis of many lung diseases [39] (Fig. 1).
Alveolar epithelial cell (AEC) and AM dysfunction induced by mtDNA damage
Alveolar epithelial cell apoptosis is a key pathophysiological event that hinders normal lung repair and thus promotes pulmonary fibrosis [40]. Patients with IPF and animal models of asbestos- and silica-induced pulmonary fibrosis have severe lung epithelial cell injury and apoptosis that are induced in part by mitochondrial ROS [41]. Recently, two groups have established that PTEN-induced putative kinase 1 (PINK1) deficiency impairs AEC mitochondrial function in patients with IPF [42, 43]. Moreover, the pro-fibrotic cytokine TGF-β may protect lung epithelial cells by promoting PINK1 expression and attenuating AEC apoptosis, which drives lung fibrosis. The evidence implies that oxidative stress induces mtDNA damage and thus promotes AEC apoptosis and pulmonary fibrosis [44].
Although epithelial cells are very important in lung fibrosis and degenerative diseases, other cell types, such as vascular endothelial cells and macrophages, are also likely important. Carter et al. suggested that mitochondrial ROS from AMs play a key role in mediating asbestosis. In this study, mitochondrial Rac-1 levels were elevated in AMs from patients with asbestosis. In addition, Rac-1 augmented asbestos-induced H2O2 production in AMs. These data indicate that H2O2 production via electron transfer may activate cellular injury pathways that promote asbestosis [45].
Transcription factor and cell signaling pathway changes after mtDNA damage
ROS-related lung diseases
Therapeutic intervention with antioxidants
Many studies have shown that oxidative stress is involved in the pathogenesis of various lung diseases, such as IPF, asbestosis, COPD, asthma and lung cancer. Thus, antioxidant intervention seems to be an ideal method for relieving symptoms and preventing radical progression [
96
–
99
]. Increasing the endogenous antioxidant enzyme defenses and enhancing the non-enzymatic defenses through dietary and pharmacological means will be discussed (Table
1
).
Table 1
Therapeutic antioxidant use in lung diseases
Classification

Antioxidant compounds

Potential lung disease applications

Dietary vitamins

Ascorbic acid

Vitamin E

β-carotene

Selenium

All-trans retinoic acid (ATRA)

Asthma, COPD, cigarette smoking, emphysema

Thiols

Glutathione (GSH)

COPD, asthma

N-acetyl-l-cysteine (NAC)

N-acystelyn (NAL)

N-iso-butyryl-cysteine (NIC)

IPF, silicosis, ALI/ARDS, chronic bronchitis

Erdosteine

Fudosteine

COPD, chronic bronchitis, cigarette smoking

Thioredoxin (MOL-294)

Lung cancer

Enzyme mimetics

SOD

ALI/ARDS, COPD, cigarette smoking, asthma

Ebselen

COPD, asthma

PDE4 inhibitors

Roflumilast

Cilomilast

COPD, asthma, chronic bronchitis

Polyphenols

Resveratrol

Curcumin

Quercetin

Lycopene

Acai

COPD

ALI/ARDS
Conclusions
The evidence discussed in this review highlights the roles of ROS and the probable mechanism of ROS-induced mitochondrial dysfunction and mtDNA damage, as well as the crosstalk between AECs and AMs in the pathogenesis of lung degenerative, chronic inflammatory and tumorigenic diseases. Many targets identified in animal models still need to be investigated in humans [119, 125]. Further understanding of the effects of ROS-induced mitochondrial dysfunction on basic cellular functions, such as inflammation, immunological responses and repair mechanisms, will not only provide important information regarding these basic pathological processes but also identify more therapeutic targets for treating diseases [126, 127]. Many available antioxidants that could boost the endogenous antioxidant defense capabilities in humans are based on dietary vitamin and pharmacological agents. Recently, published data showed that antioxidant treatment may be a promising approach for improving ROS-induced epithelial dysfunction via promoting mitochondrial biogenesis in alveolar type II cells and transferring mitochondrial-containing bone marrow-derived stromal cells (BMSCs) [109, 128]. Developing new pharmacological, dietary and genetic approaches to increase lung antioxidant levels will be helpful for treating lung diseases that currently have no effective treatment options.
Abbreviations
ROS:

reactive oxygen species
mtDNA:

mitochondrial DNA
O 2 ·− :

superoxide anion
·OH:

hydroxyl radical
ONOO− :

peroxynitrite molecule
SOD:

superoxide dismutase
Cl− :

chloride ion
Br− :

bromide ion
HOCl:

hypochlorous acid
HOBr:

hypobromous acid
AMs:

alveolar macrophages
ETC:

electron transport chain
PASMCs:

pulmonary artery smooth muscle cells
NAC:

N-acetyl-l-cysteine
Tfam:

mitochondrial transcription factor A
ΔΨm:

mitochondrial membrane potential
DAMP:

damage-associated molecular pattern
CCL2:

CC chemokine ligand-2
AECs:

alveolar epithelial cells
PINK1:

PTEN-induced putative kinase 1
OGG1:

8-oxoguanine glycosylase
8-oxoG:

8-oxoguanine
mt-OGG1:

mitochondria-targeted OGG1
NADPH oxidase:

nicotinamide adenine dinucleotide phosphate oxidase
Nrf2:

nuclear factor erythroid 2-related factor 2
ARE:

antioxidant response element
PAI-1:

plasminogen activator inhibitor-1
tPA:

tissue plasminogen activator
uPA:

urokinase
AT2:

airway epithelial type 2
PKCδ:

protein kinase delta
BAL:

bronchoalveolar lavage
TBARs:

thiobarbituric acid-reactive products
ALI:

acute lung injury
ARDS:

acute respiratory distress syndrome
ATP:

adenosine triphosphate
GSH:

glutathione
ELF:

epithelial lining fluid
O2 :

oxygen
H2O2 :

hydrogen peroxide
COPD:

chronic obstructive pulmonary disease
PDE4:

phosphodiesterase type 4
cAMP:

cyclic adenosine monophosphate
BMSCs:

bone marrow-derived stromal cells
TCA cycle:

tricarboxylic acid cycle
Declarations
Authors' contributions
XL and ZC wrote the paper. Both authors read and approved the final manuscript.
Acknowledgements
The work was also supported by the Shanghai 3-year Plan of the Key Subjects Construction in Public Health-Infectious Diseases and Pathogenic Microorganisms (15GWZK0102), a research fund from the Shanghai Respiratory Research Institute and the Yang Scientists Training Program of Zhongshan Hospital.
Competing interests
The authors declare that they have no competing interests.
Availability of data and materials
All data generated or analyzed during this study are included in the published article.
Consent for publication
The informed consent of patients was waived because no patient was involved in this review article. Consent and approval for publication was obtained from Zhongshan Hospital, Fudan University in China.
Ethics approval and consent to participate
Not applicable.
Funding
This work was supported by the National Natural Science Foundation of China (81270078 and 81470211).
Publisher's Note
Springer Nature remains neutral with regard to jurisdictional claims in published maps and institutional affiliations.
Open AccessThis article is distributed under the terms of the Creative Commons Attribution 4.0 International License (http://creativecommons.org/licenses/by/4.0/), which permits unrestricted use, distribution, and reproduction in any medium, provided you give appropriate credit to the original author(s) and the source, provide a link to the Creative Commons license, and indicate if changes were made. The Creative Commons Public Domain Dedication waiver (http://creativecommons.org/publicdomain/zero/1.0/) applies to the data made available in this article, unless otherwise stated.
Authors' Affiliations
(1)
Respiratory Division of Zhongshan Hospital, Shanghai Institute of Respiratory Diseases, Fudan University, Shanghai, China
(2)
Geriatric Department, Shanghai Jiao Tong University Affiliated Sixth People's Hospital, Shanghai, China