Immune modulation of some autoimmune diseases: the critical role of macrophages and neutrophils in the innate and adaptive immunity
Journal of Translational Medicine
2017
15:36
Received: 18 November 2016
Accepted: 3 February 2017
Published: 15 February 2017
Abstract
Macrophages and neutrophils are key components involved in the regulation of numerous chronic inflammatory diseases, infectious disorders, and especially certain autoimmune disease. However, little is known regarding the contribution of these cells to the pathogenesis of autoimmune disorders. Recent studies have aimed to clarify certain important factors affecting the immunogenicity of these cells, including the type and dose of antigen, the microenvironment of the cell-antigen encounter, and the number, subset, and phenotype of these cells, which can prevent or induce autoimmune responses. This review highlights the role of macrophage subsets and neutrophils in injured tissues, supporting their cooperation during the pathogenesis of certain autoimmune diseases.
Keywords
MacrophagesNeutrophilsAutoimmunityAutoimmune diseaseInflammation
Background
Epithelial and mucosal barriers, natural antimicrobial products, immune cells, pattern-recognition receptors, and soluble products, cytokine and opsonins (e.g., complement) are critical innate components. In this context, neutrophils and macrophages play an important role in induction either pro-inflammatory or anti-inflammatory responses into the inflammatory site [1, 2]. Thus, these cells are key components involved in the development of inflammatory responses of diverse pathological conditions, such as chronic inflammatory diseases, infectious disorders, autoimmunity and others diseases [3–5]. Autoimmunity reflects an imbalance between effectors and regulatory mechanisms, including the defective elimination and/or control of innate and adaptive responses and the activation of cells with of varying subsets and phenotypes, such as macrophages and neutrophils, which release several products into tissue. Thus, this review highlights the role of macrophages subsets and neutrophils in the peripheral tissues, and also further supporting their cooperation during the development of the pathogenesis of T cell-mediated autoimmune disease, as type 1 diabetes mellitus and rheumatoid arthritis.
Macrophages and neutrophils: development and inflammation
Concluding remarks and future directions
As described in this review, neutrophils and macrophages share the same origin and also have a number of common functions (e.g., pathogens phagocytosis, similar kinetic behaviour during the process of inflammation and immunomodulatory properties). Furthermore, it is well elucidated that neutrophils and macrophages are important cells of both the innate and acquired immune response to fight infectious agents. However, products released by these cells during the inflammatory process can also recruit and/or activate other cell types such as epithelial cells, endothelial cells, platelets, T and B lymphocytes, NK cells, among others. Thus, these factors set contribute effectively to the development of several autoimmune diseases such as rheumatoid arthritis and diabetes and others, as well as discussed in this review.
Nonetheless, neutrophils have an important role recruiting and activating macrophages to the site of infection or acute inflammation. Therefore, the interaction of neutrophils and macrophages is a key event in innate immune response in the autoimmune diseases. In summary, during the inflammatory process, macrophages migrate at the same time or after the influx of neutrophils into the inflamed tissue, taking a direct or indirect interaction between these cells. As previously reported, macrophages of profile M1 secrete TNF-α, and along with neutrophils contribute to local inflammation, while M2 secrete IL-4 and IL-10 that modulate the inflammation, improving the tissue damage. Moreover, M1 macrophages are generated starting from cellular immune responses, and vital to the defence of the host. However, an exaggerated activation of these cells can lead to tissue damage as it is seen in many chronic inflammatory and autoimmune diseases, including type 1 diabetes, rheumatoid arthritis and others. In this regards, neutrophils can release NETs, molecules that are associated the induction of several autoimmune diseases, due they acted as auto-antigen, as well as the excessive formation or degradation failure of these NETs can lead the auto-antigens expression and danger-associated molecular patterns. Furthermore, neutrophils can migrate to lymph nodes and to regulate the functions of macrophages/DC, leading to cross-presentation antigens to T-cells. In addition, neutrophils can express MHC class II and co-stimulatory molecules that directly to activate superantigen-dependent T-lymphocytes and help the differentiation of the Th1and Th17 effector T-cell subsets. Also, activated neutrophils may express the BLyS or BAFF that mediate the T-cell–independent antibody responses of these cytokines, and then cooperating to activation of the adaptive immune responses. Thereby, many studies corroborate with the knowledge that neutrophils and macrophages, during infection and autoimmune diseases, play an important role in regulating of both T and B cells and activating other immune mechanisms, as shown in Fig.
5
.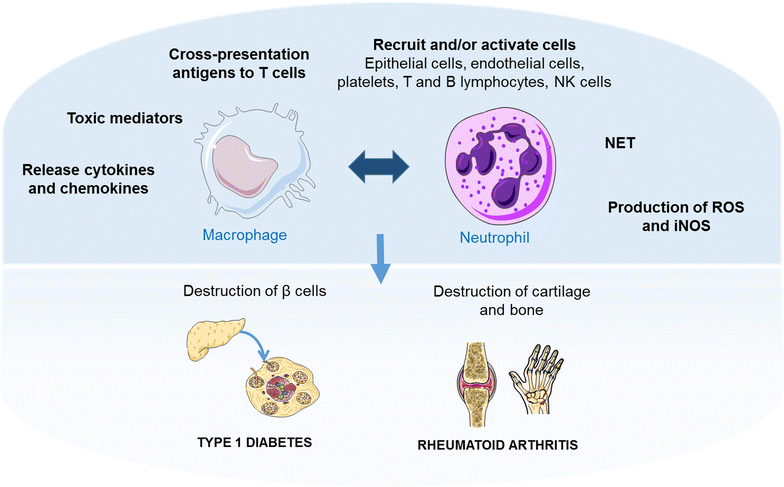 However, the major limitation currently facing these studies is the lack of studies that relate the functions in sets of cells involved in the pathogenesis of autoimmune diseases. This is likely due to the complexity of measuring the interactions among neutrophils and macrophages and their mediators that are involved in these disorders. Most studies focus on these characteristics of a targeted cell or molecule under in situ conditions. Important questions thus persist regarding, for instance, how to relate the plasticity and diversity of macrophages and neutrophils, which are quite important in mediating the innate and adaptive immune responses leading to tissue damage in type 1 diabetes and rheumatoid arthritis, as well as how these factors may help to develop multiple interventions that address the inflammatory responses and tolerogenic roles of these cells in these diseases, as shown in Fig.
6
. However, future studies might examine whether therapeutic interventions that simultaneously modulate certain roles of macrophages and neutrophils can also improve of symptoms and prevent organ damage in autoimmune diseases. These findings remain to be clarified in order to elucidate the immune mechanisms involving several cell types and soluble factors released to injured tissue.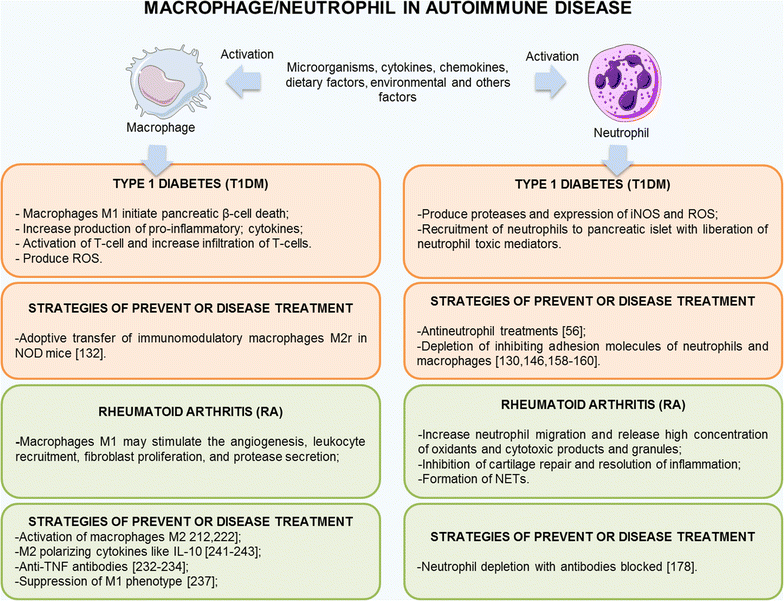 Abbreviations
GCSF:

granulocyte colony-stimulating factor
MYPS:

myeloid phagocyte system
SDF-1:

stromal derived factor-1
CXCR:

C-X-C motif chemokine receptor
LXR:

liver X receptor
IL:

interleukin
MPS:

mononuclear phagocyte system
M-CSF:

macrophage-colony stimulating factor
Csf1:

hematopoietic growth factor receptor
DC:

dendritic cells
HSCs:

hematopoietic stem cells
LPS:

lipopolysaccharides
IFN:

interferon
NK:

natural killer
SOCS3:

suppressor of cytokine signalling 3
TLR:

toll-like receptor
TGF:

transforming growth factor
ROS:

reactive oxygen species
NETs:

neutrophil extracellular traps
NE:

neutrophil elastase
MPO:

myeloperoxidase
BPI:

bactericidal permeability increasing protein
MMP-9:

matrix metalloproteinase-9
PAD4:

peptidyl arginine deiminase 4
APC:

antigen-presenting cells
T1DM:

autoimmune type 1 diabetes mellitus
HLA:

human leukocyte antigen
IL2R2:

interleukin 2 receptor alpha
VNTR:

insulin-variable number tandem repeat
VDR:

vitamin D receptor
CTLA:

cytotoxic T-lymphocyte-associated protein
CRP:

C-reactive protein
PR3:

proteinase 3
PMA:

phorbol myristate acetate
CRAMP:

cathelicidin-related antimicrobial peptide
RA:

rheumatoid arthritis
PADI4:

protein-arginine deiminase type 4
PAD:

peptidyl arginine deiminase
ACPAs:

autoantibodies to citrullinated protein antigens
CIA:

collagen-induced arthritis
SF:

synovial fluid
Declarations
Authors' contributions
All authors participated in the design of the study and drafted the manuscript. MCM participated in the study coordination and helped to draft the manuscript. KCN have designed and prepared the manuscript figures. All authors read and approved the final manuscript.
Competing interests
The authors declare that they have no competing interests.
Availability of data and materials
The datasets supporting the conclusions of this article are included within the article.
Funding
The authors were supported by the Brazilian's agencies: Conselho Nacional de Desenvolvimento Científico e Tecnológico (CNPq), Fundação Amazônia Paraense de Amparo à Pesquisa (FAPESPA), Federal University of Pará and MCM thanks for the fellowship from CNPq.
Open AccessThis article is distributed under the terms of the Creative Commons Attribution 4.0 International License (http://creativecommons.org/licenses/by/4.0/), which permits unrestricted use, distribution, and reproduction in any medium, provided you give appropriate credit to the original author(s) and the source, provide a link to the Creative Commons license, and indicate if changes were made. The Creative Commons Public Domain Dedication waiver (http://creativecommons.org/publicdomain/zero/1.0/) applies to the data made available in this article, unless otherwise stated.
Authors' Affiliations
(1)
Pharmaceutical Science Post-Graduation Program, Health Science Institute, Federal University of Pará/UFPA, Belém, Brazil
(2)
Department of Clinical, Bromatological and Toxicological Analysis, Ribeirão Preto Pharmaceutical Sciences School, USP-SP, Ribeirão Preto, Brazil
(3)
College of Pharmacy, Guairacá Faculty-PR, Guarapuava, Brazil