Placental mitochondrial DNA and CYP1A1 gene methylation as molecular signatures for tobacco smoke exposure in pregnant women and the relevance for birth weight
Journal of Translational Medicine
2017
15:5
Received: 8 November 2016
Accepted: 18 December 2016
Published: 4 January 2017
Abstract
Background
Maternal smoking during pregnancy results in an increased risk of low birth weight through perturbations in the utero-placental exchange. Epigenetics and mitochondrial function in fetal tissues might be molecular signatures responsive to in utero tobacco smoke exposure.
Methods
In the framework of the ENVIRONAGE birth cohort, we investigated the effect of self-reported tobacco smoke exposure during pregnancy on birth weight and the relation with placental tissue markers such as, (1) relative mitochondrial DNA (mtDNA) content as determined by real-time quantitative PCR, (2) DNA methylation of specific loci of mtDNA (D-loop and MT-RNR1), and (3) DNA methylation of the biotransformation gene CYP1A1 (the last two determined by bisulfite-pyrosequencing). The total pregnant mother sample included 255 non-smokers, 65 former-smokers who had quit smoking before pregnancy, and 62 smokers who continued smoking during pregnancy.
Results
Smokers delivered newborns with a birth weight on average 208 g lower [95% confidence interval (CI) −318 to −99, p = 0.0002] than mothers who did not smoke during pregnancy. In the smoker group, the relative mtDNA content was lower (−21.6%, 95% CI −35.4 to −4.9%, p = 0.01) than in the non-smoker group; whereas, absolute mtDNA methylation levels of MT-RNR1 were higher (+0.62%, 95% CI 0.21 to 1.02%, p = 0.003). Lower CpG-specific methylation of CYP1A1 in placental tissue (−4.57%, 95% CI −7.15 to −1.98%, p < 0.0001) were observed in smokers compared with non-smokers. Nevertheless, no mediation of CYP1A1 methylation nor any other investigated molecular signature was observed for the association between tobacco smoke exposure and birth weight.
Conclusions
mtDNA content, methylation of specific loci of mtDNA, and CYP1A1 methylation in placental tissue may serve as molecular signatures for the association between gestational tobacco smoke exposure and low birth weight.
Keywords
Birth weight CYP1A1 EpigeneticsDNA methylationMitochondrial DNA contentMitochondrial DNA methylationPlacental tissueTobacco smoke
Background
A growing area of research interest with major public health implications are the consequence of insults during fetal life for the health status in child- and adulthood. It is well known that maternal smoking during pregnancy increases the risk of low birth weight [1, 2] and preterm delivery [3, 4] which is probably due to perturbations in the fetoplacental exchange [5]. The exact mechanism(s) underlying these adverse effects remain unclear, but emerging data suggests that biochemical, genetic, and epigenetic processes respond to and/or are modified by in utero tobacco exposure of the fetal organism.
Tobacco smoke consists of particulate and gaseous phases containing more than 7000 chemicals of which at least 70 substances are known to cause cancer [6]. Constituents of tobacco smoke such as polycyclic aromatic hydrocarbons (PAHs) enter cells and may activate genes involved in detoxification processes such as CYP1A1 (cytochrome P450, family 1, subfamily A, polypeptide 1) via the aryl hyrdrocarbon receptor (Ahr) signaling pathway resulting in an oxidative imbalance of the cells. Mitochondrial DNA (mtDNA), which resides as multiple double stranded circular copies in mitochondria, is extremely vulnerable and responsive to tobacco-induced oxidative stress [7–9]. As a result, alterations in mtDNA content, characterized as increasing or decreasing mtDNA copies, are an indication of dysfunctional or damaged mitochondria [10]. The inter-genomic crosstalk between mitochondria and the nucleus is complex. Growing evidence suggests that mitochondrial dysfunction may affect the epigenetic landscape of the nuclear genome [11, 12]. DNA methylation is the most intensively studied epigenetic modification. Exposures to adverse environmental factors are important determinants for methylation programming during early life [13, 14]. Global [15–18] and gene-specific (e.g. CYP1A1) [19–26] DNA methylation differences have been demonstrated in cord blood and placental cells of neonates from mothers who smoked during pregnancy. Disruption of the fetal methylome has been associated with adverse pregnancy outcomes and could provide an underlying mechanism through which smoking affects fetal growth [20, 24, 27].
While several studies described separately the effect of maternal smoking during pregnancy on birth weight, mitochondrial DNA, and CYP1A1 methylation, we integrated these biological endpoints in our investigation of placental tissue collected in the framework of the ENVIRONAGE birth cohort study [28]. We hypothesized that exposure to tobacco smoke during pregnancy impacts birth weight and concomitantly also these molecular signatures.
Discussion
The present investigation showed that women who smoked during pregnancy had neonates with lower birth weight and length, lower mtDNA content, higher mtDNA methylation at specific loci, and lower CpG-specific methylation levels of CYP1A1 in placental tissue.
Despite a limited number of (epi)genomic studies in placental tissue and cord blood, we are improving our understanding of the molecular pathways underlying the association between gestational tobacco smoke exposure and low birth weight. Combining gene expression and epigenome-wide methylation arrays Suter et al. [26] showed that the expression of 623 genes and the methylation of 1024 CpG dinucleotides were significantly altered in placentas of smokers. For 438 genes significant correlations were revealed between methylation and gene expression, and their potential functions or mechanisms were explored using an Ingenuity Pathway Analysis. The authors found that the gene list was enriched for genes involved in functional pathways such as mitochondrial dysfunction, oxidative phosphorylation and hypoxia. Indeed, mitochondria, the "powerhouses" of cells, provide cellular energy via oxidative phosphorylation and are very sensitive to exposures that induce oxidative stress. The double stranded circular mtDNA, of which multiple copies are present in mitochondria, is vulnerable to reactive oxygen species (ROS) because of an inefficient DNA repair capacity and close proximity to the electron transport chain [33]. The estimated mutation rate of mtDNA is 5-10 times higher compared to nuclear DNA [34]. We showed that placental mtDNA content and methylation levels were responsive to tobacco smoke exposure during pregnancy indicating that mtDNA is a sensitive marker of mitochondrial damage and dysfunction as proposed by Sahin et al. [10]. In addition to other studies reporting changes in placental mtDNA content in smoking mothers [7, 8] or mothers exposed to air pollution [29], we provide here the first epidemiological evidence of altered methylation levels at specific loci of the mitochondrial genome of placental tissue in response to tobacco smoke exposure during pregnancy. We suggest that pollution-induced epigenetic modifications of the mitochondrial genome may prime alterations in mtDNA content by regulating mitochondrial function and biogenesis [35]. Damaged or non-functioning mitochondria are specifically degraded through mitophagy and could result in a depletion of mtDNA [36], which moreover may lead to changes in methylation patterns of a number of nuclear genes [12]. The sensitivity analysis showed that mtDNA content and mtDNA methylation correlated with methylation of CYP1A1 in placental tissue, which could be indicative of a relationship between mitochondrial dysfunction and the epigenetic landscape of the nuclear genome [11]. Whether mitochondrial dysfunction affects gene expression and methylation patterns of other genes needs to be elucidated.
An expanding body of evidence suggests that the epigenome of placental tissue and cord blood is sensitive to environmental exposures [
13
]. Epigenome-wide methylation studies are used to examine the epigenetic status of the human genome at many different
loci
in a number of individuals and also to assess whether any of these CpG
loci
are associated with a trait or an environmental pollutant [
37
]. A 450 K epigenome-wide methylation study by Joubert et al. [
23
] demonstrated differentially methylated detoxifying genes (
AHRR
and
CYP1A1
) in cord blood of newborns exposed to tobacco smoke during pregnancy. This finding was confirmed in another population of infants by analyzing whole blood obtained by a heel prick [
25
]. Maternal smoking as assessed by both self-report and cotinine levels in plasma showed higher methylation levels at different CpGs of
CYP1A1
in cord blood [
23
]. Conversely, in placental tissue of smoker mothers, Suter et al. [
19
] observed hypomethylated CpG dinucleotides proximal to a xenobiotic response element (XRE); whereas, those distal from such elements did not demonstrate differential methylation. The authors calculated the total percentage of methylation for a distinct region of the promoter (−1411 to −1295 bp from the transcription start site) without taking into account the separate CpGs, unlike we did in our study. We observed lower methylation levels at a specific CpG site that lies adjacent to a XRE site in placental tissue of mothers who smoked during pregnancy. It is important to note that this specific CpG site harbors a C/G single nucleotide polymorphism (SNP: rs3809585 with allele frequencies C: 1.717% and G: 98.283%). We are confident that this SNP did not affect DNA methylation since all pyrograms confirmed a G nucleotide in the analyzed sequence. Interestingly, the study of Joubert et al. [
23
] in cord blood, the study of Suter et al. [
19
] in placental tissue, and our study in placental tissue, examined approximately the same region of interest and CpGs, however with different detection methods (Fig.
4
). With the bisulfite pyrosequencing approach, we confirmed hypomethylation at a specific CpG of the
CYP1A1
gene in placental tissue which is in contrast with the findings in cord blood [
23
]. Although we lacked meaningful gene expression data of
CYP1A1
in our study, Suter et al. [
19
] previously showed that lower methylation levels in a region covering the XRE site were correlated with increased expression of
CYP1A1
in placental tissue. Moreover, other studies demonstrated increased
CYP1A1
mRNA [
38
] and protein [
39
] expression in human placentas in response to tobacco smoke exposure. Constituents of tobacco smoke such as PAHs enter cells and are recognized by the aryl hydrocarbon receptor (Ahr) causing its translocation to the nucleus and the formation of a heterodimer with the Ahr nuclear translocator protein (ARNT). This complex binds to genes with a XRE within the promoter and initiates expression of detoxifying enzymes involved in phase I and II xenobiotic metabolism [
40
].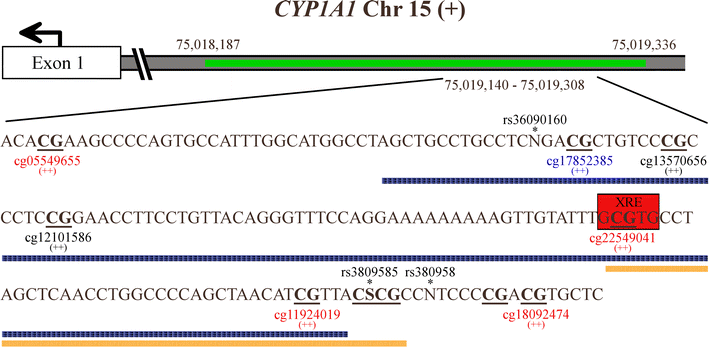 A limitation of our study is the chance of exposure misclassification. Information about maternal smoking during pregnancy was based on self-report and is not verifiable. A possibility to overcome this limitation is the determination of the cotinine concentration in plasma or urine of the mother. Nevertheless, previous studies demonstrated that this would not be superior to self-reported smoking habit in pregnant women [2]. We acknowledge the fact that we cannot fully exclude residual or unmeasured confounding by other factors that could be associated with both tobacco smoke exposure and placental molecular signatures. Although a causal relationship exists between prenatal tobacco smoke exposure and low birth weight or preterm birth, not all infants exposed to tobacco smoke develop these adverse perinatal outcomes. It is therefore reasonable to assume that several interactions exists between tobacco smoke exposure and biochemical, genetic, and epigenetic factors which make the fetus more susceptible to changes in fetal programming.
Our findings are of clinical relevance because responses of mitochondrial DNA and changes in the fetal methylome are plausible alterations that may underlie the adverse effect of tobacco smoke exposure on birth weight. They increase our knowledge on the mechanisms of perturbations in the fetoplacental exchange that might lie at basis of low birth weight and, hence, may be used in the broader sense of clinical context.
Conclusions
This study provides epidemiological evidence of molecular changes in placental tissue that can serve as molecular signatures of exposure to tobacco smoke during pregnancy. Whether the molecular signatures described in our study may be related to early developmental changes in Belgian children will be investigated in the ongoing follow-up study of the ENVIRONAGE birth cohort.
Abbreviations
ACTB :

beta actin
Ahr:

aryl hydrocarbon receptor
CI:

confidence interval
CYP1A1 :

cytochrome P450, family 1, subfamily A, polypeptide 1
D-loop :

displacement loop
ENVIRONAGE:

ENVIRonmental influence ON early AGEing
MT-ND1 :

mitochondrial encoded NADH dehydrogenase 1
MTF3212/R3319 :

mitochondrial forward primer from nucleotide 3212 and reverse primer from nucleotide 3319
MT-RNR1 :

mitochondrial region RNR1
mtDNA:

mitochondrial DNA
PAH:

polycyclic hydrocarbon
qPCR:

quantitative real-time polymerase chain reaction
RPLP0 :

acidic ribosomal phosphoprotein P0
Declarations
Authors' contributions
TSN coordinates the ENVIRONAGE birth cohort and designed the current study together with BGJ and AAB. WG and BGJ gave guidance to the midwives and did the quality control of the database. BGJ performed the experiments with the help of HMB, and BGJ carried out statistical analysis. BGJ, HMB, AAB, and TSN did the interpretation of the data. BGJ wrote the first draft of the manuscript. All authors read and approved the final manuscript.
Acknowledgements
The authors thank the participating mothers and neonates, as well as the staff of the maternity ward, midwives, and the staff of the clinical laboratory of East-Limburg Hospital in Genk.
Competing interests
The authors declare that they have no competing interests.
Availability of data and materials
The datasets used and/or analyzed during the current study are available from the corresponding author on reasonable request.
Ethics approval and consent to participate
All procedures were in line with the principles of the Helsinki Declaration for investigation of human subjects and approved by the Ethical Committee of Hasselt University and the East-Limburg Hospital. All participants provided written informed consent.
Funding
The ENVIRONAGE birth cohort is supported by the European Research Council (ERC-2012-StG.310898), by the Flemish Scientific Fund (FWO, G.0.733.15.N) and the Special Research Fund (BOF) of Hasselt University. This work was also supported by funding from the US National Institute of Environmental Health Sciences (R21ES022694 and R01ES021733).
Open AccessThis article is distributed under the terms of the Creative Commons Attribution 4.0 International License (http://creativecommons.org/licenses/by/4.0/), which permits unrestricted use, distribution, and reproduction in any medium, provided you give appropriate credit to the original author(s) and the source, provide a link to the Creative Commons license, and indicate if changes were made. The Creative Commons Public Domain Dedication waiver (http://creativecommons.org/publicdomain/zero/1.0/) applies to the data made available in this article, unless otherwise stated.
Authors' Affiliations
(1)
Centre for Environmental Sciences, Hasselt University, Hasselt, Belgium
(2)
Department of Obstetrics, East-Limburg Hospital, Genk, Belgium
(3)
Department of Physiology, Hasselt University, Diepenbeek, Belgium
(4)
Laboratory of Environmental Epigenetics, Exposure Epidemiology and Risk Program, Harvard School of Public Health, Boston, USA
(5)
Louvain Centre for Toxicology and Applied Pharmacology (LTAP), Université Catholique de Louvain, Brussels, Belgium
(6)
Department of Environmental Health Sciences, Mailman School of Public Health, Columbia University, New York, USA
(7)
Department of Public Health & Primary Care, Occupational and Environmental Medicine, Leuven University, Louvain, Belgium
(8)
Centre for Environmental Sciences, Hasselt University, Diepenbeek, Belgium