Milk: an epigenetic amplifier of FTO-mediated transcription? Implications for Western diseases
Journal of Translational Medicine
2015
13:385
Received: 14 September 2015
Accepted: 4 December 2015
Published: 21 December 2015
Abstract
Single-nucleotide polymorphisms within intron 1 of the FTO (fat mass and obesity-associated) gene are associated with enhanced FTO expression, increased body weight, obesity and type 2 diabetes mellitus (T2DM). The N 6 -methyladenosine (m6A) demethylase FTO plays a pivotal regulatory role for postnatal growth and energy expenditure. The purpose of this review is to provide translational evidence that links milk signaling with FTO-activated transcription of the milk recipient. FTO-dependent demethylation of m6A regulates mRNA splicing required for adipogenesis, increases the stability of mRNAs, and affects microRNA (miRNA) expression and miRNA biosynthesis. FTO senses branched-chain amino acids (BCAAs) and activates the nutrient sensitive kinase mechanistic target of rapamycin complex 1 (mTORC1), which plays a key role in translation. Milk provides abundant BCAAs and glutamine, critical components increasing FTO expression. CpG hypomethylation in the first intron of FTO has recently been associated with T2DM. CpG methylation is generally associated with gene silencing. In contrast, CpG demethylation generally increases transcription. DNA de novo methylation of CpG sites is facilitated by DNA methyltransferases (DNMT) 3A and 3B, whereas DNA maintenance methylation is controlled by DNMT1. MiRNA-29s target all DNMTs and thus reduce DNA CpG methylation. Cow´s milk provides substantial amounts of exosomal miRNA-29s that reach the systemic circulation and target mRNAs of the milk recipient. Via DNMT suppression, milk exosomal miRNA-29s may reduce the magnitude of FTO methylation, thereby epigenetically increasing FTO expression in the milk consumer. High lactation performance with increased milk yield has recently been associated with excessive miRNA-29 expression of dairy cow mammary epithelial cells (DCMECs). Notably, the galactopoietic hormone prolactin upregulates the transcription factor STAT3, which induces miRNA-29 expression. In a retrovirus-like manner milk exosomes may transfer DCMEC-derived miRNA-29s and bovine FTO mRNA to the milk consumer amplifying FTO expression. There is compelling evidence that obesity, T2DM, prostate and breast cancer, and neurodegenerative diseases are all associated with increased FTO expression. Maximization of lactation performance by veterinary medicine with enhanced miRNA-29s and FTO expression associated with increased exosomal miRNA-29 and FTO mRNA transfer to the milk consumer may represent key epigenetic mechanisms promoting FTO/mTORC1-mediated diseases of civilization.
Keywords
CancerDiabetesDNMTEpigeneticsFTOMilkmiRNA-29mTORC1 N 6 -MethyladenosineObesityTranscriptome
Background
FTO, fat mass- and obesity-associated gene (MIM 612938) maps to chromosome 16q12.2 and is widely expressed in a variety of human tissues with highest levels detected in the brain, pancreatic islets, and the liver [1, 2]. The 505 amino acid-long human FTO and its orthologs are present in vertebrate evolution for at least 450 million years [3]. FTO mRNA is most abundant in hypothalamic nuclei governing energy balance [4, 5]. FTO was identified as an obesity susceptibility gene by several large-scale genome association studies [1, 6, 7]. Single nucleotide polymorphisms (SNPs) in the first intron of FTO are highly associated with obesity and obesity-related traits [1, 6, 7]. In various populations FTO has been confirmed to be a major risk gene promoting obesity [8–19]. Obesity is a well-known risk factor for the development of type 2 diabetes mellitus (T2DM). Indeed, FTO has been identified as a critical T2DM susceptibility locus [20–28]. Obesity and T2DM-associated genetic variations of FTO are associated with increased primary transcript levels of FTO mRNA [14, 29, 30].
Not only genetic polymorphisms of FTO, but also the methylation status of FTO, especially CpG hypomethylation of intron 1 has been linked to increased T2DM prevalence [31]. It is not known whether demethylated CpG loci in intron 1 map directly to regulatory regions and SNPs. Notably, FTO methylation in human pancreatic islets of T2DM patients is significantly reduced compared to healthy controls [32]. Thus, not only genetic but also epigenetic modifications of FTO appear to modify FTO expression. It is well appreciated that dietary factors induce epigenetic alterations, which have pivotal long-term biological consequences [33].
This paper highlights the potential role of milk as an epigenetic modifier of the human genome paying special attention to cow milk-mediated overactivation of FTO and its impact on the transcriptome of the human milk consumer.
Conclusions
Early-life experiences play a critical role for lifelong metabolic programming. Current research focuses on the role of epigenetic causes of excess adult weight gain and early onset of age-related diseases [
337
]. Importantly, the
FTO
gene has been recognized to play a crucial role in the early-life determination of body weight, body composition and energy balance [
337
]. Milk is the early nutritional environment and life experience of all mammals. There is increasing evidence that milk is not "just food" but represents a sophisticated signaling system of mammals to promote anabolism for postnatal mTORC1-mediated growth [
38
]. It has recently been demonstrated that milk stimulates mTORC1-dependent translation [
39
], a pivotal requirement for cell growth and proliferation. There is overwhelming evidence that the well-preserved gene
FTO
plays a predominant role in DNA demethylation and m
6
A-dependent mRNA demethylation [
1
,
4
,
125
,
129
–
132
]. Thus, FTO promotes transcription and increases genomic transcriptional activity, a requirement for postnatal growth. Milk functions apparently as an "epigenetic interface" generated by the lactation genome that controls the FTO-dependent transcriptome of the milk recipient (Fig.
1
). FTO is thus an evolutionary checkpoint coordinating the program of the lactation driving transcription, translation and anabolism of the newborn mammal. FTO-mediated demethylation of mRNAs increases transcriptional activity and generates mRNA splice variants that are critically involved in adipogenesis [
144
–
146
], ghrelin-regulated appetite control [
150
], and LRS-mediated mTORC1 activation [
110
,
157
–
162
] (Fig.
2
).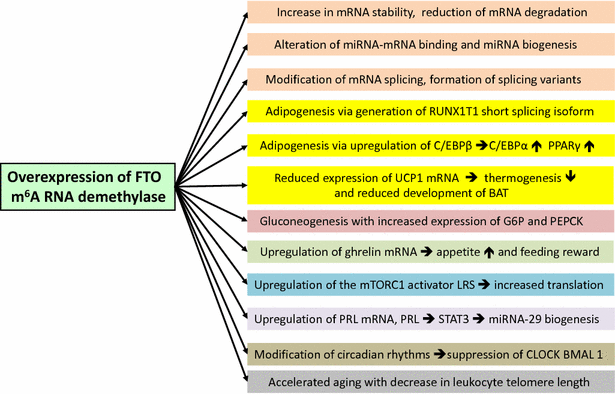 Remarkably, FTO plays a critical role in milk production. The mRNA of PRL, the most important hormone promoting lactation, is regulated via m6A methylation [180, 186] and thus depends on FTO activity. In this context it is not surprising that bovine FTO variants enhance lactation performance [164]. Moreover, enhanced expression of miRNA-29 in DCMECs increases milk yield [180]. Abundance of miRNA-29s in DCMECs of high performance dairy cows may downregulate DNMT-mediated methylation of bovine FTO, thereby increasing bovine FTO mRNA and protein levels of DCMECs. Bovine miRNA-29s, which are identical with human miRNA-29s, and bovine FTO mRNA, which is highly homologous to human FTO mRNA, may reach the consumer of pasteurized fresh milk via uptake of milk exosomes [84]. Viral and bacterial infections of dairy cows may further increase miRNA-29 levels [189, 190, 196–201] (Fig. 1). Thus, the efforts of veterinary medicine intensifying lactation performance and milk yield apparently overstimulate FTO signaling of the human milk consumer, an overlooked interaction in the pathogenesis of Western diseases. The presented working model allows a new understanding of milk as mammal´s temporal amplifier of the epitranscriptome of the milk recipient. m6A is a common modification of mRNA with potential roles in fine-tuning the RNA life cycle and mRNA expression control [143, 338]. Milk-activated FTO operates as a methylation "eraser" to promote transcription and translation for adequate growth during the lactation period [129, 143]. It is conceivable that individuals carrying obesigenic genetic FTO variants with increased FTO expression may be even more susceptible to milk-mediated epigenetic activation of FTO. FTO should be regarded as the driver of the transcriptome, whereas mTORC1 drives the translational machinery interconnected via an FTO-mTORC1 crosstalk.
Persistent milk-mediated epigenetic FTO signaling may explain the epidemic of age-related diseases of civilization. It is thus not surprising that an increased mortality in relation to high milk intake has recently been observed in a Swedish cohort of men and women [339]. The antagonistic pleiotropy theory of aging postulates that genes beneficial early in life operate at the cost of aging when persistently activated later in life [340]. Persistent overactivation of evolutionary developmental genes, such as FTO and MTOR, which are most important for perinatal programming, appear to be the major health hazard promoting aging and early onset of age-related diseases. In fact, obesity-related risk allele carriers of FTO gene show dose-dependent increments in BMI during aging. Moreover, the obesity-related risk allele is associated with reduced medial prefrontal cortical function during aging [341]. In addition, presence of the FTO rs9939609 polymorphism risk allele in a Korean population was inversely associated with leukocyte telomere length [342].
Future research should characterize the epigenetic FTO-activating potential of milk versus other fermented dairy products. The relative contribution of milk-derived regulatory mechanisms that activate FTO expression such as BCAAs and exosomal miRNAs, have to be determined in detail. It is of critical interest to provide experimental evidence showing that milk consumption modifies the FTO methylation status resulting in increased FTO expression and activity. Furthermore, it is important to study differences in epigenetic FTO activation levels between human breast milk, bovine milk, and commercial milk of high performance dairy cows. Special attention should be paid to the effects of bovine milk exosomal miRNAs and mRNAs in the epigenetic control of FTO expression during sensitive periods of pre- and postnatal FTO-mediated metabolic programming.
Abbreviations
AD:

Alzheimer's disease
AARS:

amino-acyl-tRNA synthetase
APOE:

apolipoprotein E
ATG5:

autophagy 5, S. cerevisiae, homolog of
BAT:

brown adipose tissue
BC:

breast cancer
BCAA:

branched-chain amino acid
BCGN1:

beclin 1
BMAL1:

brain and muscle ARNT-like protein 1
BMI:

body mass index
C/EBPβ:

CCAAT/enhancer-binding protein-β
CHD:

coronary heart disease
CLOCK:

circadian locomotor output cycles kaput
CNS:

central nervous system
CpG:

cytosine-phosphate-guanine
CSN1S1 :

casein alpha s1 gene
DCMEC:

dairy cow mammary epithelial cell
DMBA:

7,12-dimethylbenz(a)anthracene
DNMT:

DNA methyltransferase
EIF5 :

E74-like factor 5 gene
EMT:

epithelial to mesenchymal transition
EPIC:

European Prospective Investigation into Cancer and Nutrition
ER:

estrogen receptor
EXBF:

exclusive breast feeding
FTO :

fat mass- and obesity-associated gene
GLUT1 :

glucose transporter 1 gene
HNRNPC:

heterogeneous nuclear ribonucleoprotein C
HOMA:

homeostasis model assessment
IGF-1:

insulin-like growth factor 1
LPS:

lipopolysaccaride
LRS:

leucyl-tRNA synthase
MCE:

mitotic clonal expansion
MEF:

mouse embryonic fibroblast
m6A:

N 6-methyl-adenosine
METTL3:

methyltransferase-like 3
miRNA:

microRNA
MSC:

multi-synthetase complex
mTORC1:

mechanistic target of rapamycin complex 1
NHANES:

National Health and Nutrition Examination Survey
PD:

Parkinson´s disease
PC:

Prostate cancer
PIP:

prolactin-inducible protein
PRL:

prolactin
PPARγ:

peroxisome proliferator-activated receptor-γ
rRNA:

ribosomal RNA
RT:

reverse transcriptase
RUNX2:

runt-related transcription factor 2
SAT:

subcutaneous adipose tissue
SNP:

single nucleotide polymorphism
snRNA:

small nuclear RNA
snoRNA:

small nucleolar RNA
STAT:

signal transducer and activator of transcription
SREBP1:

sterol regulatory element binding protein-1
tRNA:

transfer RNA
T2DM:

type 2 diabetes mellitus
UCP-1:

uncoupling protein 1
UTR:

untranslated region
VTA:

ventral tegmental area
Declarations
Acknowledgements
The author thanks Gerd Schmitz, University of Regensburg, for discussions of milk and lipidomics, and Harald zur Hausen, Deutsches Krebsforschungszentrum Heidelberg, for valuable insights into bovine oncogenic viruses in commercial milk, and Helena Ord, student of Princeton University, for language improvements of the manuscript.
Funding
There are no sources of funding.
Competing interests
The author declares that he has no competing interests.
Open AccessThis article is distributed under the terms of the Creative Commons Attribution 4.0 International License (http://creativecommons.org/licenses/by/4.0/), which permits unrestricted use, distribution, and reproduction in any medium, provided you give appropriate credit to the original author(s) and the source, provide a link to the Creative Commons license, and indicate if changes were made. The Creative Commons Public Domain Dedication waiver (http://creativecommons.org/publicdomain/zero/1.0/) applies to the data made available in this article, unless otherwise stated.
Authors' Affiliations
(1)
Department of Dermatology, Environmental Medicine and Health Theory, University of Osnabrück, Osnabrück, Germany