Nerve growth factor: from the early discoveries to the potential clinical use
Journal of Translational Medicine
2012
10:239
Received: 19 July 2012
Accepted: 21 November 2012
Published: 29 November 2012
Abstract
The physiological role of the neurotrophin nerve growth factor (NGF) has been characterized, since its discovery in the 1950s, first in the sensory and autonomic nervous system, then in central nervous, endocrine and immune systems. NGF plays its trophic role both during development and in adulthood, ensuring the maintenance of phenotypic and functional characteristic of several populations of neurons as well as immune cells. From a translational standpoint, the action of NGF on cholinergic neurons of the basal forebrain and on sensory neurons in dorsal root ganglia first gained researcher's attention, in view of possible clinical use in Alzheimer's disease patients and in peripheral neuropathies respectively. The translational and clinical research on NGF have, since then, enlarged the spectrum of diseases that could benefit from NGF treatment, at the same time highlighting possible limitations in the use of the neurotrophin as a drug. In this review we give a comprehensive account for almost all of the clinical trials attempted until now by using NGF. A perspective on future development for translational research on NGF is also discussed, in view of recent proposals for innovative delivery strategies and/or for additional pathologies to be treated, such as ocular and skin diseases, gliomas, traumatic brain injuries, vascular and immune diseases.
Keywords
Nerve growth factor
Alzheimer's disease
Parkinson's disease
Peripheral neuropathies
Skin ulcers
Neurotrophic keratitis
Glaucoma
Hypoxic-ischemic brain injury
Optic glioma
Nerve growth factor
Nerve growth factor (NGF) is the first discovered member of the neurotrophin family[
1
]. NGF is essential for the development and phenotypic maintenance of neurons in the peripheral nervous system (PNS) and for the functional integrity of cholinergic neurons in the central nervous system (CNS) (Figure 
1
)[
2
]. The amino acid and messenger RNA sequences of this neurotrophin have been classified and indicate that NGF is a highly conserved molecule that shares considerable homology within different species[
3
]. The mature, active form of NGF descend from proteolitic cleavage of a precursor form (ProNGF), that have important roles during development and in adult life, having both pro-apoptotic and neurotrophic properties[
4
,
5
].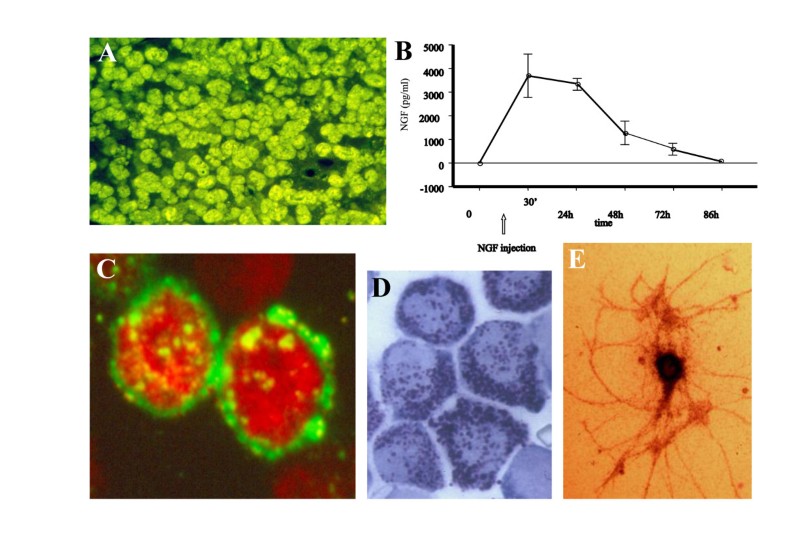 NGF exerts its biological action by challenging the specific receptor tropomyosin kinase receptor A (TrkA), which is a typical tyrosine kinase receptor[6]. The major cytosolic/endosomal pathways activated by the TrkA are Ras-mitogen activated protein kinase (MAPK), extracellular signal-regulated kinase (ERK), phosphatidylinositol 3-kinase (PI3K) -Akt, and Phospholipase C (PLC) -γ[7–9]. NGF also binds to and activate the low-affinity, non-selective p75 pan-neurotrophin receptor (p75NTR). This receptor is a transmembrane glycoprotein that regulates signaling through TrkA[9–11]; binding of NGF to p75NTR activates additional signaling pathways that, in the absence of co-expressed TrkA, may signal a cell to die via apoptosis[10–12]. Signaling pathways activated by p75NTR are the Jun kinase signaling cascade, NF-κB and ceramide generation[13].
The discovery of NGF dated the '50s of the last century and was awarded with the Nobel prize in 1986[
13
]. In 1953, Rita Levi-Montalcini, working in the Victor Hamburger laboratory at Washington University (Saint Louis, MA, USA), grafted a piece of mouse sarcoma tissue onto chick embryos whose wing buds had been extirpated. She discovered that the tumor tissue produced a soluble factor that promoted the growth of nearby sensory and sympathetic ganglia[
13
]. Collaborating with the biochemist Stanley Cohen, they isolated the substance responsible and named it NGF. For over 35 years, NGF has been considered as a very powerful and selective growth factor for sympathetic and sensory neurons and for cells derived from the neuronal crest (Figure 
2
)[
14
–
16
]. In these neurons, NGF dynamically controls neurotransmitters and neuropeptides synthesis. In sympathetic neurons the production of norepinephrine is regulated by NGF through selective induction of tyrosine hydroxylase (TH)[
17
]. In the dorsal root ganglion (DRG) the expression of neuropeptides such as Substance P (SP) and Calcitonin Gene-Related Peptide (CGRP) by primary sensory neurons is under NGF control[
18
] and in vivo deprivation of NGF, as a result of nerve transection or anti-NGF treatment, causes a marked decrease in SP and CGRP synthesis[
19
]. NGF supply from the innervation field influences the neuronal plasticity that allows the adult nervous system to modify its structure and functions in response to stimuli. Indeed, the constitutive synthesis of NGF in adult tissues correlates with PNS neurons phenotypic features, such as innervation density, cell body size, axonal terminal sprouting, dendrites arborization, induction or inhibition of neuropeptides and neurotransmitters or transmitter-producing enzymes[
17
–
21
].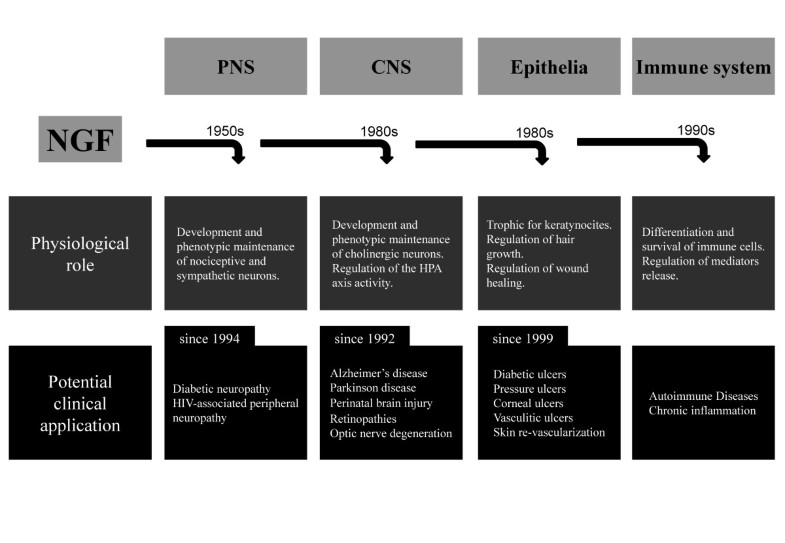 In the central nervous system (CNS), the greatest amount of NGF is produced in the cortex, the hippocampus and in the pituitary gland; although significant quantities of this neurotrophin are also produced in other areas, including the basal ganglia, thalamus, spinal cord and in the retina[22]. The NGF plays a pivotal role in the survival and function of cholinergic neurons of the basal forebrain complex (BFC) (Figures 1 and2)[23], such functions include attention, arousal, motivation, memory and consciousness. Since BFC neurons are highly affected in Alzheimer's disease (AD), NGF has been indicated as a potential protective and/or curative factor for neurodegenerative disorders associated with these neurons[24]. In the CNS, NGF also regulates phenotypic features in noradrenergic nuclei of hypothalamus and brainstem, participating in the central regulation of autonomic response and in the modulation of stress axis activity[25–29].
Cells of the immune-hematopoietic system also produce and utilize NGF[2, 30, 31]. Since the early description of the effects of NGF on mast cells (Figures 1 and2)[32, 33], the role played by the neurotrophin in the regulation of immune functions and immune cells' behavior has been greatly characterized. NGF receptors are expressed in immune organs and on immune cell populations (Figure 1) allowing NGF to modulate cell differentiation and regulate the immune response. NGF affects the survival and/or differentiation and/or phenotypic features of hematopoietic stem cells[34–37], granulocytes[38–46], lymphocytes[47–54] and monocytes[47, 54–59]. NGF concentrations in the tissues change during inflammation and inflammatory mediators induce NGF synthesis in a variety of cell types[60–62]. Enhanced production of NGF has been reported in inflamed tissues of patients with inflammatory and autoimmune diseases[60, 61, 63], but the reasons why NGF concentration is enhanced and how this can affect inflammatory responses are far from being fully understood.
Novel delivery routes
Though applied to a wide spectrum of neurological and non-neurological diseases, clinical utilization of NGF, especially when systemically administered, remains hampered by important adverse events, such as those derived from the effects of NGF on pain system. Moreover, the achievement of pharmacological concentrations in therapeutic relevant targets without affecting non-target areas represents a further delivery challenge.
A potential approach to overcome such limitations is represented by gene therapy. Preclinical data obtained in rodents and primates indicated that ex vivo gene therapy targeted at BFC neurons were effective in improving experimentally induced cholinergic deficits[180, 181]. A phase I clinical trial has been performed on 8 AD's patients, in which autologous fibroblasts were engineered to produce and secrete human NGF (hNGF) and implanted into the BFC (Table 2)[182]. Positive outcomes in behavioral scales were scored in two out of six patients that survived cell implant neurosurgery in a period ranging from six to eighteen months after implant, associated with improvement in PET scans. A second phase I trial based on in vivo NGF gene delivery, by adeno-associated virus vector (CERE-110)[183] has been set-up in 2004 (Table 2)[184]. The phase I study was a dose-escalating study to assess the safety and tolerability of CERE-110 in subjects with mild to moderate AD's. CERE-110 has passed phase I clinical testing and a multicenter phase II clinical trial has commenced[185]. In addition to the CERE-110 trial, a new, cell-based in vivo delivery system has been developed and a Phase I trial has been registered by Karolinska Institute in Sweden on AD's patients (Table 2)[186]. This delivery system is based on human retinal pigment epithelial cell line, engineered to secrete hNGF and encapsulated within a polymer membrane that is part of an implantable catheter-like device[187], and has been demonstrated to effectively prevent the loss of cholinergic neurons after fimbria transection in rats[188, 189]. The results of the first safety and tolerability study based on such system have been recently published[187, 190], demonstrating that surgical implantation and removal of devices containing NGF-secreting cells in the basal forebrain of AD patients are feasible, well tolerated and relatively safe, and that they do not generate NGF-related adverse events[190]. Though the system remains to be optimized in terms of long-term function of implanted cells and in the achievement of positive neurological outcomes (actually limited to 2 out of 6 patients), it seems to present advantages over other gene delivery approaches[182], since it allows the safe removal of engineered cells as well as their immune isolation from host tissues, thus protecting the allogeneic transplanted cells from host immune system rejection.
The olfactory pathway is a promising, non-invasive route for drug delivery to the brain, which has potential for the treatment of neurodegenerative diseases[191–193]. The BBB represents one of the major obstacles in drug development for brain diseases and many studies have focused on the possibility of circumventing the BBB for the direct central delivery of macromolecules to the central nervous system by utilizing the potential direct transport pathway from nose to brain via the olfactory region[194–196]. The intranasal delivery of NGF to the brain could indeed represent a non-invasive and safe route to achieve relevant therapeutic concentration of NGF in selected brain areas, without eliciting undesired and adverse side effects. The characterization of pharmacokinetic for intranasal delivery of NGF[197, 198] revealed that intranasal NGF rapidly spread through brain tissue without significant increasing NGF concentrations in the CSF and in the blood. Studies on animal models of AD, revealed that intranasal NGF, while exerting specific therapeutic actions on the affected cholinergic system, did not provide trophic support to sympathetic ganglia, nor did it induced the over expression of nociception neuromodulators, such as sensory neuropeptides, known to be under NGF control[197–199]. Recent studies published by the same group, characterized a form of hNGF mutated at residue R100, testing it both in vitro and in vivo, by intranasal delivery, in an animal model of AD[199, 200]. Such a mutated hNGF retains the neurotrophic potential of the native NGF, without eliciting pain-related response. It would be of interest whether such a "painless" NGF variant can be validated in preclinical and hopefully future clinical trials for neurodegenerative diseases[199].
Another actually investigated route that seems to be able to deliver NGF to the brain in a safe and effective manner is the topical administration of NGF on ocular surface[201]. Animal studies have demonstrated that NGF applied on the ocular surface can reach central cholinergic neurons, which are affected in AD[201]. Moreover, ocular NGF is able to activate c-fos in several areas of the limbic system in a time-dependent manner[202] and to enhance the distribution of Ki67positive cells also expressing p75NTR in the proliferating layer of the sub-ventricular zone, indicating that ocular NGF can activate the machinery regulating the proliferation and maturation of neuronal precursor in the brain[203]. Compared to intranasal delivery, the intraocular one appears to be less characterized, in terms of mechanisms and anatomical route for brain delivery[204]. The available data indicate that the ocular delivered NGF does not induce systemic side effects related to the systemic NGF administration, even when this is repeated for rather long time periods[172, 176, 177, 179], being able to target selected brain areas[201–203]. In a recent study on a mouse model of AD the intranasal and ocular delivery routes for hNGF administration were compared for their relative diffusion in the systemic compartment in concentration that could elicit a pain response[205]. The authors reported that intra-nasally applied hNGF was safer when compared to intra-ocular one. It should however be taken into consideration and tested whether there is a possible different biological activity of mNGF used in the majority of the ophthalmology clinical trials[172, 176, 177, 179] versus the rhNGF used in the cited comparative study[205].
To date two reports, both from the same group, investigated the clinical effects of topical ocular NGF on brain structures lying behind the retina (Table 2)[206, 207]. In one study[206] five pediatric patients with optic gliomas (OGs) and advanced optic nerve atrophy were assessed before and after a single 10 day course of 1 mg (total) mNGF topical administration by clinical evaluation, visual evoked potentials (VEPs), and brain magnetic resonance imaging (MRI). While not affecting tumor size, the topical mNGF improved VEPs suggesting a visual rescuing mechanism exerted by mNGF on the residual viable optic pathways. In a further study[207] a single adult patient with OG and long-standing optic nerve atrophy was treated with mNGF and the follow-up was performed by clinical, neuroradiologic, and electrophysiological tests (electroretinogram and VEPs) at the end of each treatment and 30 and 60 days later. Repeated subjective and objective improvement of visual function was recorded after mNGF treatment, which tended to deteriorate toward baseline values 60 days from the end of each mNGF treatment. Interestingly, no ocular or systemic side effects were observed throughout treatment[207].
Conclusions
Soon after its discovery, in the middle of the twentieth century, it became clear that NGF had great pharmacological potentialities, for the treatment of major central neurodegenerative diseases and of peripheral neuropathies. After preclinical characterization and clinical trials have been performed by treating AD, Parkinson's, and diabetic patients (Figure 2, Tables 1 and2), severe limitations in the clinical use of NGF emerged, coming from its physiological action on the sensory and autonomic systems and from the high pharmacological doses needed to obtain disease improvements. Despite the discouraging results coming from trials mainly performed across the 1990's, the translational research on NGF was not stopped, widening the spectrum of diseases that could benefit from NGF-based therapy and investigating new delivery strategies, aimed at maximizing positive outcomes and limiting or fully circumventing the deleterious side effects described in earlier clinical trials. Today we know that epithelial derangements based on poor neurotrophism could be safely treated with topical NGF, while a wide spectrum of CNS and PNS diseases will probably benefit from NGF therapy, once intranasal or gene delivery systems will be finally set-up and fully translated into clinical practice. A further challenge, in conclusion, is represented by the increasing knowledge on the role of NGF in immune system regulation, opening a promising field for development of innovative NGF-based therapies in the care of, in example, chronic inflammatory or autoimmune diseases, and a novel and challenging aspect in the NGF saga.
Abbreviations
AD:

Alzheimer's disease
BBB:

Blood–brain barrier
BFC:

Basal forebrain complex
CGRP:

Calcitonin gene-related peptide
CIPN:

Chemotherapy-induced peripheral neurotoxicity
CNS:

Central nervous system
CSF:

Cerebro-spinal fluid
DRG:

Dorsal root ganglion
ERK:

Extracellular signal-regulated kinase
HIV:

Human immunodeficiency virus
hNGF:

Human NGF
ICV:

Intra-cerebro-ventricular
MAPK:

Mitogen activated protein kinase
mNGF:

Murine NGF
MRI:

Magnetic resonance imaging
NF-κB:

Nuclear factor kappa-light-chain-enhancer of activated B cells
NGF:

Nerve growth factor
OG:

Optic glioma
p75NTR:

p75 pan-neurotrophin receptor
PD:

Parkinson's disease
PI3K:

Phosphatidylinositol 3-kinase
PLC:

Phospholipase C
PNS:

Peripheral nervous system
RA:

Rheumatoid arthritis
RGC:

Retinal ganglion cell
rhNGF:

Recombinant human NGF
SP:

Substance P
SSc:

Systemic sclerosis
TBI:

Traumatic brain injury
TH:

Tyrosine hydroxylase
TrkA:

Tropomyosin kinase receptor A
VEGF:

Vascular-endothelial growth factor
VEPs:

Visual evoked potentials.
Authors' Affiliations
(1)
Cellular Biology and Neurobiology Institute, CNR, Rome, Italy
(2)
Institute of Translational Pharmacology, National Research Council (CNR), Rome, Italy
Copyright
© Aloe et al.; licensee BioMed Central Ltd. 2012
This article is published under license to BioMed Central Ltd. This is an Open Access article distributed under the terms of the Creative Commons Attribution License (http://creativecommons.org/licenses/by/2.0), which permits unrestricted use, distribution, and reproduction in any medium, provided the original work is properly cited.