Capillary nano-immunoassays: advancing quantitative proteomics analysis, biomarker assessment, and molecular diagnostics
Journal of Translational Medicine
2015
13:182
Received: 18 February 2015
Accepted: 14 May 2015
Published: 6 June 2015
Abstract
There is an emerging demand for the use of molecular profiling to facilitate biomarker identification and development, and to stratify patients for more efficient treatment decisions with reduced adverse effects. In the past decade, great strides have been made to advance genomic, transcriptomic and proteomic approaches to address these demands. While there has been much progress with these large scale approaches, profiling at the protein level still faces challenges due to limitations in clinical sample size, poor reproducibility, unreliable quantitation, and lack of assay robustness. A novel automated capillary nano-immunoassay (CNIA) technology has been developed. This technology offers precise and accurate measurement of proteins and their post-translational modifications using either charge-based or size-based separation formats. The system not only uses ultralow nanogram levels of protein but also allows multi-analyte analysis using a parallel single-analyte format for increased sensitivity and specificity. The high sensitivity and excellent reproducibility of this technology make it particularly powerful for analysis of clinical samples. Furthermore, the system can distinguish and detect specific protein post-translational modifications that conventional Western blot and other immunoassays cannot easily capture. This review will summarize and evaluate the latest progress to optimize the CNIA system for comprehensive, quantitative protein and signaling event characterization. It will also discuss how the technology has been successfully applied in both discovery research and clinical studies, for signaling pathway dissection, proteomic biomarker assessment, targeted treatment evaluation and quantitative proteomic analysis. Lastly, a comparison of this novel system with other conventional immuno-assay platforms is performed.
Keywords
Capillary nano-immunoassaySimple westernCell signalingBiomarkerProteomicsMolecular diagnostic
Background
Advances in the molecular analysis of genes, proteins and metabolites have greatly improved our understanding of biological processes and disease, and have increased our ability to monitor treatment response and stratify patients to improve treatment efficacy. Precision medicine facilitated by companion diagnostics is one of the driving forces accelerating the drug development process and improving therapeutic management [1]. For example, targeting HER2 over-expression for breast cancer treatment led to the development of Herceptin (trastuzumab, Genentech), the first approved monoclonal antibody drug [2]. Another well known example is the use of a K-ras mutation test as a predictor of poor response to EGFR inhibitor treatment [3].
To enable this type of molecular profiling, concerted effort has been put forth in both academic and industry sectors to develop and validate new technologies. In the past decade, many genome and transcriptome profiling technologies, including next-generation sequencing, single-nucleotide polymorphism (SNP), fluorescent in situ hybridization (FISH), and mRNA quantitation technologies, have been developed and successfully applied in areas from discovery and translational research to clinical practice [4–8]. However, DNA sequence information is not sufficient to predict the biological function of a protein, and gene expression does not always correlate with pathway activation level [9, 10]. Based on UniProt, there is no experimental evidence at the protein level for about 38% out of 20,000 protein-coding human genes [11]. In a study of correlation between protein and mRNA abundance in yeast [12], Gygi et al. found that for some genes, while the mRNA levels were about the same, the protein levels varied by more than 20-fold. Conversely, invariant steady-state levels of certain proteins were observed with respective mRNA transcript levels that varied by as much as 30-fold. Post-translation modifications (PTM) of proteins, such as phosphorylation, acetylation and glycosylation, can alter a protein's activity and affect disease development and treatment response [13–15]. Thus it is critical to directly measure proteins and their activation status to confirm genomic predictions and monitor treatment responses.
In contrast to major advances in DNA and RNA profiling, the investigation of signaling molecules at the protein level still faces many challenges, such as limited clinical sample size, poor reproducibility, unreliable quantitation, and difficulties in protocol standardization across different laboratories [16, 17]. There is a strong need to develop automated, high-throughput proteomic technologies for precise and accurate determination of protein levels and analysis of protein activation status, to facilitate both discovery research and clinical practice.
In this manuscript, we review the performance and applications of a novel capillary nano-immunoassay (CNIA) system (The Simple Western System™, marketed by ProteinSimple, CA, USA), a fully automated capillary electrophoresis system for characterization of proteins and their post-translational modifications. This new system overcomes many of the limitations of conventional proteomic approaches: it offers straightforward target-specific detection, easy operation, high quality data quantitation and excellent assay reproducibility using nanogram levels of sample. As discussed below, this technology has been successfully applied in the dissection of signaling pathways, assessment of proteomic biomarkers, and evaluation of targeted therapies.
The CNIA technology
Capillary nano-immunoassay (also named the Simple Western™ system by the manufacturer, Protein Simple) refers to a capillary-electrophoresis immunoassay system, which offers both size-based and charge-based separation formats. Depending on the process, samples are prepared with SDS-containing buffers (for size-based assay) or solution-phase carrier ampholytes (for charge-based assay) and automatically loaded into small (5 cm, 100 µm internal diameter) capillaries for electrophoretic separation. The CNIA system offer both size-based and charge-based separation formats. Figure
1
shows the assay scheme.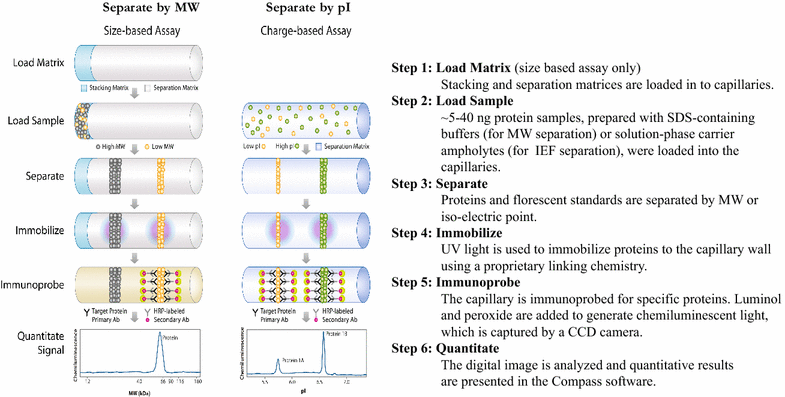 The size-based assay (size-CNIA) separates proteins based on molecular weight. The assay is performed in a similar manner to an SDS-PAGE gel. The protein sample is denatured by heat in the presence of a reducing agent (DTT) and is coated with SDS. The SDS coating gives the proteins in the sample a uniform charge-to-mass ratio. Because the proteins have identical charge-to-mass ratio, each protein's velocity through the polymer matrix will depend solely on the pores in the polymer matrix and the protein's radius of gyration, which is proportional to molecular weight.
The charge-based assay (charge-CNIA) differs from a traditional iso-electric focusing (IEF) gel in that the pH gradient is in the solution phase. An "ampholyte gradient" consisting of hundreds of zwitterionic species whose isoelectric points cover a range of pH is added to the sample mixture. When the electric field is applied, the ampholytes arrange themselves according to isoelectric-point (pI) and form a pH gradient throughout the length of the capillary. The proteins and standards migrate through the gradient until they reach their pI, at which point they carry no net charge and cease to migrate. The charge-based assay is also historically referred to as NanoPro™ referring to the company-specific platform or generically as NIA (nanofluidic proteomic immunoassay) assays in the literature.
Electrophoresis in either format is followed by UV light cross-linking of the separated proteins to the capillary wall through proprietary chemistry [18]. The capillaries are then automatically shuttled to an adjacent chamber within the instrument and the capillary lumen is loaded and incubated successively with primary and HRP-tagged secondary antibodies which are flowed through the capillary. The resulting chemiluminescence signal is then detected with a CCD camera, and the digital image is analyzed with Compass software (ProteinSimple, CA, USA). Signal strength is presented as peak area and quantitated. Each sample is prepared with fluorescent pI (for charge-CNIA) or molecular weight (for size-CNIA) markers to calibrate the signal peak profile. Once calibrated, peaks can then be compared between capillaries.
CNIA assay performance
This novel analysis system offers a number of significant advantages over conventional immunoblot techniques as discussed below.
Automation and robust performance
By performing all the steps of a charge- or size-based Western blot in a single vessel, the system allows for a level of automation and robust performance that is not possible with conventional immunoblot techniques. The capillaries are ferried between different stations in the instrument for separation/immobilization, antibody incubation, detection, washing and reagent loading. This eliminates all handling during the run and the inconsistencies that can arise from manual intervention. Good intra-, inter-assay reproducibility has been reported with the system [
19
]. Figure
2
a shows an analysis of ERK1 performed by different analysts on different days. An average %CV (coefficient of variation) of less than 10% was observed in this example.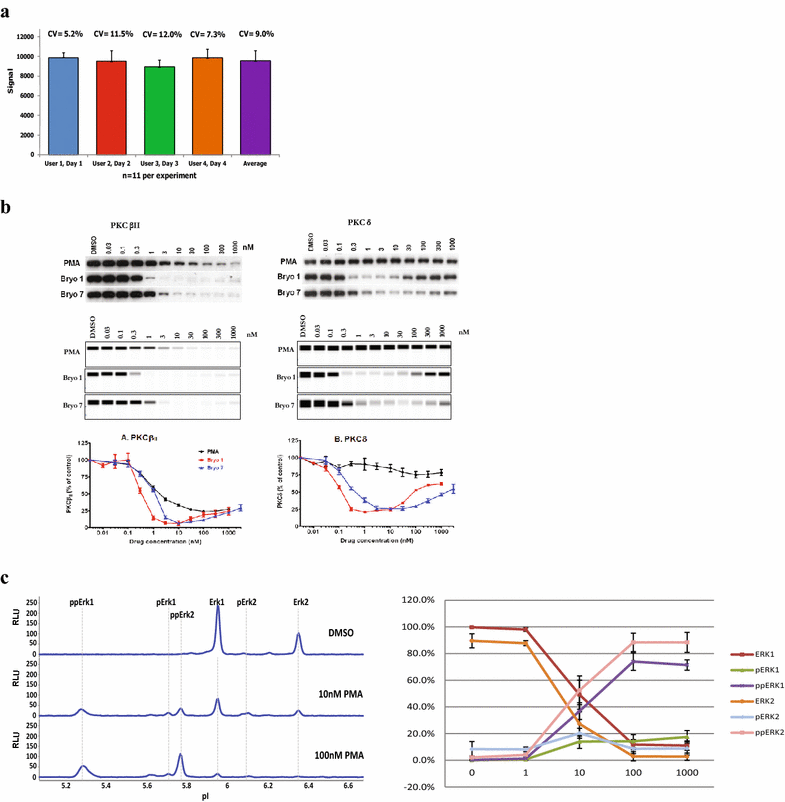 Sensitivity, dynamic range, turnaround time, and data quantitation
By taking advantage of the economies of scale in microfluidics, detection sensitivity is much greater than that of other techniques, with results reported on samples corresponding to fewer than 50 cells [18].Typical CNIA runs load nanogram rather than microgram amount of total protein, and have been reported able to precisely measure sub-femtomole amount of target protein [20]. The CCD camera provides 10 times higher dynamic range measurement than film [21]. Analysis linearity over several orders of magnitude has been reported for the system [18, 21–23]. In the 96-capillary throughput analysis platforms (Peggy™, Sally™), one cycle of 12-capillary analysis can be completed in about 2–5 h. A measurement run of up to eight cycles, for a total of 96 samples/analytes can be done in fewer than 24 h, demonstrating a fast assay turn-around time. Recently released instrumentation (Wes™) is capable of running 24 samples simultaneously in under 3 h (see manufacture's website for more detail on different analysis platforms).
The automated operating system and digital data quantitation allows the CNIA system to provide quantitative and precise measurement of signaling molecules and their activation status [24–30]. The system has demonstrated more accurate and reproducible assessment of protein levels when compared with conventional Western blot analysis and has enabled better correspondence of protein level and function [31–35. In a study of TGF-β-mediated epithelial carcinogenesis [36], Kohn et al. found that Smad3 gene dosage regulates the biological responses to TGF-β. In this study, a mere two-fold reduction in Smad3 was confirmed by precise protein measurements using size-CNIA. This small reduction in protein levels was shown to be sufficient to promote metastasis. Using size-CNIA, Chen et al. developed a method for measuring the absolute amount of endogenous protein at the picogram or sub-picogram level per nanogram of cell lysate [20]. The method provides an approach for precise and accurate assessment of protein levels to correlate with their functions in complex biological settings. The system was also demonstrated to provide quantifiable, consistent and reproducible data that are favorable for clinical translation [37].
With a through-put of 96 sample/analyte combinations in the Peggy™, Sally™ and NanoPro™ platforms of the CNIA system, multiple targets can be profiled simultaneously in one analysis run with low sample consumption. Multiple-analyte analysis in other assays, such as multiplex bead assays and antibody arrays, is constrained by analyte complexity and the potential impact of cross-reactivity. The CNIA system, however, bypasses these obstacles by performing successive cycles of single-analyte analysis each within their separate individual capillaries. This parallel approach thus offers an efficient method of 'multiplex' analysis with more accurate and reliable analysis data.
Assay development and the complementary nature of size-based and charge-based formats
The Size-CNIA assays can be used to detect any protein for which a good antibody is available. Detection of protein modifications is dependent on availability of an antibody specific for that modification. Assay transfer from conventional size-based Western blot to size-CNIA is relatively straight forward for most targets. Based on our experience with developing size-CNIA assays for about two hundred signaling molecule targets, more than 80% of the antibodies that work in conventional size-based Western blot also work in size-CNIA. We observed a good correspondence between conventional Western blot and size-CNIA for the quantitation of PKC isoform down-regulation in U937 cells treated with phorbol esters and bryostatins (Figure 2b) [38]. In the charge-based configuration, using IEF as the separation mode allows for additional levels of information to be obtained. Phosphorylation and other post-translational modification differences in a protein population lead to "charge variants" which can be spatially resolved in IEF. This allows for the simultaneous detection and accurate relative quantitation of these protein variants using a single pan-specific antibody [39, 40]. The identity of the peaks/protein variants has been established experimentally using modification-specific antibodies, site-directed mutagenesis, mass spectrometry and other techniques. See later sections for detailed examples.
The charge-CNIA has been particularly successful in the quantitative analysis of ERK signaling. Using a single detection antibody, ERK1, ERK2 and their phospho-forms can be simultaneously identified, quantitated and compared. Figure 2c shows the IEF profile of ERK isoforms treated with different concentrations of phorbol-12-myristate-13-acetate (PMA). The changes in the dose response curves of individual ERK isoforms (i.e. the dual-phospho-ERK1/2, mono-phospho-ERK1/2, and non-phospho-ERK/1/2) in response to PMA treatment are presented as well. Visualization of the relative abundance of these forms at different concentrations of the drug provides more detail and specific information about signaling molecule activation than is captured by conventional immunoassays.
Using the IEF system to study protein kinase G-I isoform expression in human ovarian cells [41], Fiscus et al. demonstrated that the technology is more than 100 times more sensitive than the conventional Western blot in detecting low abundance PKG-I expressing cancer cells. The technology is also able to resolve and clearly identify the PKG-Iα and PKG-Iβ and the phosphorylation isoforms, which are not distinguishable in Western blot analysis.
The development of charge-CNIA assays may not be as straightforward as the size-CNIA assay and is highly dependent on the specific antibody. In charge-CNIA assay, proteins are analyzed in their native forms without being denatured and reduced as in size-based assays. However, the majority of commercially available antibodies are developed and characterized by recognizing epitopes on denatured proteins. In addition, the data profiles in the charge-CNIA assays, are generally highly complex, requiring multiple control samples and multiple antibodies to be screened before an assay can be confirmed to be specific to the target. Thus, while hundreds of size-CNIA assays have been developed in the past couple of years, the availability of validated charge-CNIA assays is still limited. Nevertheless, when well-validated antibodies are available, charge-CNIA assays are a uniquely powerful tool for generating information that is cumbersome or impossible to generate using other approaches. Antibodies developed for Human Protein Atlas project (http://www.proteinatlas.org/) has been reported may serve as a good source for charge-CNIA assay development [42].
Applications
The CNIA technology has been demonstrated to be ideal for comprehensive and quantitative protein characterization and profiling of signaling events. It holds great promise as a molecular diagnostic tool to facilitate precision medicine.
A comparison of CNIA to other immunoassay technologies
Immunoassay-based analytical technologies have a long history and have been widely used for target-specific protein detection and quantification from discovery research to clinical studies. The following narrative offers a comparison of the CNIA system with other major immunoassay platforms. The advantages and challenges for each technology are highlighted in Table
1
.
Table 1
The pros and cons of different immunoassay technologies
| | Pros | Cons |
| --- | --- | --- |
| Size-CNIA | Nanogram sample loading, good reproducibility, quantitative data, medium throughput for multi-sample or multi-target analysis, straight forward assay transfer from conventional Western blot, automated operation, easy protocol standardization | Limited matrix options for high resolution analysis on small and big MW proteins |
| Charge-CNIA | Nanogram sample loading, quantitative data, good reproducibility, medium throughput for multi-sample or multi-target analysis, distinguish and detect isoform variations or PTMs with pan-reactive antibody, automated operation, easy protocol standardization | Often need to test multiple antibodies for a target, limited ampholyte options for low and high pI protein analysis, peak identity determination is challenging |
| Conventional Western blot | Has been top choice for studying protein isoform variations, post-translational modifications | Microgram sample loading, poor data quantitation and reproducibility, low throughput, tedious manual processing steps, challenge to transfer assay from discovery research for clinical application |
| IHC | Provide information about protein localization within the cell, most used immunoassay for clinical tissue sample analysis | Poor data quantitation and reproducibility, data interpretation is subjective, difficult in protocol standardization |
| ELISA | Has been gold standard for protein concentration measurement, quantitative data, good reproducibility | Microgram sample loading, need isoform specific antibody, stringent antibody evaluation for specificity, relative long assay development |
| Multiplexed bead assays | Multiplex, high throughput, small sample consumption, automation | Potential cross-reactivity issues, stringent antibody evaluation for specificity, long assay development process, expensive reagents and consumables |
| Antibody array | Multiplex, high throughput, small sample consumption, automation | Potential cross-reactivity issues, stringent antibody evaluation for specificity, long assay development process |
| RPPA | Multiplex, high throughput, ng sample loading, automation | Stringent antibody evaluation for specificity, long assay development process, high cost when perform low sample number multi-target analysis |
Further improvements of the CNIA technology
As discussed in this manuscript and elsewhere, the CNIA technology has shown considerable promise for quantitative sensitive proteomic analysis. For the future development and translational application of the technology, some improvements are needed.
Expanding the range of target detection with good resolution
To accommodate the analysis of a broad range of protein size and charge, new reagents and assay conditions will need to be developed. In the size-based analysis platform, current reagents and assay conditions are optimized for the separation of proteins with MW between 12 and 230 kDa. Based on our experience, when proteins with molecular weights lower than 20 kD, variation in estimated molecular weight or low signals were observed for some proteins. In addition, although a new kit for 66–440 kD protein analysis has been released (see the ProteinSimple website for product detail), more extensive validation of the kit performance is desired. In the IEF system, good assay resolution and reproducibility are observed between pI 4–8. While this covers most proteins, reduced resolution and lower assay reproducibility can be observed with especially low or high pI targets.
Improving signal-to-noise ratio in size-CNIA
In general, straight-forward assay transfer and good data consistency with conventional Western blot assays has been observed with the size-CNIA assays. Occasionally, high background has been observed in the size-CNIA assays. This phenomenon is mostly primary antibody-dependent. It may be solved by additional blocking of the capillaries, increasing the antibody dilution factor, or switching to an alternative primary antibody. We have seen a higher baseline noise in the higher-sensitivity size-CNIA analysis mode that uses the newer Peggy Sue™ technology. Though this analysis mode offers more than five-fold increase in signal, in our experience, the higher noise level seen with some targets can jeopardize data quantification and assay reproducibility. Also, the Peggy Sue analysis mode has been observed to be sensitive to climate factors, such as low humidity in the winter months. This analysis mode needs further development to restore the robustness that is an important positive attribute of the CNIA assays.
Peak identification for charge-CNIA
The comprehensive in-depth information obtained for signaling molecule activation by the IEF system is exciting. However, it also raises the challenge of determining the identities of the peak components revealed by the system. For a complete understanding of the complicated peak profiles and their correlations to the function of signaling molecules, other technologies will need to be employed. In cases where isoform- and PTM-directed antibodies are available along with knockout cells and/or mutant constructs, peak identity has been determined [23, 46, 47, 50]. Mass spectrometry (MS) peak identification protocols have also been developed and used for identification of previously unknown phosphorylation sites on their targets in the CNIA system [44, 45, 81]. For broader application, peak ID protocols will need to be developed for more complex PTM patterns.
Integrating the CNIA technology with complementary proteomics approaches
It is likely that the specific advantages of many of the different technologies can be usefully combined in ways that exploit the specific strengths of each. There are reports of using RPPA and antibody arrays as an initial discovery screening to identify predictive assays that are later transferred to CNIA analysis with reduced complexity for potential clinical applications [82, 83]. With the further development and improvement of the CNIA system, it is expected that complementary and supplementary applications of this new technology with other immunoassay platforms will emerge.
Like other immunoassays, antibody performance and availability in many circumstance may limited the applications of CNIA assays. In the past decade, the field of MS-based proteomics has grown tremendously. MS-based multiple reaction monitoring (MRM) assays provide targeted, quantitative and multiplexed analysis of proteins and respective PTM isoforms without the requirement for an antibody [84, 85]. The MS technology has demonstrated to be a powerful discovery platform. Though more complicated sample processing and data analysis are involved with MS assays, and more sophisticated expertise is required to operate the system, MRM–MS assays can be rapidly configured for verification of protein biomarker candidates before further moving to clinical-grade immunoassays. An in-depth discussion of the MS technology is beyond the scope of this review. Interested readers may refer to Libeler's recent review [84] about MRM for more information. As mentioned in the previous session that MS protocols have been used as a strategy to detect the detail identity of PTM isoforms revealed by the charge-CNIA assays [44, 45, 81]. Integrating the different analysis methods will allow a more comprehensive study of proteins and their functioning mechanisms and will help translate the discovery research data into clinical practice.
Conclusions
As reviewed here, the CNIA system provides comprehensive and quantitative analysis for protein characterization and profiling of signaling events. The automated system offers easy operation, precise and accurate measurement of proteins and their post-translational modifications and a fast turn-around time. The capillary platform allows functional proteomic analysis to be performed with limited sample, such as from stem cells, primary cells, fine needle aspirates, micro-dissection samples and other patient specimens. Good intra-assay, inter-run and inter-person data reproducibility have been observed with the system, which enables assay standardization across multiple testing sites.
With the further validation of CNIA assays and development of the technology, it is expected that a growing number of applications in both discovery research and clinical practice for signaling pathway dissection, proteomic biomarker assessment, and targeted therapy evaluation. The high reproducibility and data precision of the technique mean the technology can be readily adapted for use in CLIA-certified settings. Complemented with other genome, transcriptome and additional protein analysis technologies, the CNIA technology shows great promise for developing pathway specific diagnostics for better treatment group stratification and acceleration of drug development and disease management.
Abbreviations
CNIA:

capillary nano-immunoassay
PTM:

post-translational modification
IEF:

iso-electric focusing
Size-CNIA:

size-based capillary nano-immunoassay
Charge-CNIA:

charge-based capillary nano-immunoassay
ELISA:

enzyme-linked immunosorbent assay
%CV:

coefficient of variation
IHC:

immunohistochemistry
RPPA:

reverse-phase protein array
MS:

mass spectrometry
MRM:

multiple reaction monitoring
Declarations
Authors' contributions
JC formulated the structure and drafted the manuscript. LW critically revised the manuscript. JC, LW and DG conceived the concept jointly. All authors read and approved the final manuscript.
Acknowledgements
The author thanks Drs. Peter Blumberg for critical review of the manuscript and valuable insights and advice. Also thank to Michelle A Herrmann for the contribution on developing and applying the CNIA assays in the PKC isoform and NSCLC research reviewed in this manuscript. The work was supported by the Intramural Research Program of the National Cancer Institute at NIH (Z1C BC 011434).
Compliance with ethical guidelines
Competing interests The authors declare that they have no competing interests.
Open AccessThis article is distributed under the terms of the Creative Commons Attribution 4.0 International License (http://creativecommons.org/licenses/by/4.0/), which permits unrestricted use, distribution, and reproduction in any medium, provided you give appropriate credit to the original author(s) and the source, provide a link to the Creative Commons license, and indicate if changes were made. The Creative Commons Public Domain Dedication waiver (http://creativecommons.org/publicdomain/zero/1.0/) applies to the data made available in this article, unless otherwise stated.
Authors' Affiliations
(1)
Collaborative Protein Technology Resource, Center for Cancer Research, National Cancer Institute, National Institutes of Health, Bethesda, USA
(2)
Laboratory of Cancer Biology and Genetics, Center for Cancer Research, National Cancer Institute, National Institutes of Health, Bethesda, USA
(3)
Office of Science and Technology Resources, Center for Cancer Research, National Cancer Institute, National Institutes of Health, Bethesda, USA