Epigenetics of human cutaneous melanoma: setting the stage for new therapeutic strategies
Journal of Translational Medicine
2010
8:56
Received: 16 February 2010
Accepted: 11 June 2010
Published: 11 June 2010
Abstract
Cutaneous melanoma is a very aggressive neoplasia of melanocytic origin with constantly growing incidence and mortality rates world-wide. Epigenetic modifications (i.e., alterations of genomic DNA methylation patterns, of post-translational modifications of histones, and of microRNA profiles) have been recently identified as playing an important role in melanoma development and progression by affecting key cellular pathways such as cell cycle regulation, cell signalling, differentiation, DNA repair, apoptosis, invasion and immune recognition. In this scenario, pharmacologic inhibition of DNA methyltransferases and/or of histone deacetylases were demonstrated to efficiently restore the expression of aberrantly-silenced genes, thus re-establishing pathway functions. In light of the pleiotropic activities of epigenetic drugs, their use alone or in combination therapies is being strongly suggested, and a particular clinical benefit might be expected from their synergistic activities with chemo-, radio-, and immuno-therapeutic approaches in melanoma patients. On this path, an important improvement would possibly derive from the development of new generation epigenetic drugs characterized by much reduced systemic toxicities, higher bioavailability, and more specific epigenetic effects.
Keywords
Cutaneous MelanomaMalignant Pleural MesotheliomaMGMT Promoter MethylationCancer Testis AntigenZebularine
Introduction
Cutaneous melanoma (CM) is a highly aggressive malignancy originating from melanocytes, which is characterized by constantly growing incidence and mortality rates world-wide [1]. Unlike the majority of human cancers, CM is frequently diagnosed in young and middle-aged adults [2]. Despite representing only 3% of all skin malignancies, CM is responsible for 65% of skin malignancy-related deaths, and the 5-year survival of metastatic CM patients is 7-19% [3, 4].
The increasing incidence and the poor prognosis of CM, along with the substantial unresponsiveness of advanced disease to conventional therapies, have prompted significant efforts in defining the molecular alterations that accompany the malignant transformation of melanocytes, identifying epigenetic modifications as important players [5]. "Epigenetics" refers to heritable alterations in gene expression that are not achieved through changes in the primary sequence of genomic DNA. In this respect, the most extensively characterized mediators of epigenetic inheritance are the methylation of genomic DNA in the context of CpG dinucleotides, and the post-translational modifications of core histone proteins involved in the packing of DNA into chromatin [6]. Despite not yet having been extensively characterized, also microRNAs (miRNAs) are emerging as important factors in epigenetic determination of gene expression fate in CM [7].
DNA methylation occurs at the C5 position of cytosine in the context of CpG dinucleotides and it is carried out by different DNA methyltransferases (DNMT) that have distinct substrate specificities: DNMT1 preferentially methylates hemimethylated DNA and has been associated with the maintenance of DNA methylation patterns [
8
]; DNMT3a and 3b do not show preference for hemimethylated DNA and have been implicated in the generation of new methylation patterns [
9
,
10
]. Besides this initial strict categorization, recent evidences are indicating that all three DNMTs may possess both
de novo
and maintenance functions
in vivo
, and that they cooperate in establishing and maintaining DNA methylation patterns [
11
–
14
]. The methylation of promoter regions inhibits gene expression either by directly blocking the binding of transcriptional activators or by binding methyl-CpG-binding domain (MBD) proteins that silence gene expression through the recruitment of chromatin remodeling co-repressor complexes (Figure
1
) [
15
,
16
].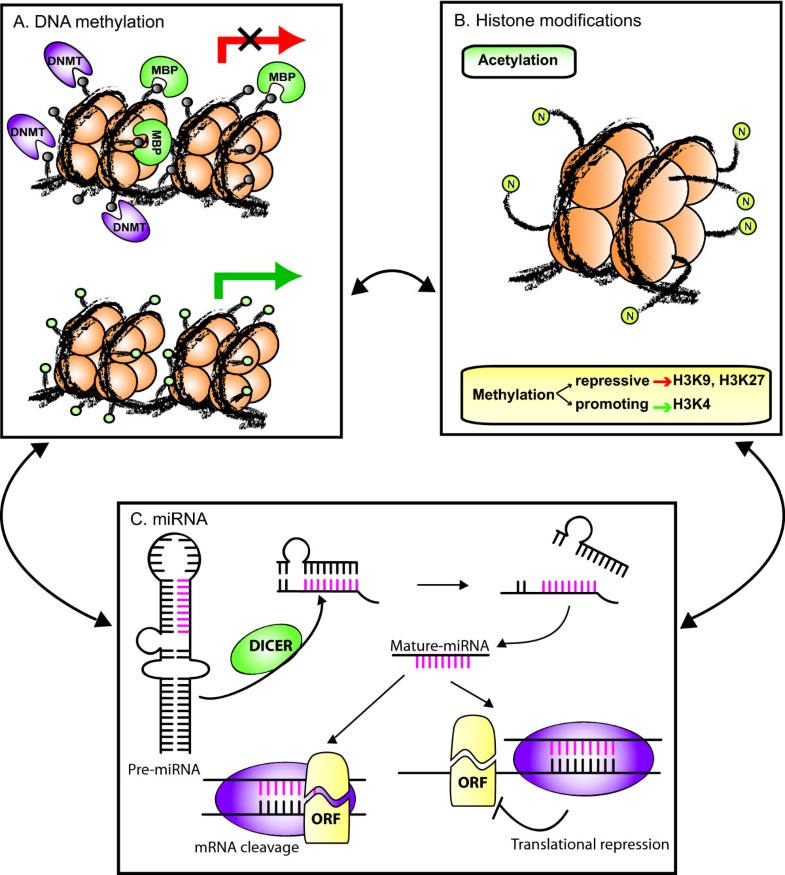 Genomic DNA in the nucleus is packed into the chromatin, the base unit of which is the nucleosome: a histone octamer core comprising two copies each of histones H2A, H2B, H3 and H4, around which about 147 bp of DNA are wrapped. Each histone contains flexible N-terminal tails protruding from the nucleosomes, which are extensively targeted by post-translational modifications, including acetylation and methylation. These modifications determine how tightly the chromatin is compacted, thus playing a central regulatory role in gene expression. The acetylation status of histones is controlled by the balanced action of histone acetyltransferases and histone deacetylases (HDAC), and acetylated histones have been associated with actively expressed genes. On the other hand, methylation of histones, accomplished by histone methyl transferases (HMT), may have both repressive (H3 lysine (K) 9, H3K27) or promoting (H3K4) effects on transcription, depending on the target residue (Figure 1) [17]. Histone modifications comprehensively define the so called "histone code" that is read by multi-protein chromatin remodelling complexes to finally determine the transcriptional status of the target gene by modulating chromatin compaction grade [18].
MiRNAs, the most recently discovered mediators of epigenetic gene regulation, are endogenous non-coding RNA about 22 nucleotide long. MiRNAs are transcribed in the nucleus by RNA polymerase II into long primary transcripts (pri-miRNAs), which are further processed by a complex of the RNase III Drosha and its cofactor DGCR8 into the about 60 nucleotides long precursor miRNAs (pre-miRNAs). Pre-miRNAs are subsequently exported to the cytoplasm where the RNase III Dicer cuts off the loop portion of the stem-loop structure, thus reducing pre-miRNAs to short double strands. Finally, each pre-miRNA is unwound by a helicase into the functional miRNA. Once incorporated into the RNA-induced silencing complex, miRNAs recognize their target mRNA through a perfect or nearly perfect sequence complementarity, and direct their endonucleolytic cleavage or inhibit their translation (Figure 1). Each miRNA is predicted to have many targets, and each mRNA may be regulated by more than one miRNA [7].
Rather than acting separately, the above described epigenetic regulators just represent different facets of an integrated apparatus of epigenetic gene regulation (Figure 1). Indeed, recent studies showed that DNA methylation affects histone modifications and vice versa, to make up a highly complex epigenetic control mechanism that cooperates and interacts in establishing and maintaining the patterns of gene expression [19]. Along this line, miRNA were demonstrated to be target of regulation by DNA methylation, while concomitantly being able to regulate the expression of different chromatin-modifying enzymes [7].
Conclusion
Epigenetic alterations clearly play a major role in CM biology, and epigenetics of CM is a rapidly growing field that promises appealing therapeutic and diagnostic developments. The upcoming availability of next-generation sequencing technologies, at increasingly affordable costs, is expected to allow defining the complete epigenome of CM in the near future. This in-depth knowledge will provide a full understanding of the biological aspects altered by epigenetic modifications during CM tumorigenesis and progression, granting new therapeutic targets, as well as more effective prognostic and/or predictive markers to be implemented in the daily clinical management of CM patients. Concomitantly, new generation epigenetic drugs can be expected to be developed to achieve reduced systemic toxicities, higher bioavailability, and a more specific epigenetic effect. Concerning the latter aspect, it should be kept in mind that: i) the highly effective nucleoside inhibitors of DNMT may trigger a DNA hypomethylation-unrelated cytotoxic response caused by covalent trapping of DNMT into DNA; ii) HDACi induce hyperacetylation of many non-histone proteins, resulting in cellular effects that may not depend on epigenetic regulation of gene expression. One clear future direction is therefore to find more specific epigenetic remodelling agents. Along this path, the recent definition of a three-dimensional model for the catalytic site of the human DNMT1 allowed to select in silico the small molecule RG108 as a specific inhibitor of DNMT1. RG108 was then demonstrated to inhibit the activity of purified DNMT in vitro and to hypomethylate tumor suppressor genes in human neoplastic cell lines, yet having a negligible toxicity as compared to nucleoside analogs [127]. This encouraging result prompts further efforts in designing new drugs with specific epigenetic remodelling properties, which could represent even more suitable agents to be implemented in epigenetic therapies in CM patients.
Declarations
Acknowledgements
This work was supported in part by grants from the Associazione Italiana per la Ricerca sul Cancro (grants number: IG 6038 and MFAG 9195), Progetto 3 Istituto Superiore di Sanità-Alleanza Contro il Cancro, Istituto Superiore di Sanità-Malattie Rare, Istituto Toscano Tumori, Fondazione Monte dei Paschi di Siena, and The Harry Lloyd Charitable Trust.
Authors' Affiliations
(1)
Cancer Bioimmunotherapy Unit, Centro di Riferimento Oncologico, Istituto di Ricovero e Cura a Carattere Scientifico, Aviano, Italy
(2)
Division of Medical Oncology and Immunotherapy, Department of Oncology, University Hospital of Siena, Istituto Toscano Tumori, Siena, Italy
Copyright
© Sigalotti et al; licensee BioMed Central Ltd. 2010
This article is published under license to BioMed Central Ltd. This is an Open Access article distributed under the terms of the Creative Commons Attribution License (http://creativecommons.org/licenses/by/2.0), which permits unrestricted use, distribution, and reproduction in any medium, provided the original work is properly cited.