Time-restricted feeding and the realignment of biological rhythms: translational opportunities and challenges
Journal of Translational Medicine
2014
12:79
Received: 21 December 2013
Accepted: 10 March 2014
Published: 28 March 2014
Abstract
It has been argued that circadian dysregulation is not only a critical inducer and promoter of adverse health effects, exacerbating symptom burden, but also hampers recovery. Therefore understanding the health-promoting roles of regulating (i.e., restoring) circadian rhythms, thus suppressing harmful effects of circadian dysregulation, would likely improve treatment. At a critical care setting it has been argued that studies are warranted to determine whether there is any use in restoring circadian rhythms in critically ill patients, what therapeutic goals should be targeted, and how these could be achieved. Particularly interesting are interventional approaches aiming at optimizing the time of feeding in relation to individualized day–night cycles for patients receiving enteral nutrition, in an attempt to re-establish circadian patterns of molecular expression. In this short review we wish to explore the idea of transiently imposing (appropriate, but yet to be determined) circadian rhythmicity via regulation of food intake as a means of exploring rhythm-setting properties of metabolic cues in the context of improving immune response. We highlight some of the key elements associated with his complex question particularly as they relate to: a) stress and rhythmic variability; and b) metabolic entrainment of peripheral tissues as a possible intervention strategy through time-restricted feeding. Finally, we discuss the challenges and opportunities for translating these ideas to the bedside.
Keywords
Circadian RhythmCalorie RestrictionCircadian ClockBiological RhythmRestricted Feeding
Introduction
Biological rhythms are major determinants of behavioural outcome [
1
,
2
] and are controlled by a tightly regulated network of genes and proteins entrained by external signals (light and food). The suprachiasmatic nucleus (SCN) is the fundamental, central, regulator of circadian rhythmicity (biological rhythms of, roughly, 24 h period) and is considered the master clock designed to align, and coordinate the independent, self-sustained, peripheral oscillators (a.k.a. peripheral clocks) found in every cell, tissue and organ [
3
–
6
]. In that respect, understanding the mechanisms by which the various pacemakers interact to coordinate functions becomes a critical question [
7
]. Despite the fact that all peripheral clocks effectively utilize the same time-keeping machinery [
8
–
11
] (Figure
1
) each peripheral entity is impacted by unique stimuli capable of setting clock rhythmicity locally, directly or indirectly. As such, core physiological functions are strongly impacted by the appropriate alignment of peripheral clocks to central (SCN) rhythms [
12
,
13
] likely mediated via circulating hormones [
14
,
15
]. While biological rhythms convey anticipatory signals priming the host for periods of food intake, increased activity and rest [
16
–
18
] (Figure
2
) the loss of these rhythms has deleterious effects on overall health [
19
]. The interplay between a host's well-being and its biological rhythms is critical and bi-directional: disrupted rhythms impact the response to stress whereas stress alters the characteristics of biological rhythms [
20
–
22
].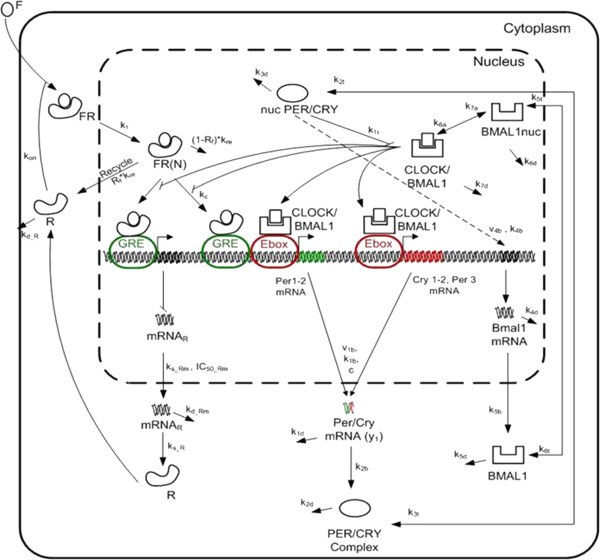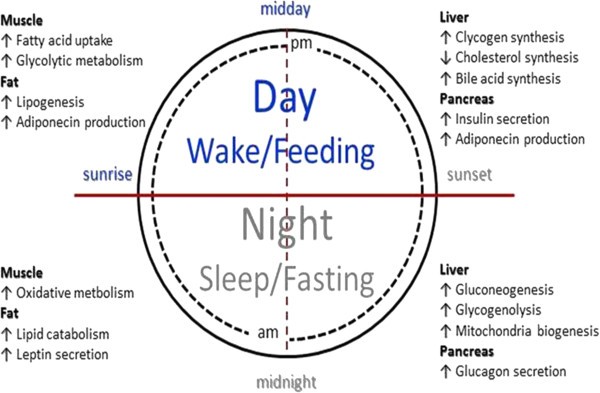 Emerging evidence suggesting that rhythmic signals play a major role in immune [
25
–
27
] and metabolic [
28
] functions naturally leads to the possibility of exploring biological rhythms as targets of intervention strategies, and in particular in the context of intensive care units (ICU) where non-natural light schedules and time-invariant nutritional and/or pharmaceutical interventions may deprive patients of the rhythmic cues necessary to maintain appropriate biological rhythmicity during the recovery phase [
29
,
30
] and loss of entraining inputs may significantly impact recovery [
10
,
31
–
34
]. In fact circadian abnormalities correlate with severity of illness and outcome [
35
]. Due to the strong role rhythmicity plays in recovering from trauma [
36
,
37
], its regulation and realignment are emerging as potentially critical controllers influencing patient outcome by regulating entraining signals in a non-invasive manner. Circadian cues that control rest cycles and metabolism are primarily driven by light and food [
38
,
39
]. These play a fundamental role in that they maintain proper synchrony between the peripheral clocks (Figure
3
). The importance of maintaining good coordination between the peripheral oscillators is so critical that physicians have speculated that "[…]
healthy organs behave as biological oscillators, which couple to one another during human development, and that this orderly coupling is maintained through a communications network, including neural, humoral, and cytokine components.
[We]
suggest that the systemic inflammatory response syndrome initiates disruption of communication and uncoupling, and further suggest that progression into the multiple organ dysfunction syndrome reflects progressive uncoupling that can become irreversible. Resolution of the inflammatory response and reestablishment of the communications network are necessary but may not be, by itself, sufficient to allow organs to appropriately recouple
" [
40
].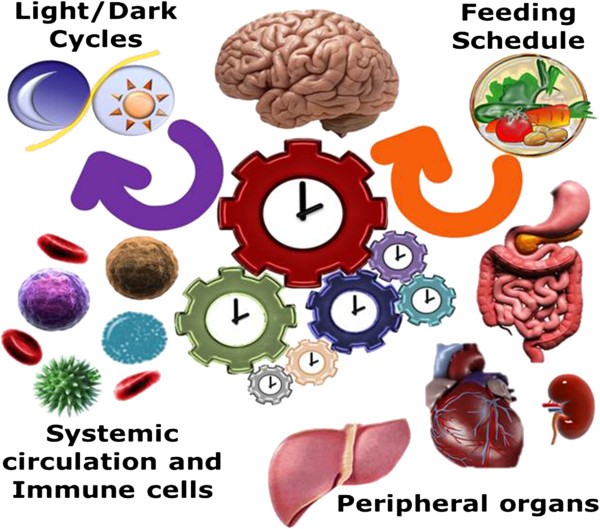 Exploring these cycles in order to realign patients' biological rhythms during the recovery phase may prove to be highly rewarding in terms of outcome [41]. Therefore, understanding the mechanisms that entrain the central and peripheral clocks, and the ways in which these rhythms influence the ability of the host organism to respond to, and recover from, external threats and challenges is critical to developing new models of patient care capable of engaging these rhythms in an attempt to, potentially, improve outcome. It must be noted that although it is well established that ICU patients have abnormal circadian patterns [35, 42] the overall environment in the ICU, including the patient's condition, the lighting and noise levels in ICU as well as – and likely very importantly – the treatment the patient receives, induces significant circadian alterations [43, 44].
In this short review we focus on one particular approach to resetting biological rhythmicity in the context of time-restricted feeding (TRF; access to food is restricted for specific time intervals during the day without calorie restrictions) and explore the possibility of pursuing circadian re-alignment via nutritionally-inspired interventions. Although the focus of the review is on the implications of restoring circadian rhythms we should point out that appropriate sampling and analysis of biochemical and physiological circadian data requires careful design and execution and these have been the subject of numerous excellent reviews [45].
Circadian reprogramming as an intervention strategy: opportunities for time-restricted feeding
Concluding remarks
Time restricted delivery of metabolites imposes rhythmic availability of nutrients which resets peripheral clocks in a way that potentially exerts a positive impact on the immune response. Recent clinical evidence indicates that restoring circadian rhythms in critically ill patients is important. We hypothesize that providing circadian cues in the ICU could be explored as a mechanism to improve ICU outcome by reinforcing appropriate rhythms of hormonal release [
30
,
34
] (Figure
4
). As it is becoming increasingly more evident that exploring alternatives measures to re-establish circadian patters of molecular expression via non-pharmacological means could hold significant potential, feeding entrainment through the possibility of optimizing the time of feeding in relation to the light/dark cycle for patients receiving enteral nutrition appears to beg for more investigation [
29
].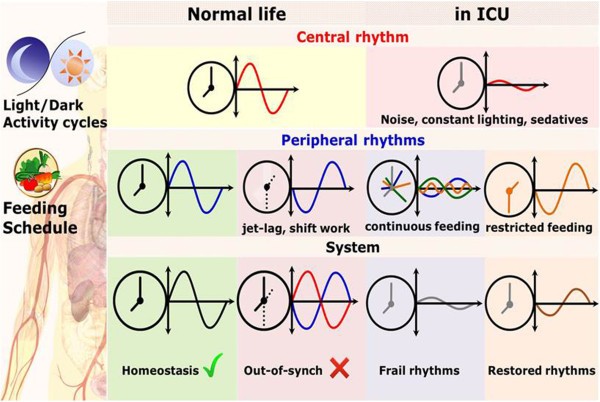 In this brief review we elaborated on the idea that establishing abolished rhythms would have a beneficial effect on the host response to stress. We highlighted some of the key elements associated with this complex question particularly as they relate to: a) stress and rhythmic variability; and b) metabolic entrainment of peripheral tissues as a possible intervention strategy through time-restricted feeding. Positive effects have been shown in the context of psychological stress, mood disorders etc., using either pharmacologic agents, aiming at restoring circadian signals, or using photic signals to activate the central pace maker. The question, however, remains whether imposing appropriate metabolic rhythms, likely not maintaining homeostatic phase relations with the central clock, through time-restricted feeding would lead to beneficial entrainment of peripheral clocks resulting in improved health outcomes with a host under stress.
Authors' Affiliations
(1)
Department of Medicine, Division of Pulmonary and Critical Care Medicine, Rutgers - Robert Wood Johnson Medical School, New Brunswick, USA
(2)
Biomedical Engineering Department, Rutgers University, Piscataway, USA
(3)
Chemical & Biochemical Engineering Department, Rutgers University, Piscataway, USA
(4)
Rutgers Cancer Institute of New Jersey, Rutgers University, New Brunswick, USA
Copyright
© Sunderram et al.; licensee BioMed Central Ltd. 2014
This article is published under license to BioMed Central Ltd. This is an Open Access article distributed under the terms of the Creative Commons Attribution License (http://creativecommons.org/licenses/by/2.0), which permits unrestricted use, distribution, and reproduction in any medium, provided the original work is properly credited. The Creative Commons Public Domain Dedication waiver (http://creativecommons.org/publicdomain/zero/1.0/) applies to the data made available in this article, unless otherwise stated.