Milk: an exosomal microRNA transmitter promoting thymic regulatory T cell maturation preventing the development of atopy?
Journal of Translational Medicine
2014
12:43
Received: 7 December 2013
Accepted: 11 February 2014
Published: 12 February 2014
Abstract
Epidemiological evidence confirmed that raw cow's milk consumption in the first year of life protects against the development of atopic diseases and increases the number of regulatory T-cells (Tregs). However, milk's atopy-protective mode of action remains elusive.
This review supported by translational research proposes that milk-derived microRNAs (miRs) may represent the missing candidates that promote long-term lineage commitment of Tregs downregulating IL-4/Th2-mediated atopic sensitization and effector immune responses. Milk transfers exosomal miRs including the ancient miR-155, which is important for the development of the immune system and controls pivotal target genes involved in the regulation of FoxP3 expression, IL-4 signaling, immunoglobulin class switching to IgE and FcϵRI expression. Boiling of milk abolishes milk's exosomal miR-mediated bioactivity. Infant formula in comparison to human breast- or cow's milk is deficient in bioactive exosomal miRs that may impair FoxP3 expression. The boost of milk-mediated miR may induce pivotal immunoregulatory and epigenetic modifications required for long-term thymic Treg lineage commitment explaining the atopy-protective effect of raw cow's milk consumption.
The presented concept offers a new option for the prevention of atopic diseases by the addition of physiological amounts of miR-155-enriched exosomes to infant formula for mothers incapable of breastfeeding.
Keywords
Atopy preventionDNA demethylationExosomeFoxP3MicroRNAMilkMiR-155Regulatory T cell
Introduction
Children who grow up on traditional farms are protected from atopic diseases [1]. Early-life consumption of unboiled cow's milk has been identified as the most protective factor for the development of atopy [2–10]. Farm milk exposure has been associated with increased numbers of CD4+CD25+FoxP3+ regulatory T cells (Tregs), lower atopic sensitization and asthma in 4.5-year-old children [11]. Treg cell numbers are negatively associated with asthma and perennial IgE levels [11]. However, potential effectors of milk, which stimulate the development of Tregs remain elusive. This review provides translational evidence that milk-derived exosomal microRNAs may be the potential stimuli for thymic Treg maturation and raw milk-mediated atopy prevention.
Conclusion
Exosomal cargo transfer plays an increasing role for intercellular communication [149, 150]. Accumulating translational evidence sheds a new light on the potential role of milk as a transmitter of exosome-derived immune regulatory miRs for thymic Treg maturation. Milk miRs may promote the two-step selection process turning self-reactive thymocytes into stable Treg cells. TCR stimulated IL-2/STAT5 signaling may be enhanced by milk miR-155-mediated SOCS1 suppression, which augments upregulation of FoxP3. FoxP3 promotes miR-155 expression further enhancing this feed forward regulatory circuit. In a second step FoxP3 expression may be stabilized by milk-miR-mediated hypomethylation of the TSDR region of FOXP3. This hypomethylation may allow IDAX binding, which finally attracts TET2 promoting active demethylation stabilizing FoxP3 maturation and long-term Treg lineage commitment.
Furthermore, functionally active FoxP3 Treg cells suppress the development of Th2 cell-dependent immune responses. Milk miR-155 may impair atopic sensitization by suppression of c-Maf/SHIP1-mediated IL-4 synthesis, PU.1-mediated Ig class switch to IgE as well as PU.1-driven FcϵRI α-chain synthesis. Thus, the
milk miR system
may not only augment thymic Treg maturation but may apparently prevent Th2-mediated atopic sensitization and atopic effector responses. Boiling of milk obviously destroys the miR-signaling system of milk, whereas LPS-mediated miR-155 release from stimulated maternal macrophages and trophoblast cells as well as fresh cow's milk-mediated miR-155 transfer may promote thymic Tregs maturation explaining synergistic atopy-preventive effects of perinatal farm exposure (Figure
4
). Milk appears to function as an evolutionarily highly conserved miR-dependent epigenetic modifyer imprinting appropriate changes required for long-term thymic FoxP3-mediated Treg differentiation. Milk-derived exosomes in synergy with thymic exosomes may play the essential role for stable maturation of CD4
+
CD25
+
FoxP3
+
Tregs, which themselves following TCR activation produce CD73-containing exosome-like structures that mediate their suppressive activity [
151
].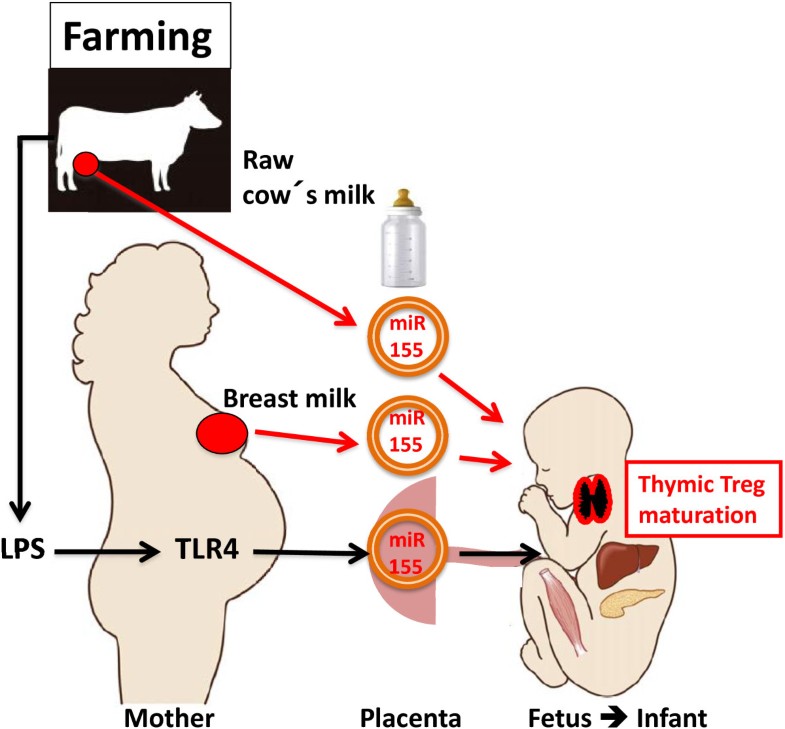 Obviously, atopic individuals are "Treg weaklings" exhibiting lower numbers and function of FoxP3 Tregs compared to non-atopic subjects. Breast milk of atopic mothers may thus provide less FoxP3-induced miR-155 explaining the increased maternal transmission of atopic diseases compared to the lower paternal atopy transmission. Accumulating evidence supports our concept that milk's exosomal miR system may represent "the missing candidate" inducing the atopy-preventive effects of raw cow's milk consumption (Table
1
). Deviations of miR processing and miR-regulated transcriptional activity may play a future role for a deeper understanding of the immunopathogenesis and treatment of atopic diseases. Future prevention of atopic diseases might be possible by addition of appropriate miR-155-enriched exosomes to artificial infant formula.
Table 1
Translational evidence for milk-microRNA-mediated thymic Treg maturation
| Potential function of milk microRNA | Comment | References |
| --- | --- | --- |
| Milk contains abundant miRs | From all body fluids human milk contains the highest amounts of RNAs and miRs | |
| Milk contains miR-155, miR-146a, and miR-21 | MiR-155, miR-146a and miR-21 are crucial miRs involved in Treg maturation and function | |
| The majority of milk's miRs are transported in exosomes | Exosomes transfer genetic information for cell-cell communications over short and long distances | |
| MiR-155 is a component of colostrum and bovine whey and is found to be transported in exosomes | MiR-155 is an ancient highly conserved miR involved in immune regulation | |
| Milk exosomes are resistant against RNase-degradation and acidic conditions (pH1-2) | Milk exosomes may survive the acidic environment of the stomach. Boiling of milk destroys the biological activity of milk miRs | |
| Mir-155, miR-146a and miR-21 are components of human blood plasma | Milk miR-containing exosomes may be transported in circulation and may reach the thymus | |
| Bovine colostrum and bovine milk and human breast milk exosomes containing miRs are taken up by cells and increase cytoplasmic miR levels | Milk-derived miRs may be taken up by exosome endocytosis in recipient cells. Physical destruction of exosomal lipid bilayer structure abolishes cellular miR uptake | |
| Exosomal transfer is a known mechanism of communication between immune cells | Macrophages, B-cell, T cells and thymocytes communicate via exosome transfer | |
| Human breast milk exosomes when added to PBMCs induce FoxP3+ Tregs | Breast milk miR-155 may induce the expression of FoxP3+ by inhibiting SOCS1 signaling | [82] |
| Exosomes have been detected in the murine and human thymus | Milk-derived exosomes may augment Treg cell maturation in the thymus | |
| Murine thymic exosomes when added to thymus CD4+CD25- T cells induce CD4+CD25+FoxP3+ Treg cells | Milk-derived exosomes may promote Treg cell formation of developing thymocytes within the human thymic medulla | |
| MiR-21 and miR-29b inhibit DNMT1 expression in T cells | Milk miR-21 and miR-29b may promote stable expression of demethylated FoxP3 and thus lineage commitment of thymic Treg cells | |
Abbreviations
CD63:

Melanoma-associated antigen MLA1
CD73:

Ecto-5-nucleotide enzyme
CD81:

Target of antiproliferative antibody (TAPA1)
DC:

Dentritic cell
Der p1:

Dermatophagoides pteronyssinus
DNMT:

DNA methyltransferase
FcϵRI:

IgE high affinity receptor
FCER1A:

Fc fragment of IgE, high affinity I, receptor for, alpha subunit
FoxP3:

Forkhead box P3 (scurfin)
5-hmc:

5-Hydroxymethylcytosine (5-hmC)
IDAX:

Inhibitor of DVL/axin complex (CXXC4)
Ig:

Immunoglobulin
IgE:

Immunoglobulin E
IGHE:

Immunoglobulin heavy epsilon chain
IL:

Interleukin
IPEX:

Immune dysregulation, polyendocrinopathy, enteropathy, X-linked syndrome
LC:

Langerhans cell
LDLRAP1:

Low density lipoprotein receptor adaptor protein 1
LPS:

Lipopolysaccharide
MFG-8:

Milk fat globulin-8
5mC:

5-Methylcytosine
miR:

Micro ribonucleic acid
NIC:

Notch intracellular domain
PBMC:

Peripheral blood mononuclear cell
SHIP1:

Src homology-2 domain-containing inositol 5-phosphatase 1
SMAD:

Mothers against decapentaplegic
SOCS1:

Suppressor of cytokine signaling 1
STAT:

Signal transducer and activator of transcription
TCR:

T cell receptor
TET:

Ten-eleven-translocation
TGF:

Transforming growth factor
TLR:

Toll-like receptor
Treg:

Regulatory T cell
TSDR:

Treg-specific demethylated region
TSG101:

Tumor susceptibility gene 101
TSLP:

Thymic stromal lymphopoietin
WAS:

Wiskott-Aldrich syndrome
WASP:

WAS protein.
Authors' Affiliations
(1)
Department of Dermatology, Environmental Medicine and Health Theory, University of Osnabrück, Osnabrück, Germany
(2)
Institute for Clinical Chemistry and Laboratory Medicine, University Hospital Regensburg, University of Regensburg, Regensburg, Germany
Copyright
© Melnik et al.; licensee BioMed Central Ltd. 2014
This article is published under license to BioMed Central Ltd. This is an Open Access article distributed under the terms of the Creative Commons Attribution License (http://creativecommons.org/licenses/by/2.0), which permits unrestricted use, distribution, and reproduction in any medium, provided the original work is properly cited. The Creative Commons Public Domain Dedication waiver (http://creativecommons.org/publicdomain/zero/1.0/) applies to the data made available in this article, unless otherwise stated.