Human conditions of insulin-like growth factor-I (IGF-I) deficiency
Journal of Translational Medicine
2012
10:224
Received: 11 July 2012
Accepted: 7 November 2012
Published: 14 November 2012
Abstract
Insulin-like growth factor I (IGF-I) is a polypeptide hormone produced mainly by the liver in response to the endocrine GH stimulus, but it is also secreted by multiple tissues for autocrine/paracrine purposes. IGF-I is partly responsible for systemic GH activities although it possesses a wide number of own properties (anabolic, antioxidant, anti-inflammatory and cytoprotective actions).
IGF-I is a closely regulated hormone. Consequently, its logical therapeutical applications seems to be limited to restore physiological circulating levels in order to recover the clinical consequences of IGF-I deficiency, conditions where, despite continuous discrepancies, IGF-I treatment has never been related to oncogenesis. Currently the best characterized conditions of IGF-I deficiency are Laron Syndrome, in children; liver cirrhosis, in adults; aging including age-related-cardiovascular and neurological diseases; and more recently, intrauterine growth restriction.
The aim of this review is to summarize the increasing list of roles of IGF-I, both in physiological and pathological conditions, underlying that its potential therapeutical options seem to be limited to those proven states of local or systemic IGF-I deficiency as a replacement treatment, rather than increasing its level upper the normal range.
Keywords
Laron syndromeLiver cirrhosisAgingOxidative stressGH/IGF-I axisMitochondrial dysfunctionCellular protectionGrowthCancer protection
Introduction
Insulin-like growth factor I (IGF-I) is a 70 aa polypeptide hormone with endocrine, paracrine, and autocrine effects. It shares >60% homology with IGF-II and by 50% homology with proinsulin structures[1].
IGFs were first described in 1957 by Salmon and Daughaday[2] when they noted that direct addition of growth hormone (GH) to costal cartilage from hypophysectomized rats in vitro did not significantly stimulate growth (measured by radioactive sulfate uptake). Consistently, serum from these hypophysectomized rats was also ineffective. However, normal rat serum stimulated the in vitro uptake of sulfate into costal cartilage from hypophysectomized rats. These results demonstrated the existence in serum of a "sulfation factor" that stimulated incorporation of 35Sulfate by costal cartilage.
In parallel, Froesch et al. described the non-suppressible insulin-like activity (NSILA) of two soluble serum components (NSILA I and II) by the fact that they stimulated glucose uptake into isolated rat adipocytes, sharing "insulin-like" activity, while anti-insulin antibodies were not able to abrogate their hypoglycemic effects[3].
At the same time, other investigators found some other roles for these polypeptides. Among all, their mitogenic capability, that moved them to propose the term "fraction with multiplication stimulating activity"[4].
Only when Daughaday et al. pointed out that the sulfation factors were "identical with or very similar to the smaller molecular weight component of the non-suppressible insulin-like activity" in 1972, a new nomenclature was proposed for these two molecules: somatomedin A and C, denoting substances under control and mediating the effects of GH[5].
Finally, a more extensive research on NSILAs/somatomedins carried out by Rinderknecht and Humbel[6, 7] culminated with the discovery that those molecules had identical amino acid sequences to "two forms of an insulin-like hormone whose effects on cell and tissue growth predominate over those on metabolic parameters"[8]. Therefore, accordingly to their structural resemblance to proinsulin, they were finally renamed "insulin-like growth factor I and II" (IGF-I and II), molecules that also fulfill all the criteria of a somatomedin: 1) they possess insulin-like activity in the presence of insulin antibodies[3, 9]; 2) they are sulfation factors[9, 10]; 3) they could act as mitogens[9, 11]; and 4) at least, IGF-I is growth-hormone dependent[5].
The consensus about their nomenclature[12] together with the milestone in the discovery of their amino acid sequences, which made possible the subsequent recombinant synthesis[8], opened the door to many new areas of research, and boosted the number of articles from that moment up to more than 32,500 works currently indexed in PubMed.
This historical perspective provides us a list of actions carried out by IGF-I, among others: tissue growth and development, insulin-like activity, proliferative, pro-survival/anti-aging, antioxidant, etc.
As an hormone with a wide range of physiological roles, IGF-I levels must be strictly controlled, as it has been demonstrated from in vivo results: six forms of high affinity IGF binding proteins (IGFBPs 1 to 6), either promoting or inhibiting IGF-I actions; a yearly increasing list of IGFBPs proteases; allelic variations and an alternative splicing are some of the mechanisms by which IGF-I is tightly maintained in a close physiological range (~286.1±52.4 ng/mL, adults between 21–40 years old)[13, 14].
On the other hand, majority of IGF-I actions are mediated through the union of IGF-I to its putative receptor, IGF-IR, a tyrosine kinase that is one of the most potent natural activators of Akt pathway, involving among others: mTOR, MAPK, GSK3β, FOXO, HDM2, Grb2 and Shc systems, all of them closely related with cell survival, growth and proliferation[
15
–
17
]. However, IGF-I can also bind to the insulin receptor (with a lower affinity), as a secondary via through which this hormone mediates some of its metabolic functions[
6
], due to their high homology. Complementarily, insulin can also bind to IGF-IR with a lower specificity than insulin receptor (Figure
1
).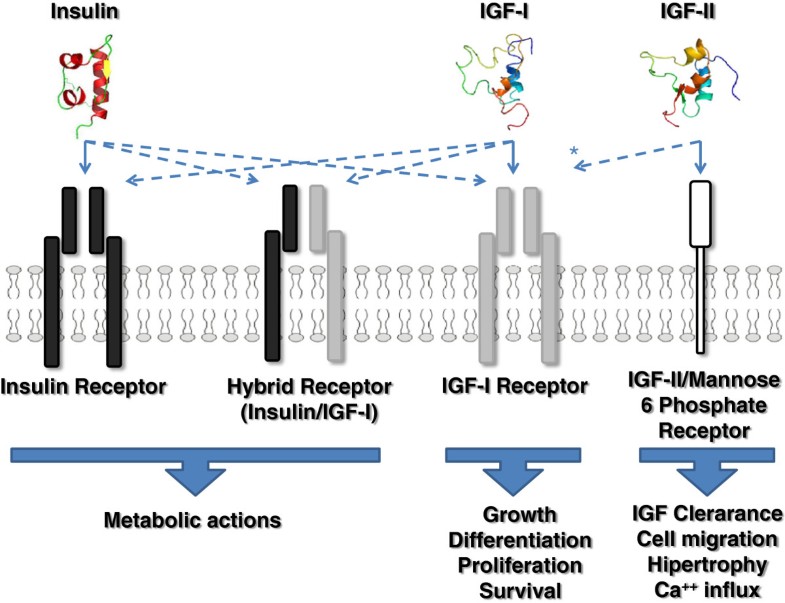 Under this scenario, a review about the increasing list of IGF-I roles, both in physiological and pathological conditions, and its therapeutical potential, arises as a promising field of work.
Physiological roles of IGF-I
IGF-I is a relevant hormone both in embryological and postnatal states. Although it is mainly produced by the liver, virtually every tissue is able to secrete IGF-I for autocrine/paracrine purposes[18].
Pituitary (GH) and liver (IGF-I) establish negative feedback mechanisms common to any other endocrine gland. The pituitary somatotrophs (GH-secreting cells) are under a delicate controlled balance between stimulatory growth horomone-releasing hormone and inhibitory somatostatin, both generated by the hypothalamus as a result of systemic and cortical neurogenic, metabolic, and hormonal factors[19]. In another hand, IGF-I inhibits GH secretion acting on the hypothalamus by two feedback mechanisms: firstly, inhibiting GH gene expression[20] and secondly by stimulating the secretion of somatostatin[21, 22], that inhibits GH production.
Secreted GH can exist in both free and bound states by the GHBP (the secondary domain of the GH receptor)[19]. Also, activation of liver GH receptor, promotes IGF-I synthesis which, in turn, is released to the circulation and can be found in its free form but mainly bound to IGFBPs (overall IGFBP-3, which binds ~90% of circulating IGF-I)[23].
The role of IGF-I in physiological conditions is still being uncovered and continuously unfastened from GH actions as an independent, self-sufficient peptide. For example, it is known that GH and nutrition are the major factors that regulate hepatic IGF-I expression, as well as in other organs[24, 25]. However, in some other tissues, IGF-I expression appears to be regulated by tissue specific trophic factors, as for example in uterus, where estrogens (and not GH) stimulate IGF-I expression[26], while follicle stimulating hormone is a major IGF-I regulator in ovary[27].
In an attempt to provide a coherent and integrated review of certain physiological conditions where the role of IGF-I has been well established, we have summarized them in this review (cfr. Figure
2
).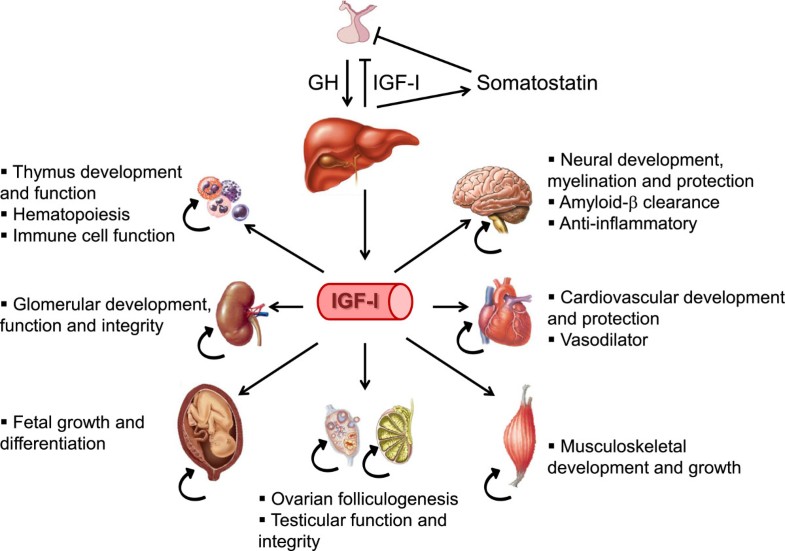 Conditions of IGF-I deficiency
An increasing list of animal models has been reported highlighting the role of this molecule in many different organs and systems. In this review, we will focus on the best characterized models of IGF-I deficiency, where the substitutive therapy may be an effective strategy.
Current therapeutic options and limitations
The pluripotential roles of IGF-I may explain the interest and wide availability of IGF-I assays from different laboratories. However, standard methods of IGF-I measurement are not well characterized yet. Recombinant human IGF-I was first available for experimental therapy in the late 1980s, what allowed the development of long-term studies in children with severe primary IGF-I deficiency (defined as a height SDS and IGF-I SDS less than or equal to −3 and normal or elevated GH levels)[375]. These studies followed the children for up to 12 years and reported a significant dose-dependent increase in mean first-year height velocity over baseline (~3.0 cm/year at baseline, ~8.5 cm/year at first year, p<0.001)[376–380]. Mean height velocity decreased during the subsequent years of treatment, but remained higher than the pretreatment height velocity for up to 8 years[376]. A complementary aspect of the rhIGF-I treatment in these patients was an increase in testosterone levels, testicular size and stretched penile length, which indicates a direct effect of IGF-I on sex hormones and organs in male patients[381].
These studies supported the 2005 US Food and Drug Administration (FDA) approval of rhIGF-I, being commercially available in 2005 for treatment of patients with severe primary IGF-I deficiency due to genetic GH resistance from mutations in the GH receptor, defects in the GH receptor signaling pathway (including STAT5b gene mutations), mutations in the IGF-I gene, or in rare patients with GH gene deletions in whom inactivating antibodies develop to exogenous rhGH[382–384], but not for other conditions of (secondary) IGF-I deficiency such as malnutrition, hypothyroidism and chronic illnesses[383]:
Active or suspected neoplasia.

Allergy to rhIGF-I (mecasermin, Increlex®) or any of its ingredients.

Chronic illness (i.e. diabetes, cystic fibrosis, etc.).

Growth failure associated with other identifiable causes (i.e. Prader-Willi syndrome, Russell-Silver syndrome, Turner syndrome, Noonan syndrome or chromosomal abnormalities).

Patients with closed epiphyses (for promoting growth treatments).
By the same time, FDA also approved the use of the combination of IGF-I and IGFBP-3. Theoretically, it might be a better choice as a more physiological strategy (which would require lower doses). However, the results were not as promising as expected and legal issues led to its discontinuation. Interestingly, a recent work developed in two brothers with insulin-like growth factor deficiency, where one was treated with IGF-I plus IGFBP-3 and the other with just IGF-I, showed that both modalities improved determinants of hepatic insulin sensitivity, body composition and linear growth rate; however, IGF-I alone seemed to be more efficient[385].
A complete review by Laron in 2008[386] summarizes the experience by several groups worldwide. The main conclusions were: 1) The one or two injections regimen result in the same growth velocity; 2) The growth speed obtained with IGF-I administration is smaller than that observed with hGH in children with congenital isolated GH deficiency; 3) Overdosage of IGF-I causes a series of adverse effects which can be avoided by carefully monitoring the serum IGF-I and GH levels. The optimal dosing guidelines are still on debate. Firstly stated on the basis of IGF-I tolerance, two more recent studies presented at the International Congress of Endocrinology (2008) showed the safety and efficacy of both twice-daily (80–120 μg/Kg) or once-daily (240 μg/Kg) rhIGF-I treatment for primary IGF-I deficiency[387, 388]. Interestingly, it was also reported a certain degree of heterogeneity in the serum IGF-I responses, probably influenced on the IGFBP-3 levels[389].
Another disturbing aspects are the difficulties found when collecting, storing and monitoring IGF-I serum samples[389, 390]. In contrast to GH, circulating levels of IGF-I remain relatively stable during daytime with minimum oscillations, being unaffected by meal intake[391, 392]. However, IGFBP-3 levels showed acute changes with meal intake[391–393], what has direct consequences on IGF-I bioavailability, and it was reported a nocturnal decline of IGF-I levels from midnight to 4 am[393], probably due to shifts in plasma volume. Despite this, the lack of any major diurnal variation in circulating IGF-I levels, combined with the long half-life of ternary complex constituting IGF-I[393] has led to the concept that a single measurement of IGF-I is representative for an individual IGF-I level. On the other hand, the serum half-life of rhIGF-I is less than 24 hours, what suggests that serum IGF-I monitoring may be worth for detecting a single missing dose on the day, but it is not useful for identifying long term treatment noncompliance[394]. Furthermore, there is no clear indication to date that routine serum IGF-I monitoring is informative or useful for children taking rhIGF-I treatment, as it has not been linked to the occurrence of adverse events or efficacy outcomes[387–389].
Safety is the paramount aim when developing new drugs. In this case, as previously happened with recombinant technologies for GH and insulin, IGF-I is a natural peptide already produced in humans, what facilitates the elucidation of possible secondary effects due to rhIGF-I therapy. However, a number of clinical trials monitoring long-term rhIGF-I treatment have reported different adverse events[
372
,
377
,
387
–
389
,
395
–
398
], although they were transient, well tolerated and easy managed without treatment discontinuation (Table
1
). In brief, it has been reported episodes of tachycardia (self-resolved and probably due to the inotropic effect of rhIGF-I), transient increase of intracranial pressure with headache and vomiting (consistent with the safety profile of rhGH treatment), lipohypertrophy at injection site, tonsillar/adenoidal hypertrophy, facial edema, arthralgia, myalgia, asthenia, orthostatic hypotension and hypoglycemia. This decrease in blood sugar could be a consequence of the insulin like action of IGF-I
per se
, and the binding of IGF-I to the insulin receptor. However, a placebo controlled study by Guevara-Aguirre et al. in 1995 reported no statistically significant difference in the frequency of hypoglycemia in those who received IGF-I vs. placebo for 6 months (86% in IGF-I group vs. 67% in the placebo group)[
379
]. Interestingly, as previously stated by Laron[
386
], doses lower than 60 μg/Kg/day did not show these described adverse effects, both in human clinical trials[
398
,
399
] and in animal experimental models[
55
,
56
,
219
–
221
,
223
].
Table 1
Reported adverse effect during IGF-I treatment
Adverse effect

IGF-I doses (μg/Kg/day)

References

Tachycardia

150-200

[397]

120-180

[398]

Hypoglycemia

60-120

80-120

Intracrenial pressure increment

80-120

Lipohypertrophy

60-120

Tonsillar/adenoidal hypertrophy

60-120

Headache and vomiting

80-120

[387]

Facial edema

120-180

[398]

120

[373]

Asthenia, orthostatic hypotension

120

[373]

Arthralgia/myalgia

120

[373]
Another outcome from the rhIGF-I treatment in Laron syndrome is the significant increase in body adipose tissue (to double or triple the normal values) concomitantly with the increase in growth[400] although, due to the underdevelopment of the muscular and skeletal systems, body mass index did not accurately reflect the degree of obesity. From these data, authors concluded that IGF-I, similar to insulin, exerts an adipogenic effect. However, another study in insulin resistance, reported a reduction in both intramyocellular lipids and intrahepatic fat in a patient treated with rhIGF-I/IGFBP-3 (together with a post-treatment normalization of % HbA1C value)[401]. These data, although very preliminary, may indicate different mechanistic pathways by which IGF-I controls lipid metabolism.
Consistently, despite these known effects, we still must be alert due to the reported potential role of IGF-I in neoplasias development (a recommended review is available at ref.[402]). Fortunately, a recent study shed some light on this topic by reporting the malignancies occurrence in patients with congenital IGF-I deficiency and insensitivity to GH. They found that this condition seemed to be protective against future cancer development, but more interesting, even when treated with IGF-I[403]. Furthermore, no current data in the literature suggest the malignant transformation of a normal cell in association with IGF-I administration, what may reassure possible concerns about its long-term safety and use in replacement therapies.
Nowadays, rhIGF-I therapy is also being tested or proposed in other pathological conditions as chronic liver disease, insulin resistances/hyperinsulinemia, diabetes, neurological disorders (Alzheimer's disease and amyotrophic lateral sclerosis) and stroke, cysticfibrosis, wound healing, AIDS muscle wasting and HIV-associated adipose redistribution syndrome, burns, osteoporosis, Crohn's disease, Werner syndrome, X-linked severe combined immunodeficiency, myotonic muscular dystrophy, hearing loss prevention, spinal cord injury, cardiovascular protection, anorexia nervosa, fetal growth restriction and prevention of retinopathy of prematurity[
182
,
303
–
306
,
384
,
399
,
401
,
404
–
423
], although some of the treatment's contraindications may limit its potential applicability (Table
2
).
Table 2
Current proposed IGF-I treatments
| Pathological condition | References |
| --- | --- |
| Laron Syndrome | |
| Liver cirrhosis | |
| Aging | |
| IUGR | |
| Neurological disorders | |
| Stroke | |
| Spinal cord injury | [421] |
| Cardiovascular protection | |
| Diabetes | |
| Insulin resistances/hyperinsulinism | |
| Metabolic syndrome | |
| Osteoporosis | |
| Cystic fibrosis | [408] |
| Wound healing | [410] |
| Myotonic dystrophy | [419] |
| AIDS muscle wasting | [411] |
| HIV-associated adipose redistribution syndrome | [411] |
| Burns | [299] |
| Crohn's disease | [412] |
| Werner syndrome | [417] |
| X-linked severe combined immunodeficiency | [418] |
| Hearing loss prevention | [414] |
| Anorexia nervosa | [420] |
| Retinopathy of prematurity | [422] |
Nonetheless, in spite of the great amount of data obtained from these studies, there is still a necessity for further studies to either elucidate the right doses to achieve the expected results, clarify the rhIGF-I therapy effectiveness or even exclude any potential adverse event. For example, the effect of rhIGF-I in chronic liver injury (20 μg/Kg/day with dose escalation up to 50–100 μg/Kg/day for 4 months) was mainly reduced to an increase in albumin levels[399], probably due to the low number of subjects and treatment guidelines, which could not achieve normal IGF-I values, as was also reported in a recent study[387] where doses by 40 μg/Kg/day did were not able to normalize serum IGF-I.
In our experience, the most important goal is to prove the presence of IGF-I deficiency. However, in some cases like compensated liver cirrhosis, IGF-I circulating levels are normal, but if low doses of this hormone are administrated, many beneficial effects are induced[219–221, 223, 225, 228, 232]. This finding suggests that the bioavailability of IGF-I is reduced from early stages of liver disease. However, without hepatopathy, IGF-I levels and bioavailability are not diminished. Thus, IGF-I treatment failed to induce the desired effects, like was reported in a model of testicular dysfunction secondary to epinephrine intra-scrotal injections (but without liver cirrhosis or any other condition of IGF-I deficiency)[424].
At this point, it is also crucial to state that testicular dysfunction was only restored when it was associated to IGF-I deficiency conditions, since IGF-I treatment of rats with testicular damage secondary to epinephrine intra-scrotal injections (but without liver cirrhosis or any other condition of IGF-I deficiency) was not able to adequately recover their morphology and function.
On the other side, therapeutic use of rhIGF-I has been debated in ALS, since a Cochrane systematic evidence review found that the available randomized placebo controlled trials[335, 336] did not permit a definitive assessment of its clinical efficacy[407], with just a small significant benefit in favor of recombinant IGF-I, which clinical relevance is unclear. The authors concluded that more research is needed, noting that one trial is in progress, and they recommended that future trials may include survival rates as another outcome measure.
And thirdly, although Rosenbloom[384] stated that the rhIGF-I insulin-sensitizing effect may be beneficial for diabetic patients to reduce hemoglobin A1C levels, there are no current ongoing clinical trials because of concern about risk of retinopathy and other complications[425], thus limiting the theoretically wide spectrum of potential IGF-I treatment indications.
Conclusions
Briefly, IGF-I deficiency states –as it is the case with every other hormone- produce effects that culminate in recognizable syndromes with significant clinical consequences. Until now, the best known conditions of IGF-I deficiency are: Laron Syndrome, in children; advanced liver cirrhosis, in adults; and aging including cardiovascular and neurological diseases associated to aging. More recently, intrauterine growth restriction seems to appear as another state of IGF-I deficiency. In these four conditions, the replacement therapy can logically induce beneficial actions. Apart from these, many other diseases have been recently proposed to be either consequence or cause of both a systemic or partial IGF-I deficiency. However, more in-depth studies are needed to properly characterize these potential new conditions of IGF-I deficiency and their future clinical perspectives.
On the other hand, the multiple physiological properties of IGF-I may generate excessive prospects if basic concepts about this topic are not adequately considered:
1.

IGF-I is a closed regulated hormone. Its therapeutic applications should, in principle, be limited to restore physiological levels, but not over its normal range, as it is the usual practice in endocrinology diseases (hypothyroidism, diabetes, etc.).

2.

Exogenous administration of IGF-I in conditions without IGF-I deficiency, usually responds to an attempt to exploit its anti-inflammatory, hematopoietic, antioxidant, metabolic or anabolic properties. However, despite the limited results of these strategies, it may entail obvious risks. In the best of cases, these strategies would require prudence and short periods of treatment, as in the corticotherapy.

3.

Low doses of IGF-I seem to be able to restore circulating levels of this hormone promoting beneficial effects without secondary effects (including hypoglycemia). Secondary adverse effects from IGF-I therapy were reported after administration of doses higher than 60–80 μg/Kg/day.

4.

The axis GH/IGF-I is claiming a particular physiological understanding. Usually IGF-I deficiency is associated to "GH resistance" or "GH insensibility" states. IGF-I replacement therapy induced a restoration of the altered GH/IGF-I axis by reducing circulating GH levels and improving somatostatinergic tone. Thus, IGF-I therapy would need to be considered as a different strategy from GH treatment, avoiding past inadequate procedures when both GH/IGF-I therapies were considered equivalent.

5.

Finally, a concern about the potential relationship between IGF-I and cancer is an awkward issue that may require a deeper approach. For instance, a question may arise: are the higher circulating IGF-I levels a marker or a causal factor? In our experience, IGF-I at low doses is a cytoprotective factor that, exerting effective mitochondrial protection, anti-inflammatory and antioxidant activities, could prevent oncogenesis and cancer development by acting in the earliest stages of these pathogenic mechanisms. In addition, despite permanent reservations relating cancer and IGF-I, no current data suggest an IGF-I related malignant transformation from a normal cell.
In conclusion, on the basis of the available evidence, and despite the current limitations in this matter, it seems reasonable that IGF-I therapies may be designed only to restore its physiological levels as a replacement treatment, but never elevating IGF-I levels above its upper normal range.
Abbreviations
ALS:

Acid-labile subunit
Aβ:

Amyloid β
BBB:

Blood–brain barrier
CVA:

Cerebrovascular accident
EGF:

Epidermal growth factor
CNS:

Central nervous system
CVD:

Cardiovascular diseases
EAE:

Experimental autoimmune encephalomyelitis
FDA:

Food and drug administration
FSH:

Follicle-stimulating hormone
GFR:

Glomerular filtration rate
GH:

Growth hormone
GHBP:

Growth hormone binding protein
GHI:

Growth Hormone Insensitivity
HGF:

Hepatocyte growth factor
HIF:

Hypoxia inducible factor
HPA:

Hypothalamo-pituitary-adrenal
IGF:

Insulin-like growth factor
IGF-IR:

Receptor de IGF-I
IGFBP:

Insulin-like growth factor binding protein
IL:

Interleukin
IUGR:

Intrauterine growth restriction
LH:

Luteinizing hormone
LS:

Laron syndrome
MAPK:

Mitogen-activated protein kinase
MDA:

Malon-dialdehyde
NO:

Nitric oxide
NSILA:

Non-suppressible insulin-like activity
NSC:

Neural stem cells
PCC:

Protein carbonyl content
PI3K:

Phosphatidyl-inositol-3-kinase
Rh:

Recombinant human
ROS:

Reactive oxygen species
SDS:

Standard deviation score
SH2:

Src homology 2
TNF-α:

Tumor necrosis factor-alpha
VEGF:

Vascular endothelial growth factor
VSMC:

Vascular smooth muscle cells.
Declarations
Acknowledgements
The authors would like to thank every researcher that contributed to the better understanding of the IGF-I role both in physiological and pathological conditions. We also appreciate Mr. Gonzalo Cañas Guevara imaging processing, and Mrs. Amalia Calderón and Mrs. Susana Arahuetes for their generous and expert secretarial and technical assistance. Special thanks to Kabi Pharmacia (Drs. Anna Sköttner and Jan Holmberg) and Chiron Company (Dr. Bruce Scharschmidt) for kindly providing the recombinant human insulin-like growth factor used in our studies. This work was supported by the Spanish "I+D Program" SAF 2009-08319.
Authors' Affiliations
(1)
Applied Molecular Medicine Institute (IMMA), School of Medicine, Department of Medical Physiology, Universidad CEU San Pablo, Madrid, Spain
Copyright
© Puche and Castilla-Cortazar; licensee BioMed Central Ltd. 2012
This article is published under license to BioMed Central Ltd. This is an Open Access article distributed under the terms of the Creative Commons Attribution License (http://creativecommons.org/licenses/by/2.0), which permits unrestricted use, distribution, and reproduction in any medium, provided the original work is properly cited.