Meeting report

Open Access
Bridging the gap to therapeutic strategies based on connexin/pannexin biology
Journal of Translational Medicine
2016
14:330
Received: 17 October 2016
Accepted: 18 November 2016
Published: 29 November 2016
Abstract
A unique workshop was recently held focusing on enhancing collaborations leading to identify and update the development of therapeutic strategies targeting connexin/pannexin large pore channels. Basic scientists exploring the functions of these channels in various pathologies gathered together with leading pharma companies which are targeting gap junction proteins for specific therapeutic applications. This highlights how paths of discovery research can converge with therapeutic strategies in innovative ways to enhance target identification and validation.
Keywords
Gap junctionsConnexinsPannexinsTherapeuticsPeptidesStrategies
Background
The essential role of gap junction channels and hemichannels in the normal functioning of cells and its relationship to diseases is only beginning to be understood. Gap junction channels assemble when connexins oligomerize into a connexon or hemichannel and dock with another from a neighboring cell [
1
]. These channels cluster at defined cell–cell contacts to form gap junctions, but they can also function as single membrane hemichannels, particularly in pathological situations [
2
] (Fig.
1
). It is now apparent that most human cells express more than one of the 21 members of the connexin family. The complexity of channel constituents and arrangements within tissues is thought to be critical in selective passage of small biological molecules, like second messengers, amino acids and metabolites. Alternatively, hemichannels allow direct communication between the cytosol and the extracellular space. Interestingly, mutations in the genes encoding several members of the connexin family have been linked to a number of human diseases [
3
]. In addition, the generation of connexin knockout (KO) mice has revealed a number of defects ranging from embryonic lethal to relatively normal animals [
4
]. The more recent discovery of pannexins, which share sequence homology to the invertebrate gap junction proteins innexins, has broadened the topic significantly [
5
] (Fig.
1
). Pannexins form large single membrane channels serving a role in paracrine signaling that can be detrimental and contribute to cell death. These findings highlight the importance of connexins/pannexins in nearly every major organ in the body. Therapeutic interest arising from the biological insights of these proteins is beginning to gain momentum and open the way to new therapeutic interventions. Therefore a unique and timely "
Workshop on the interface between connexin/pannexin biology and therapeutics
" was held in Paris March 3–4, 2016 for the research community to interface with Biotech and Pharma companies to accelerate the innovation and application of therapeutics for a variety of diseases in which these channels are involved.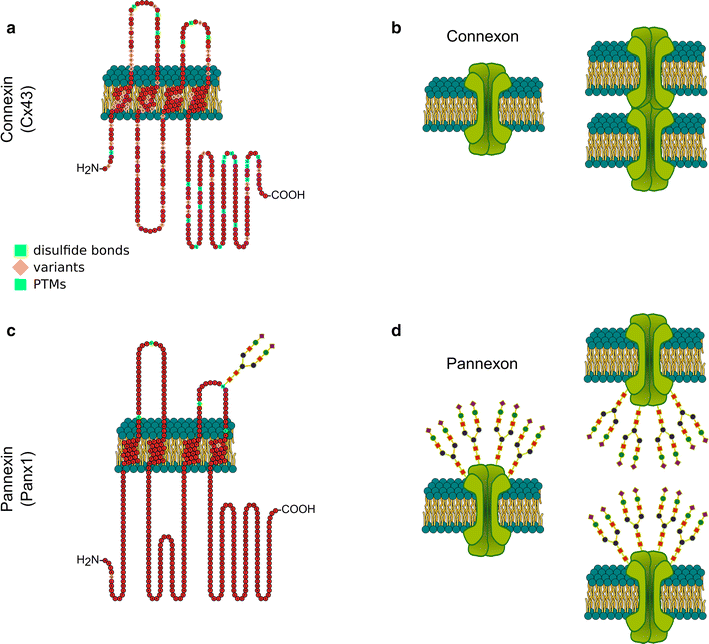 Summary and future directions
Considerable insights continue to emerge regarding the biology of connexins and pannexins, and their possible roles in health and disease. With the knowledge of tissue distribution combined with deeper analysis of structure and the functions of these channel proteins, novel therapeutic approaches are impacting various diseases. Presentations and discussions held during this workshop revealed new lines of research and identified overlapping fields of interest between fundamental life science and biotech initiatives. These can be grouped into several categories. (1) With regard to channel functions, drugs specifically targeting connexin channel versus hemichannel configurations will prove beneficial. These have focused on small peptide candidates. In this regard, Gap19 blocks Cx43 hemichannels while αCT1 enhances Cx43 gap junction plaque formation. Peptides containing the Src-interacting region can modulate kinase interactions with Cx43. Considerable efforts continue to be focused on exploring novel peptide therapeutics. (2) Non-channel functions of Cx43 are also being identified and their targeting should also open the way to new intervention strategies. (3) Specific effects can also be expected by targeting the "connexome" of interacting proteins and their associated signaling pathways. (4) Finally, combinatorial approaches using connexin targeting combined with other drugs are emerging as a promising strategy. Based on the outcome of this workshop, there is considerable optimism with regard to bridging the gap to therapeutic strategies based on connexin/pannexin biology.
Abbreviations
APP/PSI:

amyloid precursor protein/presenelin-1
CF:

cystic fibrosis
CFTR:

CF transmembrane conductance regulator
CKD:

chronic kidney disease
Cx43:

connexin43
Cx37:

connexin37
Cx40:

connexin40
Cx26:

connexin26
GJC:

gap junction coupling
IκBα:

inhibitor of kappa B
JNK MAPK:

jun N-terminal kinase
KO:

knockout
MTLE:

mesial temporal lobe epilepsy
MTLE-HS:

mesial temporal lobe epilepsy with hippocampal sclerosis
NF-κB:

nuclear factor kappa B
ODDD:

oculodentodigital dysplasia
P38 MAPK:

P38 mitogen-activated protein kinases
TLR5:

toll-like receptor 5
ZO-1:

zonula occludens-1
Declarations
Authors' contributions
CCN and CG prepared the manuscript collaboratively. Both authors read and approved the final manuscript.
Acknowledgements
The authors wish to acknowledge the co-sponsorship of the Workshop by the Foundation Hugot of the Collège de France, Consulat Général de France in Vancouver, Zealand Pharma, FirstString Research, and Theranexus. Funding for publication costs was provided by a grant to CCN and CG from Brain Canada, Michael Smith Foundation for Health Research, Genome BC and the Pacific Alzheimer's Research Foundation. The authors thank the participants of the Workshop for their helpful suggestions and apologize to researchers whose work was not included as part of this Workshop due to organizational constraints.
Competing interests
The authors declare that they have no competing interests.
Availability of data and material
Data sharing not applicable to this article as no datasets were generated or analysed in the preparation of this work.
Open AccessThis article is distributed under the terms of the Creative Commons Attribution 4.0 International License (http://creativecommons.org/licenses/by/4.0/), which permits unrestricted use, distribution, and reproduction in any medium, provided you give appropriate credit to the original author(s) and the source, provide a link to the Creative Commons license, and indicate if changes were made. The Creative Commons Public Domain Dedication waiver (http://creativecommons.org/publicdomain/zero/1.0/) applies to the data made available in this article, unless otherwise stated.
Authors' Affiliations
(1)
Department of Cellular and Physiological Sciences, Faculty of Medicine, Life Sciences Institute, University of British Columbia, Vancouver, Canada
(2)
ICIRB, CNRS UMR7241/INSERM U1050, Collège de France, Paris Cedex 05, France