Meeting report
Open Access
The role of immunotherapy in solid tumors: report from the Campania Society of Oncology Immunotherapy (SCITO) meeting, Naples 2014
Journal of Translational Medicine
2014
12:291
Received: 7 September 2014
Accepted: 8 October 2014
Published: 21 October 2014
Abstract
The therapeutic approach to advanced or metastatic solid tumors, either with chemotherapy or targeted therapies, is mainly palliative. Resistance to chemotherapy occurs very frequently and is one of the most important reasons for disease progression. Immunotherapy has the potential to mount an ongoing, dynamic immune response that can kill tumor cells for an extended time after the conventional therapy has been administered. Such a long-lasting response is potentially able to completely eradicate tumor cells, rather than producing only a temporary killing of cells. The most promising immune-based treatments are monoclonal antibodies that act as checkpoint inhibitors (e.g. ipilimumab and nivolumab), adoptive cell therapy (e.g. T-cells expressing chimeric antigen receptors) and vaccines (e.g. sipuleucel-T). Ipilimumab is currently approved for the treatment of metastatic melanoma and sipuleucel-T is approved for advanced prostate cancer. There is great interest in immunotherapy in other solid tumors, potentially used alone or in a multimodal fashion with chemotherapy and/or biological drugs. In this paper, we review recent advances in immuno-oncology in solid malignancies (except melanoma) as were discussed at the inaugural meeting of the Campania Society of Oncology Immunotherapy (SCITO).
Keywords
ImmunotherapyCheckpoint inhibitorsCellular vaccineAntigen-specific vaccinesSolid tumors
Introduction
The immune system is able to recognize and eradicate cancer cells via multiple and complex mechanisms. Ehrlich first proposed, in 1909, the idea that the immune system could search and attack transformed cells before they are clinically visible. Years later, this was confirmed by studies involving tumor transplantation models that suggested the existence of tumor-associated antigens and formed the basis of immune surveillance [1].
The immune system can be divided into innate and adaptive. Innate immunity commonly refers to myeloid and lymphoid cells that exert a rapid effector function, while adaptive immunity is driven by T- and B-lymphocytes that express antigen receptors produced by site-specific somatic recombination. Adoptive immunity has greater specificity than innate in retaining antigen memory. The broadness and quality of a T-cell response is regulated by a balance of activating and inhibitory signals. In this scenario, checkpoints are placed to limit an ongoing immune response, thereby preventing damage to healthy tissues. PD-1, CTLA-4, and LAG-3 are examples of inhibitory checkpoints.
In human cancer, the immune system plays a double role, both protecting against tumor development and promoting tumor growth. This process is known as immunoediting and has three well-defined phases [2]. The immunosurveillance (elimination) phase is characterized by antigen presentation and T cell activation and, more importantly, by destruction of nascent tumor cells and control of tumor growth. In the equilibrium phase, the main features are genetic instability and tumor heterogeneity, leading to a steady-state between tumor growth enhancement and inhibition. In the escape phase, cancer progression is favoured by the outgrowth of tumor cells that can suppress or escape the immune system. T-regulatory (T-reg) cells are crucially involved at this stage. Tumor-infiltrating lymphocytes (TILs) have been identified in many tumor types and often have prognostic value. The presence of intratumoral T-cells strongly correlates with improved clinical outcome in advanced ovarian carcinoma [3] and in other solid tumors including non-small cell lung (NSCLC) [4], colorectal [5], breast [6], head and neck [7] and kidney cancer [8] as well as melanoma [9]. Conversely, T-reg infiltration has been reported to predict a poorer outcome in early-stage NSCLC [10], in melanoma [11], and in renal cell carcinoma [12].
Checkpoint blockade: now a reality?
The two main inhibitory checkpoint pathways involve signaling through CTLA-4 or PD-1. Both systems are crucial in promoting tumor growth and proliferation: CTLA-4 is competitive for the costimulatory binding CD80/86-CD28 and its binding to CD80/86 generates a negative signal which is responsible for immune cell inactivation. PD-1 binding to PD-L1 and PD-L2 molecules also generates a negative and inhibitory signal responsible for immune escape. The CTLA-4 pathway is more important in the early phase of the immune system activation (priming phase), while the PD-1 pathway is more important in the tumor microenvironment during the effector phase [13],[14]. Inhibition of CTLA-4 and PD-1 binding to their ligands enhances T-cell activation and proliferation, leading to tumor infiltration by T-cells and tumor regression.
The anti-CTLA-4 monoclonal antibody (moAb) ipilimumab was the first therapy to improve overall survival (OS) in a phase III trial in patients with metastatic melanoma, when compared with GP100, a peptide vaccine [15]. Progression-free survival (PFS) and best overall response rate (BORR) also favored patients receiving ipilimumab, alone or in combination with GP100, as compared with the vaccine alone. Most adverse events (AEs) reported with ipilimumab were immune-related (irAEs) and were managed with specific algorithms [16]. The most frequently reported irAEs in the ipilimumab arm were diarrhea (28%), pruritus (24%) and rash (19%).
When the PD-1 receptor binds with its ligand (PD-L1/B7-H1), which is frequently overexpressed on tumor cell surfaces, T-cell inhibition and down-regulation of T-cell responses occurs. This allows tumors to directly halt antitumor T-cell activity, also known as adaptive resistance. Blocking PD-1 or PD-L1 through the use of therapeutic moAbs empowers the T-cell response. Promising long-term survival results have been achieved with the anti-PD1 moAb nivolumab. In a phase I trial in patients with advanced solid tumors, nivolumab was associated with a 2-year survival rate of 24% in NSCLC, 43% in melanoma, and 50% in renal cell carcinoma [17]-[19]. Patients treated with 3 mg/kg or 10 mg/kg had an objective response rate (ORR) greater than those treated with 1 mg/kg (24% and 20% versus 3%). Grade 3–4 AEs were reported in 17% of patients, mainly rash, diarrhea and pruritus. The nivolumab 3 mg/kg dose reached a median OS of 14.9 months and was selected for future registration trials.
Immune checkpoints inhibitors have different toxicity profiles compared to chemotherapy or targeted therapies (Table
1
). Some AEs have different etiologies compared with those related to chemotherapy (e.g. diarrhea, rash) and require different management. These irAEs result from increased activity of the immune system, can involve multiple organs and may be severe or life-threatening. In such cases, systemic high-dose corticosteroids may be required. Patient education is essential in order to early recognize irAEs and to minimize life-threatening complications.
Table 1
Summary of selected adverse events reported with immune checkpoints inhibitors
Category

Adverse events

Common

Skin

Pruritus, rash, vitiligo, urticaria, alopecia, macular rash, hypopigmentation, erytema, erytematous rash

Gastrointestinal

Diarrhea, colitis, nausea, abdominal pain

Endocrine

Hypothyroidism, hyperthyroidism, hypopituitarism, hypophysitis, adrenal insufficiency, altered hormone levels

Hepatic

Hepatitis, increased liver function enzymes

Pulmonary

Pneumonitis, pulmonary edema

Uncommon

Ocular

Uveitis, episcleritis, eye pruritus

Pancreatic

Elevated lipase levels, hyperglycemia

Infusion-related

Infusion-related reactions, hypersensitivity reactions

Hematologic

Anemia, leukocytosis, thrombocytopenia

Neurologic

Peripheral neuropathies, headache

General

Fatigue, decreased appetite, arthralgia
Predictive biomarkers for immuno-oncology therapies, to be correlated with efficacy and toxicity, are under investigation. However, due to their being directed against the patient's immune system rather than the tumor, a different approach for identifying biomarkers in this field may be needed [
20
]. A promising approach could be the expression of biomarkers related to the target pathway. For example, PD-L1 seems an effective biomarker for therapies directed against the PD-1 pathway, such as nivolumab and pembrolizumab. Some studies in NSCLC and melanoma showed that the ORR in patients with PD-L1 positivity were higher when compared withPD-L1 negative patients (Table
2
) [
17
],[
21
],[
22
]. However, key questions remain over variability in tissue collection time, cell sampling, type of assay and immunohistochemical (IHC) criteria to determine a significant cut-off between wild-type and mutation status.
Table 2
PD-L1 as a potential efficacy biomarker: response according to PD-L1 expression in NSCLC and melanoma
Tumor

PDL-1 + ve

PDL-1-ve

ORR n/N (%)

ORR n/N (%)

MPDL3280A Hamid et al. ASCO #9010

Melanoma

4/15 (27%)

3/15 (20%)

Nivolumab Weber et al. ASCO #9011

Melanoma

8/12 (67%)

6/32 (19%)

Nivolumab Grosso et al. ASCO #3016

Melanoma

7/16 (44%)

3/18 (17%)

Nivolumab Topalian et al. NEJM 2012

Melanoma

9/25 (36%)

0/17 (0%)

Nivolumab Antonia et al. WCLC 2013

NSCLC

5/31 (16%)

4/32 (13%)

Pembrolizumab Garon et al. WCLC 2013

NSCLC

4/7 (57%)

2/22 (9%)

MPDL3280A Horn et al. WCLC2013

NSCLC

8/26 (31%)

4/20 (20%)

Nivolumab/ipilimumab Callahan et al. ASCO#3003

Melanoma

4/10 (40%)

8/17 (47%)
In order to maximise clinical benefit, multiple sequential or combination approaches between immunotherapy, chemotherapy, radiotherapy and targeted drugs are under investigation. Clinical trials combining immuno-oncology therapies that modulate different pathways or target distinct and potentially complementary immune pathways (e.g. anti-PD-1 plus anti-CTLA-4 or anti-LAG3 antibodies) are ongoing in advanced solid tumors. The synergistic activity between immuno-oncology therapies and chemotherapy has also been extensively demonstrated both in vitro and in vivo. For example, ipilimumab in combination with dacarbazine (DTIC) showed a long-term survival benefit compared with placebo plus DTIC in patients with metastatic melanoma [23].
The need for new endpoints in immuno-oncology
The value and the meaning of endpoints in the development of new anticancer drugs has been a topic of keen interest in recent years. Targeted drugs can interfere with tumor cell growth in a substantially different manner to cytotoxic drugs. Thus, the need to observe tumor shrinkage in order to consider a drug active has been questioned. Indeed, with such drugs, it was anticipated that slowing the growth of tumor cells might be clinically meaningful even in the absence of significant tumor shrinkage. Drugs interfering with the immune system pose other different problems, in that stimulation of immunocompetent cells may produce an infiltration of tumor masses that tend to increase the volume of the lesion, thereby counterbalancing the reduction in tumor cells. Such phenomenon translates into the need to review objective response (OR) criteria, because common RECIST and WHO criteria might not be adequately sensitive.
Phase I studies in melanoma clearly illustrate that an initial increase in tumor volume or the appearance of new lesions does not necessarily mean therapeutic failure [24] and that stable disease (SD) may be an indicator of a clinically meaningful therapeutic effect. In a nivolumab phase I trial, it was shown that ORs may occur early or late and may also continue after drug discontinuation [17]. Among responders who stopped treatment for reasons other than progressive disease (PD) (n = 27), 70% maintained the response off-drug for 16 to 59 weeks.
Anti-CTLA-4 and anti-PD1 moAbs may act regardless of patient characteristics (age, gender, ECOG PS) and disease characteristics (histology, mutation status, type of prior therapies). This was observed with nivolumab in NSCLC [
25
] and ipilimumab in melanoma [
26
]. In the Italian extended-access programme (EAP), ipilimumab was shown to be active irrespective of mutational status: disease control rates (DCR) and OS were comparable between BRAF or NRAS-mutated and wild-type patients in a very large population [
27
] (Figures
1
and
2
). Across the phase II-III clinical trial program, four patterns of response to ipilimumab in patients with advanced melanoma were observed and named as immuno-related response criteria (irRC): (1) response in baseline lesions; (2) SD with slow, steady decline in total tumor volume; (3) response after initial increase in total tumor volume; (4) reduction in total tumor burden after the appearance of new lesions [
28
]. In the CA184-008 and CA184-022 trials of ipilimumab in metastatic melanoma, the tumor responses of 167 evaluable patients have been assessed with the irRC [
29
],[
30
]. Twenty-two patients were characterized as having an immuno-related partial response (PR) (n = 5) or irSD (n = 17), who otherwise would be labelled as PD by conventional WHO criteria.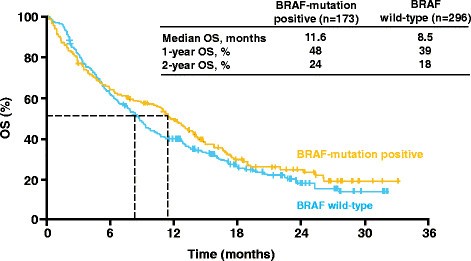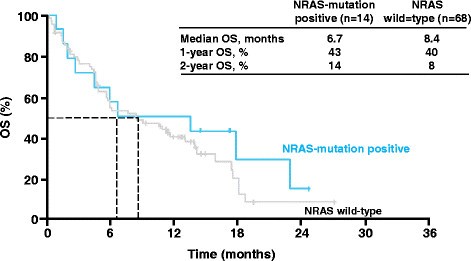 Such considerations imply that tumor assessments should be performed only after completion of the assigned regimen and the results confirmed with a follow-up scan [28]. With drugs such as ipilimumab, the planned treatment should be administered regardless of the early appearance of new lesions or volume increase of existing lesions, as immune cell infiltration following immunotherapy may mimic tumor progression. Data from clinical trials and ipilimumab EAPs indicate that long-lasting SD is a common outcome with immunotherapy and that, even with no evidence of a tumor response, durable disease control can result in prolonged OS [31]. Such evidence clearly suggests that classical response rates (RR) and PFS cannot be considered as valid surrogate of OS or long-term clinical benefit. Before definitive trials that address OS as end-point are available, other surrogate indicators (e.g. rate of survival at a predefined time point) are becoming more relevant since they may be more predictive of survival duration [32].
Immunotherapy of solid tumors
Conclusions
There is an ongoing need for new treatment modalities in patients with advanced solid tumors. Surgery, radiation and cytotoxic/targeted therapies are currently the mainstay of treatment, but the mortality rate remains high for most patients with advanced or metastatic disease. Immuno-oncology is a medical area that focuses on the development and delivery of new therapies to generate an effective immune response against cancer. Improving human immune system responses has long been thought as a promising approach against solid tumors, although with conflicting results.
In the last five years, the approval of sipuleucel-T for patients with prostate cancer and ipilimumab for patients with previously-treated unresectable or metastatic melanoma has renewed great interest in this field, with very promising initial results in other solid tumors. These agents target the immune system, so they have the potential to offer a durable cancer control across a variety of tumor types, including those that were not historically considered likely to respond to immune manipulations. Follow-up from phase II and III trials consistently show a plateau in survival curves for patients treated with ipilimumab (about 20%) that is maintained for an extended period, as evidenced by follow-up of up to 10 years [99]. Immunotherapies generally have a well-tolerated toxicity profile, with limited long-term damage upon normal tissues. Ongoing research in this field will help us to address unmet needs and to understand how immune-oncology may advance current standards of care and eventually improve survival outcomes.
Declarations
Acknowledgement
Editorial assistance was provided by Giovanni Mansueto, M.D. and Andy Bond, and this manuscript was supported by S.C.I.T.O. – Campania Society of Immuno Therapy of Cancer.
Authors' Affiliations
(1)
Unit of Melanoma, Cancer Immunotherapy and Innovative Therapies, Istituto Nazionale Tumori Fondazione "G. Pascale", Via Mariano Semmola, Italy
(2)
Unit of Oncology, Ospedale "San Giovanni di Dio", Frattamaggiore, Italy
(3)
Unit of Medical Oncology, Dipartimento di Oncopneumoematologia, A.O.R.N. "A. Cardarelli", Naples, Italy
(4)
Department of Oncology, A.O. "G. Rummo", Benevento, Italy
(5)
Unità Oncologia Medica Senologica, Istituto Nazionale Tumori Fondazione "G. Pascale", Naples, Italy
(6)
Department of Oncology, A.O.R.N. "S. Anna e S. Sebastiano", Caserta, Italy
(7)
Unità Oncologia Medica Toraco-Polmonare, Istituto Nazionale Tumori Fondazione "G. Pascale", Naples, Italy
(8)
Department of Molecular and Clinical Endocrinology and Oncology, University "Federico II", Naples, Italy
(9)
Dipartimento di Medicina e Chirurgia, A.O.U. "San Giovanni di Dio e Ruggi d'Aragona", University of Salerno, Salerno, Italy
(10)
Unità Sperimentazioni Cliniche, Istituto Nazionale Tumori Fondazione "G. Pascale", Napoli, Italy
(11)
Dipartimento di Oncologia Uroginecologica, Istituto Nazionale Tumori Fondazione "G. Pascale", Naples, Italy
(12)
Unit of Oncology, A.O.R.N. dei COLLI "Ospedali Monaldi-Cotugno-CTO", Naples, Italy
Copyright
© Ascierto et al.; licensee BioMed Central Ltd. 2014
This article is published under license to BioMed Central Ltd. This is an Open Access article distributed under the terms of the Creative Commons Attribution License (http://creativecommons.org/licenses/by/4.0), which permits unrestricted use, distribution, and reproduction in any medium, provided the original work is properly credited. The Creative Commons Public Domain Dedication waiver (http://creativecommons.org/publicdomain/zero/1.0/) applies to the data made available in this article, unless otherwise stated.