Selective transmission of R5 HIV-1 variants: where is the gatekeeper?
Journal of Translational Medicine
2011
9(Suppl 1):S6
Published: 27 January 2011
Abstract
To enter target cells HIV-1 uses CD4 and a coreceptor. In vivo the coreceptor function is provided either by CCR5 (for R5) or CXCR4 (for X4 HIV-1). Although both R5 and X4 HIV-1 variants are present in body fluids (semen, blood, cervicovaginal and rectal secretions), R5 HIV-1 appears to transmit infection and dominates early stages of HIV disease. Moreover, recent sequence analysis of virus in acute infection shows that, in the majority of cases of transmission, infection is initiated by a single virus. Therefore, the existence of a "gatekeeper" that selects R5 over X4 HIV-1 and that operates among R5 HIV-1 variants has been suggested. In the present review we consider various routes of HIV-transmission and discuss potential gatekeeping mechanisms associated with each of these routes. Although many mechanisms have been identified none of them explains the almost perfect selection of R5 over X4 in HIV-1 transmission. We suggest that instead of one strong gatekeeper there are multiple functional gatekeepers and that their superimposition is sufficient to protect against X4 HIV-1 infection and potentially select among R5 HIV-1 variants. In conclusion, we propose that the principle of multiple barriers is more general and not restricted to protection against X4 HIV-1 but rather can be applied to other phenomena when one factor has a selective advantage over the other(s). In the case of gatekeepers for HIV-1 transmission, the task is to identify them and to decipher their molecular mechanisms. Knowledge of the gatekeepers' localization and function may enable us to enhance existing barriers against R5 transmission and to erect the new ones against all HIV-1 variants.
Keywords
Outer Foreskin
Gatekeeping Mechanism
Transmitted Founder Virus
Introduction
To fuse with the membranes of target cells, human immunodeficiency virus type 1 (HIV-1) uses as receptors two plasma membrane molecules, CD4 and a second one that for historical reasons is called a "coreceptor" [1–3]. For HIV-1 the coreceptor function can be provided by two different receptors, C-C chemokine receptor type 5 (CCR5) or C-X-C chemokine receptor type 4 (CXCR4), these have a normal physiological function serving as chemokine receptors (cytokines). HIV-1 variants that use the CCR5 coreceptor are called R5, those that use CXCR4 are called X4, whilst those that can use both are designated R5X4 (or dual tropic) [4]. Although both R5 and X4 HIV-1 variants are present in body fluids (semen, blood, cervicovaginal and rectal secretions), with a few exceptions R5 HIV-1 appears to transmit infection and dominate the early stages of HIV disease whilst X4 HIV-1 evolves at later stages. If and when this evolution takes place, it is associated with a more rapid loss of CD4 T cells and accelerated progression to the acquired immunodeficiency syndrome (AIDS) (reviewed in [5]).
Until recently it was not clear whether X4 evolves from transmitted R5 as a result of env mutations, or that X4 was initially transmitted but its replication was restricted during the early stages of the HIV disease. Recent genetic studies of HIV-1 variants at the earliest stages of HIV-1 infection have enabled researchers to reconstruct the HIV-1 variants that were initially transmitted [6, 7], known as transmitted/founder virus (TF virus). These studies confirmed that only R5, and in a few instances R5X4 HIV-1, but not X4 HIV-1 are transmitted. Therefore, it is reasonable to suggest the existence of a "gatekeeper" that nearly always selects transmission of R5 over X4 HIV-1.
Such a gatekeeping phenomenon may not only select R5 over X4 but may operate among R5 HIV-1 variants as well. Recent studies on TF virus indicate that, in the majority of cases, infection is transmitted by a single R5 viral isolate [6, 7]. It was hypothesized that these transmitted R5 virions may have subtle differences that provide advantages for transmission over the majority of R5 virus in biological fluids. If so the gatekeeping mechanism may be even more selective than previously anticipated.
Understanding the scope of potential gatekeeping mechanisms is important not only from the point of view of basic science but also for practical reasons. Indeed, if only selected HIV-1 viruses can transmit infection, microbicides (or preventive vaccines) should specifically target these particular variants, provided that such a strategy will not allow transmission of other HIV-1 isolates. Also, understanding the molecular mechanisms of the selective prevention of transmission of some of the HIV-1 variants, may empower us with the necessary knowledge to expand such gatekeeping to those HIV-1 variants that transmit infection, creating new preventive strategies.
Below, we briefly describe the history of the development of the HIV-1 coreceptor tropism concepts, various patterns of HIV-1 transmission, and the possible mechanisms of gatekeeping.
R5 and X4 HIV-1: Development of the concept
The controversial history of the discovery of HIV-1 has been the subject of many reviews and has recently been well described by Vahlne [8]. HIV-1 was first called Human T-lymphotropic virus (HTLV-III) or lymphadenopathy-associated virus (LAV) by two competing groups. CD4 was shown to be the principle receptor for HIV-1 following a series of observations. These included: the observed decline in peripheral CD4+ T cells in homosexual patients presenting a "newly acquired cellular immunodeficiency syndrome" (AIDS) [9], the ability of HIV-1 isolated from these patients to infect CD4 T cells [10, 11], the blockade of HIV-1 infection in vitro by anti-CD4 antibodies [12], and infection of virus-resistant human cells following transfection with the human CD4 gene (hCD4) [13]. However it was found that mouse cell lines transfected with hCD4, were not susceptible to infection. This observation suggested that additional human factors were required for HIV-1 infection. The failure of hCD4 transfected mouse cells to form syncitia (cell-cell fusion) with the HIV-1 producing human H9 cell line suggested that viral entry was the rate limiting step[14]. Furthermore, the inability of hCD4 positive squamous cell carcinoma (SCL1) and astroglial cells (U87MG) to form syncitia with cells expressing HIV-1 envelope demonstrated that infection with the newly-discovered virus required secondary receptor(s) in addition to CD4. These results led to the identification of the HIV-1 co-receptors in 1996. Here, we review some of the work that led to their discovery and the understanding that distinct biological properties of HIV-1 in patients and in vitro are due to the existence of distinct viral strains using different cellular coreceptors.
HIV-1 transmission R5 vs. X4: Gatekeeping
It seems that X4/R5 gatekeeping (that is prevention of X4 HIV-1 from infecting and/or disseminating in the human body at the early stages of HIV-1 infection) belongs to a rare class of almost perfect biological phenomena. Among multiple reported HIV-1 transmission events via sexual acts (between males and females or between males) or through intravenous injection, at the early stages of infection R5 HIV-1 was ubiquitously found. Such precision suggests the existence of a near perfect barrier that selects against X4 HIV-1 transmission. Where are these gatekeepers and what are their mechanisms? There is no definitive answer, however we discuss below potential mechanisms and points at which selection may occur according to the different routes of transmission .
Transmitted/ founder virus: Another level of gatekeeping?
While the selective transmission of R5 over X4 virus, irrespective of the route of transmission has been recognized for sometime, more recent studies of transmitted founder (TF) virus have suggested that there may be additional levels of gatekeeping amongst R5 viruses themselves. Detailed sequence analysis of virus in acute infection has enabled investigators to determine the sequence of virus associated with transmission [176]. These studies have shown that in <80% of transmissions, infection is initiated by a single TF virus [7, 177, 178]. This apparent bottleneck can be reduced by inflammation leading to a higher frequency of multi-variant transmissions of 2-10 viruses [91]. Rectal transmission also seems to mitigate the genetic bottleneck observed in cervico-vaginal transmission [179]. However, irrespective of the route of transmission the majority of these isolates are R5, with a few displaying R5X4 phenotype [7, 177]. These data reinforce the concept of gatekeeping against X4 virus. Nevertheless, such gatekeepers may not be absolute, as low frequency (4%) X4 transmission has been seen in some studies [165].
More recently there has been an increased focus on determining whether TF virus exhibits certain phenotypic and or molecular signatures. The first striking observation is that while TF viruses are exclusively R5, they show extremely poor infectivity for in vitro derived macrophages [7]. While this needs to be confirmed using tissue macrophages these early observations suggest that transmission selects for T cell tropic R5 variants. This phenotypic observation fits with parallel studies in human mucosal tissue explants [90, 128, 132, 180] and studies delineating the initial target cells of infection in the macaque model [94], all of which implicate CD4 T cells as the initial targets for infection. Furthermore, macaque studies suggest that mucosal infection may be dependent upon the ability of TF to infect resting CD4 effector memory T cells [94]. However, whether this represents a gatekeeper against macrophage tropic R5 virus is debatable, as T cell tropic R5 virus is the dominant phenotype in semen of infected individuals and indeed isolation of macrophage tropic HIV-1 in lymph nodes, blood and semen is rare [181].
The second observation, reported in several studies, is the apparent transmission of R5 virus with reduced N-linked glycosylation [182–184]. HIV-1 is known to cloak its envelope protein in N-linked oligomannose to reduce antibody recognition [185]. At first glance such an apparent reduction in glycosylation is perplexing as this potentially renders TF virus more susceptible to antibody neutralization. However such neutralization is not expected to occur for primo HIV-1-exposure and should only hinder HIV-1 transmission in repeatedly exposed recipients. Only a systematic comparison of TF isolated from subjects infected after a single or repeated exposure could answer this question. Therefore there must be additional gatekeepers at play that select reduced glycosylation in spite of the consequential increase in susceptibility to antibody neutralization. Current thinking proposes two possible mechanisms that may not be mutually exclusive. The first relates to the role of N-linked glycosylation in the binding of HIV-1 to C-type lectins. The group of van Kooyk first observed that the C-type lectin DC-SIGN expressed on dendritic cells could bind virus via oligomannose residues expressed on the viral envelope [186]. Such capture of virus can facilitate both direct infection of dendritic cells (cis-infection) and infection of interacting CD4 T cells (trans-infection). This led to the rapid speculation that dendritic cell capture of virus may be an important step in the transmission process. Activation of these cells (potentially by HIV-1 itself) is known to stimulate rapid migration to draining lymph nodes, thereby disseminating virus to an environment rich in activated CD4 T cells [187]. However the interaction of HIV-1 with C-type lectins turned out to be more complex. DC-SIGN is now only one of several C-type lectins (including Langerin) shown to bind HIV-1 and, while under certain conditions this may favor infection, such binding also facilitates viral uptake, degradation and antigen presentation [188]. In vitro only 5-10% of viral uptake by dendritic cells evades destruction by remaining in a tetraspanin-rich compartment but it is unclear whether this accurately reflects processing of virus by tissue dendritic cells. Indeed it has been shown that binding of HIV-1 by the C-type lectin langerin on Langerhans cells provides an efficient mechanism for viral degradation [189]. As these cells are highly abundant in stratified epithelium of genital mucosas, the absence of critical oligomannose residues could provide a selective advantage by avoidance of triggering the cells that define the interface between innate and adaptive immunity. Avoidance of mechanisms that would stimulate cellular and humoral immune responses may be more important to the establishment of infection than the potential increased sensitivity to neutralizing antibodies. Clearly this makes sense in a naïve susceptible population that would have no pre-existing immunity, however this also opens up a window of potential vulnerability to vaccine induced neutralizing antibodies that could be expressed at mucosal surfaces.
An alternative hypothesis has been recently proposed by Anthony Fauci [190]. His team was the first to identify that the HIV-1 envelope of certain viruses could bind to the alpha-4 beta-7 gut homing integrin [191]. While not essential for infection, this integrin is expressed on a subset of highly susceptible CD4 T cells that express high levels of CCR5 and low levels of CXCR4 and are concentrated in intestinal and, to a lesser extent, cervical mucosa. This preferential binding to alpha-4 beta-7 cells is thought to be an important factor in concentrating early viral replication in the intestinal tract of infected individuals, leading to the massive loss of CD4 T cells within this compartment in the first few weeks of infection [192]. Dr. Fauci has proposed that TF virus binds more efficiently to alpha-4 beta-7 cells than those in chronically infected subjects. This difference in binding was shown to be associated with decreased glycosylation within the V1, V2 region of the HIV-1 envelope, putative binding sites for alpha-4 beta-7 [190]. The suggestion being that glycosylation may block the alpha-4 beta-7-mediated virus binding to this highly susceptible population of CCR5 CD4 T cells. Nevertheless, reported differences in N-linked glycosylation patterns between TF virus and later isolates are not universally accepted with a number of studies reporting no reduction in glycosylation [193]. It will be interesting to see whether differences in glycosylation may be influenced by differences in exposure of the native trimer to cellular glycosylation enzymes during de novo viral production. Glycosylation may vary according to the phenotype of infected cells [185]. This raises yet another question about transmitted viruses and potential gatekeeping mechanisms as it shifts the spotlight from a virus defined by its genetic make up, to the cells which produced the infecting virus. Despite such apparent discrepancies there is a growing consensus that not all R5 virus are equal in terms of transmission fitness suggesting that there are further gatekeepers to be discovered.
The multiple barrier principle
Where is the main gatekeeper that selects R5 over X4? As discussed above many multiple barriers have been identified. However, no single barrier appears to explain the almost perfect selection of R5 over X4 in HIV-1 transmission. We suggest that a single "Big Barrier" does not exist [194]. Rather that the superimposition of multiple weak and imperfect barriers is sufficient to protect against X4 HIV-1 infection. Indeed, X4 HIV-1, associated with accelerated progression to AIDS, only appears late in the course of the disease, and then only in 50% of individuals infected with Clade B virus. Indeed the majority of patients progress to AIDS in the absence of X4 evolution. These observations suggest a sustained selective pressure against X4 over R5 replication. A single Big Barrier would be more fragile and breachable by multiple mechanisms including trauma, mutations, transformations etc, likely to provide an all or nothing effect. Thus it seems that sequential barriers of low efficiency would not only be more protective but would provide ongoing suppression of X4 over R5 replication within an infected individual.
This can be illustrated by a simple model consisting of only five sequential barriers each having a selective coefficient of 5 that is the probability ratio for R5 and X4 to penetrate an individual barrier is 5:1. (Figure
1
). In this over-simplified construction, although selection of an individual barrier provides only a 5:1 probability of protection against X4 penetration, five sequential barriers provide a probability of 3,125 :1. Even if one of these five barriers is breached and becomes equally permissive to X4 and R5 HIV-1, the selective power of the construction still remains high at 625:1. It is reasonable to think that the human body has many more than five barriers. Also, their selective power against X4 vs. R5 HIV-1 may be much higher than the 5 described in the above modeling. Although
in vivo
not all of these barriers may be sequential and/or independent, together they are sufficient to protect against X4.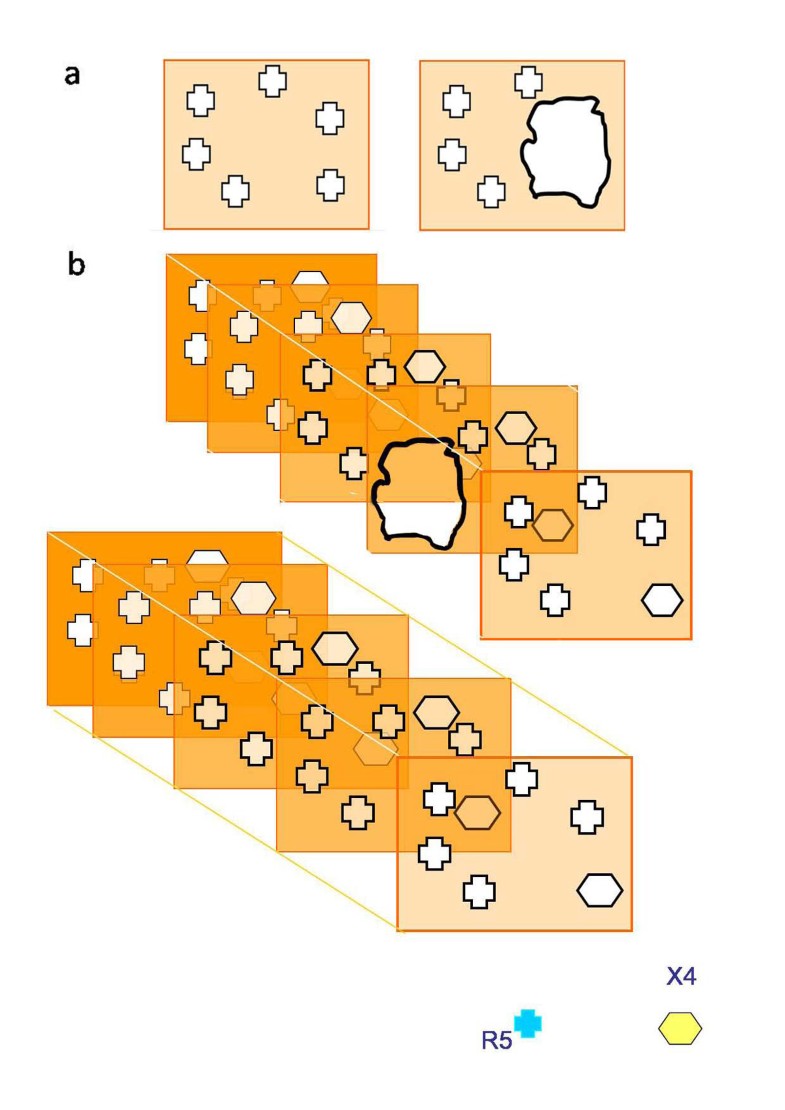 The number of potential barriers may be high and redundant while their efficiency may vary between different individuals. Such a system would make the gatekeeping mechanisms very individualized. Indeed, if in one individual only a few existing barriers against HIV-1 are needed to ensure perfect gatekeeping against X4 HIV-1, in another individual the set of these selective barriers may be different. Nevertheless the net result of the combined gatekeeping of these barriers against X4 HIV-1 would be the same for both individuals. If the number of barriers is large, the huge number of individual variations would make the study of the gatekeeping mechanism very complicated. In this case, identification of individual barriers would require study of large cohorts to reach statistical power.
Conclusions
In conclusion, we think that the principle of multiple barriers is more general and is not restricted to protection against X4 HIV-1 but rather can be applied to other phenomena when one factor has a selective advantage over the other(s). In the case of X4/R5 gatekeepers, the task of future experiments is to identify each and every one of the selective gatekeepers and decipher their molecular mechanisms. Knowledge of the gatekeepers' localization and function may enable us to facilitate existing barriers against R5 transmission and to erect the new ones against all HIV-1 variants.
Declarations
Acknowledgements
The work of J-C.G. and LM was supported by the Intramural NICHD Program. RJS contribution to this manuscript was supported by FP-6-funded EUROPRISE, EC grant LSHP-CT- 2006- 037611
LBM is grateful to Dr. Morgane Bomsel for critical reading of the manuscript and for helpful discussions
This article has been published as part of Journal of Translational Medicine Volume 9 Supplement 1, 2011: Differential use of CCR5 vs. CSCR4 by HIV-1. Pathogenic, Translational and Clinical Open Questions. The full contents of the supplement are available online at http://www.translational-medicine.com/supplements/9/S1.
Authors' Affiliations
(1)
Eunice Kennedy Shriver National Institute of Child Health and Human Development, National Institutes of Health, Bethesda, USA
(2)
St George's, University of London, London, UK
Copyright
© Grivel et al; licensee BioMed Central Ltd. 2010
This article is published under license to BioMed Central Ltd. This is an open access article distributed under the terms of the Creative Commons Attribution License (http://creativecommons.org/licenses/by/2.0), which permits unrestricted use, distribution, and reproduction in any medium, provided the original work is properly cited.