Pro-apoptotic activity of α-bisabolol in preclinical models of primary human acute leukemia cells
Journal of Translational Medicine
2011
9:45
Received: 18 November 2010
Accepted: 21 April 2011
Published: 21 April 2011
Abstract
Background
We previously demonstrated that the plant-derived agent α-bisabolol enters cells via lipid rafts, binds to the pro-apoptotic Bcl-2 family protein BID, and may induce apoptosis. Here we studied the activity of α-bisabolol in acute leukemia cells.
Methods
We tested ex vivo blasts from 42 acute leukemias (14 Philadelphia-negative and 14 Philadelphia-positive B acute lymphoid leukemias, Ph-/Ph+B-ALL; 14 acute myeloid leukemias, AML) for their sensitivity to α-bisabolol in 24-hour dose-response assays. Concentrations and time were chosen based on CD34+, CD33+my and normal peripheral blood cell sensitivity to increasing α-bisabolol concentrations for up to 120 hours.
Results
A clustering analysis of the sensitivity over 24 hours identified three clusters. Cluster 1 (14 ± 5 μM α-bisabolol IC50) included mainly Ph-B-ALL cells. AML cells were split into cluster 2 and 3 (45 ± 7 and 65 ± 5 μM IC50). Ph+B-ALL cells were scattered, but mainly grouped into cluster 2. All leukemias, including 3 imatinib-resistant cases, were eventually responsive, but a subset of B-ALL cells was fairly sensitive to low α-bisabolol concentrations. α-bisabolol acted as a pro-apoptotic agent via a direct damage to mitochondrial integrity, which was responsible for the decrease in NADH-supported state 3 respiration and the disruption of the mitochondrial membrane potential.
Conclusion
Our study provides the first evidence that α-bisabolol is a pro-apoptotic agent for primary human acute leukemia cells.
Keywords
Acute Myeloid LeukemiaImatinib MesylateCombination IndexAcute Myeloid Leukemia CellAcute Lymphoid Leukemia
Background
α-bisabolol is a small oily sesquiterpene alcohol (Figure
1A
) that has been demonstrated to have activity against some malignant adherent human and rat cell lines [
1
] and against spontaneous mammary tumors in HER-2 transgenic mice [
2
]. We have previously found that it enters cells
via
lipid-rafts, interacts directly with BID, a pro-apoptotic BH3-only Bcl-2 family protein, and induces apoptosis [
3
].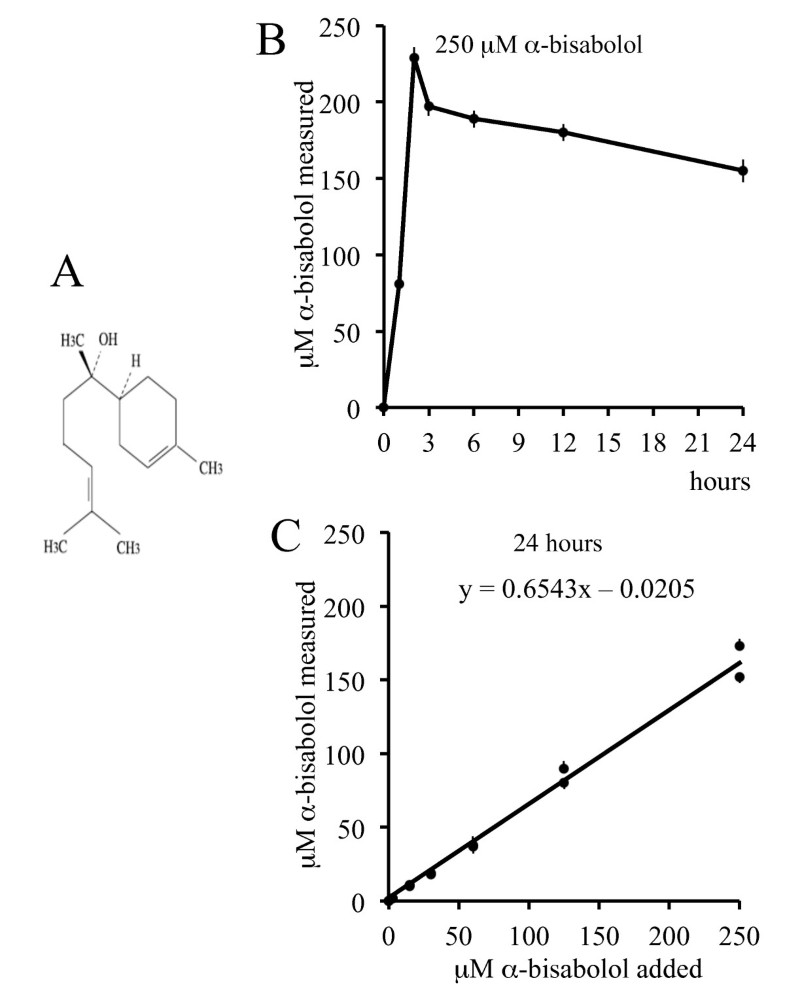 Here we test the pro-apoptotic potential of α-bisabolol against primary acute leukemia cells, including Philadelphia-negative and -positive B acute lymphoid leukemias (Ph-/Ph+B-ALL) and acute myeloid leukemias (AML), and against normal blood white cells and hematopoietic bone marrow stem cells. Leukemic blasts represent a unique model to study the activity of α-bisabolol due to their biology allowing easy manipulation and evaluation. Moreover, acute leukemia treatment in adults is unsatisfactory despite investigations over the past four decades of a wide variety of anti-leukemic agents, refinement of bone marrow transplantation and the development of specific targeted therapy [4, 5]. There is a particular need for treatments with both high efficacy and low toxicity [6] based on new molecules with mechanisms of action different from conventional drugs. This is especially true for elderly leukemia patients, who represent the majority of cases and have fewer therapeutic options [7]. Likewise, despite the introduction of anti-BCR/ABL tyrosine kinases for the treatment of Ph+ leukemias, it seems that identification of novel compounds is perhaps necessary for success in eradicating Ph+ cells [8, 9].
The present study shows that α-bisabolol enters acute leukemic cells, where it disrupts the mitochondrial membrane potential and triggers apoptosis. Interestingly, α-bisabolol seems to be a much more effective agent in some Ph-B-ALL cells than in other types of acute leukemias at dosages that spare normal leukocytes and hematopoietic stem cells.
Methods
Patients and ethical requirements
Blasts from 28 patients with B-lineage ALL (14 Ph
-
, 14 Ph
+
B-ALL) and 14 with AML diagnosed at our institution, as well as blood and bone marrow cells from five healthy control donors, were collected after written informed consent was obtained, according to Italian law. All cellular studies were approved by the Verona University Hospital ethics committee. Patient characteristics are detailed in Table
1
. The diagnosis of B-ALL or AML and their subtypes was based on clinical findings and on established morphological, cytochemical, cytofluorimetric, cytogenetic and molecular features of peripheral blood and bone marrow cells. AML patients received three induction courses according to standard AML treatment (1
st
course: 3-day idarubicin + 7-day AraC by continuous i.v. infusion; 2
nd
course: 3-day idarubicin + 3-day high-dose AraC; 3
rd
course: 3-day high-dose AraC). B-ALL patients were treated with induction and maintenance therapy according to the VR95ALL protocol [
10
], which has been subsequently developed into the GIMEMA 0496 ALL protocol [
11
]. Young B-ALL patients (<18 years) were treated according to a specific pediatric protocol [
12
]. Ph
+
B-ALL patients underwent differential treatment including BCR/ABL TKI. Allogeneic bone marrow transplantation was performed during the first complete remission in four Ph
-
B-ALL cases and four Ph
+
B-ALL cases.
Table 1
Patients' characteristics.
patient

sex

age

diagnosis

Karyotype

mol biol

therapy*

response§

relapse

OS§§

   Ph - B-ALL

   #01

M

22

B common

normal

1 + 2

CR

Yes

29+

   #02

M

40

Pre-B

NA

1 + 2

CR

No

24+

   #03

M

16

B common

normal

1

CR

Yes

12

   #04

M

45

Pre-B

normal

1 + 2

CR

No

38+

   #05

F

53

B common

hyperdiploid

1

CR

No

71+

   #06

F

48

Pro-B

t(4;11)

1

CR

Yes

8

   #07

F

42

Pro-B

t(4;11)

1

CR

Yes

6

   #08

M

41

Pre-B

t(6;8)

1

CR

Yes

19

   #09

M

59

Pro-B

t(4;11)

1

CR

Yes

10

   #10

F

19

B common

hyperdiploid

1

CR

No

55+

   #11

M

17

B common

t(17;22)

3

CR

No

9+

   #12

F

53

B common

NA

1

CR

Yes

13+

   #13

F

43

B common

normal

1 + 2

CR

Yes

25

   #14

F

17

B common

normal

3

NR

Yes

4

   Ph + B-ALL

   #01

M

44

Pre-B

Ph masked

p210 (Y253H)

IM + D + 2

CR

No

12+

   #02

F

54

B common

t(9;22)

p210

1 (pre-IM)

no CR

36

   #03

M

64

Pre-B

t(9;22)

p210

IM

CHR, CCyR

Yes

9

   #04

M

19

B common

t(9;22)

NA (E255V)

1 + IM + N

no CHR

16

   #05

M

40

Pre-B

t(9;22),-10

p210

1 + IM + D

CHR, CCyR

Yes

15

   #06

F

38

Pre-B

t(9;22)

p190 (T315I)

1 + IM + D

no CHR

9

   #07

M

17

B common

t(9;22)

p210

1 (pre-IM) + 2

CR

Yes

11

   #08

M

70

Pre-B

t(9;22)

NA

5 (pre-IM)

no CR

1

   #09

M

35

B common

t(9;22), del(6)

p190

1 + IM + 2

CCyR, MMR

No

46+

   #10

M

63

B common

t(9;22)

p190

IM + CS

CCyR, MMR

No

15+

   #11

F

75

B common

hyperdiploid, t(9;22), NA

5 (pre-IM)

no CR

14

   #12

M

89

Pre-B

t(9;22)

p190

IM

CCyR, MMR

Yes

22+

   #13

F

27

B common

t(9;22)

p190

1 + IM

no CHR

10

   #14

M

28

B common

t(9;22)

p190

1 + IM + 2

CR

Yes

37

   AML

   #01

M

59

M2

+4,+8

4

PR

Yes

7

   #02

M

46

M0

NA

4

TD

1

   #03

F

37

M4

del(X)(p21)

4

CR

No

167+

   #04

F

47

M2

normal

4

NR

Yes

20

   #05

F

70

M4 Eo

inv(16)

4

NR

no CR

6

   #06

M

74

M4

normal

5

2

   #07

M

62

M4

normal

4

NR

no CR

5

   #08

M

69

M4 Eo

NA

5

5

   #09

M

60

M2

-7

4

CR

No

38+

   #10

M

83

M2

NA

5

3

   #11

M

88

M2

NA

5

1

   #12

F

79

M0

normal

5

9

   #13

M

52

M4

normal

4

CR

No

24+

   #14

F

61

M2

t(11;22)

4

CR

Yes

11
Cells
1. Primary Leukemic cells
Viable leukemic cells were purified by conventional methods from freshly heparinized peripheral blood with a circulating blast count ≥30,000/mL, or from full-substituted bone marrow that was frozen in liquid nitrogen at diagnosis [13]. In all cases frozen cell samples contained >95% blasts. Cell viability after thawing was always >90%, as assessed by trypan blue staining.
2. Normal cells
Viable peripheral blood leukocytes [14] and bone marrow cells from - 4 - control donors were treated and used as specified above for leukemic cells.
3. Cell line
The imatinib-sensitive BCR/ABL+ CML-T1 cell line (T-lineage blast crisis of human chronic myeloid leukemia, purchased from DSMZ, Braunschweig, DE) was used to perform synergism studies.
Measurement of α-bisabolol concentrations in the culture medium
α-bisabolol at a purity ≥95% (GC) was purchased from Sigma-Aldrich, St. Louis, MO. The dose-dependent solubilization of α-bisabolol in the culture medium over 24 hours was determined by a reverse-phase high performance liquid chromatography (RP-HPLC) method, developed in the Department of Food Science of Bologna University, Cesena office, Italy. All measurements were performed in duplicate. The α-bisabolol concentrations indicated throughout the article represent the calculated soluble fraction in the assay.
Cytotoxicity assays
Cells derived from patients or normal donors were exposed for 24 hours to 20, 40, 80, and 160 μM α-bisabolol dissolved in ethanol (1:8 in order to minimize drug volumes), and when appropriate to 3 μM imatinib mesylate (Novartis, Basel, CH), representative of the in vivo active concentration. All cytotoxicity tests were performed in triplicate.
1. Homogeneous cell populations
A lactate dehydrogenase (LDH) release assay was conducted as follows. Thawed cells were resuspended in RPMI-1640 (Lonza, Basel, CH) supplemented with 10% heat-inactivated fetal bovine serum (FBS, Lonza), 50 U/mL penicillin and 50 μg/mL streptomycin (complete medium, CM), seeded at a density of 2 × 106 cell/mL and incubated at 37°C in 5% CO2. After 24 hours, the cells were treated with α-bisabolol (or ethanol as a vehicle control) as specified above. Cytotoxicity was determined using the Cytotoxicity Detection KitPLUS according to the manufacturer's recommendations (Roche, Mannheim, DE). LDH leakage was measured as the ratio of treatment-induced LDH to spontaneous LDH release. α-bisabolol and imatinib mesylate data were reported as the percent cytotoxicity for treated compared to untreated cells and plotted as dose-response curves over 24 hours. The half maximal inhibitory concentration (IC50) was determined when appropriate.
2. Heterogeneous cell populations
The absolute counts of normal leukocytes sub-populations were measured with TruCOUNT tubes (Becton Dickinson, San Jose, CA) by polychromatic flow cytometry according to the manufacturer's instructions with minor modifications. Peripheral blood and bone marrow cells were cultured with α-bisabolol for 24, 48, 72, 96 and 120 hours. At the end of the culture, 200 μL of sample, a mixture of antibodies (CD45 APC-H7, CD3 PE-Cy7, CD19 PE, CD14 APC for peripheral blood and CD45 APC-H7, CD34 PE, CD33 PE-Cy7 for bone marrow) and 7-amino-actinomycin D (all reagents from Becton Dickinson) for dead cells exclusion were added to the TruCOUNT tubes. After a 15-minute incubation at room temperature, 1 mL lysing reagent (Biosource, Nivelles, BE) was added for 10 minutes. A total of 40,000 beads were acquired on a FACSCanto cytometer (Becton Dickinson). A sequential Boolean gating strategy was used to accurately enumerate different populations [15].
Cytotoxicity data hierarchical clustering analysis
To generate a classification based on α-bisabolol sensitivity, samples were grouped using the complete linkage hierarchical clustering algorithm available in the MultiExperiment Viewer (MeV, version 4.3 - http://www.tm4.org/mev/). A heat map for sensitivity was derived using the percentage data for mortality after adding α-bisabolol with respect to spontaneous mortality at the same time.
Synergism studies
The interactions between imatinib mesylate and α-bisabolol were analyzed according to the median-effect method of Chou and Talalay [16] using the CalcuSyn Software (Biosoft, Cambridge, UK). The mean combination index (CI) values, based on constant drug ratios, were assessed with the following interpretation: CI>1, antagonistic effect; CI = 1, additive effect; CI<1, synergistic effect. Combination data were depicted as CI vs. fraction affected (Fa) plots, defining the CI variability by the sequential deletion analysis method. The cytotoxicity was evaluated as described above.
Western blot analysis
Cells were homogenized at 4°C in 50 mM Tris-HCl (pH 8) containing 0.1% Nonidet-P40 (NP-40), 200 mM KCl, 2 mM MgCl2, 50 μM ZnCl2, 2 mM DTT, and protease inhibitors [1 mM phenylmethylsulfonyl fluoride (PMSF), 1 mg/mL leupeptin, and 1 mg/mL antipain]. Aliquots of the homogenates (40 μg total protein/lane) were loaded on SDS-polyacrylamide gels at the appropriate concentrations. Electrophoresis was performed at 100 V with a running buffer containing 0.25 M Tris-HCl (pH 8.3), 1.92 M glycine, and 1% SDS. The resolved proteins were electroblotted onto a nitrocellulose membrane using the iBlot™ system (Invitrogen, Carlsbad, CA). Membranes were then incubated with a mouse monoclonal IgG antibody to poly(ADP-ribose) polymerase (PARP) (Zymed, South San Francisco, CA), with a rabbit polyclonal IgG antibody to BID (Cell Signaling Technology, Danvers, MA) or with a rabbit polyclonal IgG antibody to α-tubulin (Cell Signaling Technology). The membranes were then washed and incubated with an anti-mouse or anti-rabbit IgG peroxidase-conjugated antibody (Cell Signaling Technology). The blots were washed again and then incubated with enhanced chemiluminescent detection reagents (Immun-Star™ WesternC™ Kit, Bio-Rad, Hercules, CA) according to the manufacturer's instructions. Proteins were detected using the ChemiDoc XRS Imaging System (Bio-Rad).
Cytosolic and mitochondrial fraction preparation
Cell pellets were suspended in 100 μL of solution containing 10 mM NaCl, 1.5 mM MgCl2, 10 mM Tris-HCl, pH 7.5, 1 mM sodium orthovanadate, and complete EDTA-free protease inhibitor cocktail (Boehringer, Mannheim, DE). Cells were then chilled on ice for 10 minutes and gently lysed by adding 0.3% (v/v) NP-40. In order to restore an isotonic environment, a solution containing 525 mM mannitol, 175 mM sucrose, 12.5 mM Tris-HCl, pH 7.5, 2.5 mM EDTA, and protease inhibitor cocktail was added. Lysates were first centrifuged at 600 × g at 4°C in order to remove nuclei and then the supernatants were centrifugated at 17,000 × g for 30 minutes at 4°C. The obtained supernatants were collected and used as the cytosolic fraction. The pellets, that contained mitochondria, were washed once with the same buffer and then were resuspended in sample buffer. The cytosolic and the mitochondrial fractions were separated on a 15% SDS-PAGE and probed using a rabbit polyclonal IgG antibody to BID (Cell Signaling Technology). Then, the membrane with the cytosolic and mitochondrial fractions were probed with a rabbit polyclonal IgG antibody to α-tubulin (Cell Signaling Technology) and with a mouse monoclonal IgG antibody to Hsp60 (Abcam, Cambridge, UK), respectively.
Cell permeabilization
Leukemic cells and normal lymphocytes were centrifuged (10 minutes, 200 × g) and washed with ice cold buffer A (250 mM sucrose, 20 mM HEPES, 10 mM MgCl2 - pH 7.1). The pellet was resuspended in 2 mL of buffer A containing 80 μg of digitonin. After a 1-minute incubation on ice, 8 mL of buffer A were added and cells were centrifuged (3 minutes, 400 × g). The pellet was resuspended in 100 μL buffer A containing 1 mM ADP, 2 mM KH2PO3 (respiration buffer) and immediately used for the polarographic assay. Cell number and permeabilization was measured by the trypan blue exclusion method.
Oxygen consumption
Permeabilized leukemic cells and lymphocytes were assayed for oxygen consumption at 30°C using a thermostatically controlled oxygraph and Clark electrode. Cells were incubated for 10 minutes in respiration buffer at 30°C in the presence or absence of 3 μM α-bisabolol. Mitochondrial respiration (state 3 respiration) was started by adding 5 mM glutamate plus malate (G/M) and 5 mM succinate plus glycerol-3-phosphate (S/G3P), which are complex I and complex III/glycerol-3-phosphate dehydrogenase substrates, respectively. The maximal respiration rate (uncoupled respiration) was empirically determined by the addition of 200 nM carbonylcyanide-4- (trifluoromethoxy)-phenylhydrazone (FCCP). Oxygen consumption was completely inhibited by adding 4 μM antimycin A at the end of the experiments [17].
Mitochondrial membrane potential evaluation
Cells resuspended in CM at 1 × 106/mL were treated with 40 μM α-bisabolol for 3 or 5 hours at 37°C. They were then washed with pre-warmed CM, 4 μM of the potential sensitive dye JC-1 (5,5',6,6'-tetra-chloro-1,1',3,3'-tetra-ethyl-benz-imidazolyl-carbocyanine iodide, Molecular Probes, Eugene, OR) was added, and they were then placed back into the incubator. After 30 minutes they were washed twice with pre-warmed PBS. An aliquot of each sample was spotted onto a slide, mounted with a coverslip and immediately recorded by an Axio Observer inverted microscope (Zeiss, Gottingen, DE). Visualization of JC-1 monomers (green fluorescence) and JC-1 aggregates (red fluorescence) was done using filter sets for fluorescein and rhodamine dyes (emission 488 and 550 nm respectively). Image captures of random fields using fixed imaging parameters were performed, and previously unviewed areas of cells were captured to avoid photobleaching [18]. Image analysis was done using Axiovision 3 software. The other aliquot of each sample was resuspended in PBS and analyzed using a FACSCalibur cytometer (Becton Dickinson) equipped with a 488 nm argon laser. The emission of JC-1 monomers was detected in Fl-1 using a 530/30 nm bandpass filter, and JC-1 aggregates were detected in Fl-2 using a 585/42 nm bandpass filter. FlowJo 8.8.2 software (Tree Star, Ashland, OR) was used to analyze data [19].
DNA ladder
For internucleosomal DNA laddering analysis, 5 × 106 cells were resuspended in 0.3 mL of culture medium containing 10% FBS and incubated for 90 minutes at 65°C and then overnight at 37°C in the presence of 0.4 M NaCl, 5 mM Tris-HCl (pH 8), 2 mM EDTA, 4% SDS and 2 mg/mL proteinase K. The lysates were brought to a final concentration of 1.58 M NaCl and centrifuged twice for 10 minutes at 6,000 × g to separate the DNA fragments from intact DNA. The supernatants were recovered, and DNA was precipitated by the addition of three volumes of absolute ethanol at -80°C for 1 hour. The DNA pellets were recovered by microcentrifugation (10 minutes, 12,000 × g) and resuspended in a minimal volume of 40 μl of 10 mM Tris-HCl (pH 7.4), 1 mM EDTA, and 1 mg/mL DNase-free ribonuclease A. Aliquots of 5 μg of DNA were then loaded onto a 1% agarose gel containing 0.25 μg/mL ethidium bromide. After electrophoresis, the DNA was visualized by UV light using the ChemiDoc XRS Imaging System (Bio-Rad).
Statistics
Student's t-test for means, chi-squared tests, Mann-Whitney U test and Kruskall-Wallis analysis of variance by ranks were considered significant for p values < 0.05. The 24-hour IC50 was approximated by using mean cytotoxicity data in the different groups (according to diagnosis or clustering-based analysis).
Discussion
Forecasting the fraction of the lipophilic compound α-bisabolol that was dissolved in water at given times was a basic preliminary step to standardize the drug use in the conditions of our cytotoxicity tests. In these conditions, we and an independent analytical laboratory repeatedly measured that after 24 hours in culture medium α-bisabolol lowered to around 65% of the theoretical concentrations added. In contrast, we could obtain only a 2.5% solubility fraction in previous studies [1]. Thus, the present experiments led to define conditions of maximal water solubility for α-bisabolol.
By cluster analysis, we separated out three subgroups of leukemias with different sensitivities over 24 hours. α-bisabolol was effective with an IC50 of 14 ± 5 μM in a substantial proportion of Ph-B-ALL, and with an IC50 of 45 ± 7 μM in a substantial proportion of both Ph+B-ALL and AML cases. Remarkably, these concentrations spared normal circulating leukocytes and CD34+ and CD33+my hematopoietic bone marrow precursors. HUVECs, fibroblasts and hepatocytes were also spared (personal observation). The third subgroup included mainly, but not exclusively, AML samples with an IC50 value of 65 ± 5 μM. Thus, Ph-B-ALL cases were definitely more sensitive than AML cases, whose IC50 was near to that observed in vitro also in normal leukocytes, except lymphocytes, and in hematopoietic precursors. Nevertheless, previous studies in animal models suggested that similar α-bisabolol concentrations may be safely administered through daily oral supplementation even on a long-term basis [24, 25]. The α-bisabolol concentrations that we found active against leukemic cells in vitro are also lower than, or similar to, the concentrations that we measured in the blood and in the brains of healthy mice sacrificed after treatment with 1.4 g/Kg α-bisabolol. In these mice the blood parameters of liver and kidney fucntionality were preserved and, remarkably, the concentration in the brain exceeded 50 μM without toxicity. Therefore, an active concentration of α-bisabolol safely accumulated in a body environment where lymphoid blasts have a tendency to localize and survive protected from a number of curative drugs [26]. A dose of 10 mg/mouse α-bisabolol induced a decrease in the number of palpable mammary tumor masses without adverse reaction in HER-2 transgenic mice [2].
Ph+B-ALL cells were also sensitive to α-bisabolol. In three cases (Ph+B-ALL #01, #04, #06 in Table 1) with primary mutation of BCR/ABL, we observed a full efficacy of α-bisabolol. In imatinib mesylate-sensitive blasts, the association of α-bisabolol and imatinib mesylate led to a synergistic effect which we have conclusively calculated as a CI<1 at any given Fa [16] in the BCR/ABL+ human cell line CML-T1. It is not clear, however, whether the synergism depends on internalization mechanics or on intracellular modulation of the damaging actions of each or both drugs. A compound like α-bisabolol - and others [27] - could help to identify profitable new strategies for both mutated and non-mutated leukemias [9, 28, 29].
Our biochemical data suggest a direct effect on mitochondrial integrity as a possible mechanism of α-bisabolol damage to leukemic cells. This behavior is supported by the observed oxygen consumption decrease in the presence of glutamate/malate and by the unaffected respiration rates in the presence of succinate/glycerol-3-phosphate. Microscopy and flow cytometry data show that α-bisabolol disrupts ΔΨm, which induces outer membrane permeabilization and leads to the apoptotic death of blasts. Our data not only implicate α-bisabolol for the first time in mitochondrial impairment in human leukemic cells but also suggest that this goes through a peculiar model of cell death, i.e., the formation of a cellular population with intermediate DΨ m which is a feature of apoptosis seen only in a few cell types and never described to date in leukemic blasts [30].
In all leukemia samples treated with α-bisabolol, BID was found to be expressed in a full-lenght form that was suitable for binding to α-bisabolol. We failed to demonstrate full-length BID translocation to the mitochondria in leukemic cells as a pro-apoptotic mechanism [19]. Nevertheless, BID might act as a carrier that conveys α-bisabolol to the mitochondrial membrane.
Thus, according to our previous and present work, α-bisabolol enters cells via lipid rafts and directly involves mitochondrial permeability transition pore opening [20], which is responsible for the reduced glutamate/malate-supported oxygen consumption and leads to disruption of the mitochondrial membrane potential and programmed cell death. The reciprocal role of BID and α-bisabolol [3] remains elusive in leukemic cells.
Conclusion
We provide here the first evidence that α-bisabolol is an effective pro-apoptotic agent in primary ALL cells at concentrations and durations that spare normal blood and bone marrow cells. It retains cytotoxic potential in both imatinib mesylate-resistant and -sensitive Ph+B-ALL. It is also active against primary AML cells at slightly higher concentrations. Our findings support α-bisabolol as a possible candidate for the treatment of acute leukemias and establish a basis for studies in animal models.
Declarations
Acknowledgements
The authors thank mathematics professor Vincenza Tomasello for her criticism and advice on numerical analysis and appreciate that she is surely a firm believer in Plato's "Let nobody ignorant of geometry enter here". This work was supported by grants from the Venetian Institute of Oncology (IOV), Padua (Italy) and from Fondazione Cariverona, Verona (Italy).
Authors' Affiliations
(1)
Department of Sciences of Life and Reproduction, Section of Biochemistry, University of Verona, Italy
(2)
Department of Medicine, Section of Hematology, University of Verona, Italy
(3)
Department of Biochemistry "G. Moruzzi", University of Bologna, Italy
Copyright
© Cavalieri et al; licensee BioMed Central Ltd. 2011
This article is published under license to BioMed Central Ltd. This is an Open Access article distributed under the terms of the Creative Commons Attribution License (http://creativecommons.org/licenses/by/2.0), which permits unrestricted use, distribution, and reproduction in any medium, provided the original work is properly cited.