Computational modeling of the obstructive lung diseases asthma and COPD
Journal of Translational Medicine
2014
12(Suppl 2):S5
Published: 28 November 2014
Abstract
Asthma and chronic obstructive pulmonary disease (COPD) are characterized by airway obstruction and airflow limitation and pose a huge burden to society. These obstructive lung diseases impact the lung physiology across multiple biological scales. Environmental stimuli are introduced via inhalation at the organ scale, and consequently impact upon the tissue, cellular and sub-cellular scale by triggering signaling pathways. These changes are propagated upwards to the organ level again and vice versa. In order to understand the pathophysiology behind these diseases we need to integrate and understand changes occurring across these scales and this is the driving force for multiscale computational modeling.
There is an urgent need for improved diagnosis and assessment of obstructive lung diseases. Standard clinical measures are based on global function tests which ignore the highly heterogeneous regional changes that are characteristic of obstructive lung disease pathophysiology. Advances in scanning technology such as hyperpolarized gas MRI has led to new regional measurements of ventilation, perfusion and gas diffusion in the lungs, while new image processing techniques allow these measures to be combined with information from structural imaging such as Computed Tomography (CT). However, it is not yet known how to derive clinical measures for obstructive diseases from this wealth of new data. Computational modeling offers a powerful approach for investigating this relationship between imaging measurements and disease severity, and understanding the effects of different disease subtypes, which is key to developing improved diagnostic methods.
Gaining an understanding of a system as complex as the respiratory system is difficult if not impossible via experimental methods alone. Computational models offer a complementary method to unravel the structure-function relationships occurring within a multiscale, multiphysics system such as this. Here we review the current state-of-the-art in techniques developed for pulmonary image analysis, development of structural models of the respiratory system and predictions of function within these models. We discuss application of modeling techniques to obstructive lung diseases, namely asthma and emphysema and the use of models to predict response to therapy. Finally we introduce a large European project, AirPROM that is developing multiscale models to investigate structure-function relationships in asthma and COPD.
Keywords
Chronic Obstructive Pulmonary DiseaseApparent Diffusion CoefficientAirway Smooth MuscleSmall AirwayObstructive Lung Disease
Introduction
Chronic obstructive lung diseases, the most prominent being that of asthma and chronic obstructive pulmonary disease (COPD), are common and exert a large burden on society [1]. These diseases affect over 500 million people worldwide [2] with related costs exceeding €56 billion per year in the European Union. These diseases are characterized by an underlying inflammatory response that encompass pathophysiological changes across a range of biological - spatial and time - scales: from gene to cell, tissue to whole organ. The diminished lung function in obstructive lung diseases is characterized by an underlying inflammatory response that induces airway remodeling, airflow limitation and increased ventilation-perfusion (V/Q) mismatch. Whilst the hallmark of asthma is variable airflow obstruction and airway hyper-responsiveness of the airway smooth muscle (ASM), COPD is characterized by permanent and irreversible airflow obstruction. Capturing the physics of this system requires detailed structural models as well as models predicting alterations in mechanical properties of the tissue during disease and the dynamics of fluid flows. It has been realized that the emergent function of the lung cannot necessarily be predicted using a reductionist approach [3]: that is, resulting function may not be predicted realistically by considering the component parts in isolation. It is the nonlinear interaction between the parts that leads to unexpected properties; hence the need for the development of multiscale models.
The Physiome project (http://physiomeproject.org) started in 1997 with the aim of developing a framework for modeling the entire human body. The Virtual Physiological Human initiative (http://www.vph-institute.org) followed not long after with similar goals but with a particular emphasis on personalized medicine. These initiatives ultimately aim to bridge the gaps in physiology - bringing together data from disparate scales of biology and providing a means of interpreting or inferring alterations in regional properties across the biological scales from molecule to organ. Technical areas being addressed around the world as part of these initiatives include data handling, markup languages, model repositories, ontologies, computational tools as well as development of grid, middleware, and workflows [4]. Probably the most developed Physiome/VPH-type model is that of the heart. For example, cardiac electrophysiology models have been used to computationally assess drug-induced effects on the electrocardiogram; with models linking right from ion-channels to predictions of body surface potential [5]. Models of the respiratory system are following closely behind developments such as this with, for example, personalized models of airflow used to predict the response to therapy [6–9] and multiscale models of ventilation in the asthmatic lung [3, 10, 11].
The diagnosis and severity classifications of obstructive lung diseases are largely based on global lung measurements from pulmonary function tests (PFTs). However these measures are insufficient for current diagnostic needs because, although they can be used to attribute future risk of disease progression, future exacerbations and mortality in populations, they are poor predictors of patient outcomes for individuals [12]. PFTs provide measurements only of global lung function and cannot detect the regional functional changes characteristic of lung diseases. It is these heterogeneities that we need to characterize on a patient-specific basis in order to advance healthcare. For this reason medical imaging is increasingly being used in the diagnosis of lung disease, however small airways are not visible with current imaging modalities. For this reason a combined imaging and modeling approach is required to obtain novel information about the respiratory system. Imaging and image processing techniques are critical in the construction, parameterization and validation of patient-specific computational models. In this review, we begin by outlining current state-of-the-art tools and techniques related to computational modeling of the lung and pulmonary image analysis. We describe how models have so far been applied to understanding or improving analysis related to obstructive lung diseases and in providing more sensitive measures of response to therapy. We finish by outlining the work in an exemplar lung modeling project, AirPROM.
Computational modeling of the lung
Multiscale models of asthma and COPD: the AirPROM approach
In this section we will discuss a large European-wide project called AirPROM (Air way disease PR edicting O utcomes through patient-specific computational M odeling; http://www.airprom.eu) [46]. This is an excellent exemplar of the development of multiscale models of the lung applied to obstructive lung disease that relates well to the Synergy-COPD study (discussed in this supplement [47]). The ultimate goal of AirPROM is to bring together data and computational models across disparate scales to develop an integrated multiscale model of the airways in order to unravel the pathophysiological mechanisms occurring in asthma and COPD. The modeling within this project is clinically driven pushing modeling developments in the direction of tangible clinical outputs. Two of the significant assets of AirPROM are the large amounts of well-characterized clinical data and the truly multidisciplinarity of the consortium with expertise in clinical medicine, physiology, radiology, image analysis, bioengineering, data handling, computational modeling and systems biology. The concept behind this work is to move away from the typical 'one size fits all' treatment of respiratory disease towards patient stratification and personalized medicine.
The clinical data consists of both asthmatic and COPD patients from aligned consortia EvA [48], UBIOPRED [49] and BTS Severe Asthma network [50]. These data include extensive genomic, transcriptomic and proteomic profiles, detailed lung function with novel small airway physiological measures [51], bronchial challenge studies, CT [52] and HP MRI imaging data, and patient-reported outcomes. The data provides both cross-sectional and longitudinal follow-up data including some clinical intervention studies. These data have been integrated into a data management platform that will feed into the computational modeling framework [53]. This is the same knowledge management framework developed and used within the Synergy-COPD project.
The main focus of the modeling within AirPROM is predicting ventilation and the impact of pathophysiological changes on resultant ventilation and lung function. The AirPROM workflow (Figure
3
) includes data and models for both the large and small airways. State-of-the-art software (Mimics®, Materialise NV, Belgium; Airways, Institut Telecom, France) is being developed to enable automatic extraction of the morphological properties of central airways and lobes from patient CT data. High-resolution computational meshes of the central airways and lung surface are generated for use in 3D CFD (
FRI
) simulation studies using the ANSYS software. 1D airway models are generated down to the gas exchange level using the VFB algorithm (see Figure
4
). Functional models that predict ventilation and impedance within the 1D networks have been developed. Correlation of model predictions with imaging and measures at the mouth will be used for model validation. At least 70 patient specific models will be analyzed in this pipeline. So far 24 patients within the AirPROM database have been analyzed using FRI, results have shown a good correlation with PFT measurements [
54
].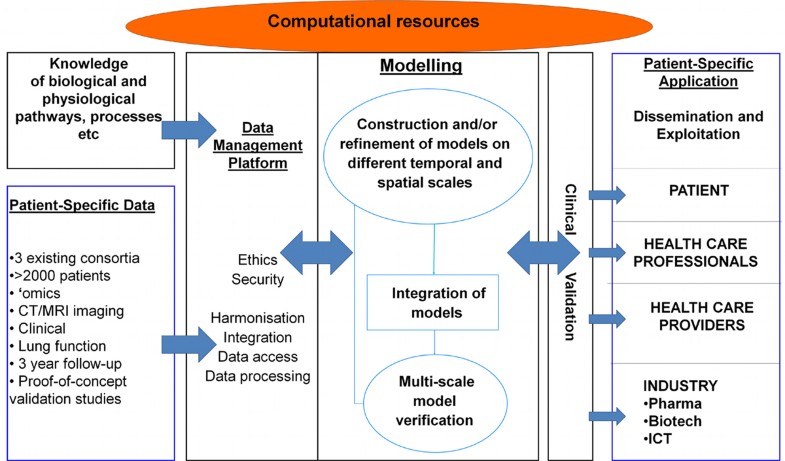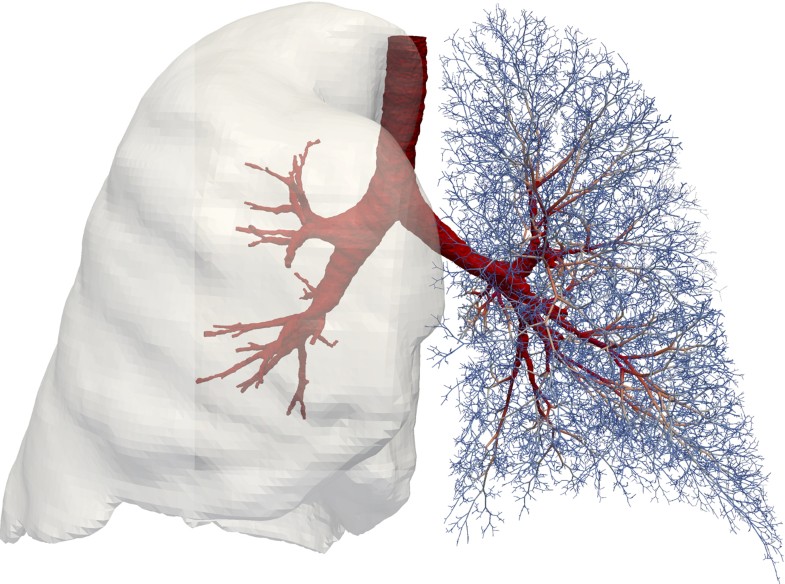 A combined HP MRI measurement and modeling approach is being used to assess the structure and function of the small airways [55]. In addition measurements of impedance and gas washout are being extracted from the AirPROM patients to provide information about the small airways. A micro-airway model is being developed, in parallel with an ex vivo tissue model, that incorporates tissue level mechanical models and cell level modeling techniques (using agent-based modeling). Statistical models are being used to capture the structure and function of the lung as a whole. All of these models - large and small airways, macro and micro scale - will be linked together to provide a multiscale modeling framework to predict the evolution of disease and response to clinical interventions [46].
The challenges in moving forward
These types of modeling approaches suffer from several limitations. The process of modeling requires several simplifying assumptions of the system being modeled to enable feasibility of solution; models will never replicate the complexity of reality. However, a model need only be as complicated as required to answer a specific question. It is paramount that implications of the simplifying assumptions used are carefully considered when analyzing outcomes and applying models. A large part of the Physiome/VPH-related modeling drive aims towards creating 'patient-specific' models. However, only parts of a model can be personalized to a given patient with many unknowns remaining (such as tissue properties, structure of smaller airways/vessels, exact values of boundary conditions to use to name a few). In addition, the link between genetics and environment for an individual seems a near impossible feat to include in models. Current models typically predict function at a narrow time point of life. Predictions of the longer time scale evolution of disease will be a very difficult property to integrate into a modeling framework. At this stage, the power of modeling is predominantly in generating new hypotheses that can be tested experimentally. As new knowledge emerges models and modeling techniques improve models will hopefully move forward in the areas described above.
There is a pressing need for modelers and clinicians to work ever more closely to achieve the shared goal of patient-specific clinically relevant multiscale models. One of the major hurdles standing in the way of computational modeling and its clinical use is lack of model validation. Models need to be thoroughly tested to check the accuracy and reliability of the predictions before they will be accepted into the clinical environment. A recent paper by Pathmanathan and Gray [56] discusses the field of verification, validation and uncertainty quantification (VVUQ) and the need for this analysis to be applied to physiological models. This technique provides a methodical way of quantifying the accuracy (and therefore the uncertainty) in a model and will be vital in the clinical acceptance and usage of models.
Conclusions
Here we have presented the current state-of-the-art techniques in image processing and computational modeling of the lung. A combined approach using imaging and modeling together provides an extremely powerful tool to assess features of lung (dys)function unable to be measured in the clinic. The AirPROM project aims to develop multiscale models of the lung. In comparison, the Synergy-COPD project aims at a systems approach - integrating models across different organ systems in the body. The work being conducted within the AirPROM project will complement Synergy-COPD by contributing models and knowledge of the function within the lung in health and during asthma and COPD.
Declarations
Declarations
Publication of this article has been funded by the European Union Seventh Framework Programme FP7/2007-2013 under grant agreement numbers 270086 (Synergy-COPD, http://www.synergy-copd.eu) and 270194 (AirPROM, http://www.airprom.eu). Data was provided with permission by Hospital Clinic, IDIBAPS, University of Barcelona.
This article has been published as part of Journal of Translational Medicine Volume 12 Supplement 2, 2014: Systems medicine in chronic diseases: COPD as a use case. The full contents of the supplement are available online at http://www.translational-medicine.com/supplements/12/S2.
Authors' Affiliations
(1)
Department of Computer Science, University of Oxford, Oxford, UK
(2)
Institute for Lung Health, Department of Infection, Immunity and Inflammation, University Hospitals of Leicester, Leicester, UK
Copyright
© Burrowes et al.; licensee BioMed Central Ltd. 2014
This article is published under license to BioMed Central Ltd. This is an Open Access article distributed under the terms of the Creative Commons Attribution License (http://creativecommons.org/licenses/by/4.0), which permits unrestricted use, distribution, and reproduction in any medium, provided the original work is properly cited. The Creative Commons Public Domain Dedication waiver (http://creativecommons.org/publicdomain/zero/1.0/) applies to the data made available in this article, unless otherwise stated.