Biomedical research in a Digital Health Framework
Journal of Translational Medicine
2014
12(Suppl 2):S10
Published: 28 November 2014
Abstract
This article describes a Digital Health Framework (DHF), benefitting from the lessons learnt during the three-year life span of the FP7 Synergy-COPD project. The DHF aims to embrace the emerging requirements - data and tools - of applying systems medicine into healthcare with a three-tier strategy articulating formal healthcare, informal care and biomedical research. Accordingly, it has been constructed based on three key building blocks, namely, novel integrated care services with the support of information and communication technologies, a personal health folder (PHF) and a biomedical research environment (DHF-research). Details on the functional requirements and necessary components of the DHF-research are extensively presented. Finally, the specifics of the building blocks strategy for deployment of the DHF, as well as the steps toward adoption are analyzed. The proposed architectural solutions and implementation steps constitute a pivotal strategy to foster and enable 4P medicine (Predictive, Preventive, Personalized and Participatory) in practice and should provide a head start to any community and institution currently considering to implement a biomedical research platform.
Keywords
Biomedical ResearchChronic careClinical Decision Support SystemsIntegrated Health Care SystemsPatient Decision Support SystemsPersonal Health Folder
Background
The seminal purpose of the systems medicine design [1] conceived for the Synergy-COPD project [2] was to generate knowledge on underlying mechanisms explaining heterogeneities observed in chronic obstructive pulmonary disease (COPD) patients. The ultimate aim of the project was to use such knowledge to refine patient's stratification, prognosis and treatment response, which then should lead to efficient preventive strategies aiming at modulating disease progress while reducing the burden of COPD on healthcare.
It is well accepted that predictive medicine is opening entirely new and fascinating scenarios for the interplay between clinical practice and biomedical research. However, at the same time, it is generating novel requirements with impact on adoption. Firstly, the need for multilevel integration of heterogeneous patient information (Figure
1
), namely: socio-economical, life-style, behavioural, clinical, physiological, cellular and "omics" data [
3
] and their use for the design of a personalised digital patient from virtual physiological models. Secondly, the need to extend current trends on open data from the biomedical community [
4
] to the clinical practice and the whole society, by engaging citizens and solving privacy and regulatory constraints, Finally, the need for highly applicable user-profiled functionalities for data management and knowledge generation. Accordingly, innovative and robust Information and Communication Technologies (ICT) will be needed as supporting tools to overcome well identified current functional limitations [
5
].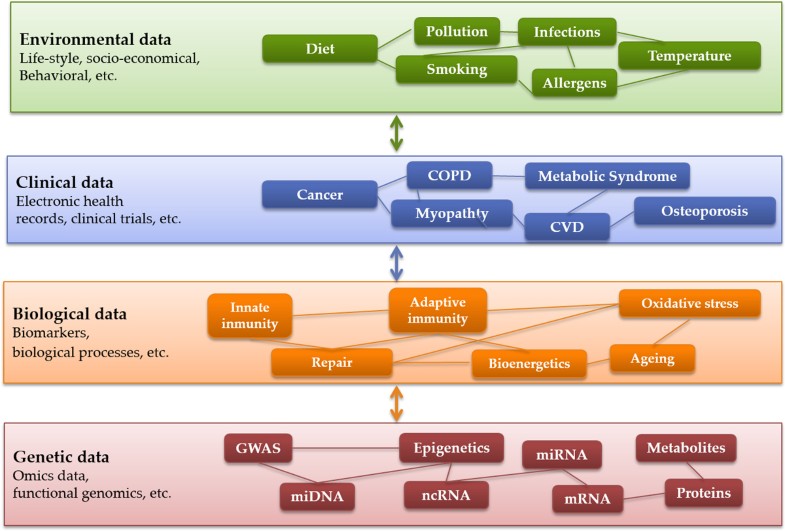 The concept of
Digital Health Framework
(DHF) (Figure
2
) emerged from the Synergy-COPD project to foster adoption of predictive medicine. The DHF consists of the articulation of open and modular ICT components supporting organizational interoperability, and appropriate functionalities, among three main areas, namely:
i)
informal care,
ii)
formal care, and,
iii)
biomedical research. Briefly, informal care includes any aspect with impact on health (e.g. life style, environmental and behavioural aspects, etc.) occurring in the community, whereas formal care refers to any interaction with health professionals at different levels of the healthcare system. Biomedical research refers to all research levels from bench to clinical and to public health. In our hands, to materialize such an ambitious vision, a building block approach is considered necessary. Moreover, the progress from the initial proof-of-concept to pilot implementation and to extensive deployment shall be planned following a stepwise strategy.
The first building-block was the design and initial deployment of an open source Integrated Care Shared Knowledge Platform supporting Integrated Care Services (ICS) for chronic patients, initiated at the EU project NEXES [6]. During the life span of NEXES, a Personal Health Folder (PHF) was successfully piloted [7], as a supporting tool to achieve long-term sustainability of training-induced effects and promote active life styles in COPD patients. The PHF constitutes the second building block currently being implemented in a health district (Barcelona-Esquerra, 540.000 inhabitants) in Barcelona as a tool to integrate informal and formal care in community-based ICS for frail chronic patients. Moreover, the Clinical Decision Support Systems (CDSS) generated during the Synergy-COPD lifetime [8] has been integrated into an ICT platform supporting ICS. Consequently, the interplay between the first two building blocks (informal and formal care) is operational in a controlled deployment scenario and is currently evolving toward maturity. We shall keep in mind, however, that active citizens/patients together with a prepared multidisciplinary health workforce will be the real key drivers of the transition from current healthcare practice to full deployment of predictive medicine for chronic patients.
The current report focuses on the third building block of the DHF, tackling biomedical research (DHF-research). The manuscript analyses architectural design, functionalities and implementation strategies of interoperability between healthcare and biomedical research.
Discussion
Contributions to a biomedical research scenario for predictive medicine
The convergence of two major driving forces: i) current re-shaping of health systems seeking efficiencies through the alignment with the needs generated by chronic conditions, as discussed in detail in [1, 27]), and, ii) rapidly evolving perspectives of biomedical knowledge [28] is fostering the transition towards a mature 4P medicine scenario for chronic patients. To the best of our knowledge, Synergy-COPD has provided one of the first relevant technological and biomedical contributions to this transition, using COPD and the analysis of co-morbidities as a use case. But most importantly, the project has identified important gaps, crucial unmet needs and strategic proposals that should help to consolidate the emerging scenario, specifically in the COPD case and in general to other disease areas. In this context, the conceptualization of the components of the DHF-research, as well as the proposals for its effective deployment together with the articulation of biomedical research with both formal and informal care, constitute one of the most significant outcomes of the project.
The deployment of the concepts described in the current report should allow an efficient bidirectional articulation between biomedical research and both healthcare and environmental factors with impact on disease development and activity. By doing so, we can reasonably speculate that preventive strategies modulating the transition from health to disease, as well as disease progress, will be effectively implemented and adopted as part of the future conventional health promotion and healthcare scenario. Finally, it is expected that such future healthcare scenario may influence business innovation in pharmacological industry and healthcare business models by overcoming current fragmentation among informal care, healthcare and biomedical research, which shall have a high impact in shortening time to market for both drug development and drug repositioning. It may also help to foster novel synergies between pharmacological and non-pharmacological therapies.
Challenges for deployment of the DHF
The complexities of the deployment of the three-tier DHF, involving multiple interoperability levels (e.g. technological, organizational-cultural, etc.) and actors, are acknowledged.
Informal Care - Previous experiences using Personal Health Systems [29] in general and with the PHF-PDSS [7] in particular have shown the potential of this tool serving three main purposes: i) empowering citizens and patients toward an active role in disease prevention and management, ii) favouring collection of structured information on environmental, sociological and behavioural factors influencing health status, as well as informal care interventions, and, iii) contributing to organizational interoperability at health system level. However, practicalities limiting the extensive deployment and adoption of the PHF-PDSS have not been fully solved yet, but all of them seem actionable. These limiting factors encompass a wide spectrum of aspects, namely: technological approaches securing subject identification and data privacy, legal classification of the supporting systems as medical or non-medical devices, design of user-friendly interfaces and business models generating incentives for adoption, and also the interfacing between PHF-PDSS (informal care) and electronic health records (formal healthcare). It is of note, however, that all the above limiting factors are being addressed in several EU regions because the PHF-PDSS is becoming a pivotal component in the reshaping of the health system to face the challenge of chronic conditions.
Formal care - There is increasing evidence that deployment of articulated integrated care services (ICS) covering the entire spectrum of patient severity is a good strategy to enhance health outcomes with cost containment [30]. Different open ICT-platforms and strategies have been proposed to efficiently support the extensive deployment of ICS [30]. Implicit with those strategies are the integration of information collected through the PHF-PDSS (articulation with informal care) and clinical data normalization aiming at facilitating information sharing across healthcare tiers and among territories. Figure 3 in the current manuscript proposes such open ICT-platforms as a realistic option to integrate citizen information generated in either an informal or a formal care scenario, into biomedical research platforms (DHF-research). We acknowledge, however, that extensive deployment of those systems is still under development. A complementary approach to the proposal indicated in Figure 3 to facilitate short-term data integration into DHF-research could be the setting of highly curated clinical datasets specifically used for research purposes.
Biomedical research - The deployment of DHF-research proposals displayed in Figure 3 require stepwise implementation strategies wherein two key aspects clearly emerge as main short-term priorities. Firstly, ICT developments aiming at generating user-friendly portals for clinicians devoted to translational research. A second element is the convergence of on-going developments in the area of knowledge management giving particular priority to the assessment of inter-molecular (proteins, genes, or metabolites) interactions (physical or functional), transcriptional regulation and gene-disease association, that should foster the bridging between omics-generated knowledge and the clinical arena. Finally yet importantly, progresses in this area will be strongly associated to strategies fostering convergence of on-going ICT developments including both open and proprietary approaches. Finally, a relevant area is the design of innovative business models providing sustainability of biomedical research platforms beyond specific research and/or infrastructure projects that triggered the initial settings.
For all three DHF tiers, both legal and ethical aspects ensuring privacy and security of data transfer and management delineate a crucial area to be properly handled. Both data anonymization and encryption strategies have experienced a significant progress contributing to partially solving the problem. However, they show clear limitations in areas such as the management of genetic information wherein data anonymization is a challenge. In addition, the use of data for purposes other than the original data collection aims may generate limitations and activating communities of data donators for scientific purposes with a wider view than current practices is required. Clearly, evolving both legal frames and citizen cultural attitudes will be crucial to achieve a balance between social acceptance of anonymized data sharing together with reasonable levels of security and privacy of data transfer and management.
Developments beyond the project lifetime
We fully acknowledge that the current manuscript only displays basic lessons learnt during the Synergy-COPD project life span. Next immediate steps to be taken before the end of the project are twofold. First, to establish a focus group, including all actors, for the qualitative assessment of the current DHF proposal. The aim of the focus group should be to perform a qualitative assessment of the DHF fitness to transfer the biomedical research use case of Synergy-COPD to more general clinical research needs. Second, to generate structured interactions with well-known international experts in the three tiers of the DHF to prioritize specific steps of the deployment strategy, and, to plan collaborative interactions with selected on-going projects addressing similar aims.
Conclusions
The DHF is presented as a comprehensive and coherent ICT strategy supporting emerging requirements of applied systems medicine with novel interactions between informal care, formal healthcare and biomedical research. The current manuscript proposed ICT solutions for the three DHF tiers, extending more its biomedical research component, and stepwise strategies for effective deployment of the concept that should foster implementation of 4P medicine.
Declarations
Declaration
Publication of this article has been funded by the Synergy-COPD European project (FP7-ICT-270086).
This article has been published as part of Journal of Translational Medicine Volume 12 Supplement 2, 2014: Systems medicine in chronic diseases: COPD as a use case. The full contents of the supplement are available online at http://www.translational-medicine.com/supplements/12/S2.
Authors' Affiliations
(1)
IDIBAPS-Hospital Clínic, CIBERES, Universitat de Barcelona, Barcelona, Spain
(2)
Department of eHealth, Barcelona Digital, Barcelona, Spain
(3)
Unit of Computational Medicine, Department of Medicine, Center for Molecular Medicine, Karolinska Institutet, Karolinska University Hospital, Stockholm, Sweden
(4)
Biomax Informatics AG, Planegg, Germany
(5)
Departament de Bioquimica i Biologia Molecular i IBUB, Facultat de Biologia, Universitat de Barcelona, Barcelona, Spain
(6)
Almirall R&D, Barcelona, Spain
(7)
Centro de Investigacíon Biomédica en Red de Enfermedades Respiratorias (CIBERES), Bunyola, Balearic Islands
Copyright
© Cano et al.; licensee BioMed Central Ltd. 2014
This article is published under license to BioMed Central Ltd. This is an Open Access article distributed under the terms of the Creative Commons Attribution License (http://creativecommons.org/licenses/by/4.0), which permits unrestricted use, distribution, and reproduction in any medium, provided the original work is properly cited. The Creative Commons Public Domain Dedication waiver (http://creativecommons.org/publicdomain/zero/1.0/) applies to the data made available in this article, unless otherwise stated.