Modeling the transmission of community-associated methicillin-resistant Staphylococcus aureus: a dynamic agent-based simulation
Journal of Translational Medicine
2014
12:124
Received: 30 December 2013
Accepted: 8 April 2014
Published: 12 May 2014
Abstract
Background
Methicillin-resistant Staphylococcus aureus (MRSA) has been a deadly pathogen in healthcare settings since the 1960s, but MRSA epidemiology changed since 1990 with new genetically distinct strain types circulating among previously healthy people outside healthcare settings. Community-associated (CA) MRSA strains primarily cause skin and soft tissue infections, but may also cause life-threatening invasive infections. First seen in Australia and the U.S., it is a growing problem around the world. The U.S. has had the most widespread CA-MRSA epidemic, with strain type USA300 causing the great majority of infections. Individuals with either asymptomatic colonization or infection may transmit CA-MRSA to others, largely by skin-to-skin contact. Control measures have focused on hospital transmission. Limited public health education has focused on care for skin infections.
Methods
We developed a fine-grained agent-based model for Chicago to identify where to target interventions to reduce CA-MRSA transmission. An agent-based model allows us to represent heterogeneity in population behavior, locations and contact patterns that are highly relevant for CA-MRSA transmission and control. Drawing on nationally representative survey data, the model represents variation in sociodemographics, locations, behaviors, and physical contact patterns. Transmission probabilities are based on a comprehensive literature review.
Results
Over multiple 10-year runs with one-hour ticks, our model generates temporal and geographic trends in CA-MRSA incidence similar to Chicago from 2001 to 2010. On average, a majority of transmission events occurred in households, and colonized rather than infected agents were the source of the great majority (over 95%) of transmission events. The key findings are that infected people are not the primary source of spread. Rather, the far greater number of colonized individuals must be targeted to reduce transmission.
Conclusions
Our findings suggest that current paradigms in MRSA control in the United States cannot be very effective in reducing the incidence of CA-MRSA infections. Furthermore, the control measures that have focused on hospitals are unlikely to have much population-wide impact on CA-MRSA rates. New strategies need to be developed, as the incidence of CA-MRSA is likely to continue to grow around the world.
Keywords
MRSAAgent-based modelInfectious disease model
Introduction
Staphylococcus aureus is a common cause of human bacterial infections. It is generally a commensal organism, and it is estimated that 25-40% of the population are colonized in the nasopharynx at any given time. While colonization is asymptomatic, colonized individuals may develop an active infection [1]. Colonization may be of short or long duration, and often clears without causing an infection. Transmission is believed to be largely via skin-to-skin contact with either a colonized or infected individual. New S. aureus isolates resistant to β-lactam antibiotics were identified in the 1960s among hospitalized patients [2, 3]. Called methicillin-resistant Staphylococcus aureus (MRSA), these isolates rapidly became an important cause of nosocomial infections, particularly among patients with procedures or devices that pierce the skin. These are referred to as "health care-associated" MRSA (HA-MRSA) strains [4].
MRSA epidemiology changed in the 1990s in many countries when new MRSA strain types that were genetically distinct from HA-MRSA were diagnosed among individuals in the community who did not have healthcare exposures. The transmissibility and types of HA-MRSA and community-associated MRSA (CA-MRSA) infection differ [5]. The problem of CA-MRSA has been particularly severe in the United States, where incidence increased exponentially in the early 2000s [6]. In the United States, early reports of CA-MRSA infections came from inner city populations [7], and outbreaks were reported among members of contact sports teams, jail detainees, and army personnel, all in places where people interact in close quarters [8]. By 2004, one of the CA-MRSA strain types, USA300, became the most frequent cause of skin and soft tissue infections seen in U.S. emergency departments [9]. While uncomplicated skin infections are the most common manifestation, CA-MRSA infections may be invasive and even fatal.
Public concern about MRSA increased when the Centers for Disease Control and Prevention (CDC) estimated that in 2005 there were more deaths from invasive MRSA infections than from HIV-AIDS in the U.S. [10]. While infections from HA-MRSA strains rarely occur outside of the healthcare setting, infections caused by CA-MRSA strain types have become common in hospitals in the U.S. [8]. Invasive MRSA deaths are caused by both HA-MRSA and CA-MRSA strain types. Since 2001, several states enacted laws designed to slow the dissemination of MRSA, all focused on healthcare settings (Committee to Reduce Infection Deaths. State Legislation & Initiatives on Healthcare-Associated Infections. http://www.hospitalinfection.org/legislation.shtml). The other public health response in the U.S. has been educational, such as public service announcements to raise public awareness of MRSA infections and to encourage the use of preventive measures such as the covering of skin lesions to reduce transmission (STOP MRSA Now. http://www.stopmrsanow.org/public-service-announcement.html). There are no major public or private efforts aimed at controlling the spread of MRSA colonization in the community from person to person in the absence of infection.
Epidemiologic studies can be used to estimate the incidence and risk factors for CA-MRSA infections, or the prevalence of colonization. However, it is difficult to perform a study that examines the actual transmission dynamics of asymptomatic MRSA colonization in any population.
This paper describes the structure and results of a new, fine-grained agent-based model of CA-MRSA transmission dynamics and infection in Chicago aimed at augmenting the value of existing epidemiological data and evaluating current public policies related to MRSA. Computational models have become valuable tools in understanding infectious disease dynamics, including assessments of the potential impact of public health interventions such as isolation, school closures or vaccines. While there have been small-scale models of HA-MRSA within hospitals and other resident healthcare facilities [11–18] and examinations of multiple interacting hospitals [19–21], attempts to model MRSA in the community have been limited [22, 23]. Our model represents the spread of CA-MRSA in the population of Chicago, for which we have estimates of temporal and geographic trends based on clinical data from 2001 to 2010.
We used the model to determine the types of places in Chicago most important for the transmission of CA-MRSA, examining places such as households, the County jail, hospitals, and schools, and the relative contributions of the colonized and infected states to transmission.
Methods
The baseline data for the model is a synthetic population developed by Wheaton and others [
24
] derived from combined U.S. Census files. The sociodemographic attributes of the synthetic population match that of the enumerated population in the 2000 Census for Chicago. Each agent resides in a household and has sociodemographic characteristics (e.g., race/ethnicity, age, gender, educational attainment, income). Every place in the model, including households, schools, hospitals and workplaces, has geographic coordinates (Figure
1
). About three million individual agents move to and from 1.2 million places on an hourly basis over a period of up to 10 years. Places are categorized as having different levels of physical contact, because MRSA is transmitted primarily by direct skin-to-skin contact. The risk of transmission to or from an agent depends on the disease status (uncolonized, colonized or infected) of other agents co-located at the same time in the same place and on the overall level of physical contact that occurs in that type of place.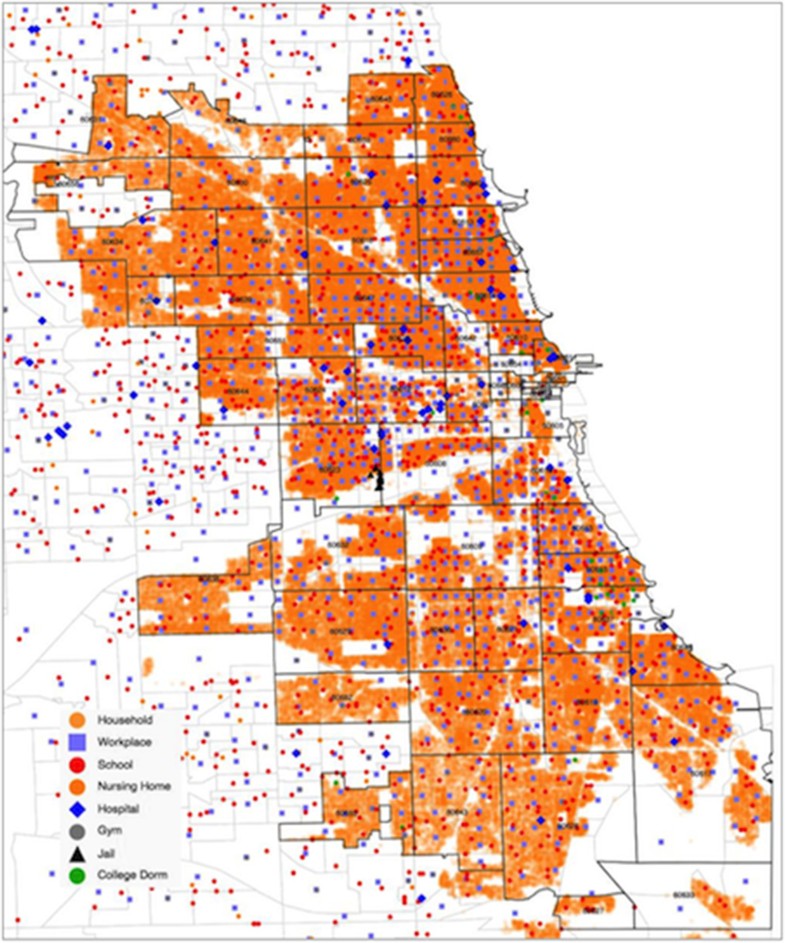 Results
Figure
4
shows the meta-analysis estimate of the actual CA-MRSA trend in Chicago from 2001 to 2010 in red [
6
], which has been adjusted for an underestimate because the incidence data derive from clinical records only includes MRSA infected patients who seek medical care. The yellow band is a point-wise 95% C.I. representing uncertainty around the Chicago incidence estimate. The blue band corresponds to the results from 32 model runs using the best fitting transmission parameters, and its width indicates variability over the runs. The narrowness of this blue interval demonstrates that, at least point-wise, there is little stochastic variability in the results of the model (conditional on these values of the parameters), and the vast majority of the variation in Figure
4
is due to intentional variation in the values of the model parameters.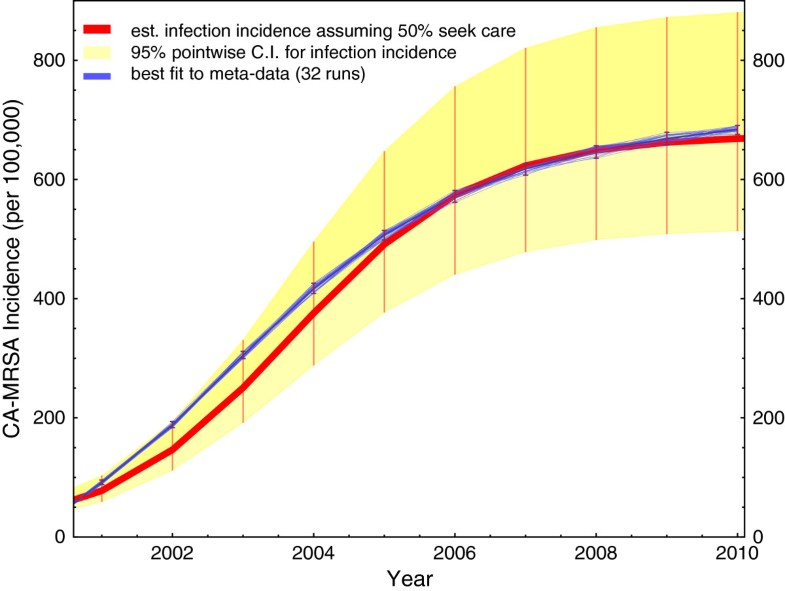 Over the same years, cases were observed to spread from the initial concentration in inner city neighborhoods to a more diffuse pattern across the city. Figure
5
shows the model output by zip code and year, with the diameter of the circles indicating the numbers of newly colonized agents (larger orange circles) and incident infections (smaller red circles) in each zip code by year. During the first five years, there is a spread from a small number of zip codes to a citywide problem, and the pattern then remains similar for the last five years.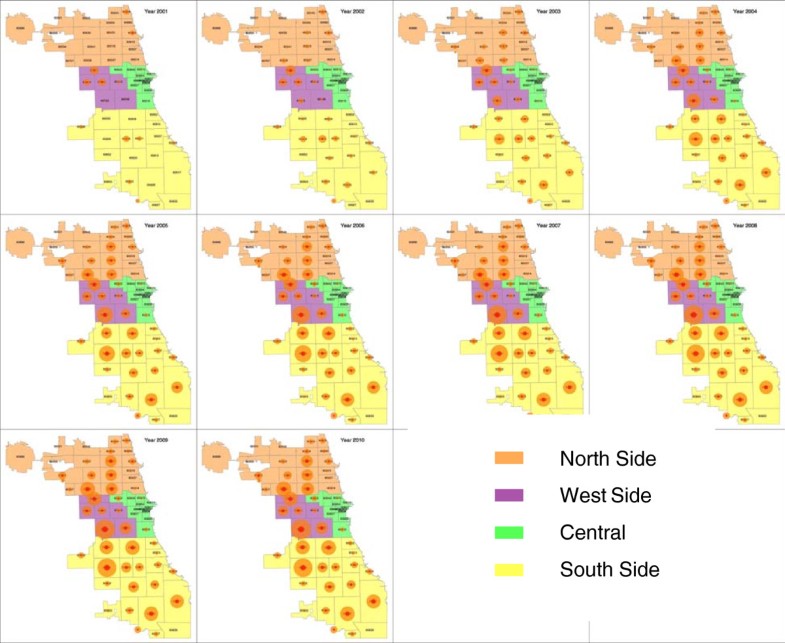 Over each ten-year run, there were about 2.1 × 106 new colonization events, or 72 colonization events per 1000 person-years, and there were about 116,000 new infections, or about 4 per 1000 person-years. Among the 2.1 × 106 new colonizations, 98.6 percent were the result of contact with a colonized individual and 1.4 percent were the result of contact with an infected individual.
By far the most common geographic location for colonization transmission events was households (including both an individual's own household and ones they visited), accounting for 65.1 percent of newly colonized agents. Schools or daycare centers were the next most frequent, accounting for 15.8 percent. Hospitals accounted for only 7.8 percent of newly colonized agents. Initial reports of CA-MRSA outbreaks in the early 2000s came from jails and sports teams. However, jails and athletic activities were less frequent locations for new colonizations, accounting for 2.9 percent and 5.6 percent, respectively (Table
2
).
Table 2
Model results on distribution of new colonizations by disease state of contact
Place/Activity

Colonization incidence (per 1000 person-years)

Due to contact with colonized individual

Due to contact with infected individual

Household

49.9

0.976

School/Daycare

12.3

0.072

Hospital

6.1

0.024

Athletic activity

4.4

0.016

Jail

2.3

0.015

College dorm

1.1

0.010

Nursing home

1.0

0.009

Workplace

0.1

0.007
Sensitivity analyses
A set of experiments was designed to test the robustness and sensitivity of the model results to three types of parameters whose initial values were set based on expert judgment. (1) Different types of places provide opportunities for lesser and greater levels of physical contact, and the Base Case values reflected those differences. PAR indicates the relative likelihood of physical contact between individuals at various places, with PAR >1 indicating relatively more contact. For sensitivity analysis, the value of PAR did not vary by place. (2) Individuals with active infections may be more likely to spread colonization than colonized individuals. TIP allows infected individuals to be more likely (TIP > 1) to spread colonization than colonized individuals. Sensitivity analyses set TIP at 2. (3) Physical activities (including sports activities) provide more opportunities for an individual to transition from the colonized to infected states because of increased likelihood of cuts and bruises. The parameter AIP is applied to the transition parameter e to indicate activities that are more likely (AIP > 1) to result in self-infection. Sensitivity analyses did not vary AIP by place. In summary, we carried out sensitivity analyses to test the effects of varying the values of PAR, TIP and AIP.
Table
3
shows the values of PAR, TIP and AIP for sensitivity analyses. Table
4
shows the results of the sensitivity analyses. There is little variation in the proportion of all disease transition events that are colonization events across all cases (column 2). Compared the Base Case, the AIP Sensitivity Case shows the greatest change, an increase from 94.6% to 96.9%. Such an increase is not surprising for this case as it reduces the probability of individuals transitioning from the colonized to infected states in physically active places.
Table 3
Set up for sensitivity analyses of transmission parameters
| MRSA Risk Category | PAR base case value | PAR sensitivity case | TIP sensitivity case | AIP sensitivity case |
| --- | --- | --- | --- | --- |
| Households | 2 | 1 | 2 | 1 |
| Hospitals | 2 | 1 | 2 | 1 |
| Jails | 2 | 1 | 2 | 1 |
| Nursing homes | 2 | 1 | 2 | 1 |
| Gyms | 2 | 1 | 2 | 1 |
| Schools/Daycare | 1 | 1 | 2 | 1 |
| College dormitories | 1 | 1 | 2 | 1 |
| Workplaces | 0.1 | 0.1 | 2 | 1 |
Table 4
Sensitivity analyses results
| Case | % Disease transition events that are colonizations1 | % Disease transition events that occur in households2 |
| --- | --- | --- |
| Base case | 94.6 | 72.9 |
| PAR sensitivity | 94.7 | 53.9 |
| TIP sensitivity | 94.5 | 82.2 |
| AIP sensitivity | 96.9 | 72.7 |
There is greater variation in the portion of colonization events that occurs in households (column 3) across all sensitivity analyses. The largest contrast to the Base Case is when the PAR is set to 1 in all places. Then the proportion of new colonizations that take place in households is greatly reduced, although still a majority (53.9% compared to 72.9%). However, the assumption that all places are equally likely to provide opportunity for skin-to-skin contact, which is generally thought to be necessary for transmission, is not plausible.
Discussion
Using a novel fine-grained agent-based model of the population of Chicago, we found that the great majority of new CA-MRSA colonization events occurred in households, where most individuals spend substantial time and have a relatively high level of physical contact with others. Schools and daycare centers played the largest role in spreading colonization among households. Although outbreaks in jails and sports teams were prominently featured in early reports about CA-MRSA, over the course of the ten-year runs of the model, they are responsible for relatively low percentages of new colonization events. Nonetheless, athletic activities of all kinds did account for more than five percent of colonization events and could have a high attributable risk for individuals who engage in athletic activities. During the first five years (2001 – 2005) model results show spread from a small number of zip codes concentrated on the south and west sides of the city to citywide incidence, and that pattern remains similar for the next five years (2006 – 2010). These data are consistent with the findings of Hota et al. [35].
We also found that the overwhelming majority of new colonizations are the result of a contact with a colonized individual rather than an infected individual, even when we set the probability of transmission as twice as great when a susceptible individual spends time with an infected person, compared with a colonized person. However, since colonization is so much more common than infection and lasts much longer, an intervention which focuses solely on clinically apparent infections to reduce transmission is unlikely to have much impact on overall incidence. These results suggest that a particularly effective intervention might be one that prevented transmission from asymptomatic MRSA carriers within households to their household contacts. These findings challenge current public policy in the U.S., which focuses on the control of MRSA in the healthcare setting or among people with active infections.
Our model has several novel features that represent important aspects of the epidemiology of CA-MRSA and its transmission. Time is represented at the hourly level allowing us to incorporate detailed empirical time-use data into the model. Space is represented by geo-located place, and the contact network is an emergent characteristic of agents located in the same physical places. We have used the census sociodemographic characteristics of agents (i.e., age, sex, race/ethnicity, education, years in school, employment status and household income) to probabilistically link activity profiles and probabilities of hospitalization and jail detention to agents. In addition, the places/activities are graded with respect both to the level of direct physical contact likely to occur there, which affects the transition from the uncolonized to the colonized state (conditional on an individual with MRSA being in the same location), and to the likelihood of skin abrasions or punctures, which affects an individual's transition from the colonized to the infected state. We have shown that the outputs of the model are similar to the temporal and geographic trends in CA-MRSA incidence in Chicago. This does not directly validate the transmission parameters or the contact network. However, the similarity of our model output to the descriptive epidemiology of CA-MRSA in Chicago will allow us to use the model to estimate the magnitude of likely effects both of public health and clinical interventions that have been implemented – generally without evidence – and of interventions that may be implemented in the future. Our findings suggest that novel public health approaches are needed to decrease the dissemination of CA-MRSA. The most effective interventions would prevent transmission from asymptomatically colonized people to their household contacts.
The most prominent type of public health intervention aimed at the control of MRSA transmissions to date has been the laws passed by some states that mandate screening and isolation procedures for patients entering hospitals. With only 7.8 percent of new colonizations estimated to occur in hospitals, this approach will have limited impact and concentrates resources on a type of location that seems to be responsible for less than one-tenth of transmissions.
Nevertheless the model has limitations. The results from any model are conditional on the assumptions made in deriving the model relations and on the data employed for that purpose. Some of these assumptions concern phenomena in part that are not directly observable, such as the number of people colonized with CA-MRSA. In the CA-MRSA ABM, the assumptions cover the three main model areas: contact, transmission, and behavior. We assume the activity profiles and time use surveys upon which the contact model is based, which are national in scope, are applicable to the Chicago area. We assume that assigning activity profiles based on demographic characteristics adequately captures the relevant heterogeneity in behavior, and that people continue in these activity patterns throughout the period covered by the simulation. We assume that the rules for matching people to associated hospitals, the jail, schools, and workplaces reflect a reasonable approximation to the real world. We assume that CA-MRSA transmission can be modeled accurately at the fine-grained compartment level based on agents' behaviors and "micro-interactions," such as skin contact based on co-location, and we assume random mixing among individuals at each location at the same time. These assumptions are explicit in the model, and can be easily modified as new data or alternate hypotheses become available and as the processes mentioned above are better understood. In the future, it will be possible to further justify these assumptions or modify them as necessary, thereby increasing the accuracy of the model and our confidence in its predictions as we experiment with novel interventions.
Conclusions
In summary, our novel agent-based model of CA-MRSA in a large U.S. city demonstrated that current interventions aimed at controlling the spread of MRSA are unlikely to succeed in reducing overall CA-MRSA incidence. According to the results of our model, the most effective control strategy would be one that reduces CA-MRSA transmission within households, particularly from colonized to uncolonized contacts. Our findings suggest that current paradigms in MRSA control in the United States cannot be very effective in reducing the incidence of CA-MRSA infections. Furthermore, the control measures that have focused on hospitals are unlikely to have much population-wide impact on CA-MRSA rates. New strategies need to be developed, as the incidence of CA-MRSA is likely to continue to grow around the world.
Declarations
Acknowledgments
This work is supported by the National Institute of General Medical Sciences, Models of Infectious Disease Agent Study (MIDAS), grant number U01GM087729, the U.S. Department of Energy under contract number DE-AC02-06CH11357 and Time-sharing Experiments for the Social Sciences, NSF Grant 0818839. John Murphy provided computing support. Roberta Davidson provided data support.
Authors' Affiliations
(1)
Decision and Information Sciences Division, Argonne National Laboratory, Argonne, USA
(2)
Computation Institute, University of Chicago, Chicago, USA
(3)
Applied Mathematics, University of Colorado Boulder, Boulder, USA
(4)
Psychology, Ohio State University, Columbus, USA
(5)
Department of Medicine, University of Chicago, Chicago, USA
(6)
Health Studies, University of Chicago, Chicago, USA
(7)
Pediatrics, University of Chicago, Chicago, USA
(8)
Sociology, University of Chicago, Chicago, USA
(9)
Harbor-UCLA Medical Center, Division of Infectious Diseases, Torrance, USA
Copyright
© Macal et al.; licensee BioMed Central Ltd. 2014
This article is published under license to BioMed Central Ltd. This is an Open Access article distributed under the terms of the Creative Commons Attribution License (http://creativecommons.org/licenses/by/2.0), which permits unrestricted use, distribution, and reproduction in any medium, provided the original work is properly credited. The Creative Commons Public Domain Dedication waiver (http://creativecommons.org/publicdomain/zero/1.0/) applies to the data made available in this article, unless otherwise stated.