Meeting report
Open Access
Future perspectives in melanoma research: meeting report from the "Melanoma Bridge", Napoli, December 5th-8th 2013
Journal of Translational Medicine
2014
12:277
Received: 18 September 2014
Accepted: 23 September 2014
Published: 28 October 2014
Abstract
The fourth "Melanoma Bridge Meeting" took place in Naples, December 5 to 8th, 2013. The four topics discussed at this meeting were: Diagnosis and New Procedures, Molecular Advances and Combination Therapies, News in Immunotherapy, and Tumor Microenvironment and Biomarkers.
Until recently systemic therapy for metastatic melanoma patients was ineffective, but recent research in tumor biology and immunology has led to the development of new targeted and immunotherapeutic agents that prolong progression-free survival (PFS) and overall survival (OS). New therapies, such as mitogen-activated protein kinase (MAPK) pathway inhibitors, like BRAF and MEK inhibitors, as well as other signaling pathways inhibitors, are being tested in metastatic melanoma either as monotherapy or in combination, and have yielded promising results.
Improved survival rates have also been observed with immune therapy for patients with metastatic melanoma. Immune-modulating antibodies came to the forefront with anti-CTLA-4, programmed cell death-1 (PD-1) and PD-1 ligand 1 (PD-L1) pathway blocking antibodies that result in durable responses in a subset of melanoma patients. Agents targeting other immune inhibitory (e.g., Tim-3) or immune stimulating (e.g., CD137) receptors and other approaches such as adoptive cell transfer demonstrate clinical benefit in melanoma as well.
This meeting's specific focus was on advances in targeted therapy and immunotherapy. Both combination targeted therapy approaches and different immunotherapies were discussed. Similarly to the previous meetings, the importance of biomarkers for clinical application as markers for diagnosis, prognosis and prediction of treatment response was an integral part of the meeting. Significant consideration was given to issues surrounding the development of novel therapeutic targets as further study of patterns of resistance to both immunologic and targeted drugs are paramount to future drug development to guide existing and future therapies. The overall emphasis on biomarkers supports novel concepts toward integrating biomarkers into contemporary clinical management of patients with melanoma across the entire spectrum of disease stage. Translation of the knowledge gained from the biology of tumor microenvironment across different tumors represents a bridge to impact on prognosis and response to therapy in melanoma.
Keywords
MelanomaOverall SurvivalIpilimumabVemurafenibChimeric Antigen Receptor
Introduction
The Melanoma Bridge 2013 meeting began on December 5
th
, 2013 by acknowledging the recent passing of Professor Natale Cascinelli by the organizers and all participants (Figure
1
). Professor Cascinelli was one of the best known experts in melanoma in Europe. He was a scientific director of the National Institute of Oncology in Milan and was an active member of the Italian Ministry of Health, World Health Organization and Alliance against cancer among others.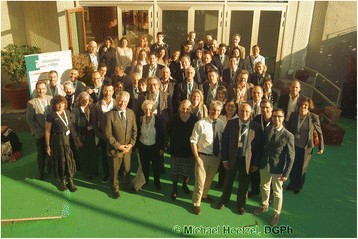 Until 2011, dacarbazine (DTIC), interleukin (IL)-2 and interferon (IFN)α-2b were the only Food and Drug Administration (FDA) approved agents for the treatment of metastatic melanoma. Other single chemotherapy agents or angiogenesis inhibitors and combinations demonstrated modest activities. However, a true breakthrough in treatment of melanoma patients was the publication of the results from the phase 3 randomized trials of ipilimumab [1] and vemurafenib [2]. These trials demonstrated for the first time the benefit for melanoma patients as the treatment significantly improved overall survival (OS) and progression free survival (PFS) as compared with patients receiving chemotherapy in the control arms. Both vemurafenib and ipilimumab were FDA approved in 2011 and were added to dacarbazine and fotemustine (in Europe), as standard therapies available for metastatic melanoma patients.
The mitogen-activated protein kinase (MAPK) cascade is a critical intracellular signaling pathway that regulates cellular functions including proliferation, cell cycle regulation, survival, angiogenesis, and cell migration. The fundamental role of the RAS/RAF/MEK/ERK MAPK pathway in these cellular functions underlies its importance in oncogenesis and growth of melanoma cells [3]. Activating mutations in serine–threonine protein kinase BRAF, a constituent of the MAP kinase signal transduction pathway, have been identified in about 50% of patients with advanced melanoma [4]. The most commonly observed BRAF V600E mutation accounts for 90% of the mutations found in all patients with cutaneous melanoma, while other mutations (e.g., V600K, V600D, etc.) account for the remaining 10%. Mutated BRAF phosphorylates and activates MEK proteins (MEK1 and MEK2) which then activate downstream MAP kinases cascade. Mutated BRAF is the target of vemurafenib, a small molecule that inhibits the signal transmission between BRAF and MEK within the MAP-kinases pathway. This drug results in dramatic responses with a rapid improvement of symptoms and performance status following a decrease in metabolic rate and reduction of tumor size. The BRIM-3 trial, a phase 3 trial of vemurafenib vs. dacarbazine as first-line therapy for BRAF-mutated metastatic melanoma, demonstrated the advantage in OS of the targeted therapy vs. the chemotherapy with respect to overall survival (13.2 vs. 9.2 months). Most frequent toxicities of vemurafenib that patients experience include arthralgia, cutaneous rash, photosensitivity reaction, and squamous cell carcinoma/keratoacanthoma that are observed in 26% of patients [2].
Several new agents targeting BRAF and other downstream molecules in the RAS/RAF/MEK/ERK pathway are being tested in the clinic as single agents and in combination. Dabrafenib (Tafinlar) was FDA approved in 2013 for treatment of melanoma patients with BRAF V600E or V600K mutations. Dabrafenib seems also to be quite effective in the treatment of intracranial metastases [5]. Selective MEK inhibitors inhibited growth and induced cell death in BRAF mutated melanoma cell lines [6]. Trametininb (Mekinist), a potent MEK1/2 inhibitor received FDA approval in 2013 for treatment of patients with metastatic melanoma harboring BRAF V600E/K mutations. In Phase 3 clinical trial METRIC, patients were assigned to receive either trametinib or chemotherapy (decarbazine or paclitaxel). Patients treated with trametinib demonstrated significant improvement in PFS and OS. Currently, trametinib is not indicated for patients who have received previous BRAF inhibitor therapy.
NRAS mutations are observed in 15–25% of melanomas and are mutually exclusive with BRAF mutations; the latter of which are reported in 40–60% of patients with cutaneous melanoma [7],[8]. BRAF and NRAS mutations both activate downstream MEK kinase that serves as the gatekeeper of extracellular signal-regulated kinase (ERK) activation. MEK inhibitor (MEKi) confers a preferential sensitivity to MEK kinase and thus it is a highly attractive target for melanoma treatment, as majority of tumors have mutations in either RAS (K-, N- or H-) or BRAF.
The combination of the BRAF inhibitor dabrafenib and the MEK inhibitor trametinib has been designed to delay the development of resistance to treatment with BRAF inhibitor (BRAFi), and to minimize toxic effects associated with BRAF inhibition. In 2013, the results of the phase 2 randomized trial of the combination of dabrafenib and trametinib have been published [9]. The data showed an important advantage of the combination in PFS vs. dabrafenib alone with 9.4 vs. 5.8 months, respectively. It received accelerated FDA approval in 2014 for use in the treatment of patients with metastatic melanoma with BRAF V600E and V600K mutations. Phase 3 randomized controlled trials comparing dabrafenib plus trametinib with dabrafenib or vemurafenib are ongoing. Depending on the results from these trials, the combination treatment might prove to be more favorable as compared to monotherapy with BRAF and MEK targeting agents. Studies comparing combinations of other BRAF and MEK inhibitors in phase 3 trials are also ongoing. At the 2013 ESMO/ECCO congress the data regarding the combination of vemurafenib and cobimetinib (MEK inhibitor) were presented [10]. These data demonstrated 85% objective responses (10% complete responses, 75% partial responses in metastatic BRAF-mutated melanoma), 13% stable disease and 2% progressive disease, while at a median follow up of 10 months median PFS was still not reached. A third combination of a BRAF inhibitor and a MEK inhibitor, LGX818 plus MEK162 was presented at the 2013 ASCO Congress with very encouraging preliminary data in BRAF-naïve and pretreated patients [11].
In the recent years, the blockade of immune checkpoints gained attention as one of the most promising approaches to activate anti-tumor immunity. Antigen presentation to T cells involves contact between T cell receptor (TCR) on T lymphocytes (TCL) and MHC of the Antigen Presenting Cells (APC). In addition, to activate the immune response binding between ligands B7-1 or B7-2 on APC and the co-stimulatory receptor CD-28 on TCL is required. To avoid excessive or auto immune T cell responses receptors that inhibit the immune response including cytotoxic T-lymphocyte associated antigen-4 (CTLA-4), are expressed on the T cell surface. Thus, targeting inhibitory immune receptors on activated T cells seems to be a logical approach to activate host immune response. Monoclonal antibodies (MAbs) targeting T cell checkpoint receptors such as CTLA-4, programmed cell death-1 (PD-1) receptor and others have shown great promise against advanced melanoma as well as lung and kidney cancers. Ipilimumab and tremelimumab are fully humanized MAbs targeting CTLA-4 receptor. Blocking of CTLA-4 results in enhancement of immune responses that are dependent on CD8+ effector T cells and CD4+ T cells, and inhibition of the suppressive function of T regulatory cells (Tregs). Phase 3 clinical trial comparing combination of ipilimumab plus gp100 glycoprotein vaccine vs. ipilimumab and the vaccine alone resulted in 1-year survival of 43.6%, 45.6%, and 25.3% patients, respectively. Two-year survival rates were 21.6% among patients who received combination therapy, 23.5% who received ipilimumab alone, and 13.7% among those who received gp100 alone [1]. Toxicity of ipilimumab is immune-mediated and most frequent side effects result diarrhea, pruritus, and, less frequently endocrinopathies and autoimmune hepatitis.
PD-1 is another inhibitory receptor on activated and exhausted T cells. Its two ligands PD-L1 and PD-L2 have distinct expression profiles. PD-L1 is expressed on a variety of immune and non-immune cells including various tumor types while PD-L2 is mainly expressed on antigen presenting cells. Blocking of the PD-1/PD-L1 interaction by administration of anti-PD-1 or anti-PD-L1 MAbs can activate T cells and enhance adaptive anti-tumor immune responses. Nivolumab [12] and MK-3475 (pembrolizumab formerly lambrolizumab) [13] are humanized MAb that block the interaction between PD-1 and its ligands and demonstrate durable responses in patients with advanced melanoma. As monotherapy MK3475 and nivolumab resulted in 37% and 31% objective response rate (ORR), respectively. In nivolumab-treated patients, 1 and 2 year survival was observed in 62% and 43% patients, respectively. Furthermore, the phase 1 trial of the combination of ipilimumab and nivolumab [14] demonstrated 40% ORR that can be compared to the ORR with vemurafenib (53%) and an estimated 1 year survival rate 82% in BRAF mutated patients. A phase 3 trial comparing concurrent nivolumab plus ipilimumab vs. either agent alone has been activated and is recruiting patients (NCT01844505). Pembrolizumab (Keytruda) received recently (2014) FDA approval for patients with unresectable or metastatic melanoma and nivolumab is expected to be approved by the FDA as soon as recent trial results are mature. In addition, treatment with anti-PD-L1 antibodies (e.g., MPDL 3280A and BMS-936559) was associated with durable responses with manageable toxic effects [15],[16]. Overall, PD-1/PD-L1 blocking agents have shown an overall higher RR than ipilimumab and represent highly promising therapeutic options for melanoma patients.
Adoptive Cell Transfer therapy (ACT) yielded promising results in patients with variety of cancers including melanoma. There are many forms of ACT therapies being developed and sufficient amount of data demonstrate that expanded tumor infiltrating cells (TILs) or genetically engineered lymphocytes recognizing specific tumor can have potent, long-lasting effect-and can even eradicate some tumors entirely. One approach to immunotherapy involves patients' own immune cells that recognize and attack their tumors. Although this approach has been restricted to small clinical trials so far, treatments using TILs have generated remarkable responses in patients with advanced cancer [17]. Lymphocytes can also be genetically engineered using viral vectors to produce MAb based receptors on their surface called chimeric antigen receptors (CARs). CARs are proteins that allow the T cells to recognize a specific antigen on tumor cells. Other approaches focus on TCR modified ACT therapy that involves introducing new TCR receptors that allow them to recognize specific cancer antigens. Both CAR and TCR therapies are being tested in patients with a variety of cancers and move closer to the mainstream; the next step will be investigating whether and how to integrate them with other cancer immunotherapies [18].
In summary, in just over 2 years, several agents have demonstrated an overall survival advantage for the treatment of patients with metastatic melanoma. Several drugs have been approved for the treatment of advanced melanoma and new class of agents has recently been shown to lead to durable responses in a substantial number of patients. There are now five categories of FDA-approved agents for these patients, including chemotherapy (dacarbazine), cytokines (IL-2 and IFNα), targeted therapy drugs including BRAF inhibitors (dabrafenib, vemurafenib) and MEK inhibitor (trametinib), immunotherapy agents anti-CTLA-4 (ipilimumab) and anti-PD-1 (pembrolizumab) MAbs, and the combination (dabrafenib and trametinib). In the coming years, it is reasonable to expect that another MEK inhibitor (MEK162), a third BRAF inhibitor (LGX818), another anti-PD-1 antibody (nivolumab) and an anti-PD-L1 antibody (MPDL3280A) will join the ranks of approved agents in melanoma.
Critical areas requiring rapid progress include efficiently combining the 'best in class' drugs that already have demonstrated single-agent activity rather than multiplication of trials using drugs of the same classes. For example, vemurafenib and ipilimumab are drugs with different mechanisms of action and different kinetics of response: vemurafenib demonstrates quick action with rapid metabolic shutdown but with a response lasting only 6–8 months while ipilimumab acts slowly but is able to stabilize the disease. Thus, there is a strong rationale to consider immunotherapy in combination with molecularly targeted therapy for melanoma. Combinations that include immune checkpoint inhibitors and targeted therapy drugs are testing this hypothesis in clinic. While more work is required to achieve the goal of treating patients with regimens that are associated with durable remissions in the great majority of patients, there is hope that this goal will be achieved in the relatively near future.
Authors' contributions
PAA, AMG, and MT prepared the manuscript collaboratively with input and approval of all co-authors. All authors read and approved the final manuscript.
Declarations
Acknowledgement
The meeting was supported by Fondazione Melanoma Onlus and the Society of ImmunoTherapy of Cancer (SITC). A special thanks to 3P Solution of Napoli for their support and cooperation in organizing the meeting and to Michael Hoetzel for providing us with the group picture from the meeting.
Authors' Affiliations
(1)
Istituto Nazionale Tumori, Fondazione "G.Pascale", Napoli, Italy
(2)
Center for Neurologic Diseases, Harvard Medical School, Boston, USA
(3)
Translational Molecular Pathology, Earle A. Chiles Research Institute, Providence Cancer Center, Portland, USA
(4)
Departments of Pathology and Laboratory Medicine and Surgery, David Geffen School of Medicine at University of California Los Angeles (UCLA), John Wayne Cancer Institute, Santa Monica, USA
(5)
Center for Dermato Oncology, Department of Dermatology, University of Tübingen, Tübingen, Germany
(6)
Cancer Institute Gustave Roussy, Villejuif, France
(7)
Donald L. Morton Melanoma Research Program, John Wayne Cancer Institute, Santa Monica, USA
(8)
Department of Surgery, Massachusetts General Hospital, Harvard Medical School, Boston, USA
(9)
Department of Surgical Oncology, The University of Texas MD Anderson Cancer Center, Houston, USA
(10)
Departments of Medicine and of Pathology, Immunology and Cancer Program, The University of Chicago Medicine, Chicago, ILUSA
(11)
Department of Dermatology, Yale University School of Medicine, New Haven, USA
(12)
Department of Medical Oncology, Dana-Farber Cancer Institute, Boston, USA
(13)
Westmead Institute for Cancer Research, Westmead Millennium Institute and Melanoma Institute Australia, University of Sydney, Sydney, Australia
(14)
Division of Hematology/Oncology, Departments of Medicine, Dermatology, and Translational Science, University of Pittsburgh School of Medicine and Melanoma Program of the Pittsburgh Cancer Institute, Pittsburgh, USA
(15)
Royal Marsden NHS Foundation Trust, London, UK
(16)
Department of Dermatology, Oregon Health Sciences University, Portland, USA
(17)
Medical Oncology and Immunotherapy, Department of Oncology, University Hospital of Siena, Istituto Toscano Tumori, Siena, Italy
(18)
Molecular Oncology Group, The Paterson Institute for Cancer Research, Manchester, UK
(19)
Department of Oncology-Pathology, The Karolinska Hospital, Stockholm, Sweden
(20)
Centro de Investigación Médica Aplicada, Clinica Universidad de Navarra, Pamplona, Spain
(21)
Unit of Cancer Genetics, Institute of Biomolecular Chemistry, National Research Council, Sassari, Italy
(22)
Vanderbilt University Medical Center, Nashville, USA
(23)
Tumor Immunology Program, Jonsson Comprehensive Cancer Center (JCCC), David Geffen School of Medicine, University of California Los Angeles (UCLA), Los Angeles, USA
(24)
Division of Hematology and Oncology, Tisch Cancer Institute, Department of Dermatology, Icahn School of Medicine at Mount Sinai, New York, USA
(25)
Department of Dermatology, University Hospital, West German Cancer Center, University Duisburg-Essen, Essen, Germany
(26)
Martin Luther University Halle-Wittenberg, Institute of Medical Immunology, Halle, Germany
(27)
Cell Processing Section, Department of Transfusion Medicine, Clinical Center, NIH, Bethesda, USA
(28)
Center for Melanoma, Massachusetts General Hospital Cancer Center, Harvard Medical School, Boston, USA
(29)
Istituto Europeo di Oncologia, Milan, Italy
(30)
Division Chief of Translational Medicine, Sidra Medical and Research Centre, Doha, Qatar
(31)
Sidra Medical and Research Centre, Doha, Qatar
(32)
Cancer Diagnosis Program, National Cancer Institute, NIH, Bethesda, USA
(33)
German Cancer Consortium (DKTK), Heidelberg, Germany
Copyright
© Ascierto et al.; licensee BioMed Central Ltd. 2014
This article is published under license to BioMed Central Ltd. This is an Open Access article distributed under the terms of the Creative Commons Attribution License (http://creativecommons.org/licenses/by/4.0), which permits unrestricted use, distribution, and reproduction in any medium, provided the original work is properly credited. The Creative Commons Public Domain Dedication waiver (http://creativecommons.org/publicdomain/zero/1.0/) applies to the data made available in this article, unless otherwise stated.