Trauma is danger
Journal of Translational Medicine
2011
9:92
Received: 23 February 2011
Accepted: 15 June 2011
Published: 15 June 2011
Abstract
Background
Trauma is one of the leading causes of death in young adult patients. Many pre-clinical and clinical studies attempt to investigate the immunological pathways involved, however the true mediators remain to be elucidated. Herein, we attempt to describe the immunologic response to systemic trauma in the context of the Danger model.
Data Sources
A literature search using PubMed was used to identify pertinent articles describing the Danger model in relation to trauma.
Conclusions
Our knowledge of Danger signals in relation to traumatic injury is still limited. Danger/alarmin signals are the most proximal molecules in the immune response that have many possibilities for effector function in the innate and acquired immune systems. Having a full understanding of these molecules and their pathways would give us the ability to intervene at such an early stage and may prove to be more effective in blunting the post-injury inflammatory response unlike previously failed cytokine experiments.
Keywords
Systemic Inflammatory Response SyndromeDanger SignalEthyl PyruvateMonosodium UrateDanger Associate Molecular Pattern
Introduction
The immune system has two effector arms, innate and adaptive, which mediate the response to pathogens and injury. The innate system is a non-specific response while the adaptive system is pathogen and antigen specific. This system has evolved to respond appropriately to pathogen or injury, but may be maladaptive in the setting of overwhelming injury as seen in complex traumatic war wounds or multisystem civilian trauma. In the setting of severe traumatic injury, the immune system is overwhelmed by the massive release of endogenous signals from injured tissue. Once systemically activated, the immune system reacts against the host, potentiating tissue damage and leading to organ failure [1]. In this situation, the immunologic response to injury, not the actual injury itself, leads to undue morbidity, and in some cases mortality.
While immune mediated responses have classically been thought to center on self and non-self interactions and thereby neglect most traumatic injuries, the Danger model abandons this classical concept [2]. The Danger model theorizes that the immune system's primary driving force is the need to detect and protect against danger and does not discriminate between self and non-self [2]. This concept states that the mechanism by which a cell dies governs whether the immune response is initiated. Therefore, tissue damage or an injury or endogenous signals of cell distress can trigger both an innate and adaptive response only if it causes danger, a non-controlled and abnormal cell death process unlike apoptosis. In the absence of danger, host tissues remain healthy or undergo apoptotic death and are scavenged, and no immune response occurs. In contrast, when an infectious or sterile insult causes cell damage, lysis or apoptosis with release of intracellular contents an immune response is initiated" [3]. Thus, the immune system is governed from within, responding to endogenous signals that originate from stressed or injured cells.
Severe multi-system trauma can result in the systemic activation of the innate immune system [
4
]. This may result in a detrimental self-aggressive immunologic response with subsequent secondary infection, sepsis and multiple organ dysfunction (Figure
1
). Various immune cell-derived mediators are produced and released during trauma, including complement factors, coagulation system factors, acute phase proteins, and neuroendocrine mediators, which have been shown to play a major role in systemic inflammation [
1
]. These Danger signals can activate innate immune responses after trauma [
5
] and also act as the initiator of further downstream effector responses through their liberation after traumatic injury and hemorrhagic shock. In this review, we attempt to describe the immunologic response to systemic trauma in the context of the Danger model with a review of the key mediators in support of this paradigm. The understanding of this response may have broad implications in the management of the severely injured patient.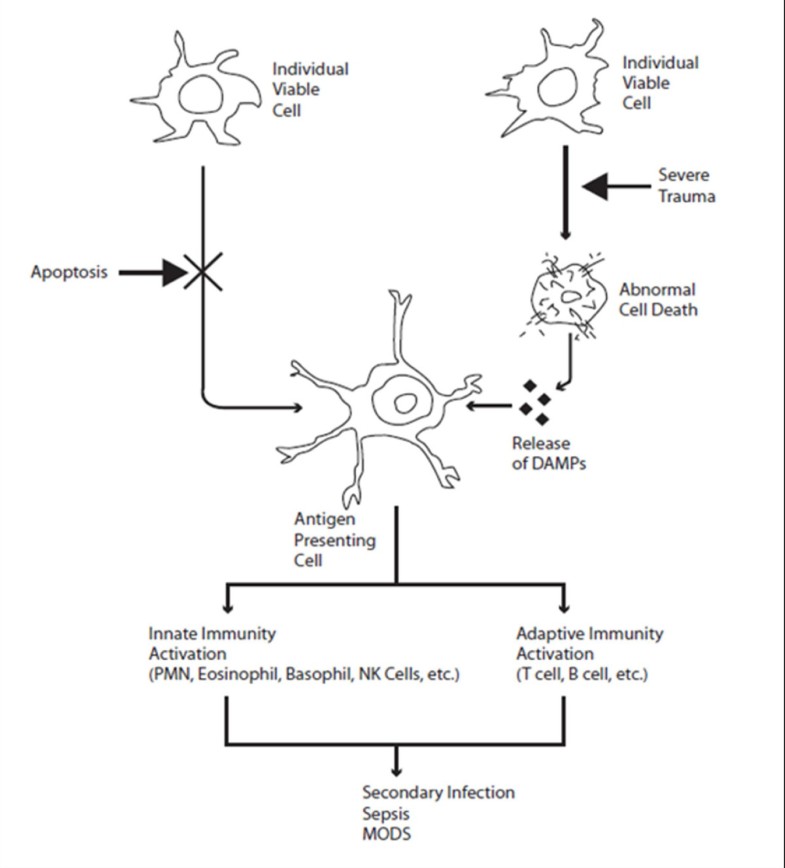 The Danger Model
Traditional theories of immune regulation stems from the work of Sir Frank Macfarlane Burnet [6, 7]. Burnet postulated that immune cells have the ability to distinguish between self and non-self antigens to allow for activation and clonal selection of the adaptive immune system [8, 9]. However, it was recognized that the innate immune system played a crucial role in contributing to adaptive immune response activation through antigen presenting cells and its regulation of co-stimulatory molecules [3, 10, 11]. Janeway expanded the classical version of the self/non-self model through his discovery of evolutionarily primitive receptors called pattern recognition receptors (PRRs) that are able to recognize and bind to conserved microbial constituents called pathogen associated molecular patterns (PAMPs) [12–14]. These PAMPs allow for differentiation of infectious antigens from noninfectious ones based on the antigen's association with infection [13]. However, it was recognized that this concept of response to primarily exogenous stimuli such as foreign antigen or bacteria was inadequate to describe other situations such as tumors and autoimmunity, and the focus of this discourse, trauma [3, 13]. In an attempt to address this conceptual deficit, a modification of the self/non-self paradigm, the Danger Theory, was introduced which clarifies the immune response in the setting of traumatic injury.
The Danger Theory, proposed by Matzinger in 1994, suggests that the function of immune system is to prevent and recognize attack from harm in the context of "Danger signals" [2]. Danger theorists believe the mechanism by which a cell dies governs whether an immune response is initiated and that the immune system does not respond to non-self but rather from Danger signals from injured/dying cells [2, 3]. Matzinger has argued that the immune system is governed from within through endogenous signals, later defined as alarmins, originating from cells being stressed, signifying damage [3]. Thus, inflammation in terms of the danger therapy can be considered the result of immune activation from both exogenous and endogenous danger/alarm signals. Seong and Matzinger later expanded this idea by proposing that both PAMPs and "alarmins" have similar conserved hydrophobic portions on their respective molecules, thus able to engage the same pattern recognition receptors to elicit comparable noninfectious inflammatory responses [15]. Due to their similarities, "alarmins" (which respond to endogenous signals) and PAMPs (which respond to exogenous signals) are classified as danger associated molecular patterns (DAMPs) to signify the close relationship between trauma and pathogen evoked inflammatory responses [16].
The immune response to microbial infection has a striking resemblance to the one seen in trauma. In fact, the profile of cytokine and chemokine production has been shown to be similar in the inflammatory response between sterile injury and bacterial infection [17, 18]. These pathways are shared in that many endogenous Danger signals released during infection and sterile injury such as high mobility box group 1 (HMGB1), heat shock proteins (Hsp), and hyaluronan have been implicated to elicit an intrinsic inflammatory immune response through similar pattern recognition receptors [19, 20]. Understanding the different Danger signals involved in sterile injury along with their mechanism may lead to possible areas of intervention and manipulation of immune responses as future therapeutic modalities.
Singnals & Mechanism
The release of endogenous intracellular and extracellular molecules specifically generated upon tissue injury signals the threat of either infection or injury [
21
]. Potent immune cell activation can be mediated by so called damage associated molecular patterns via pattern recognition receptors (PPRs) such as Toll-like receptors (TLRs). TLRs represent a key molecular link between tissue injury, infection, and inflammation. Moreover, DAMPs have also been implicated in diseases where excessive inflammation plays a key role in pathogenesis [
21
]. Rock and Kono [
13
] outlined four fundamental biological outcomes that a DAMP must fulfill.
1)

The purified molecule should cause an inflammatory response when injected into a living organism.

2)

The purified molecule should also be active at normal physiological concentrations.

3)

Microbial contamination should be ruled out as the source of inflammatory response. This is especially important in DAMPs that work through Toll-like receptors (TLRs), since these are known to sense microbial products.

4)

Eliminating or neutralizing the molecule from dead cells should reduce the inflammatory response. This last criterion is most likely the hardest since it is likely that multiple extracellular matrix and/or endogenous intracellular molecules are released by activated or necrotic cells upon injury or degraded following tissue damage.
There are many molecules that have been identified as danger associated molecular patterns in the literature to include but not limited to HMGB1, Hsp, uric acid (UA), galectins, thioredoxin, adenosine, etc. [13], but here we will only examine four of the most common and well-defined, as well as their interactions with the members of the TLR family of receptors.
Conclusions & Future Directions
Despite the large amount of research dedicated to multifunctional danger/alarm signals, much still remains to be elucidated prior to any discovery of pathways for therapeutic and immunomodulatory action. In this review, we have described some of the pathways whereby Danger molecules lead to an activation of the innate which causes local inflammation and recruit cells of the innate immune system and subsequent release of pro-inflammatory cytokines. It is important to note that activation of this pathway in turn may results in generation of a systemic inflammatory response syndrome (SIRS). In the traumatically injured critically ill patient this occurs as tissue injury leads to cell necrosis and release of Danger signals. These DAMPs are thought to activate TLRs triggering the innate immune response to release cytokines and other pro-inflammatory mediators (such as IFN) causing the clinical syndrome of SIRS. Indeed, plasma levels of HMGB1 after severe injury have been shown to correlate with development of SIRS, and early elevation of HMGB1 is associated with increased mortality [55].
If traumatic SIRS is not attenuated by the compensatory anti-inflammatory response syndrome (CARS) a deleterious pro-inflammatory cascade may ensue, potentially resulting in MODS and death [56]. Therefore, it is evident that further investigation of the exact mechanism and role that Danger molecules play in this process is central for preventing morbidity and mortality associated with traumatic injury. Identifying the pathways involved in the inflammatory response to injury would enable clinicians to differentiate sterile SIRS from sepsis and allow for a tailored approach to treatment. Further, identifying which patients are most likely to develop severe SIRS after injury may allow for early intervention.
Our current knowledge of Danger signals is incomplete and this knowledge gap continues to expand as new ones emerge. Others that have been added in the literature thus far include galectins, thymosins, nucleolins, annexins, and thioredoxin [16, 57–61], all whose kinetics, mechanisms, and associations with severe trauma are still unknown.
Future clinical studies need to be completed to evaluate Danger signals and their associations with outcomes in trauma. Jastrow et al. [62] provided insight into the predictive value of cytokine production as an index for developing future outcomes of multiple organ dysfunction or failure. As danger/alarmin signals are released in the acute setting after massive injury, they are the earliest markers of inflammation and may serve to predict outcomes earlier than other biomarkers. Previous clinical studies have evaluated the correlation between HMGB1 or Hsp and with outcomes such as survival and acute lung injury, with intriguing results [63, 64]. Future research may wish to focus on the earlier detection of HMBG1, Hsp, and other Danger signals along with correlation to various other outcomes to include multiple organ failure and survival. This would be important to ascertain the predictive value of detecting Danger signals versus other previously evaluated biomarkers of interest.
Finally, clinical trials will be necessary to evaluate for the possible use of immunomodulation of Danger signals. Previous pre-clinical experiments in sepsis and trauma have focused on downstream cytokines in order to emulate human response [65–68]. These models demonstrated a decreased inflammatory response when TNF-α and IL-1 inhibitors were administered following an endotoxin or gram negative bacteria challenge [66]. Although promising, these results did not translate into changes in practice as they failed to demonstrate a decrease in the mortality outcome in Phase II and III studies [69, 70]. One can argue that these studies focused on downstream cytokines and to really have some effect, one needs to look to more proximal signaling mechanisms to have a therapeutic effect. Even Recombinent activated protein C (Xigris®), although approved by the FDA in 2001 for patients with severe sepsis, some subsequent studies showed a lack of efficacy and increased incidence of bleeding in general clinical use [71]. Danger/alarmin signals are the most proximal molecules in the immune response that have many possibilities for effector function in the innate and acquired immune systems. Having a full understanding of these molecules and their pathways would give us the ability to intervene at such an early stage and may prove to be more effective in blunting the post-injury inflammatory response unlike previously failed cytokine experiments. The impact of effective strategies to limit the immune response following traumatic injury may be limitless. Nevertheless, we are not at that stage and much still remains to be elucidated before these therapeutic strategies can be effective in reality.
Disclaimer
The views expressed in this manuscript are those of the authors and do not reflect the official policy of the U.S. Department of the Army, U.S. Department of the Navy, the U.S. Department of Defense, Canadian Forces Health Services, Canadian Department of National Defense, or the United States & Canadian Governments.
Some of the authors are U.S and Canadian military service members (or employee of the U.S. Government). This work was prepared as part of our official duties. Title 17 U.S.C. 105 provides the "Copyright protection under this title is not available for any work of the United States Government." Title 17 U.S.C. 101 defines a U.S. Government work as a work prepared by a military service member or employee of the U.S. Government as part of that person's official duties.
I/We certify that all individuals who qualify as authors have been listed; each has participated in the conception and design of this work, the analysis of data (when applicable), the writing of the document, and the approval of the submission of this version; that the document represents valid work; that if we used information derived from another source, we obtained all necessary approvals to use it and made appropriate acknowledgements in the document; and that each takes public responsibility for it.
Declarations
Acknowledgements & Funding
We would like to thank Ms. Debbie Ford (Graphic Designer, Henry M. Jackson Foundation) with her assistance in developing the figures for this manuscript.
This effort was supported (in part) by the U.S. Navy Bureau of Medicine and Surgery under the Medical Development Program and Office of Naval Research work unit number (604771N.0933.001.A0604).
Authors' Affiliations
(1)
Regenerative Medicine Department, Naval Medical Research Center, Silver Spring, USA
(2)
Department of Surgery, General Surgery Service, Walter Reed National Military Medical Center, Bethesda, USA
(3)
Department of Surgery, Uniformed Services University of the Health Sciences, Bethesda, USA
(4)
Canadian Forces Health Services, Department of National Defense, Ottawa, Canada
(5)
Department of Surgery, University of Toronto, Canada
Copyright
© Hwang et al; licensee BioMed Central Ltd. 2011
This article is published under license to BioMed Central Ltd. This is an Open Access article distributed under the terms of the Creative Commons Attribution License (http://creativecommons.org/licenses/by/2.0), which permits unrestricted use, distribution, and reproduction in any medium, provided the original work is properly cited.