Cellular and vaccine therapeutic approaches for gliomas
Journal of Translational Medicine
2010
8:100
Received: 22 July 2010
Accepted: 14 October 2010
Published: 14 October 2010
Abstract
Despite new additions to the standard of care therapy for high grade primary malignant brain tumors, the prognosis for patients with this disease is still poor. A small contingent of clinical researchers are focusing their efforts on testing the safety, feasibility and efficacy of experimental active and passive immunotherapy approaches for gliomas and are primarily conducting Phase I and II clinical trials. Few trials have advanced to the Phase III arena. Here we provide an overview of the cellular therapies and vaccine trials currently open for patient accrual obtained from a search of http://www.clinicaltrials.gov. The search was refined with terms that would identify the Phase I, II and III immunotherapy trials open for adult glioma patient accrual in the United States. From the list, those that are currently open for patient accrual are discussed in this review. A variety of adoptive immunotherapy trials using ex vivo activated effector cell preparations, cell-based and non-cell-based vaccines, and several combination passive and active immunotherapy approaches are discussed.
Keywords
DaclizumabImmune TherapyBrain Stem GliomaAldesleukinImmunotherapy Trial
Introduction
The majority of primary tumors of the central nervous system (CNS) are of astrocytic lineage [1]. Glial tumors are typically classified based upon histologic criteria. The World Health Organization (WHO) classification system for primary malignant gliomas in adults has gradings that range from II to IV. The more slowly growing WHO grade II tumors are termed astrocytomas (A), oligodendrogliomas (ODG), or mixed gliomas (MG). WHO grade III tumors are similarly designated but with the word anaplastic preceding the names, i.e., anaplastic astrocytomas (AA), anaplastic oligodendrogliomas (AODG) or mixed anaplastic gliomas (MAG). The most malignant form, a WHO grade IV glioma is termed a glioblastoma or glioblastoma multiforme (GBM). GBMs are diagnosed at a much higher frequency than the lower grade astrocytomas. Recent GBM groupings-- classified as proneural, mesenchymal, neuronal, or classical-- reflect genetic features of the tumor and have prognostic significance [2, 3].
Even with new aggressive standard of care upfront radio-chemotherapy (http://www.clinicaltrials.gov, NCT00006353) [4], the overall survival of GBM patients at two years is dismal at 27.2% [5]. Adjuvant experimental therapies to follow surgical resection and radio-chemotherapy are being explored, amongst them passive and active immunotherapies. Comparing our reviews on immunotherapeutic approaches for brain tumors that were published nearly 10 years ago [6, 7] to the present, two obvious changes to the field are evident. First, trials employing active immunotherapy now outnumber those involving passive immunotherapy, and second, investigators are more routinely testing various immune approaches with glioma patients before they exhibit tumor recurrence.
We provide a synopsis of the individual active and passive immunotherapy trials and those that use combined active and passive approaches. Three tables summarize the information to include treatment site(s) and lead investigator, an abbreviated trial description, the study phase and estimated enrollment, and indication of whether eligible patients must have recurrent (R), persistent (P) or newly diagnosed (ND) brain tumors at a particular malignant stage (WHO grade). Figure
1
illustrates the geographic distribution of the immunotherapy trials in the United States.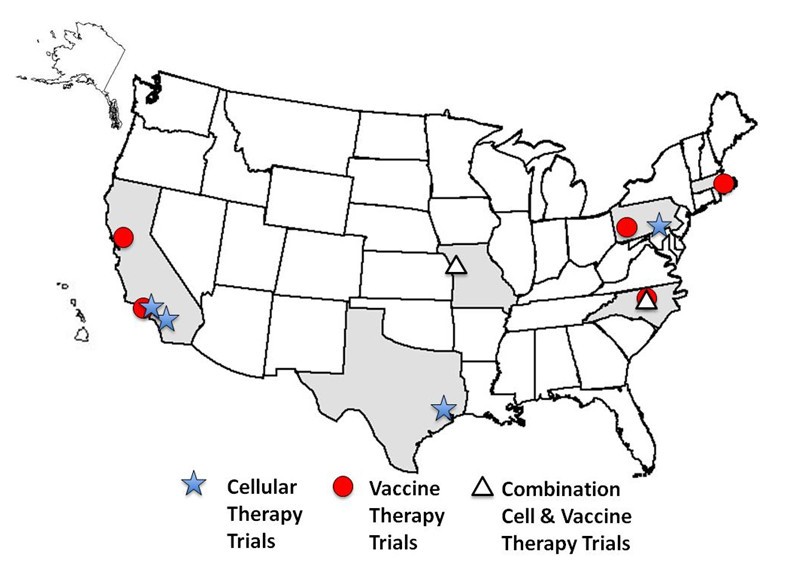 Conclusions
To refine the searches on clinicaltrials.gov we included the following terms: glioma and biotherapy or immunotherapy, autologous, allogeneic, and vaccine; we limited the search to trials enrolling adult patients and asked for all Phase I, II and III trials in the United States. Of the listed trials, we focused on those employing cellular therapy, DC or peptide-based vaccines, or combined approaches. Overall, we are encouraged by the advances this field has seen in the last decade. A welcome precedence, the FDA recently approved PROVENGE®, a dendritic cell-based vaccine made by Dendreon Corporation http://www.dendreon.com for metastatic, hormone-refractory prostate cancer [76–78]. We look forward to the time when gathered evidence provides implementation of immunotherapeutic approaches to gliomas not only as standard of care, but as first-in-line treatment options. To timelier advance these possibilities, we propose the formation of immunotherapy consortiums that could provide the administrative and statistical oversight and immunologic endpoint integration needed and encourage cooperation between the small cohorts of investigators working in the immune therapy arena. By doing so, integration of novel cellular and vaccine treatments as part of the treatment armamentarium for glioma patients may soon be realized.
Conflicting interests
The authors declare that they have no competing interests.
Abbreviations
(A):

astrocytoma
(AA):

anaplastic astrocytoma
(alloCTL):

alloreactive cytotoxic T lymphocytes
(AODG):

anaplastic oligodendroglioma
(ALT):

autologous lymphocyte transfer
(BTSC):

brain tumor stem cell
(CBTRUS):

Central Brain Tumor Registry of the United States
(CD):

cytosine deaminase
(CED):

convection enhanced delivery
(CMV):

cytomegalovirus
(CNS):

central nervous system
(CTL):

cytotoxic T lymphocytes
(DC):

dendritic cells
(GAAs):

glioma associated antigens
(GM-CSF):

granulocyte-macrophage colony stimulating factor
(GBM):

glioblastoma multiforme
(hCMV):

human cytomegalovirus
(HLA):

human leukocyte antigens
(HSP):

heat shock protein
(HSPPC):

heat shock protein peptide complex
(HSV):

herpes simplex virus
(HyTK):

hygromycin phosphotransferase-thymidine kinase
(IFN):

interferon
(IL):

interleukin
(LAK):

lymphokine-activated killer
(LAMP):

lysosomal-associated membrane protein
(MRI):

magnetic resonance imaging
(MHC):

major histocompatibility complex
(MAG):

mixed anaplastic glioma aka mixed anaplastic oligoastrocytoma
(MG):

mixed glioma aka mixed oligoastrocytoma
(MLR):

mixed lymphocyte reaction
(mRNA):

messenger ribonucleic acid
(ND):

newly diagnosed
(NIH):

National Institutes of Health
(NK):

natural killer
(ODG):

oligodendroglioma
(PBMC):

peripheral blood mononuclear cells
(P):

persistent
(PCR):

polymerase chain reaction
(PET):

positron emission tomography
(R):

recurrent
(TAA):

tumor associated antigens
(TCR):

T cell receptor
(TGF):

transforming growth factor
(TMZ):

temozolamide
(TNF):

tumor necrosis factor
(Treg):

T regulatory cell
(UCLA):

University of California, Los Angeles
(UCSF):

University of California, San Francisco
(WHO):

World Health Organization.
Declarations
Acknowledgements
We thank Dr. L.E. Gerschenson for careful reading of the manuscript. This work was supported in part by: The Joan S. Holmes Memorial Research Fund, NIH RO1 CA121258, CA125244, CA154256, CBCRP 14IB-0045, and DOD CDMRP W81XWH-01-1-0734 (CAK), VA Merit Review Award (MRJ), NIH K01 CA111402 and R01CA123396 (RMP), NIH R01 CA112358, CA125244 and CA121131 (LML). MH is the Joan S. Holmes Fellow.
Authors' Affiliations
(1)
The Joan S. Holmes Memorial Biotherapeutics Research Laboratory, Sanford-Burnham Medical Research Institute, La Jolla, USA
(2)
Veterans Affair Medical Center, Long Beach, USA
(3)
Department of Neurosurgery and Jonsson Comprehensive Cancer Center, David Geffen School of Medicine, University of California, Los Angeles, Los Angeles, USA
Copyright
© Hickey et al; licensee BioMed Central Ltd. 2010
This article is published under license to BioMed Central Ltd. This is an Open Access article distributed under the terms of the Creative Commons Attribution License (http://creativecommons.org/licenses/by/2.0), which permits unrestricted use, distribution, and reproduction in any medium, provided the original work is properly cited.