Circulating endothelial progenitor cells: a new approach to anti-aging medicine?
Journal of Translational Medicine
2009
7:106
Received: 12 November 2009
Accepted: 15 December 2009
Published: 15 December 2009
Abstract
Endothelial dysfunction is associated with major causes of morbidity and mortality, as well as numerous age-related conditions. The possibility of preserving or even rejuvenating endothelial function offers a potent means of preventing/treating some of the most fearful aspects of aging such as loss of mental, cardiovascular, and sexual function.
Endothelial precursor cells (EPC) provide a continual source of replenishment for damaged or senescent blood vessels. In this review we discuss the biological relevance of circulating EPC in a variety of pathologies in order to build the case that these cells act as an endogenous mechanism of regeneration. Factors controlling EPC mobilization, migration, and function, as well as therapeutic interventions based on mobilization of EPC will be reviewed. We conclude by discussing several clinically-relevant approaches to EPC mobilization and provide preliminary data on a food supplement, Stem-Kine, which enhanced EPC mobilization in human subjects.
Keywords
Vascular Endothelial Growth FactorGranulocyte Colony Stimulate FactorNeopterinFlow Mediate DilationBone Marrow Mononuclear Cell
Introduction
The endothelium plays several functions essential for life, including: a) acting as an anticoagulated barrier between the blood stream and interior of the blood vessels; b) allowing for selective transmigration of cells into and out of the blood stream; c) regulating blood flow through controlling smooth muscle contraction/relaxation; and d) participating in tissue remodeling [1]. A key hallmark of the aging process and perhaps one of the causative factors of health decline associated with aging appears to be loss of endothelial function. Whether as a result of oxidative stress, inflammatory stress, or senescence, deficiencies in the ability of the endothelium to respond to physiological cues can alter mental [2], sexual [3], visual [4], and respiratory [5] ability. Specifically, minute alterations in the ability of endothelium to respond to neurotransmitter induced nitric oxide causes profound inability to perform even simple mental functions [6, 7]. Small increases in angiogenesis in the retina as a result of injury or glucose are associated with wet macular degeneration blindness [8]. Atherosclerosis of the penile vasculature is a major cause of erectile dysfunction [9]. The pulmonary endothelium's sensitivity to insult can cause hypertension and associated progression to decreased oxygen delivery [10].
Health of the endothelium can be quantified using several methods, including assessment of the physical and mechanical features of the vessel wall, assaying for production of systemic biomarkers released by the endothelium, and quantification of ability of blood vessels to dilate in response to increased flow [11]. Of these, one of the most commonly used assays for endothelium function is the flow mediated dilation (FMD) assay. This procedure usually involves high resolution ultrasound assessment of the diameter of the superficial femoral and brachial arteries in response to reactive hyperemia induced by a cuff. The extent of dilatation response induced by the restoration of flow is compared to dilatation induced by sublingual glyceryl trinitrate. Since the dilatation induced by flow is dependent on the endothelium acting as a mechanotransducer and the dilatation induced by glyceryl trinitrate is based on smooth muscle responses, the difference in dilatation response serves as a means of quantifying one aspect of endothelial health [12, 13]. This assay has been used to show endothelial dysfunction in conditions such as healthy aging [14–16], as well as various diverse inflammatory states including renal failure [17], rheumatoid arthritis [18], Crohn's Disease [19], diabetes [20], heart failure [21], and Alzheimer's [22]. Although it is not clear whether reduction in FMD score is causative or an effect of other properties of endothelial dysfunction, it has been associated with: a) increased tendency towards thrombosis, in part by increased von Willibrand Factor (vWF) levels [23], b) abnormal responses to injury, such as neointimal proliferation and subsequent atherosclerosis [24], and c) increased proclivity towards inflammation by basal upregulation of leukocyte adhesion molecules [25].
As part of age and disease associated endothelial dysfunction is the reduced ability of the host to generate new blood vessel [26]. This is believed to be due, at least in part, to reduction of ischemia inducible elements such as the HIF-1 alpha transcription factor which through induction of stromal derived factor (SDF-1) and vascular endothelial growth factor (VEGF) secretion play a critical role in ability of endothelium to migrate and form new capillaries in ischemic tissues [27, 28]. Accordingly, if one were to understand the causes of endothelial dysfunction and develop methods of inhibiting these causes or stimulating regeneration of the endothelium, then progression of many diseases, as well as possible increase in healthy longevity may be achieved.
Conclusions: Nutraceutical Based Mobilization of EPC
One area of recent interest in the biomedical field has been functional foods and nutraceuticals. While it is known that alteration of diet may modulate FMD responses, to our knowledge, little work as been reported on dietary-supplements altering levels of circulating EPC. The nutritional supplement Stem-Kine (Aidan Products, Chandler, AZ) contains: ellagic acid a polyphenol antioxidant found in numerous vegetables and fruits; vitamin D3 which has been shown to mildly increase circulating progenitor cells; beta 1,3 glucan (previous studies have reported administration of various beta glucans to elicit stem cell mobilization [150]), and a ferment of the bacterium, Lactobacillus fermentum. Lactobacillus fermentum is generally regarded as safe, and has been in the food supply for hundreds of years as a starter culture for the production of sour dough bread and provides for its characteristic sour flavor. Extract of green tea, extract of goji berries, and extract of the root of astragalus were added prior to the fermentation process. Green tea extracts and some components of goji berries are known to mildly stimulate progenitor cell release, and astragalosides and other molecules found in the root of astragalus are known antioxidants that can prevent cellular damage secondary to oxidation. Fermentation is known to increase the bioavailability of minerals, proteins, peptides, antioxidants, flavanols and other organic molecules. Imm-Kine, another Lactobacillus fermentum fermented product that includes beta 1,3, glucan has been safely distributed for 9 years without reported side effects.
We report here data from 6 healthy volunteers supplemented with StemKine (under an approved IRB protocol) for a period of 14 days (two capsules, am, two capsules pm, by mouth--700 mg per capsule). To our knowledge this is the first report of a combination of naturally occurring molecules from food products altering the levels of circulating EPCs in humans.
As seen in Figure
1
, an increase in cells expressing VEGFR2 and CD34 was observed, which was maintained for at least 14 days. These data suggest the feasibility of modulating circulating EPC levels using food supplements. Future studies integrating natural products together with regenerative medicine concepts may lead to formulation of novel treatment protocols applicable to age-associated degeneration.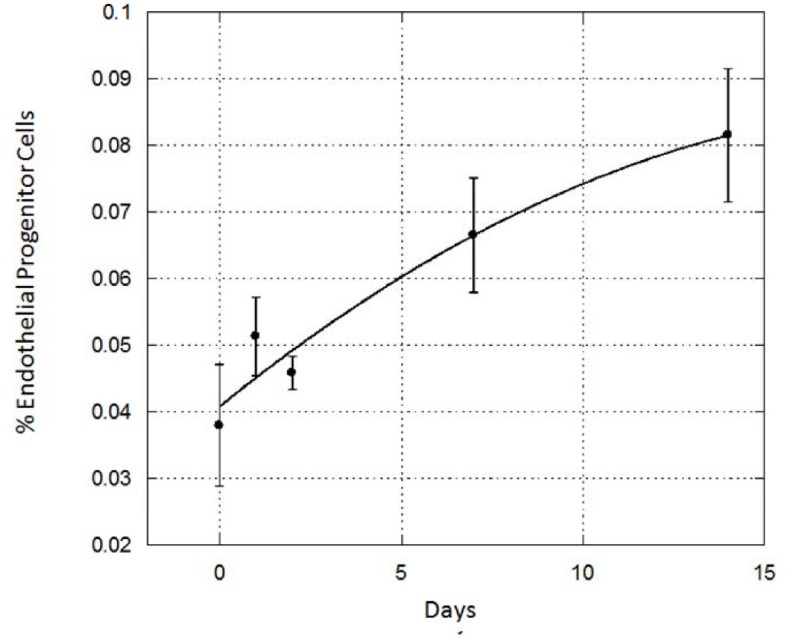 Declarations
Acknowledgements
This study was supported in part by Allan P Markin, The Aidan Foundation, and the Center For The Improvement Of Human Functioning International. The authors thank Matthew Gandjian, Victoria Dardov and Famela Ramos for literature searches and critical review of the manuscript.
Authors' Affiliations
(1)
Bio-Communications Research Institute, Wichita, USA
(2)
The Center For The Improvement Of Human Functioning International, Wichita, USA
(3)
The Dove Clinic for Integrated Medicine, Hampshire, UK
(4)
Biotheryx Inc, San Diego, USA
(5)
Novomedix Inc, San Diego, USA
(6)
Department of Medicine, University of California, San Diego, USA
(7)
Department of Cardiothoracic Surgery, University of Utah, Salt Lake City, USA
(8)
Division of Medicine, Indiana University School of Medicine, USA
(9)
Medistem Inc, San Diego, USA
(10)
Georgetown Dermatology, Washington, USA
(11)
Aidan Products, Chandler, USA
Copyright
© Mikirova et al; licensee BioMed Central Ltd. 2009
This article is published under license to BioMed Central Ltd. This is an Open Access article distributed under the terms of the Creative Commons Attribution License (http://creativecommons.org/licenses/by/2.0), which permits unrestricted use, distribution, and reproduction in any medium, provided the original work is properly cited.