Pancreatic islet cell therapy for type I diabetes: understanding the effects of glucose stimulation on islets in order to produce better islets for transplantation
Journal of Translational Medicine
2007
5:1
Received: 05 October 2006
Accepted: 03 January 2007
Published: 03 January 2007
Abstract
While insulin replacement remains the cornerstone treatment for type I diabetes mellitus (T1DM), the transplantation of pancreatic islets of Langerhans has the potential to become an important alternative. And yet, islet transplant therapy is limited by several factors, including far too few donor pancreases. Attempts to expand mature islets or to produce islets from stem cells are far from clinical application. The production and expansion of the insulin-producing cells within the islet (so called β cells), or even creating cells that secrete insulin under appropriate physiological control, has proven difficult. The difficulty is explained, in part, because insulin synthesis and release is complex, unique, and not entirely characterized. Understanding β-cell function at the molecular level will likely facilitate the development of techniques to manufacture β-cells from stem cells. We will review islet transplantation, as well as the mechanisms underlying insulin transcription, translation and glucose stimulated insulin release.
Keywords
ProinsulinIslet TransplantationInsulin GeneGlucose StimulationInsulin Granule
Background
Insulin, the body's only blood glucose-lowering hormone, is exclusively produced by the β-cells of the pancreatic islets of Langerhans. Type I diabetes mellitus (T1DM), formerly known as insulin-dependent diabetes or juvenile diabetes, affects an estimated 1,000,000 Americans, and is thought to result from the destruction of β cells by autologous cytotoxic T cells. The discovery of insulin in the 1920's was a major advance in diabetes treatment – freeing patients from the then "state of the art" starvation diets that, at best, prolonged survival for a few weeks, months, or in very rare cases, a few years. Insulin therapy changed diabetes from a rapidly fatal disease to a chronic disease associated with significant secondary complications, such as renal failure, neuropathy, cardiovascular disease, and retinopathy. While aggressive insulin therapy that maintains glucose levels near the normal range reduces the risk of secondary complications, patients often find such control difficult to achieve and suffer an increased risk of hypoglycemia [1]. Nonetheless, T1DM treatment has significantly improved with affordable glucose monitoring instruments, new insulin formulations, and improved insulin delivery systems.
Transplantation
Many clinical investigators have attempted β-cell replacement therapy, either in the form of whole pancreas or islet transplantation. Whole pancreas transplantation was first performed in the 1960s, but was a relatively uncommon procedure until the 1980's. From December 16, 1966 to December 31, 2004, more than 23,000 pancreas transplants were reported to the International Pancreas Transplant Registry (IPTR), including > 17000 from the US and almost 6000 from outside the US. The annual number of US in 2004 was close to 1500 [2]. The procedure's increasing popularity can be ascribed to improvements in organ preservation, surgical technique, and immunosuppressive therapy.
Patients given a pancreas transplant, at experienced centers, currently can anticipate a greater than 85% likelihood that they will enjoy insulin independent euglycemia 1 year later, and about 50% will maintain that excellent metabolic outcome 5 years following the transplant. While most pancreas transplant recipients no longer require exogenous insulin for blood glucose control, the procedure has not been shown to decrease the severity or frequency of the secondary complications associated with diabetes. For instance, while pancreas transplant has been shown to reverse histologically defined diabetic nephropathy ten years after transplantation, only a minority of grafts survive that long, and the immunosuppression given to preserve the transplanted organ may be more nephrotoxic than the diabetes prompting the transplant [3]. In fact, whether pancreas transplant alone offers any survival advantage versus insulin therapy alone is debated, and transplant recipient survival may even be worse [4, 5].
While pancreas transplantation has yielded promising results, other investigators have worked to develop isolated islet transplantation. Islet transplantation is potentially appealing because the transplant technique does not require major surgery. Using animal models in the 1970s, islets were first isolated from the pancreas and effectively transplanted [6]. Preliminary human islet cell transplant reports appeared in the late 1970's [7, 8]. Islet transplantation was not used clinically to treat type I diabetes until 1989 [9].
Although successful procedure of living-donor transplantation of islets has been reported [10], in its current status, most islet transplants involve the isolation of islets from cadaveric (deceased) donor organs. The isolation process entails both enzymatic (using collagenase) and mechanical disruption of a cadaveric pancreas into small fragments. Islets are then purified from the remaining exocrine tissue by density gradient separation [11]. Once "purified" (and isolated islets should more accurately be termed "enriched" because exocrine pancreatic fragments are also nearly always present), the islets are infused into the recipient's portal vein where they lodge in the liver's portal vein tree. Islets have been introduced into the portal circulation through the umbilical vein, but percutaneous transhepatic angiographic infusion is now used most frequently. Isolated islets are usually infused within 48 hours (some centers infuse them within hours), and most recipients require islets from more than one cadaver. The islets isolated from one cadaver are typically given with each infusion, such that most islet recipients end-up requiring two or more islet infusions. While islet infusions are generally well tolerated, they can be complicated by (at least temporary) portal hypertension, thrombosis or hemorrhage.
Before 2000, the preceding 2 decades of islet transplantation by investigators world-wide, had achieved 1-year insulin independence rates of less than 12% [12]. However, in 2000 the group from the University of Alberta, Edmonton reported that their protocol for islet transplantation and immunosuppression significantly improved graft function [13]. The Edmonton protocol used a steroid-free immunosuppressive regimen and high quality islet cells from 2 or more donors. The quality of islet cells obtained from each cadaver was improved by limiting cold ischemia time to 8 hours prior to initiating the isolation procedure and using a standardized collagenase preparation. Further, the Edmonton group transplanted the isolated islets, as soon as possible following the isolation, via transhepatic angiography. To prevent islet allograft rejection, the Edmonton team avoided glucocorticoids by giving the recipient induction immunosuppression with the anti- IL-2 receptor antibody (daclizumab), then more chronic immunosuppression was initiated with sirolimus (rapamycin) and tacrolimus (FK-506) [14, 15]. Recently, an international, multicenter trial tested whether islet transplantation using the Edmonton protocol could be generalized. From more than 2000 with T1DM expressing an interest in the protocol, 36 patients were selected and given allogeneic islets. Sixteen of the 36 (44%) attained the primary end point of insulin independence (defined as a fasting blood glucose not to exceed 140 mg/dl more than 3x/week, and a 2 hour post-prandial blood glucose not to exceed 180 mg/dl more than 4x/week), 28% had partial graft function and 28% had complete graft loss. While many of the insulin independent subjects did not have normal blood glucose values by currently accepted criteria, the subjects who reached the primary end point had no severe hypoglycemia or severe hyperglycemia, and those with partial function had a marked benefit in glycemia control in contrast to their baseline status [16]. Unfortunately, and for reasons not well understood, only 14% of the subjects remained insulin independent 2 years after receiving an islet transplant. Further, the current immunosuppressive regimen is associated with heightened risk of infection, β cell toxicity, and (most importantly) nephropathy such that the protocol participants lost, on average about 5% of their kidney function each year.
Alternative sources of β Islets
While pancreas and islet cell transplants have the potential to treat many patients with diabetes, these transplants require the collection of pancreata from organ donors [13, 17], and donors are very limited. Optimistic estimates suggest that in a typical year and using current techniques, islets isolated form U.S. cadaveric pancreata could transplant at most 1,000 to 2,000 patients [14]. In order to treat more patients, the field needs an alternative source of cells capable of physiologically regulated insulin secretion. Transplanting cells generated from stem cells is one potential treatment alternative [18] and another is the expansion adult islet β cells, xenogeneic islet is considered another alternative source.
While a stem cell that could be isolated from the pancreas, expanded, and differentiated in vitro into mature beta-like cells may exist, such a cell has not yet been identified [19], and culture techniques have not been perfected. If such a cell could be isolated from the pancreas and expanded in vitro, it is possible that enough islets could be produced from a pancreas from a single donor for one or more successful transplants.
Another alternative is to produce β cells from stem cells. Several groups have attempted to differentiate embryonic stem cells into β cells, but none has yet been successful. Islet-like cells have been generated from embryonic stem cells, but the cells do not secrete insulin in a physiologically regulated fashion [20]. In vitro differentiation of embryonic stem cells is to mimic normal embryonic development, the exposure of stem cells to growth factors, extracellular matrix components, and cell-cell interactions may promote and streamline the differentiation process. The existing protocols for generating insulin-producing cells from embryonic stem cells can be divided into spontaneous differentiation and induced differentiation. The efficiency of the former protocol is too low to be of practical value [21–23] and induced differentiation is the mainstream. Lumelsky modified a protocol used to generate neurons from mouse embryonic stem cells and obtained insulin-producing cells [24], their results were repeated by other groups [25, 26]. However, some reports showed that the cells can not produce insulin themselves, but rather absorb insulin from the culture medium while undergoing apoptosis [27]. Recently, D'Amour developed a five-stage protocol to differentiate human embryonic stem cells to endocrine hormone-expressing cells through a series of endodermal intermediates resembling those that occur during pancreatic development in vivo [28]. Despite the facts, the procedure of pancreas development is so complex and precise that many aspects are not well understood now. Fortunately, advances in high-throughout technology such as microarray technology will facilitate the discovery of regulating network of pancreatic development, which will provide more information to better direct differentiating stem cells.
Adult stem cells are another potential source of islets [18]. Some animal hematopoietic transplant models have suggested that adult pluripotential stem cells from bone marrow can be induced to transdifferentiate into β-like cells, but subsequent studies have suggested that the cells were the result of cell-to-cell fusion rather than transdifferentiation [29]. It may also be possible to generate insulin producing cells using gene therapy. Some studies have suggested that transfecting hepatocytes with the gene encoding PDX-1 resulted in an insulin producing cell, but those results have not been widely reproduced [30–32].
Xenogeneic islets is another alternative; a couple of papers were recently published in Nature Medicine showing that porcine islets xenografts can succeed and has potential for clinical application [33, 34]. However, xenogeneic transplants take major immunosuppression which significantly outweighs the risk of diabetes and the results were not consistent, several of the grafts failed early.
While all of these potential therapies are promising, none is yet useful clinically. Furthermore, since β cell insulin release to control glucose levels is both very complex and precise, it is likely that any cultured, expanded, or otherwise manufactured cells will have to function with β cell-like precision. We suggest therefore that it will not be possible to create highly effective expanded, cultured or manufactured β cells until the mechanisms responsible for glucose-induced β cell insulin synthesis and release are completely understood and these functions can be duplicated.
Insulin transcription, translation, and release
The production of insulin and its release from islets is complex and tightly regulated. Glucose affects insulin at all levels, including transcription, translation and release.
Transcription
Insulin is encoded by the insulin gene located on chromosome 11p15.5 [35]. Insulin expression is restricted to the β cell and insulin transcription is controlled by the insulin promoter, and in particular a highly conserved 340 bp region located immediately upstream from the transcription initiation start site [36]. The insulin promoter is responsible for tissue specific and metabolic regulation of the insulin gene. The most critical transcription activation elements of the insulin promoter are the A3, C1 and E1 sites.
The most important insulin transcription factor is the homeodomain transcription factor pancreatic/duodenal homebox-1 (PDX-1). In the adult islet, PDX-1 is only expressed in the pancreatic β cells and plays an important role in glucose-stimulated insulin gene transcription. PDX-1 is also essential for maintenance of the β cell phenotype and pancreatic development [36, 37]. PDX-1 binds to the A3 box of the insulin promoter. Alone PDX-1 has little activity, but it becomes a potent factor when it interacts with the heterodimer of basic helix-loop-helix (bHLH) proteins which bind to the E1 box. These bHLH heterodimers are made up of a Class A bHLH protein which is expressed ubiquitously in many different tissues and a Class B bHLH protein that is specifically expressed in β cells. The members of the class A bHLH family in the heterodimer that binds to the E1 site are products of the E2A gene; E12, E47, and E2/5 and the class B bHLH protein BETA2/NeuroD. The heterodimer E47/BETA2 is found in β cells.
Another important insulin transcription factor is MafA which belongs to the Maf family of transcription factors. This family of transcription factors contains a basic motif followed by a leucine zipper. In addition, MafA also contains an acidic domain that acts as a transcription initiation domain [38]. MafA binds to the C1 site of the insulin promoter. MafA is a glucose-regulated and pancreatic β cell-specific transcriptional activator for the insulin gene [39–41], which produces synergistic activation with PDX-1 or BETA2.
In addition to PDX1, E47/BETA2/NeuroD, and MafA, other factors influence insulin transcription. Histones and DNA-binding proteins of the high mobility group (HMG) increases the binding of
PDX-1
and bHLH heterodimers to the A and E sites. One important HMG protein is HMG 1(Y) which binds to the A3/A4 site of the insulin promoter [
37
]. Other proteins that contribute to insulin transcription include members of the hepatic nuclear factors and PAX families [
36
] (Figure
1
).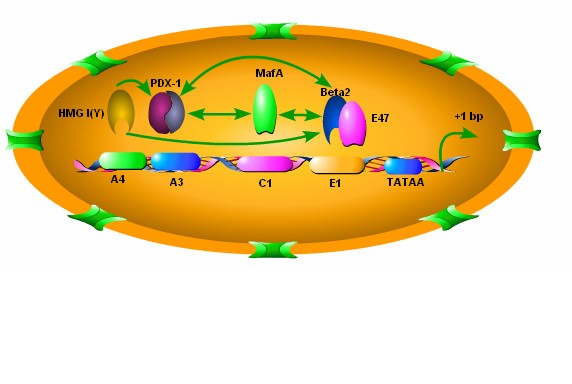 Insulin synthesis
Translating the insulin mRNA leads to preproinsulin production. Approximately 30 to 60 seconds after preproinsulin is synthesized in the ER, the pre portion is removed enzymatically and proinsulin is transported along the microtubule network system in transport vesicles to the cis part of the Golgi apparatus. The proinsulin was first packaged into clathrin-coated immature granules, where proinsulin is further converted to insulin and C-peptide [42]. The clathrin-coated granules then become mature granules, where the insulin crystals are formed; thus the insulin is stored in the mature secretory granules until it is either released by exocytosis or degraded by crinophagy [43].
The β cell has highly developed ER specialized for the synthesis of insulin. β Cells can control the rate of insulin production by regulating insulin synthesis in the ER in response to glucose stimulation. Eukaryotic initiation factor 2 (eIF2) is an important factor regulating protein biosynthesis. The eIF2 factor participates in the formation of translational ternary complex (eIF2-GTP·Met-tRNAi), recruiting charged initiator methionyl-tRNA to the 40S ribosomal subunit. The activity of the eIF2 complex is dependent on its state of phosphorylation. Pancreatic ER kinase (PERK), an important regulator of insulin translation in β cells, phosphorylates eIF2 complex and hence lowers insulin translation [44]. PERK activity is sensitive to glucose levels [45]. Therefore, PERK signaling is particularly important to normal β cell function.
The initiation complex eIF4F initiates the recruitment of the 40S ribosome to mRNA in insulin synthesis. Hypophosphorylated eIF4E-binding proteins (4E-BPs) inhibit eIF4F complex formation, but phosphorylation of 4E-BP1 leads to loss of this inhibition, therefore inducing an increase in mRNA translation [46, 47].
Insulin release
Nearly all insulin released by β cells is from insulin secretory granules. To release insulin, the granules must be recruited from the cytoplasm, translocated to the plasma membrane where they are docked, fuse with the plasma membrane, and release their contents into the extracellular space. A group of proteins known as the SNAp REceptors (SNARES) are important for directing the insulin vesicles to the plasma membrane. The actual docking of the vesicle with the plasma membrane involves the linking of the plasma membrane proteins syntaxin and synaptosomal-associated protein 25 (SNAP-25) with the vesicle protein vesicle-associated protein 2 (VAMP-2) or synaptobrevin-2. Syntaxin and SNAP-25 are known as t-SNARE and VAMP-2 is known as v-SNARE.
Insulin granule secretion in response to glucose stimulation exhibits two characteristic phases. This biphasic pattern consists of a rapidly initiated, but transient first phase of insulin release, and a sustained second phase [
48
–
50
]. β Cells contain two pools of insulin containing secretory granules that have distinct release processes. A limited pool of granules (< 5%) is available for immediate release and is referred to as the "readily releasable pool" (RRP). However, most of the insulin granules (> 95%) belong to a reserve pool and must undergo mobilization before they can gain release competence [
51
–
53
]. The release of RRP granules accounts for the first phase of insulin secretion. The end of the first phase marked the depletion of this pool. The subsequent granule re-supply or mobilization from a reserve pool of granules and release of these mobilized granules is responsible for the second-phase of insulin secretion [
54
] (Figure
2
).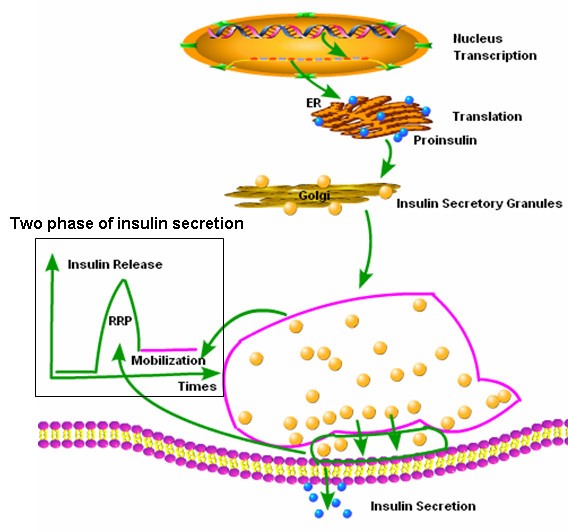 Effects of glucose on insulin transcription, translation and release
Glucose controls all aspects of insulin regulation. Glucose is the major physiologic regulator of insulin transcription, translational regulation of insulin biosynthesis, and insulin secretion. The response of β cells to glucose is complex. Glucose has both immediate and long term effects that are mediated on several levels including granule release, protein translation and mRNA transcription. β Cells have large stores of insulin in granules and immediately following glucose stimulation a small proportion of these granules are released. To renew these stores, insulin biosynthesis starts immediately and during this period after glucose stimulation glucose-induced insulin biosynthesis is regulated mainly at the translational level [55, 56]. During this period glucose metabolism may be coupled to the transcriptional activation of immediate-early response factors. During periods of prolonged glucose stimulation (> 12 h), glucose increases insulin biosynthesis by accelerating insulin gene transcription, as well as by increasing preproinsulin mRNA stability and protein translation.
Conclusion
Islet transplantation has the potential to benefit patients with type I diabetes, but it is a therapy limited by islet supply and other factors. While preliminary studies have found that stem cells can be induced to acquire a β-cell-like phenotype,, cells used for transplant therapy will need precisely replicate β-cell function. Characterizing the β-cell's unique molecular mechanisms underlying its glucose responsivity will allow investigators to better understand the critical elements stem cells must acquire and may allow investigators to better direct stem cell differentiation.
Abbreviations
bHLH:

basic helix-loop-helix proteins
eIF2:

Eukaryotic initiation factor 2
Glut 2:

glucose transporter 2
IEGs:

Immediate-early response genes
KATP-channels:

ATP-sensitive potassium channels
L-VDCC:

L-type voltage-dependent Ca2+channel
PDX-1:

pancreas-duodenum homeobox-1
PERK:

PKR-like ER kinase
PI-3-K:

phosphatidylinositol (PI) 3-kinase
RRP:

readily releasable pool
UTR:

untranslated regions
4E-BPs:

eIF4E-binding proteins
Authors' Affiliations
(1)
Department of Transfusion Medicine, Clinical Center, National Institutes of Health, Bethesda, USA
(2)
National Institute of Diabetes, Digestive and Kidney Disease, National Institutes of Health, Bethesda, USA
Copyright
© Ren et al; licensee BioMed Central Ltd. 2007
This article is published under license to BioMed Central Ltd. This is an Open Access article distributed under the terms of the Creative Commons Attribution License (http://creativecommons.org/licenses/by/2.0), which permits unrestricted use, distribution, and reproduction in any medium, provided the original work is properly cited.