The role of BRAF V600 mutation in melanoma
Journal of Translational Medicine
2012
10:85
Received: 18 April 2012
Accepted: 3 May 2012
Published: 3 May 2012
Abstract
BRAF is a serine/threonine protein kinase activating the MAP kinase/ERK-signaling pathway. About 50 % of melanomas harbors activating BRAF mutations (over 90 % V600E). BRAFV600E has been implicated in different mechanisms underlying melanomagenesis, most of which due to the deregulated activation of the downstream MEK/ERK effectors. The first selective inhibitor of mutant BRAF, vemurafenib, after highly encouraging results of the phase I and II trial, was compared to dacarbazine in a phase III trial in treatment-naïve patients (BRIM-3). The study results showed a relative reduction of 63 % in risk of death and 74 % in risk of tumor progression. Considering all trials so far completed, median overall survival reached approximately 16 months for vemurafenib compared to less than 10 months for dacarbazine treatment. Vemurafenib has been extensively tested on melanoma patients expressing the BRAFV600E mutated form; it has been demonstrated to be also effective in inhibiting melanomas carrying the V600K mutation. In 2011, both FDA and EMA therefore approved vemurafenib for metastatic melanoma carrying BRAFV600 mutations. Some findings suggest that continuation of vemurafenib treatment is potentially beneficial after local therapy in a subset of patients with disease progression (PD). Among who continued vemurafenib >30 days after local therapy of PD lesion(s), a median overall survival was not reached, with a median follow-up of 15.5 months from initiation of BRAF inhibitor therapy. For patients who did not continue treatment, median overall survival from the time of disease progression was 1.4 months. A clinical phase I/II trial is evaluating the safety, tolerability and efficacy of vemurafenib in combination with the CTLA-4 inhibitor mAb ipilimumab. In the BRIM-7 trial vemurafenib is tested in association with GDC-0973, a potent and highly selective inhibitor of MEK1/2. Preliminary data seem to indicate that an additional inhibitor of mutated BRAF, GSK2118436, might be also active on a wider range of BRAF mutations (V600E-K-D-R); actually, treatment with such a compound is under evaluation in a phase III study among stage III-IV melanoma patients positive for BRAF mutations. Overall, BRAF inhibitors were well tolerated; common adverse events are arthralgia, rash, fatigue, alopecia, keratoacanthoma or cutaneous squamous-cell carcinoma, photosensitivity, nausea, and diarrhea, with some variants between different inhibitors.
Keywords
BRAFVemurafenibMelanoma
Introduction
BRAF is a serine/threonine protein kinase, encoded on chromosome 7q34, that activates the MAP kinase/ERK-signaling pathway. BRAF is the family member most easily activated by Ras [1, 2]. In addition, the basal kinase activity of BRAF is higher than that of other family members [3, 4]. This provides a potential rationale for the frequent mutational activation of BRAF observed in human tumors [5].
In fact, approximately 50 % of melanomas harbor activating BRAF mutations. Among the BRAF mutations observed in melanoma, over 90 % are at codon 600, and among these, over 90 % are a single nucleotide mutation resulting in substitution of glutamic acid for valine (BRAFV600E: nucleotide 1799 T > A; codon GTG > GAG). The second most common mutation is BRAFV600K substituting lysine for valine, that represents 5-6 % (GTG > AAG), followed by BRAFV600R (GTG > AGG), an infrequent two-nucleotide variation of the predominant mutation, BRAF V600 ′E2′ (GTG > GAA), and BRAF V600D (GTG > GAT) [6]. The prevalence of BRAFV600K has been reported as higher in some populations [7].
In melanoma, BRAF mutation is most common in patients whose tumors arise on skin without chronic sun-induced damage, whereas BRAF mutations are rare in melanomas arising from mucosal and acral sites [8].
A major advance of the past few years was the discovery that RAF kinases can homo- and heterodimerize [9, 10], and that, in fact, the structure of an active RAF kinase is that of a side-to-side dimer in which only one partner must have catalytic activity [11]. Dimerization is enhanced by Ras [12] and is subject to negative feedback regulation by ERK [10, 13].
Several RAF mutations have been implicated in the induction of genomic instability, driving the proliferation of cancer cells with the highest frequency in melanoma. For instance, mutated BRAF signals as a monomer, independent of upstream growth stimuli. The most frequent BRAF mutation, BRAFV600E, causes constitutive activation of the kinase as well as insensitivity to negative feedback mechanisms [5, 14].
BRAFV600E has been implicated in different mechanisms of melanoma progression, and principally the activation of the downstream MEK/ERK pathway, evasion of senescence and apoptosis, unchecked replicative potential, angiogenesis (through MEK-dependent activation of HIF-1α and VEGF), tissue invasion and metastasis (via upregulation of several proteins involved in migration, integrin signaling, cell contractility, tumor- and microenvironment-derived interleukin-8), as well as the evasion of immune response [15].
No clear differences in prognosis (time from primary diagnosis to distant metastasis) were noted between BRAF-mutated versus wild-type melanomas. Features of the antecedent primary melanoma significantly associated with a BRAF mutation (P < 0.05) were the superficial spreading and nodular histopathological subtypes, the presence of mitoses, the presence of a single or occult primary melanoma, a truncal location and age at diagnosis of the primary tumor (≤50 years) [7].
The discovery of the genetic underpinnings of melanoma and their characterization have exposed potential targets for therapy, BRAF mutations being principal among them (Figure
1
) [
16
].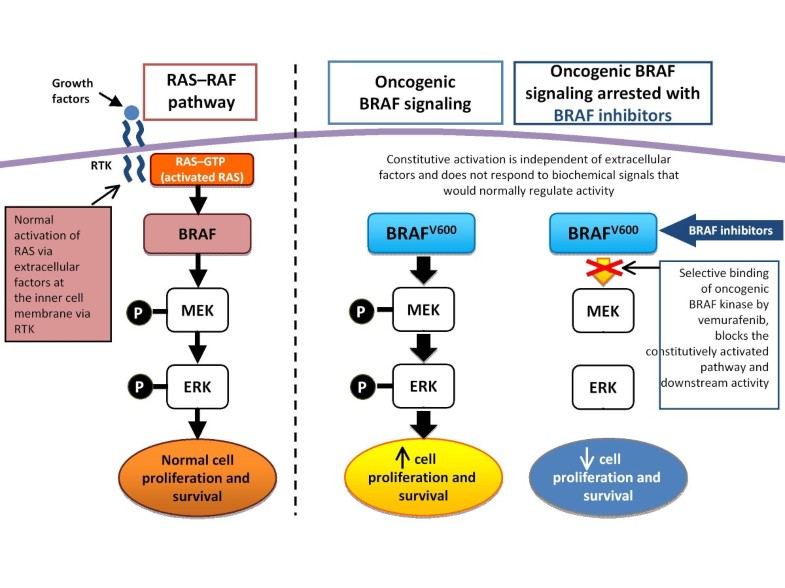 Conclusions
Melanoma has historically had a poor prognosis because of lack of responsiveness to traditional chemotherapeutics as far as the finding that around one half harbors an activating mutation in BRAF leads to a challenging but promising focus for the development of novel targeted therapy.
This approach proved to be favorable since the first preclinic studies, whose results were then confirmed in clinical trials: vemurafenib represents an excellent model of anticancer targeted therapy, showing both unprecedented clinical activity and a good safety profile.
A diagnostic test to identify mutant BRAF melanoma patients that can receive benefit from vemurafenib treatment makes vemurafenib the first personalized targeted therapy in metastatic melanoma, able to recognize patients for whom treatment will more likely than not improve progression free and overall survival outcomes, with a tolerable safety profile.
Other drugs are currently under development and evaluation with the same target, like dabrafenib, or additional targets into the downstream pathway, and the results strongly confirm the concept firstly demonstrated for vemurafenib. As a consequence, future improvements of this targeted and personalized approaches are expected from ongoing clinical trials aiming at potentiate the activity of BRAF inhibitors through combination with other molecules, both immune-based and targeting the downstream pathway. These combination therapies also aim at lowering the observed skin toxicities.
Declarations
Acknowledgement
Editorial assistance was provided by Dario Lidonnici, PhD, 3P Solutions, Milano, Italy, and this manuscript was supported by Fondazione Melanoma Onlus.
Authors' Affiliations
(1)
Department of Melanoma, Istituto Nazionale Tumori Fondazione "G. Pascale", Naples, Italy
(2)
Department of Medicine, Division of Hematology/Oncology, University of Pittsburgh Cancer Institute, Pittsburgh, USA
(3)
Hopital de la Timone, and Aix-Marseille Univ, Marseille, France
(4)
Medical Oncology and Immunotherapy, Department. of Oncology, University Hospital of of Siena, Istituto Toscano Tumori, Siena, Italy
(5)
Unit of Cancer Genetics, Institute of Biomolecular Chemistry, National Research Council (CNR), Sassari, Italy
(6)
Melanoma and muscle-cutaneous sarcomas Division, Istituto Europeo di Oncologia, Milan, Italy
(7)
Infectious Disease and Immunogenetics Section (IDIS), Department of Transfusion Medicine, Clinical Center and Center for Human Immunology (CHI), NIH, Bethesda, USA
(8)
Unit of Medical Oncology and Innovative Therapy, Istituto Nazionale per lo Studio e la Cura dei Tumori "Fondazione G. Pascale", Naples, Italy
Copyright
© Ascierto et al.; licensee BioMed Central Ltd. 2012
This article is published under license to BioMed Central Ltd. This is an Open Access article distributed under the terms of the Creative Commons Attribution License (http://creativecommons.org/licenses/by/2.0), which permits unrestricted use, distribution, and reproduction in any medium, provided the original work is properly cited.